Did you know that more than 70 percent of all dental patients trust online reviews written by former patients? Even more astonishing is that 95 percent of these review readers are likely to avoid dental offices with negative feedback that goes unanswered by the dental practice. Due to these facts, reputation management for dentists and orthodontist offices is becoming a critical marketing strategy.
The growth of online review websites, such as Google Business Profile, Facebook, and medical practice listing sites, has put the power of social influence in the palm of patients' hands. And when patients are displeased with the service they receive, they are highly likely to publish a negative review of the business.
However, suppose a dental or orthodontist office is proactive in replying to those negative reviews and boosts positive reviews from happy clients. In that case, they can help improve their online reputation.
In the information below, we'll outline the facts about online reputation management for dentists. We will explain why you should consider dentist online reputation management solutions, how you can utilize technology to automate many dentist review management tasks, and the elements involved in reputation management.
Why Do You Need Online Reputation Management as a Dentist?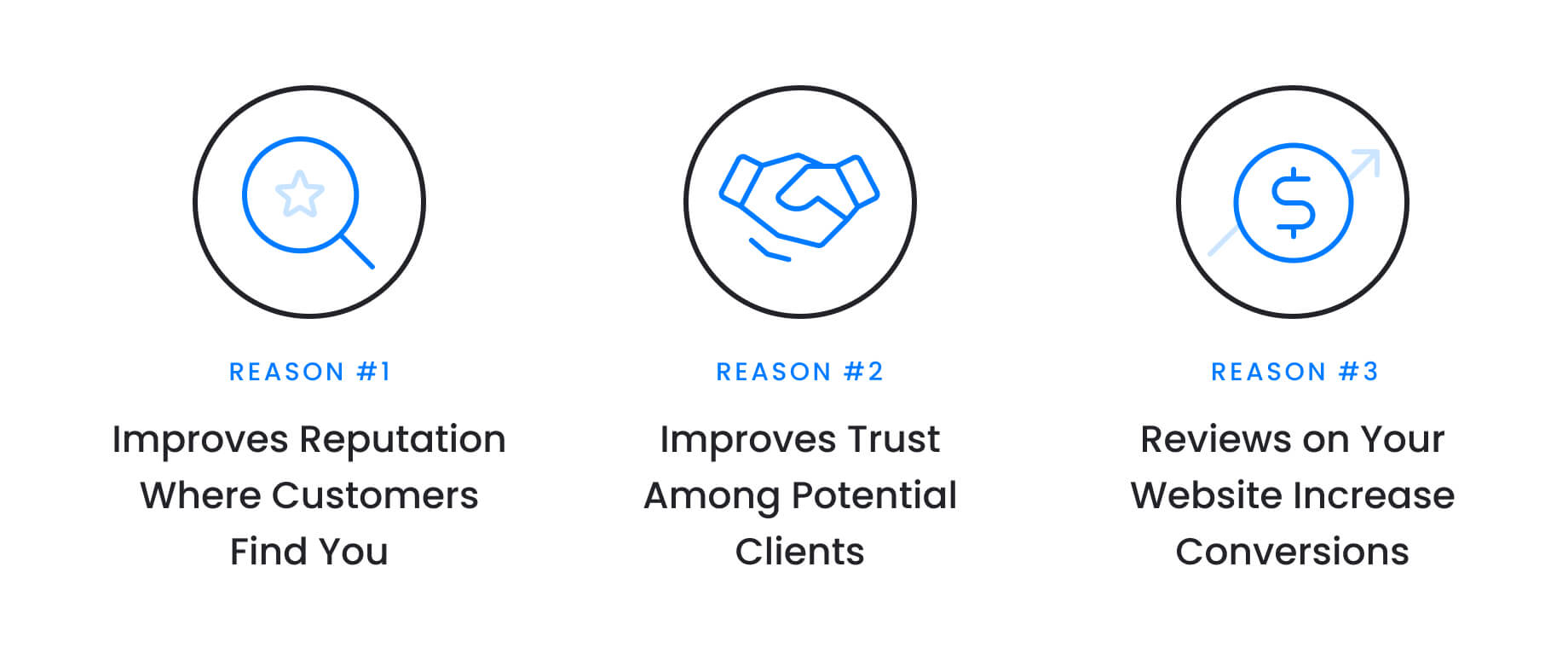 Online reputation management program for dentists drives qualified clients to your practice. The quality and quantity of your online presence increase your reputation among prospective patients. But negative feedback can have a disastrous effect. Here are some reasons a dental office can benefit from online reputation management.
Reason #1 – Improves Reputation Where Customers Find You
Whether searching for a new restaurant to visit or a primary care physician, today's consumers depend on the internet to expedite their search for trusted suppliers. The process typically begins with a simple Google search. For dental marketing programs, the search usually begins with a Google query in the search engine.
The search engine returns local dental or orthodontist offices for potential patients to review. Although several independent factors impact the search results or SEO, a significant component is user reviews and company replies to those reviews. This engagement creates quality content (according to search engine algorithms), elevating some dental offices and others who do not engage in this proactive strategy.
Reason #2 – Improves Trust Among Potential Clients
Every dentist understands that most patients are very uncomfortable with dental services. When former clients publish positive reviews about how relaxing their office visit was or how your staff was inviting and compassionate, this helps ease future client fears. This is the first step in creating trust with new patients.
Reason #3 – Reviews on Your Website Increase Conversions
Dental reputation management strategies also include driving conversions by publishing multiple positive reviews on your dental office website. You can install review widgets that will make it easy to showcase previous dental reviews from Google, Facebook, and other review sites directly on your dental website. When new visitors see these positive reviews, it helps improve social proof, improving conversions.
3 Elements of Dentist's Online Reputation
An online reputation of a business is created based on media published on the internet. This can range from direct consumer reviews, current patient referrals, news coverage, and user engagement on social media pages. When a dental office can influence some of these elements, it can create a positive online reputation. The result is often improved patient satisfaction.
Let's explore some of these elements that help to create a positive patient experience or a negative online reputation for dentist offices.
1. Reputation Building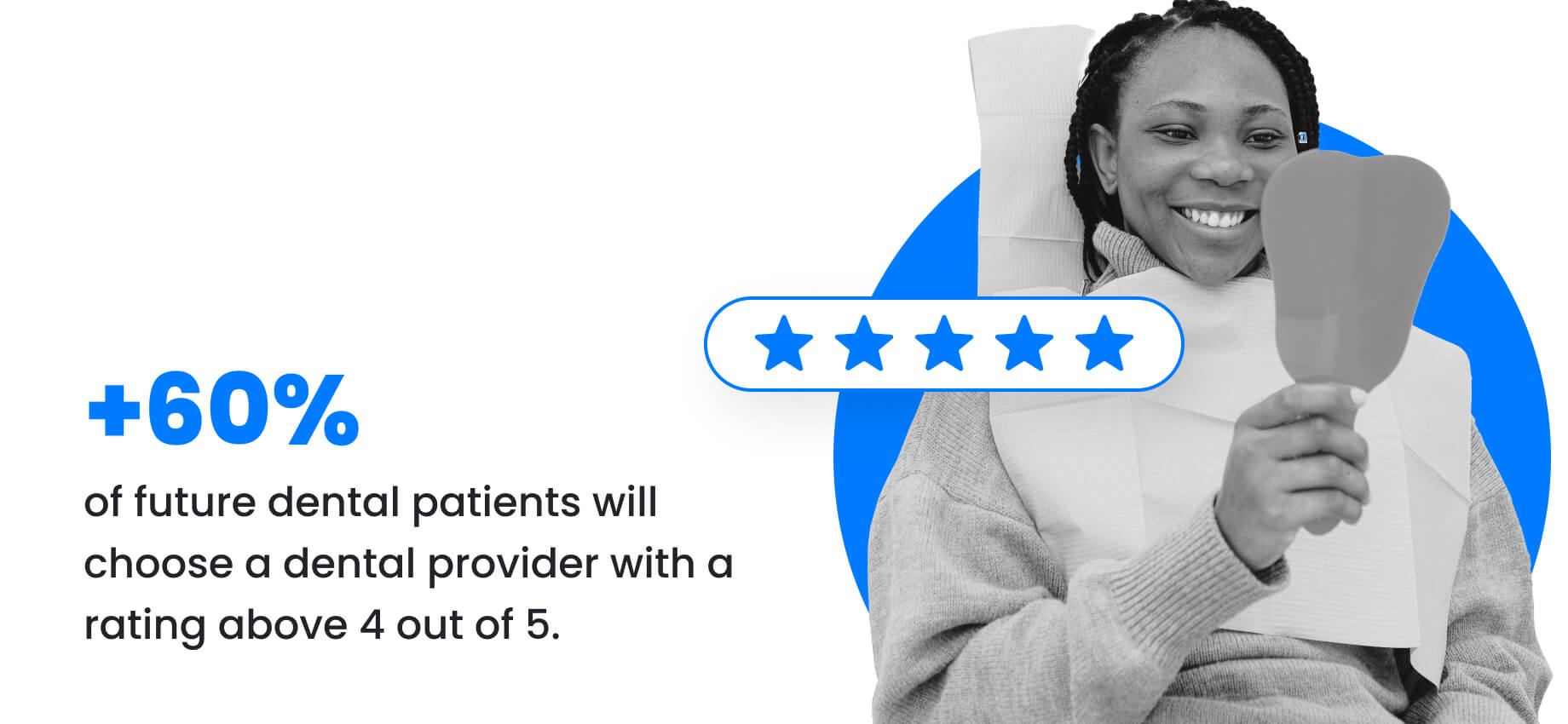 The first element of online reputation management strategies is increasing the number of positive postings and feedback that create a solid reputation. This is accomplished mainly by driving satisfied clients to write positive reviews – or leave high star ratings on public forums.
There are two types of consumer reviews for a healthcare practice. A written testimonial is a detailed testimonial, typically written on a business profile on Google, Facebook, or service provider websites, including Dental Post, DDS Match, and Get Provide, for example. The second type of review is a star rating – where a user will assign a numerical ranking (typically 1 to 5) based on overall service or a series of individual criteria.
It's estimated that more than 60 percent of future dental patients will choose a dental provider with a rating above 4 out of 5. So, if a dental provider can increase the number of positive online postings, they can help improve their online reputation.
2. Review Monitoring and Engagement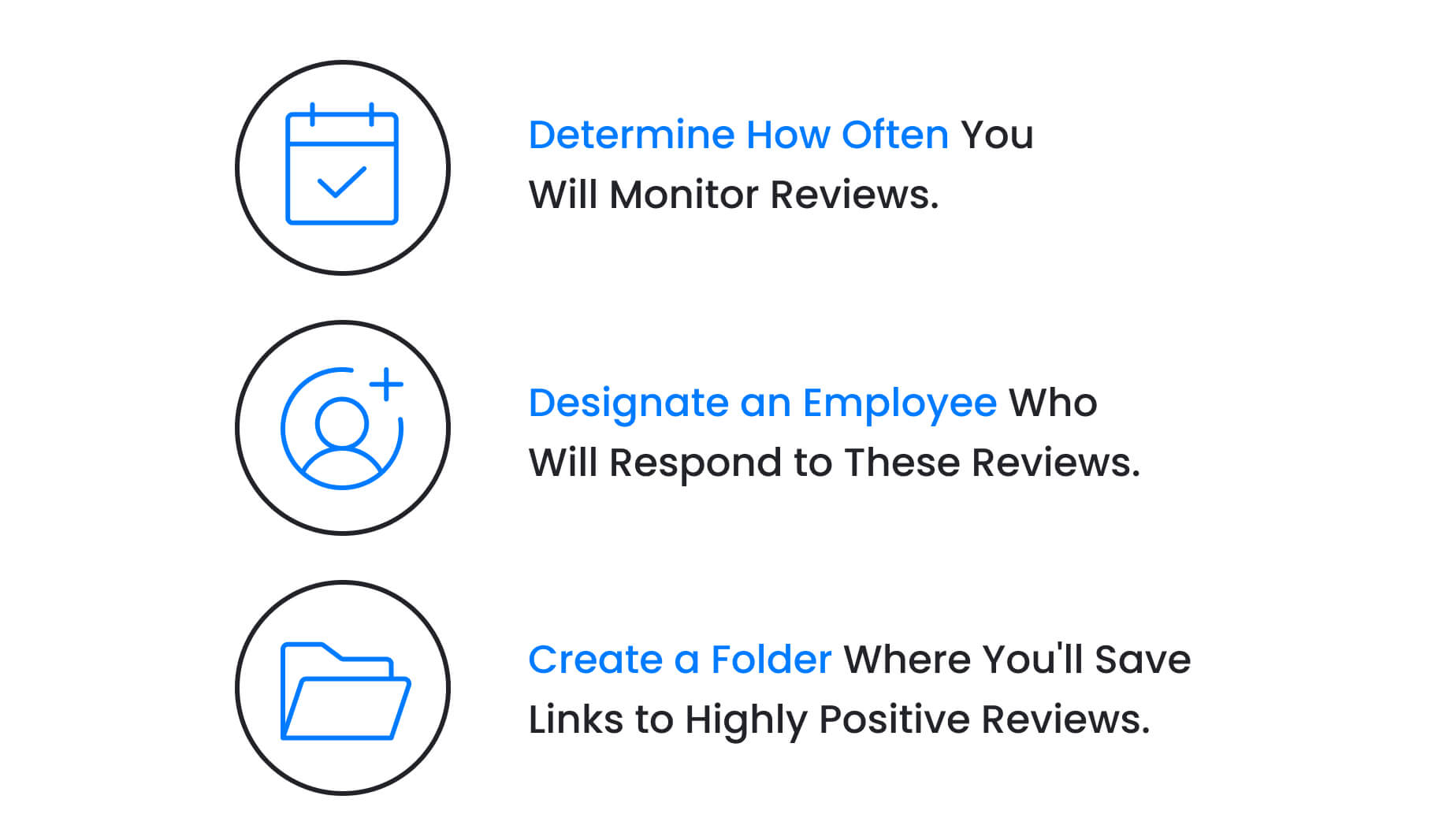 The second element of an effective dental office reputation management program is creating a plan for engaging, replying to, and monitoring all customer feedback published online. One of the most significant factors that build a positive relationship between dental offices and future patients is engagement.
For example, if former clients write a glowing review on your Google Business Profile, but it is not replied to by your office, the perception of many would-be clients is cloudy. Their perception is that if you don't care enough about your clients to simply thank them publicly, perhaps the review is not legitimate?
The way to diffuse this is to always reply to each public review. Whether through a simple thank you message, or a detailed written reply that is personal, future clients love seeing the engagement between patients and medical professionals.
Your office needs to create a review management program and strategy to establish a schedule for replying to public reviews and ratings. Some of the critical tasks include:
Determine how often your office will monitor reviews.
Designate an employee or team who will respond to these reviews.
Create a folder where you'll save links to highly positive reviews. You'll use these links in one of the strategies listed below.
3. Determine How to Resolve Negative Feedback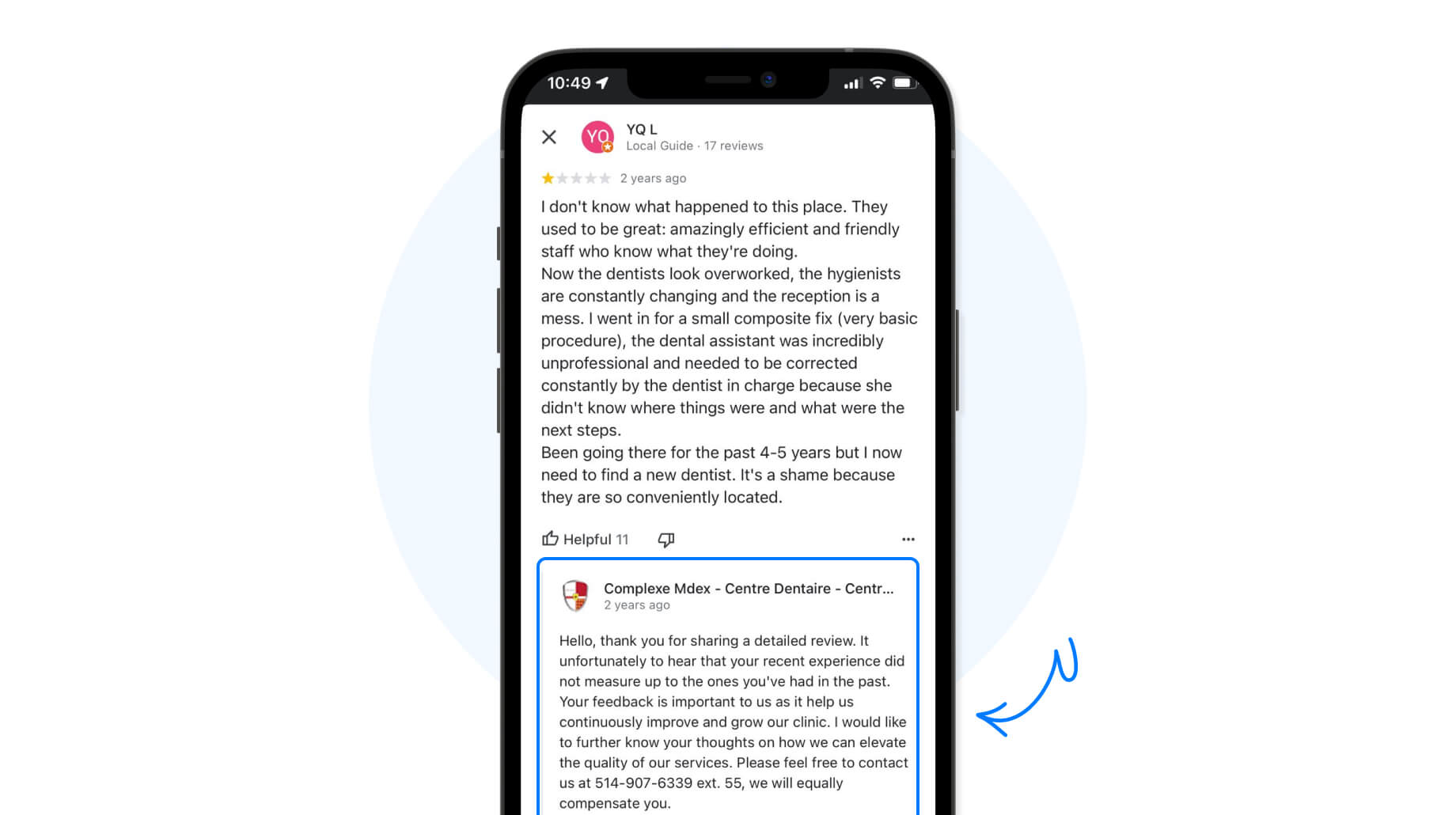 Not all reviews are going to paint your dental office a perfect picture. The simple reality is that it's impossible to please all patients. Sometimes they will have a bad experience at your office. Whether it's due to sticker shock on the price of treatment or services, problems with billing insurance, or other factors outside of your control, it's common for upset customers to go out of their way to tell everyone online who will listen.
These are considered negative reviews. And while many people believe it's best to leave those bad reviews alone, that strategy can backfire. It's strongly suggested to reply to all dentistry reviews – positive or negative. The key is to create a strategy for replying to these adverse situations.
Here are a few tips we suggest.
Acknowledge their review. First, you should publicly acknowledge their feedback by thanking them for taking the time to express it.
Apologize for the inconvenience. The second step is to apologize that they had a bad experience at your office.
Ask them to contact you privately – to see if you can resolve the issue. Make sure you have a way for them to contact your office – either through private message on that review site, office email, or phone number.
This strategy's essential element is discovering the root issue they are experiencing. Suppose there is something your team can do to resolve the situation. In that case, it can turn their negative review into potential satisfied patients. New clients will see you care about people's opinions and try to help.
4 Tips for Successful Online Reputation Management for Dentists
There is a theme to each element we've discussed when you look at them individually. Assume that you can boost the number of good evaluations, handle all (even negative ones), and display those positive reviews on your marketing channels. You'll maintain a competitive advantage over other dentists in such a scenario.
Here is a simple-to-follow four-tip process that all dental offices can follow that will positively impact their online reputation through review platforms.
Tip #1 – Establish Your Online Presence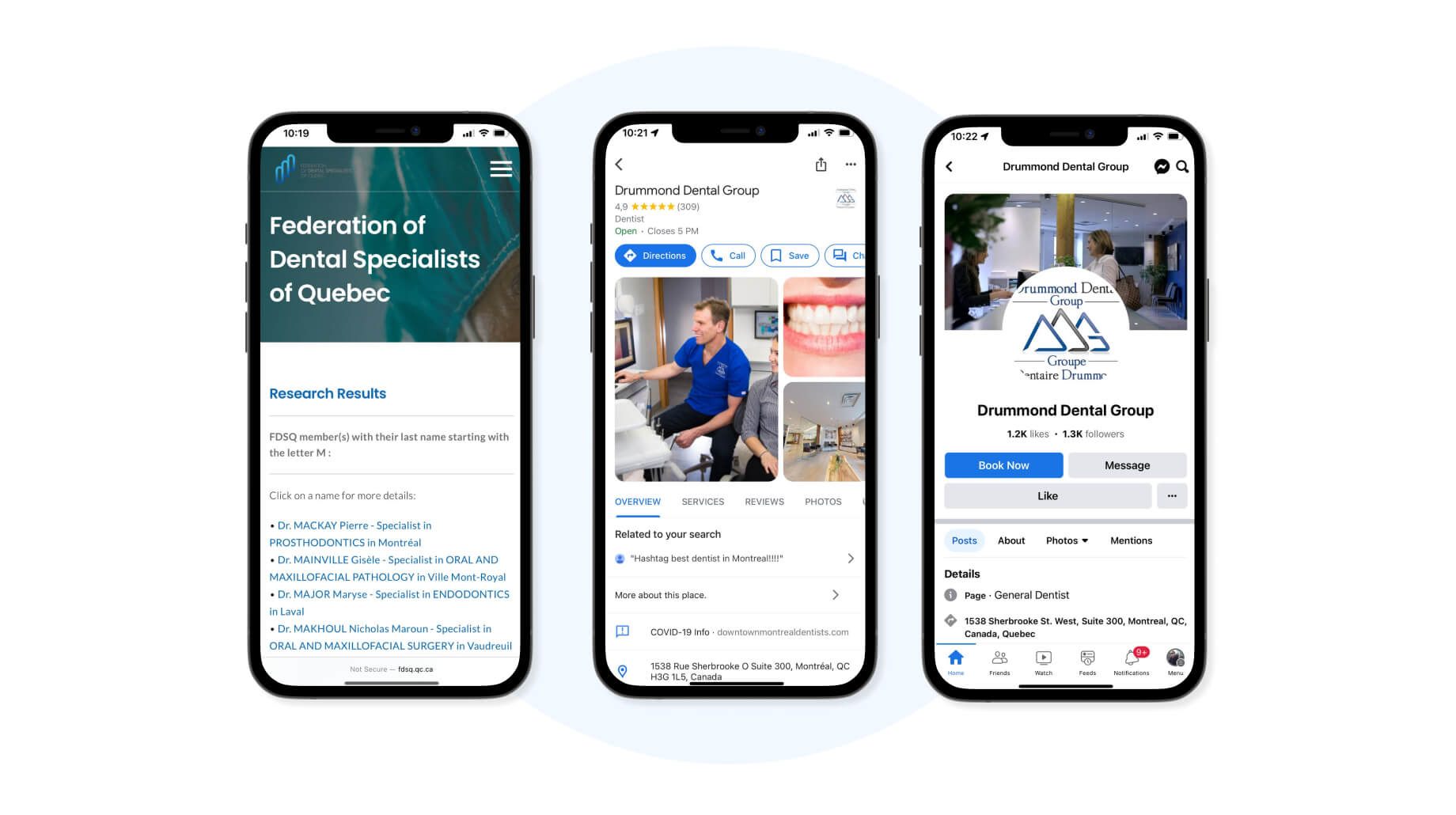 Our first tip is to create some online real estate - that will make it easy for future clients to find you online - and permit current or former clients to post their feedback. Here are a few that are more relevant for dental practices, such as:
Google Business Profile - Create and verify your Google Business Profile page if you haven't already. This will link you to Google Maps and allow patients to provide written feedback through an online platform.
Facebook - Leave a rating and a written review on Facebook. This social network is undoubtedly the best for a dental office since it features a section dedicated to users submitting ratings and reviews.
Dental Directories - Dental directories are great for driving website traffic and potential customers. Some key directories have been mentioned in this article already. Still, it depends on your type of practice and which ones will work better for you.
Establishing official listings on these sites, and ensuring that the account has been verified, will allow you to accept user evaluations.
Tip #2 – Activate Your Online Reputation Management Program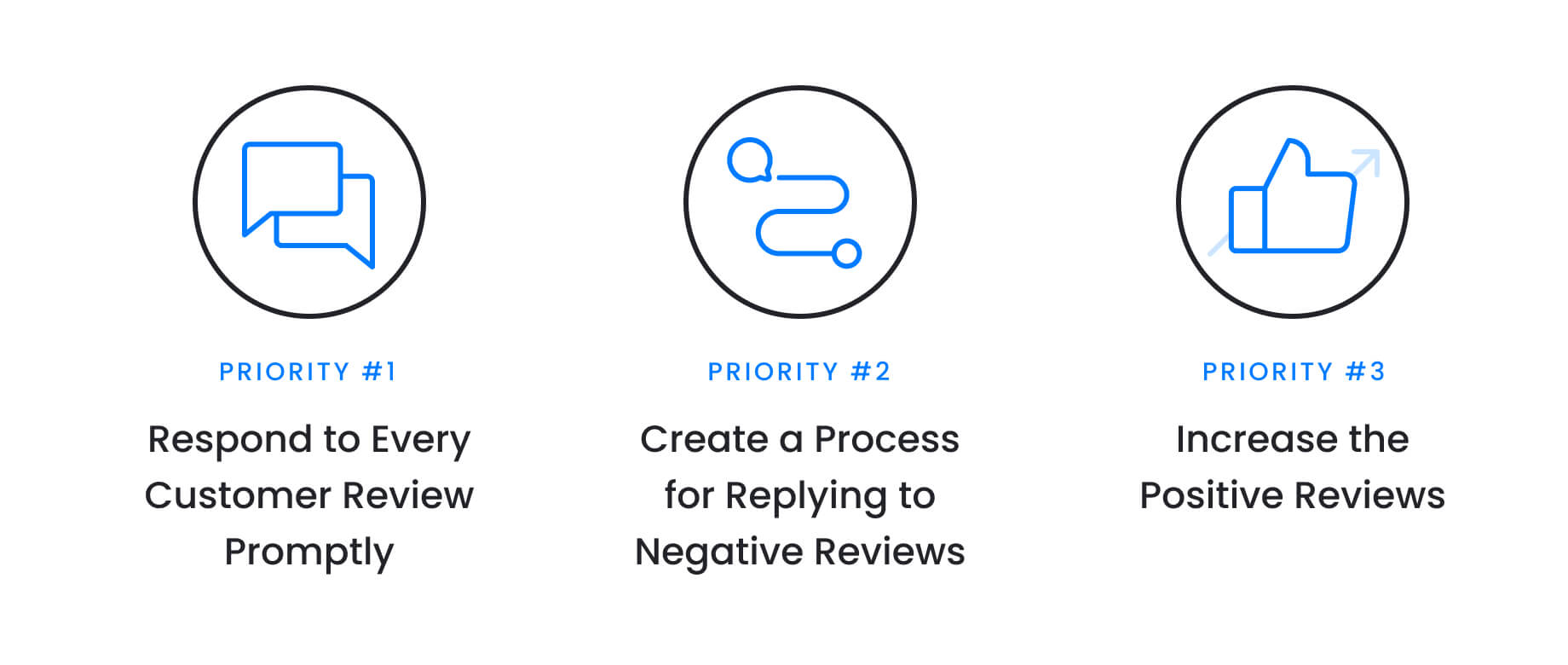 An online reputation management approach follows these stages: expanding, finding, reacting to, repairing, and then sharing consumer feedback on internet platforms. Employing these techniques may prevent future consumers from being damaged by negative reviews.
These specific steps below help a dental office successfully manage its online reviews.
Priority #1 – Respond to every customer review promptly
Individuals who take the time to tell you about their experience with your business love seeing their efforts appreciated publicly; whether that's a "like" or thank-you message, show them all some acknowledgement.
Priority #2 – Create a Process for Replying to Negative Reviews
In PR, we often say that perception is reality. In other words, what people believe to be true is more important than objective truth. This presents a problem when reviews are negative. Refer to the steps above on how to handle negative reviews. The critical priority is establishing a process, including assigning duties, employees, and techniques that should be followed with each negative review.
Priority #3 – Increase the Positive Reviews
The next priority is to increase the number of reviews published on high-volume websites such as the ones we listed above.
Tip #3 – Connect with Happy Patients to Request Online Reviews
One of the most challenging tasks for any business is to ask customers for assistance in promoting their brand. Dental clinics must navigate complex privacy issues (HIPAA) when dealing with patient confidentiality concerns.
However, previous and current patients can post user reviews or ratings on their chosen social platforms. The best way to ensure you receive feedback is by providing multiple opportunities for patients to leave their thoughts. Here are a few tips on how to do that effectively:
You can make it simpler for your patients to review your business by QR code on Google or Facebook. With the QR code at your office, satisfied customers can rapidly scan and leave a rating or written feedback with their mobile devices.
Create a User Review page on your website. This site can be used to offer recommendations and feedback about how your firm may improve - and customer comments are an essential part of that process. Make direct connections between your company listings on Dental Directories on this page.
Automate the sending of SMS texts or emails to your patients. Requesting patient feedback may be automated using reputation management software like ReviewsOnMyWebsite.
Tip #4 – Display Positive Reviews on Your Website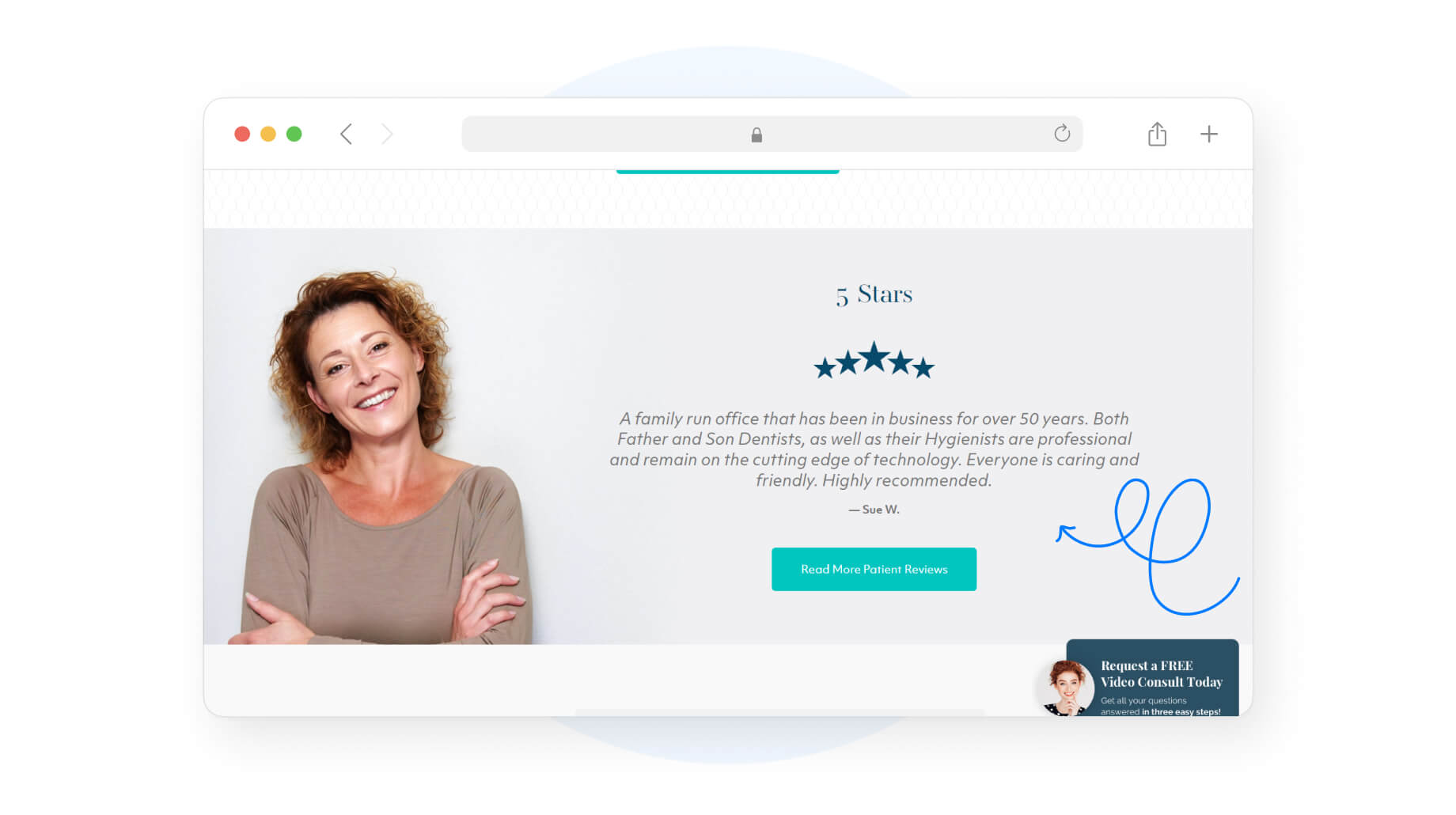 The actions of others influence people. This is referred to as social proof. As you employ the online reputation management tips above and begin to catalog those positive reviews, consider sharing them on your website.
Need Professional Online Reputation Management Services for Dentists? Get in Touch
Now that you've learned how to improve your dental practice's online reputation, consider using ReviewsOnMyWebsite to help you automate many of the tasks we outlined above.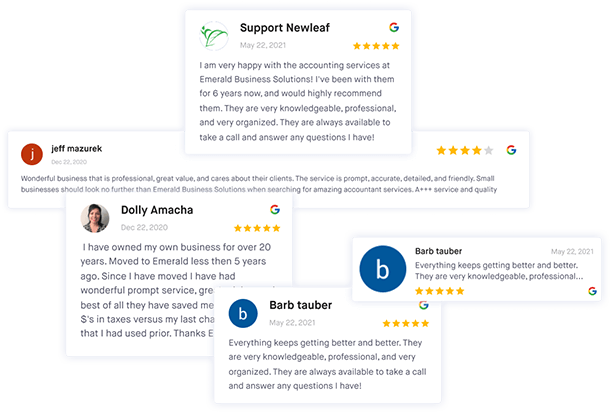 Leverage feedback and reviews to improve your online reputation
Get more online reviews and turn your customers into raving fans with ReviewsOnMyWebsite review generation software.
Our software helps healthcare providers get direct consumer feedback and show current ratings on their marketing channels. This makes it easier for customers to see how your business is doing and helps you make necessary changes quickly, based on customer input.
Seeking positive reviews and managing all comments online are proven techniques to improve your online reputation - and mitigate potentially damaging information. Sign up for a free trial today to discover how ReviewsOnMyWebsite can help you take your online reputation management as a dentist to the next level.