Right now, customers are on the hunt for brands that actively anticipate their needs. Knowing what your customers want helps you put them first and continuously meet their expectations.
Customer-centricity is key these days if you want to stand out and create a great customer experience that builds trust and keeps people coming back. But how do you find out what customers want?
1. Ask for feedback
The easiest way to understand what your customers are thinking: ask them!
With the help of reviews, surveys, and testimonials, you can encourage customers to tell you exactly what they like or dislike about your brand. In fact, 77% of customers view brands more favorably if they seek out and apply customer feedback.
Collecting ongoing feedback is crucial for anticipating your customers' ever-changing needs. Once you have a collection of feedback, read through it to identify what you're doing right and any areas for improvement.
Here's a collection of reviews for the Hummingbird Bakery. Customers have varied opinions about their experience and the service they received.
One customer complains that an item is too sweet and even notes that others have said the same thing in past reviews. The Hummingbird Bakery could consider this and alter the recipe if customers continue to mention it.
There are various ways to collect feedback from your customers. You can even incorporate them into your existing marketing efforts. For example, you can send a request for feedback after each customer makes a purchase or send follow-up emails to engage past customers.
Additionally, you can offer incentives like coupons or free samples to encourage customers to fill out a review or survey. While you may have a ton of questions you want to ask your customers, you don't want to scare them off with a survey or a process that's time-consuming.
If you're unsure what to focus on, the Net promoter score (NPS) is one of the most important factors to consider when collecting feedback. This is a measurement of how likely your customers are to recommend your business on a scale from 1 to 10. NPS helps you gauge customer loyalty and satisfaction. No matter how you plan to collect feedback, monitoring NPS can give you insight into your relationship with customers and your growth potential.
2. Customer support
To understand your customers even further, you should be familiar with their pain points. Customer support tickets highlight where your customers need help or feel frustrated. Sift through your support tickets to identify common pain points and address them.
For example, if multiple support tickets mention slow website load times, it could be time to consider upgrading your website.
3. Interviews/Focus groups
While you can quickly collect reviews and surveys from many customers, they don't always provide the most in-depth information. On the other hand, interviews help you get to know your best customers and give a more detailed explanation of what they think of your brand. To get started, reach out to some of your best customers to set up a call and talk about what they'd like to see from you in the future.
4. Social listening
If you provide a quality product or service, your customers are likely talking about it somewhere online. You need to know where to look.
Social listening is a fruitful way to find out what your customers are talking about, and most importantly, what they're saying about you.
Stay on top of the conversation by regularly searching your brand name on social media. You can even encourage your customers to share their thoughts or create content about your brand with a hashtag you can monitor for inspiration and feedback.
For example, Drunch, a popular cafe, can monitor #drunch on Instagram to track user-generated photos and reviews from customers on that platform.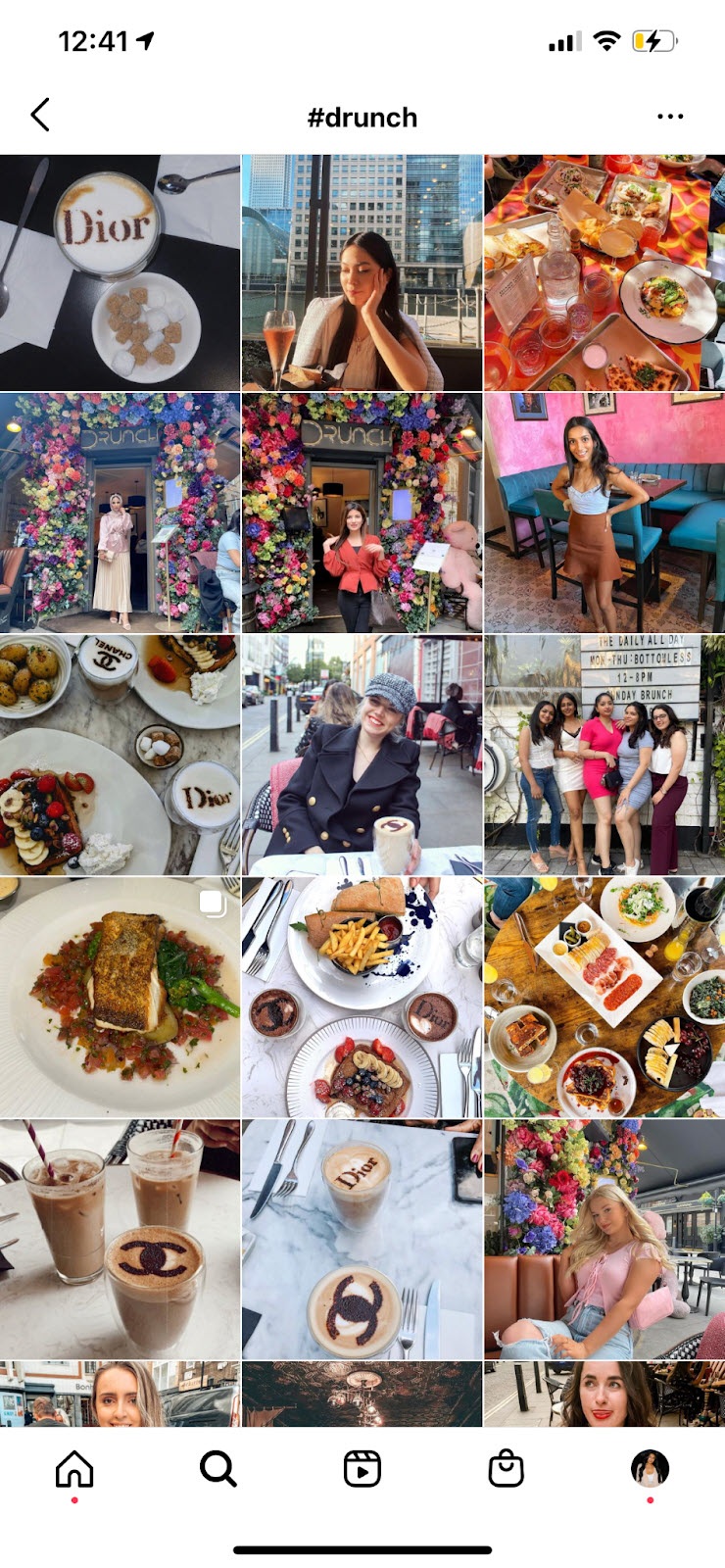 If you don't have many followers, browse your competitors' feeds or other accounts popular in your industry. Regardless of your social presence, listening in on the right conversations can help you understand trends and anticipate customer needs.
5. Dig into analytics
While tons of data can help you create a complete picture, it can seem nearly impossible to sort through it all. First, start with whatever you have available or can easily calculate by hand. This includes things like website traffic, click-throughs, or social media insights.
Next, choose the most important KPIs for your brand, and monitor them regularly. For example, a cleaning service would likely track the number of website visitors and inquiries from potential customers. This will give them an idea of the amount of traffic coming into their site and how much traffic converts to sales.
The KPIs you choose depends on the overall goals of your specific business. Web traffic tells you which pages your customers visit the most. At the same time, ad click-through rates will show the products and services your customers are most interested in.
Getting to know your customers and what they expect from you, is essential for crafting an impactful experience that they share with others. While you can't please everyone, you can listen and ask the right questions so you always know what your customers are looking for.
Reviews, data analytics, and social media are all helpful sources of information that you can use to improve your customer experience and better understand what your customers want. With this information on hand, show your customers that you value their feedback and aim to help make their life easier.