ReviewsOnMyWebsite makes it possible to set up your own custom domain or subdomain for your white label dashboard that's available on our Reseller plan.
You have 2 options you can use:
Setup a sub domain, eg reviews.mydomain.com
Setup a root domain, such as mydomain.com
We recommend setting up using the 1st option as your company website will most likely already be on your root domain. Just follow these simple steps to get your custom domain name configured.
All custom domains automatically include free SSL.
1. Create a CNAME record
In the DNS records for your domain name, add a CNAME entry pointing from your domain or subdomain, eg "reviews.mydomain.com", to "reviewsonmywebsite.com".

2. Check your CNAME record
Use a CNAME lookup tool (like this one) to verify that your CNAME record was added correctly.
If your CNAME is correct, you'll see something like this: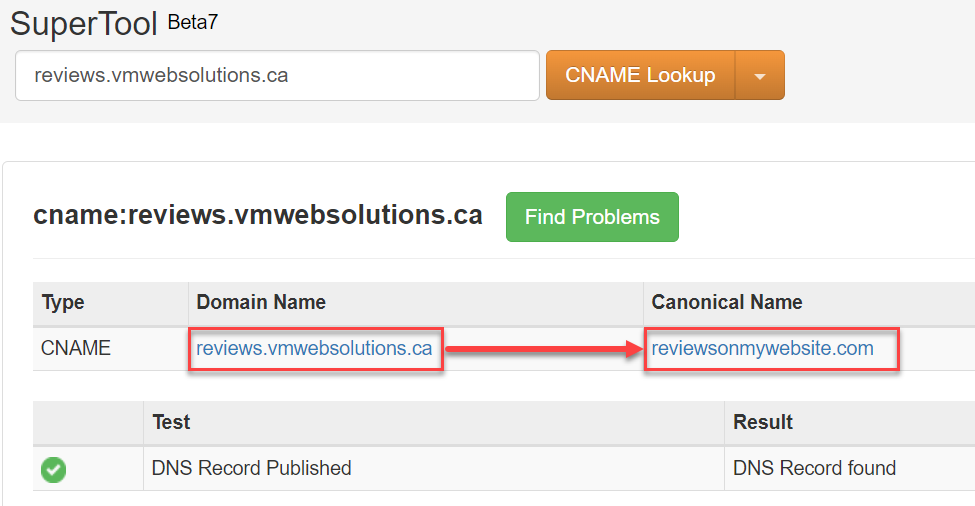 If you're having trouble setting up the CNAME, please let us know and we'll be happy to assist you.
3. Contact us to finish the setup
Once the above steps have been completed and you've confirmed that your CNAME is correct, please contact us and we'll finish the setup for you! It generally takes ~24 hours for your custom domain to be fully configured.
CNAME documentation for top domain name providers
The following list contains links to CNAME record documentation for several of the top domain name providers: