We've officially entered a time where the success of our business is determined almost entirely by the success of our past customers - or, to put it simply, through reviews.
This is good news.
If your small business provides customers with quality service, then there's no reason why you shouldn't be able to harvest the benefits of your ongoing efforts in the form of good reviews.
Why are good reviews important?
A recent study found that 90% of consumers said that reading positive reviews online influenced their decision to purchase goods or services from a particular company—that's huge!
It isn't just about good reviews, either.
A whopping 86% claimed that negative reviews similarly influenced their decision-making process. Either way, it's time to admit that reviews should be an integral part of your marketing strategy.
Despite their importance, obtaining quality reviews from your customers can be difficult. Most people don't bother to leave reviews, so it is doubly important to encourage your customers after a successful interaction.
Another factor that weighs heavily on people's decision to purchase goods or services is how recently someone left the review.
Nearly half of people surveyed reported that a review must have been written within the last month to be considered relevant. That means that you must cultivate a steady influx of unique reviews for your business rating to be taken seriously by prospective consumers.
The best way to achieve this goal is to anticipate and remove any obstacles that may provide difficulty for your satisfied customers.
Make sure that your business is registered on multiple online review sites, including Google My Business, Yelp, and Facebook, as well as industry-specific sites like Houzz or Angie's List where applicable.
Once you've registered, double-check that all of your information is accurate and consistent across all sites.
Details matter! The difference between writing "Street" and "St." in your address can cause problems for the various algorithms that govern these sites and the search engines that rely on them, so consistency is key. Once you're set up, it's time to create your strategy for success.
Here are three tips to get you started:
1. Get More Reviews By Asking
This may seem like an oversimplified solution, but the best way to get reviews from your customers is to ask them.
The asking is the easy part. It's slightly more challenging to pin down exactly when and how you should go about asking. Some people respond better to being asked in person, and some would rather get an email.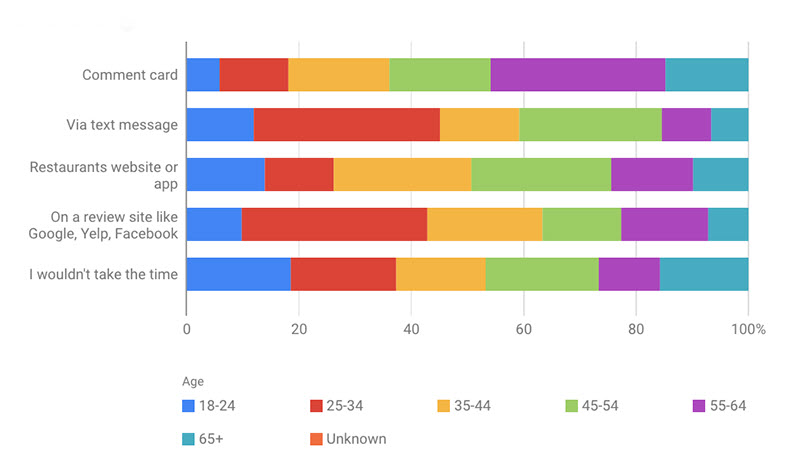 The above graph shows various ways customers prefer to leave a review for a restaurant visit they enjoyed.
Often, small business owners will let their people on the front lines decide how to ask for reviews—after all, they're the ones who come into contact with the customers.
While it's good to let the person who just successfully completed the job ask for a review, it's also a smart move to have a strategy in place for this before you send them out.
If you've found that you receive more reviews after you've emailed your customers, then prepare your employees to ask your customers for their email address at the completion of their job.
Many customers don't feel comfortable leaving a review while the person they're reviewing is standing right next to them, so be sure to leave them with a few options.
Here are some ways you can ask for reviews:
Send a review request email shortly after the service has been completed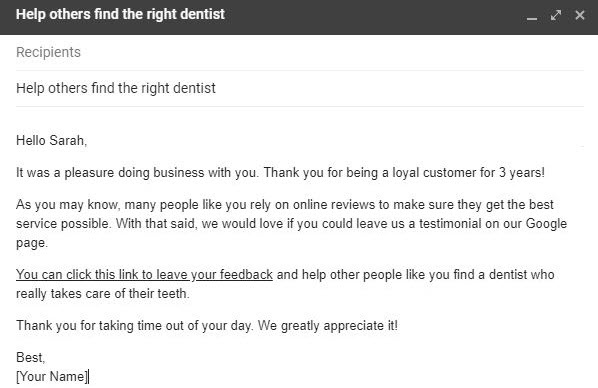 A simple email like this should do the trick.
Ask customers who reach out to you on social media

Encourage customers who get in touch with your customer support team to leave a review
There's no magic formula to use when asking customers for reviews. More often than not, it ends up being the result of several factors as well as some good old-fashioned trial and error.
If you've tried different strategies with little to no success, don't forget that there are companies out there who make it their priority to develop new strategies for struggling businesses.
2. Get More Reviews By Keeping it Simple
The best thing you can do is to provide options for your customers to leave reviews.
When doing so, however, try to make sure that it's as easy as possible.
Include banners or links from your website to the sites whose reviews you are courting. If you are emailing customers, include links at the bottom (signature) of your email, leading to popular review sites. You can even send them directly to the review screen to leave a review.
Reviews On My Website offers a collect reviews widget that makes it easier to collect more reviews from your customers directly on your website or email.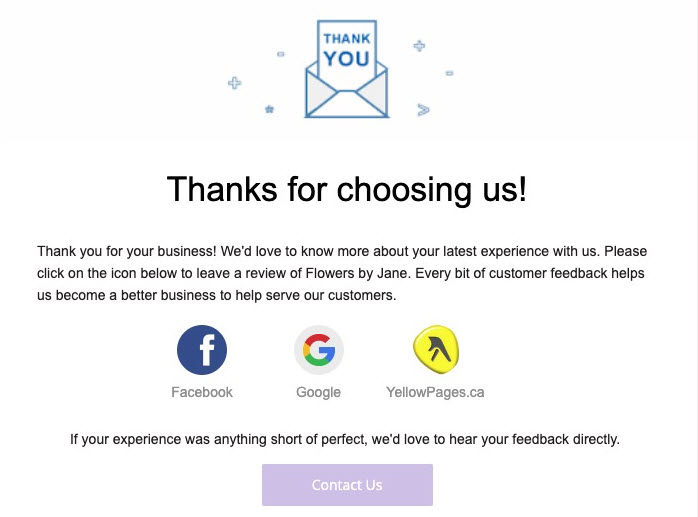 This florist links to Facebook, Google, and Yellow Pages to give customers a choice over how they leave their review.
As mentioned before, you should be registered on as many review sites as possible in order to maximize your online footprint.
Maximizing your online footprint provides your potential reviewers with the opportunity to use the websites that they're most comfortable with.
Have your employee get their email or phone number and use that contact information to provide your customers with a path of least resistance. This can also be a good way to pre-screen your customers and weed out the ones who may leave a less-than-favorable review.
3. Get More Reviews By Incentivizing Your Employees
Another way to keep your review momentum going is to incentivize your employees to ask for reviews.
It's important to note that there should be no punishment or negative effects for failing to reach their goals—after all, some customers can't be bothered to leave a review, no matter how nicely you ask.
Instead, provide positive reinforcements for those employees that are receiving the most reviews. It's helpful to mention to both customers and employees the benefits that positive reviews can have on an overall business, but this shouldn't be your sole incentive.
While it can be difficult to get more reviews, the benefits far outweigh the effort required to employ an effective strategy.
Don't forget to show your customers appreciation by responding to the reviews that you receive—good or bad!

Bad reviews are, after all, an opportunity to display courtesy and good customer service. Turning a bad experience into a positive one can be a powerful way to demonstrate that you care about what your customers think.
Other Ways to Get More Reviews for Your Local Service
Offer Incentives:

reward customers that leave a review with a discount, a coupon, or a gift

Promote Existing Reviews:

share the reviews you already have on social media and your website to show that you value the reviews your customers leave

Respond to Reviews:

customers will be more inclined to leave a review if they know you regularly respond to them

Use a Call-to-Action:

make sure customers know exactly what you want them to do by using a powerful CTA

Create (and Hand Out) Review Cards:

encourage your staff to hand out review cards to customers they see in-person

Provide an Excellent Service:

happy customers will leave reviews. Go above and beyond by providing excellent service and an unbeatable customer experience
Get More Reviews for Your Local Business
Reviews show potential customers that your service is worth investing in. It increases buyer confidence and gives your business that all-important social proof.
Once you start collecting reviews, you'll have a wealth of content for tackling objections and driving sales that you can publish on your website, social media, in your emails, and anywhere else you want to reach new customers.