It's well understood that online shopping has become increasingly popular in recent years. However, the impact of online product reviews on purchasing decisions is significant - and can make or break a brand's success.
Thanks to ease-of-access to online review websites, like Google Business Profile, Facebook, Amazon, and Yelp, with just a few clicks, consumers can access a vast amount of information about a product, including its features, quality, and performance.
Despite having access to a lot of information, it can be challenging for customers to make wise choices. Online consumer reviews can be helpful in such situations.
Reading online review content can give a new customer valuable insight from previous customers who have used or experienced the product, which can assist you in making an informed purchase decision.
In this article, we will explore the impact of online customer reviews on purchasing decisions, analyzing the behavior of consumers, including the ways in which they influence consumers' choices and the factors that make reviews effective.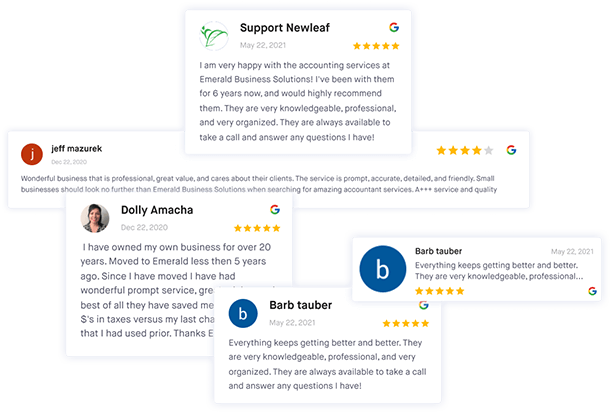 Leverage feedback and reviews to improve your online reputation
Get more online reviews and turn your customers into raving fans with ReviewsOnMyWebsite review generation software.
How Consumers Make Buying Decisions
Even though there are various consumer demographics, commodity reviews and recommendations from others frequently influence today's buyers.
Although many successful brands spend thousands of dollars on customer behavioral analysis marketing, complete analysis of consumer fixation, and even consider the role of gender or personal preferences, buying decisions tend to be based on individual needs.
Most of today's consumers make buying decisions based on various factors such as personal needs, budget, brand reputation, product category or quality, shipping costs, financial relationships, reviews, and recommendations. A five-star rating and consumer reviews influence shopping behavior as well.
It's also a statement of fact that many consumers conduct research online before making a purchase and compare prices, features, and benefits of different products or services.
To best explain how customers make a buying decision, let's provide a practical example.
Let's assume that our hypothetical consumer (Steve) is a Tesla owner in San Diego, California. They are looking for a professional detailer or automotive restyling expert who can install heat rejection window tint, to keep the car cooler during the hot summer months.
The purchase decision process he will take to find the right company to work with on this project follows a few common steps.
Step 1: Define the Product or Service They Need
In this case, we've qualified that Steve is looking for window tint that is designed to block infrared radiation, which causes heat. The reason he wants this type of special window film is to reduce parasitic battery drain for his electric powered vehicle. But also, window tint helps improve visual attention and aesthetics.
Step 2: Search Online for a Local Window Tint Installer
His shopping experience will then continue by searching for a local service provider. Since he lives in San Diego, he'll begin the process by searching Google for heat rejecting window tint in San Diego. He can accomplish this by typing in a few keywords into the search engine to provide a few top results that he can review.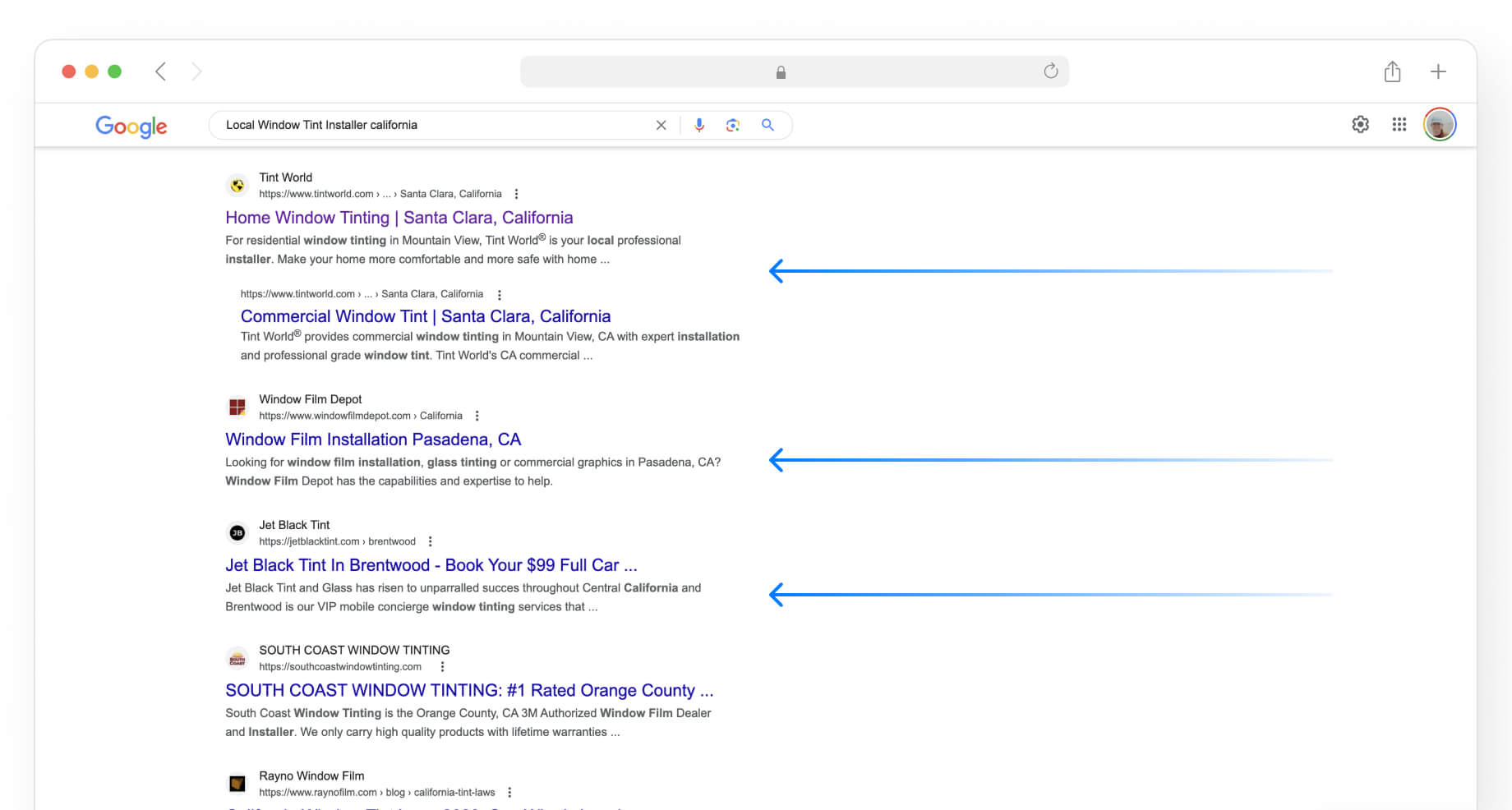 Step 3: Review the Top Results
Most customers that search online for a product or service will select a business that is on top of the search engine results pages (or SERPs). So, for the sake of argument, let's assume that Steve selects the top 3 window tint installers that he finds on Google.
Step 4: Determine if the Business Offers the Product
Once Steve chooses a business that shows up on the search results, he'll visit their website to determine if they sell heat-resisting window tint and install it in San Diego.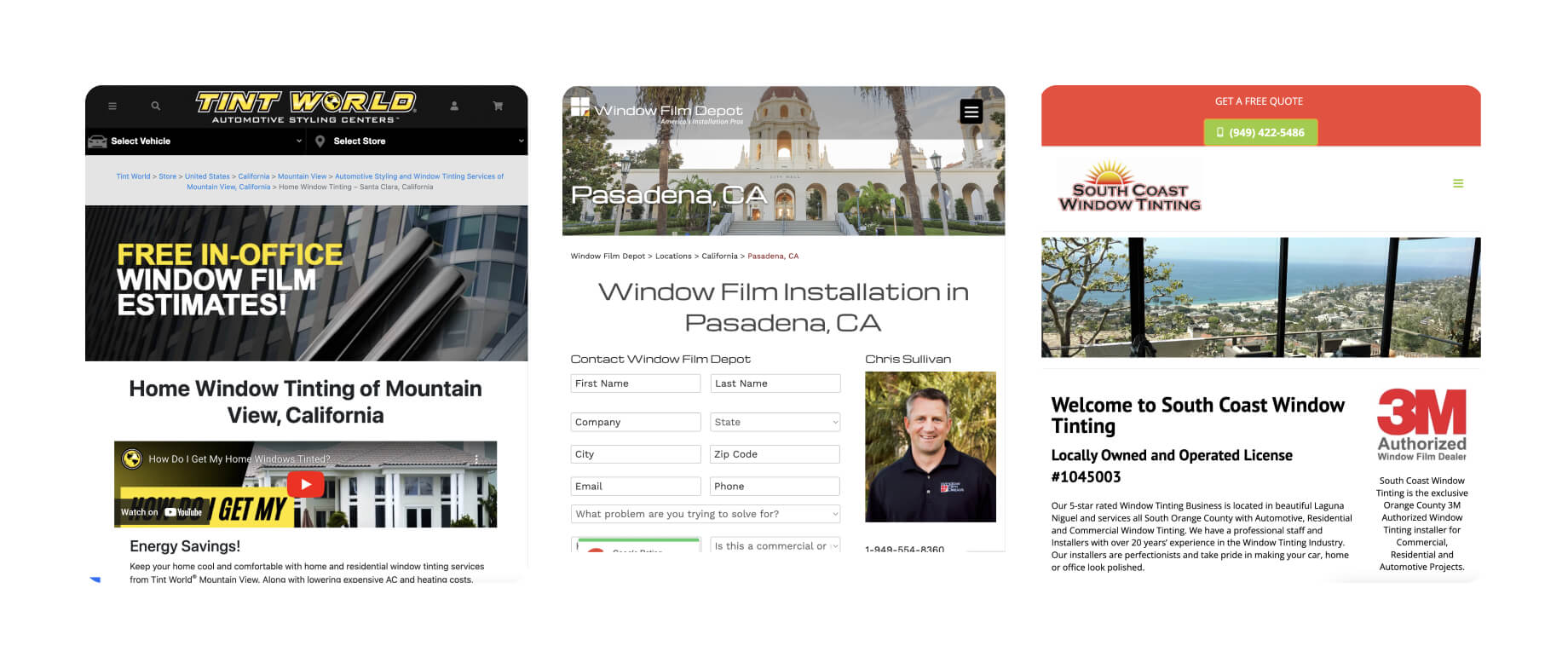 Step 5: Review the Products Offered
As he navigates the website, Steve is going to review the different types of window film that are designed to block heat from entering his Tesla. During this search, he is going to consider many product specifics that will determine which one is the right one for his needs.
Step 6: Price & Value Considerations
Steve will next factor in the price of the materials and installation. This buying decision factor also includes considering warranties and ancillary benefits that provide value to the customer.
Step 7: Brand Reputation and Loyalty
At this point, Steve has likely determined that all three window tint installers in San Diego offer the same type of product at the same price. The next step in the purchasing process is to select a tinter with film from a reputable manufacturer.
This will also include some research to determine if previous customers with similar cars to his have published reviews about the quality of the window tint they selected.
Step 8: Availability and Convenience
Typically, by this point in the buying process, Steve has a good feeling about narrowing down his list of possible window tinters. Now it's time to fine-tune the results by choosing one that has availability, fits his busy schedule, and is conveniently located.
Step 9: Reviews and Recommendations
Further in the decision process, he is researching reviews and recommendations from the window tint company in San Diego he chooses to work with. This is often done by reading direct customer reviews and ratings for each potential window tint installer.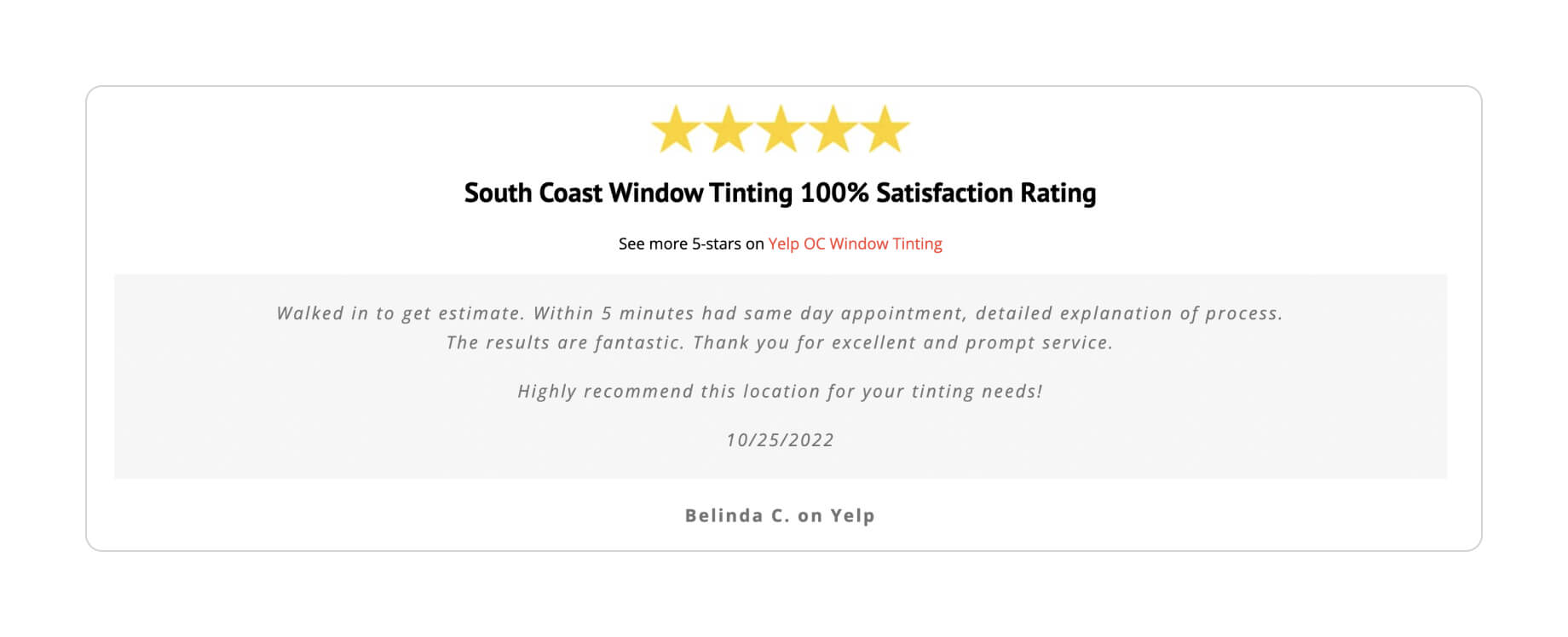 Another growing factor is reviewing social media posts made on the local business profile via user-generated content. If a certain window tinter has a lot of negative comments, that can guide them to other options. However, positive comments can provide peace of mind.
Step 10: Emotional Connection and Trust
A final factor is determining if a potential window tint installer has provided him with trust or an emotional connection. This can be established via social proof, or the feedback of others who have traveled the same buying decision path as he is currently considering.
The weight given to each of these factors can vary depending on the individual customer, the product or service being considered, and the overall market conditions. As such, businesses need to understand their target customers and their buying behavior to effectively market and sell their products.
What is the Impact of Reviews on the Consumer Decision Making Process?
Online reviews influence can not be underestimated. Reviews for products or services can have a significant impact on the consumer decision-making process. However, it can also shed light to a business for online consumer behavior.
In today's digital age, most consumers rely on reviews to make informed decisions about products or services they wish to purchase. Reviews provide consumers with firsthand information from other users who have used or experienced the product or service.
Reviews can influence consumers in various ways. Noted below are five of the top considerations that factor into new customers making an informed decision.
1. Establish Trust and Credibility
Online reviews influence consumer buying habits mainly based on their ability to increase social proof. If you're not familiar with social proof, it's a proven concept that means that people seek guidance from others in unfamiliar situations.
The primary reason why a consumer investigates reviews written by real people is to determine if that business is credible. Positive reviews from other customers can help build trust and credibility for the product or service.
In fact, new consumers are more likely to trust the opinions of people who have already used the product or service. But, if they read false comments, the effects of consumer confidence can be shaky. Authentic content of reviews on consumer purchasing is a huge influential factor.
The distinct differences between user generated content and corporate speak has a positive impact on brand connection.
2. Quality and Performance
Review type and quality can provide valuable insights into the quality and performance of the product or service. New consumers can use this information to evaluate whether the product or service will meet their needs and expectations.
One of the effects of review credibility is the authenticity of reviews and additional reviews written by multiple users. This is known as online review variance.
When potential customers read authentic customer reviews from verified buyers that mention the quality of a product, it raises their attention level. Bad reviews also collect consumer attention by raising red flags on products or services to avoid.
3. Price and Value
Recommendations, ratings, and reviews can also shape customer behavior. Attention to product reviews provide information about the price and value of the product or service. New consumers can use this information to determine whether the product or service is worth the price, provides value, or a return on investment.
4. Enhances Reputation
Businesses thrive on the feedback of customers. When a satisfied client or customer takes time to leave a positive rating or written review, it can significantly improve the reputation of the brand. On the other hand, negative reviews can deter new consumers from making a purchase.
However, a negative review that is replied to in a positive manner by the business owner or a representative can turn into a positive situation.
For example, if the initial review complained about the quality of a product that the customer purchased, and the business offered a full refund or to replace the item quickly, that shows professionalism.
Most people understand that mistakes happen. So, if the business goes out of their way to resolve the problem, that negative review can be perceived as a positive.
5. Provides a Direct Comparison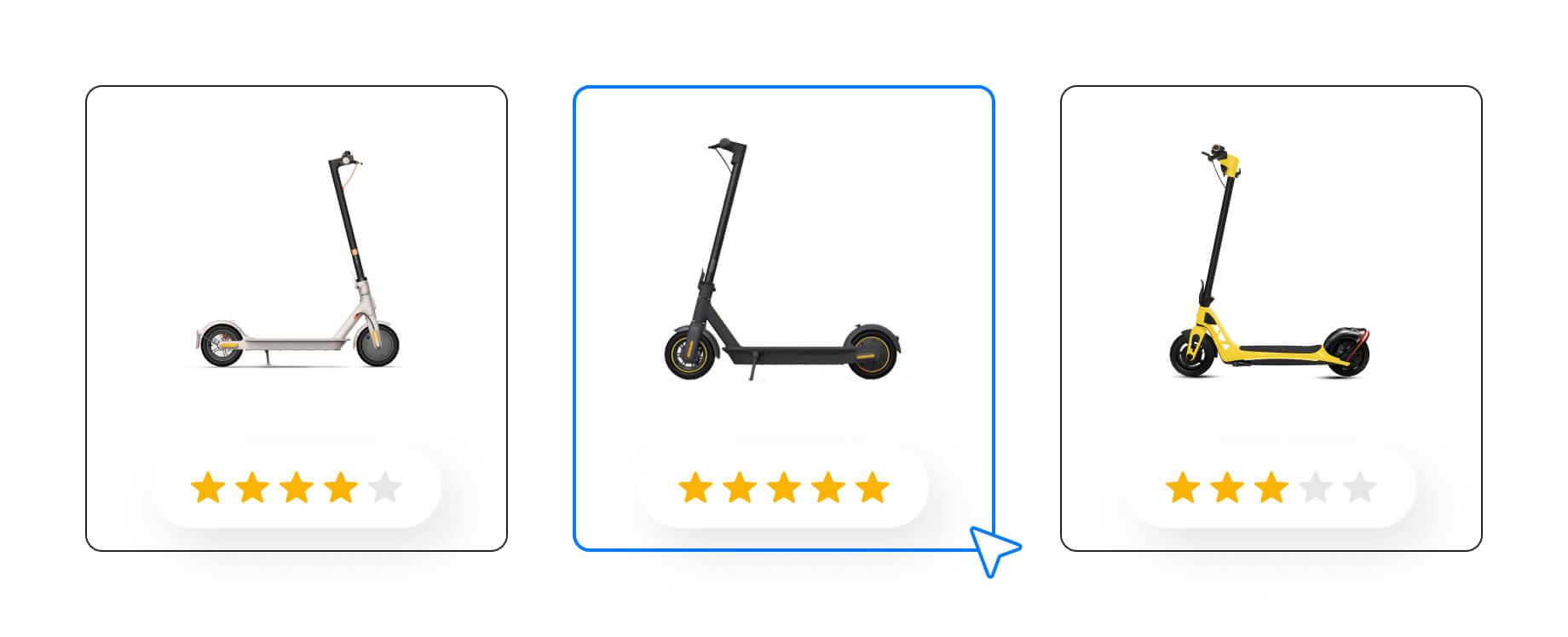 If a customer is searching for a product or a service that is offered by multiple companies, the previous consumer reviews can become the tiebreaker. It's quite common for your potential customers to use previous reviews to compare different products or services.
In some scenarios, people will compare the average star rating between a few competitors. New consumers can compare the reviews of different products of the same provider to determine which one is the best fit for them.
Key Takeaways
Overall, customer reviews can significantly impact new consumers' buying decisions.
They provide valuable information and insights that can help new consumers make informed decisions about the products or services they are considering purchasing.
It's due to these facts that most proactive businesses activate review generation strategies.