Collecting online reviews is no longer a luxury. Generating direct consumer reviews is now a requirement for any business that uses the internet to connect with consumers. However, a commonly asked question of business owners is, why are reviews important for your brand's success?
The truth is that the internet has opened the market for brands beyond their local area. It provides potential clients and consumers with an abundance of choices. This makes it challenging to persuade them that you are the best fit for them.
Direct customer reviews published on high-authority websites like Google, Facebook, Amazon, and more help consumers generate an initial opinion about any company.
And when these reviews are negative and left without feedback from the business owner or managers, it can destroy a company's online reputation.
In the information below, we'll explain why reviews are important. We'll explain online reviews' importance, not only for creating consumer confidence but also for local search SEO, improving your business inefficiencies, and reducing the potential of negative feedback in the future.
Why are online reviews important for your brand?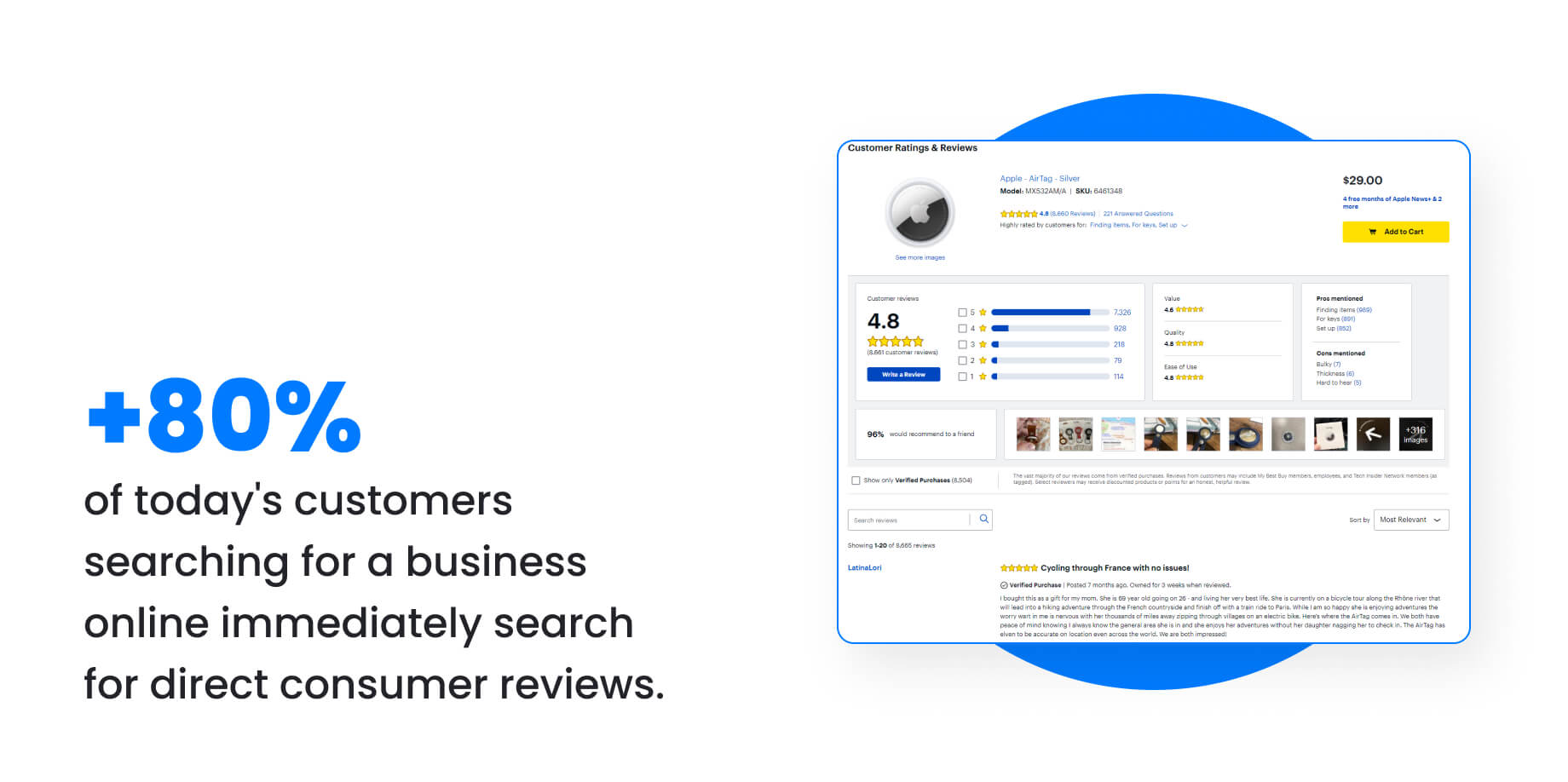 The opinions of others have influenced people for years. In the 1950s, musical Icon Frank Sinatra would never have been seen on stage without his glass of Jack Daniels. This was one of the first celebrity endorsement examples, significantly improving the brand's recognition and bottom-line sales.
Today, a consumer's buying decision is influenced by multiple sources. However, they are becoming increasingly skeptical about any company's advertising or direct marketing efforts.
According to multiple studies, more than 80 percent of today's customers searching for a business online immediately search for direct consumer reviews.
Whether a customer review on Yelp for an Italian restaurant or an Amazon product review for an item they wish to purchase, people will gravitate toward a business with multiple positive reviews from satisfied customers.
However, some reviews are more impactful than others.
Review type #1 - Video testimonials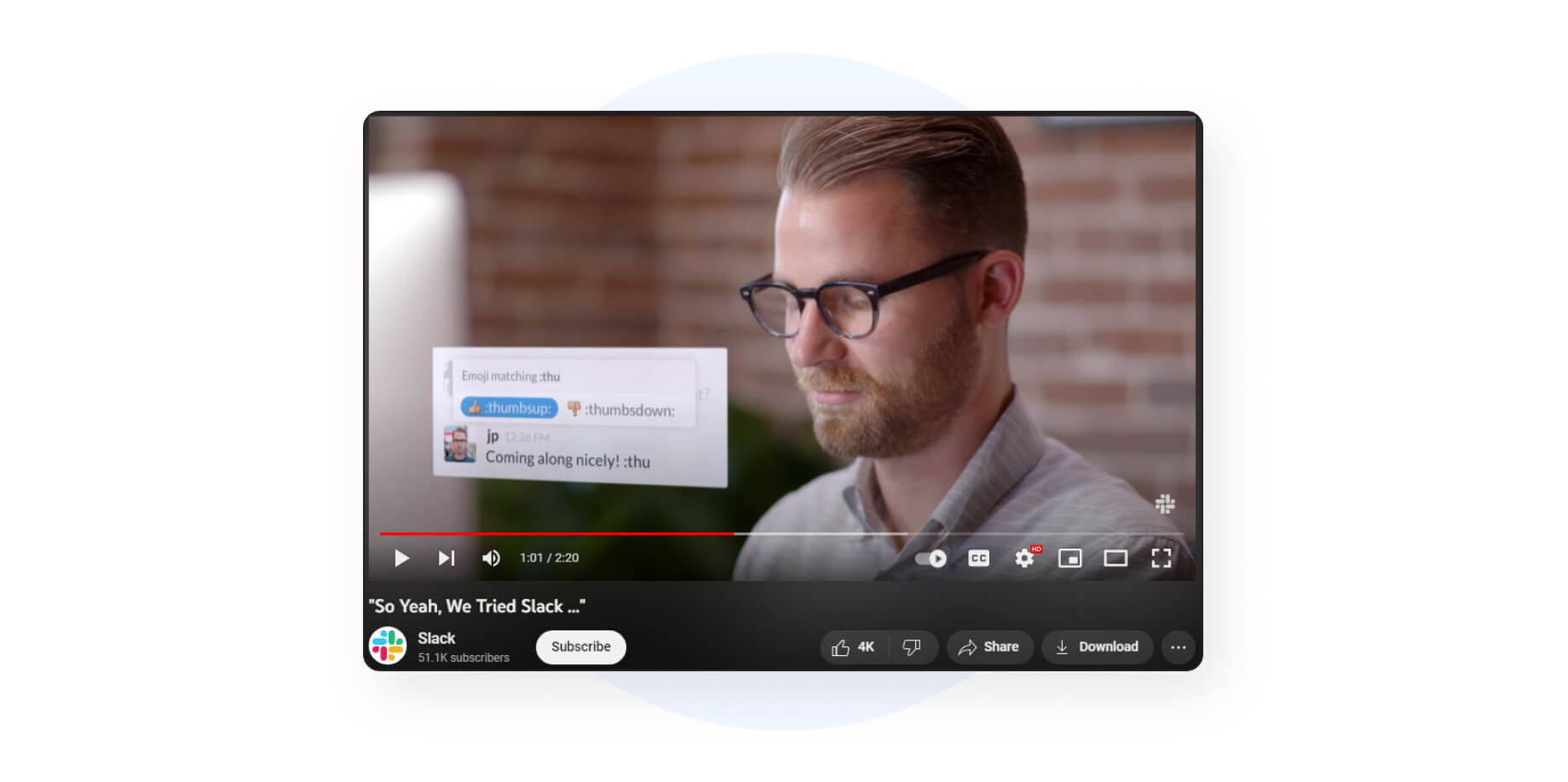 Video testimonials of business reviews are powerful because they give potential customers a visual example of how their product or service works in real-world scenarios.
Video reviews beyond the business's website can also be shared on social media and other platforms. This helps further spread a positive message about the business and its products.
Review type #2 - Social media reviews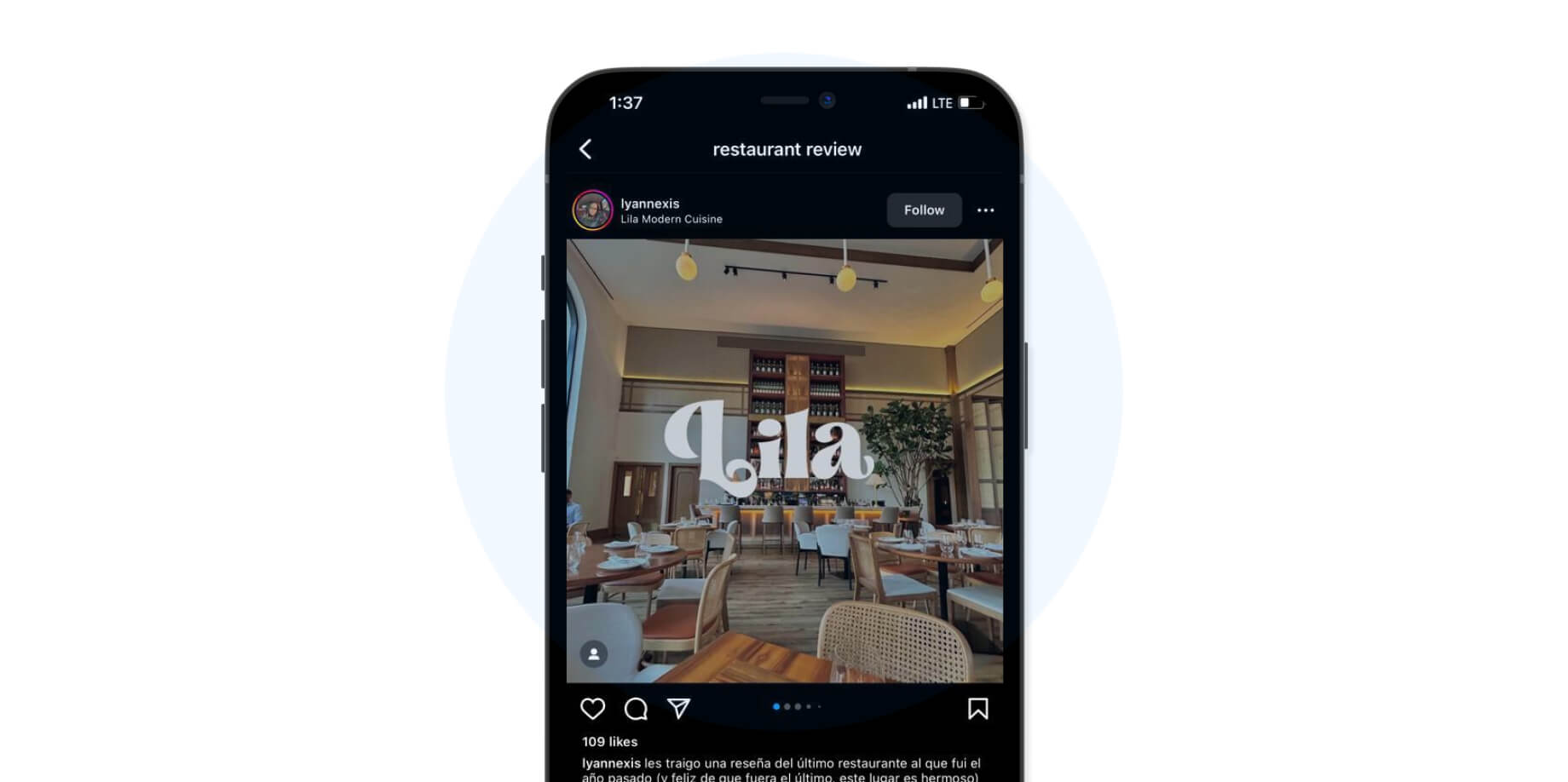 Social media reviews are some of the most powerful endorsements any business can receive. As people share positive experiences with friends and family, these comments become amplified, significantly increasing the potential for more business.
Social media reviews help increase visibility and provide customers with a sense of community, resulting in better customer loyalty and retention rates.
Review type #3 - Written reviews with business replies

Written reviews on third-party review sites like Yelp, Google, Facebook, and Amazon are essential for providing an interactive platform for customers to provide feedback.
When a business takes the time to respond to written reviews, it shows potential customers that they take customer service seriously. Not only does this help create consumer confidence, but it also helps to reduce the potential of negative feedback in the future.
9 Reasons why online reviews are important for your brand success
For the past few years, businesses that market to customers online have spent thousands of dollars on PPC ads, SEO for website content, and other digital marketing efforts.
However, regarding a cost-effective marketing strategy - nothing beats word-of-mouth advertising. In the digital space, this is showcased in online consumer reviews.
In 2023, there are nine top reasons why investing time and some resources in driving your number of positive online reviews is vital for brand success.
1. Social proof drives purchases
We are more likely to buy something when other people, even strangers, think it's a great decision. That's why online reviews have become the most potent source of social proof and help tremendously boost sales.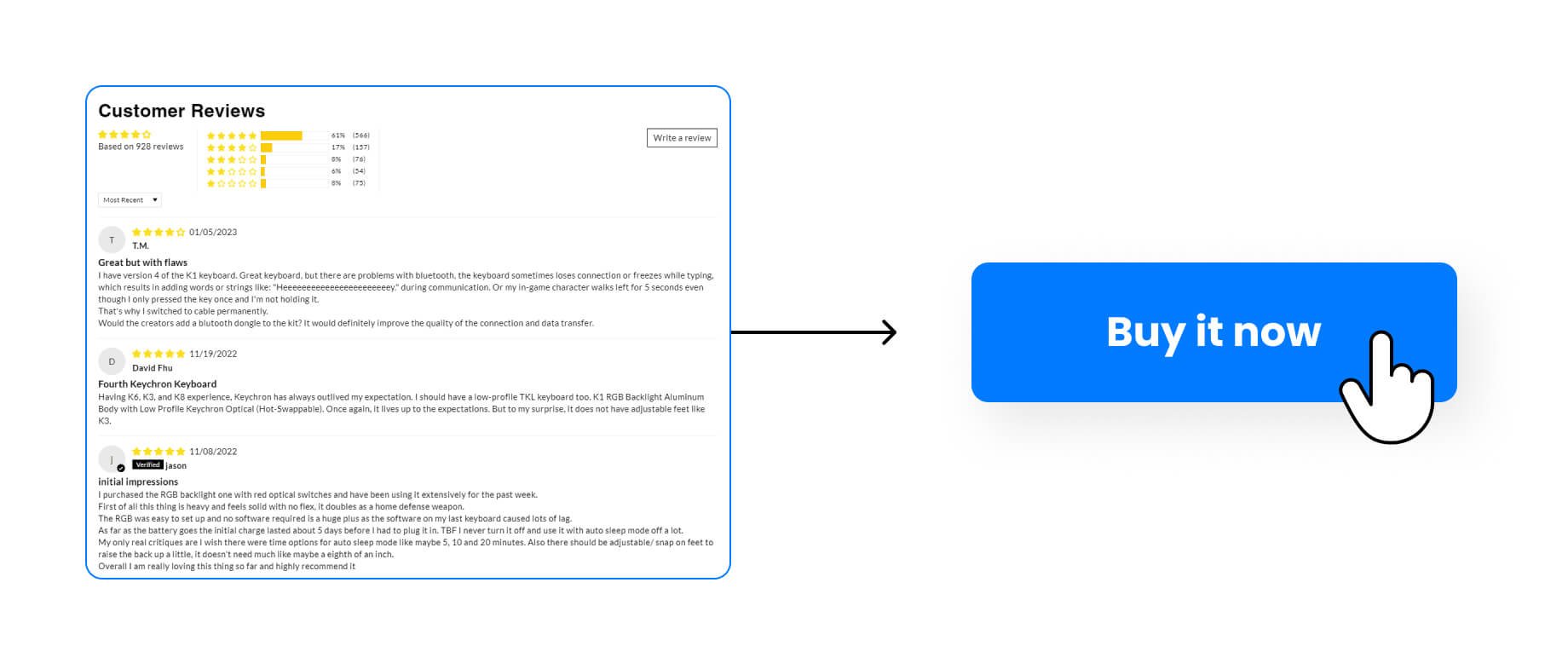 Social proof is a psychological phenomenon where people copy the actions of others to reflect correct behavior for a given situation. It occurs in daily interactions - whether you realize it or not.
For example, back in high school, it was common for many of us to attend dances. At the beginning of the evening, the dance floor was often empty - simply because most of us were uncomfortable being the first to dance.
However, when a few brave souls suddenly jumped onto the dance floor, the fear disappeared. This is a real-world example of social proof in action.
When your customers read a positive review of a stranger's experience with your brand, they are at ease. In fact, it's estimated that 85% of consumers are more likely to purchase a product or frequent a business after reading a positive review from a natural person.
2. Reviews help with SEO

Positive customer reviews are like gold for businesses, as they increase their visibility on SERPs and help them rank higher. This is because Google and various other search engines use these reviews to assess rankings based on specific keywords.
Related post: How do Google reviews help with SEO
3. Increases brand recognition
Accomplishing success as a brand depends on your visibility. When shoppers are deliberating which item to purchase, they often turn to search engines such as Google, Bing, or even Facebook for assistance.
Although the indexing approaches differ by website, they all value fresh material; therefore, customer reviews can help maintain content flow, and algorithms will favor your company's products.
Online customer reviews offer you an endless trove of (ideally) positive feedback, which search engines consider when deciding the results to show.
Ranking higher, as a result, gives your website more visibility and helps algorithms and people recognize it as a leader in its industry.
4. Improves consumer trust
Your brand will undoubtedly garner trust and credibility with a consistent surge of favorable reviews. Research recently uncovered the remarkable influence that consumer reviews have in shaping your company's digital presence.
Most customers won't choose a business with ratings below four stars, so businesses should strive to reach the highest-possible average rating. Doing so offers much more than just customer trust - it can also result in increased views converting into traffic and, ultimately, sales.
Once your name is out there, customers' discussion of you becomes just as important. An impressive online presence will drive sales and create long-term success for your business.
5. Creates engagement
Favorable (or unfavorable) reviews can swiftly go viral. This frequently happens when a company responds to a negative user review in a hostile and defensive manner.
However, when a business manager or owner takes a measured approach by responding positively and compassionately, it shows other potential customers that you care about your business - and the opinion of others.
User engagement with any business helps develop brand affection. It helps establish trust, builds relationships, and can drive the customer to leave more positive reviews.
6. Inspires new customers into a conversion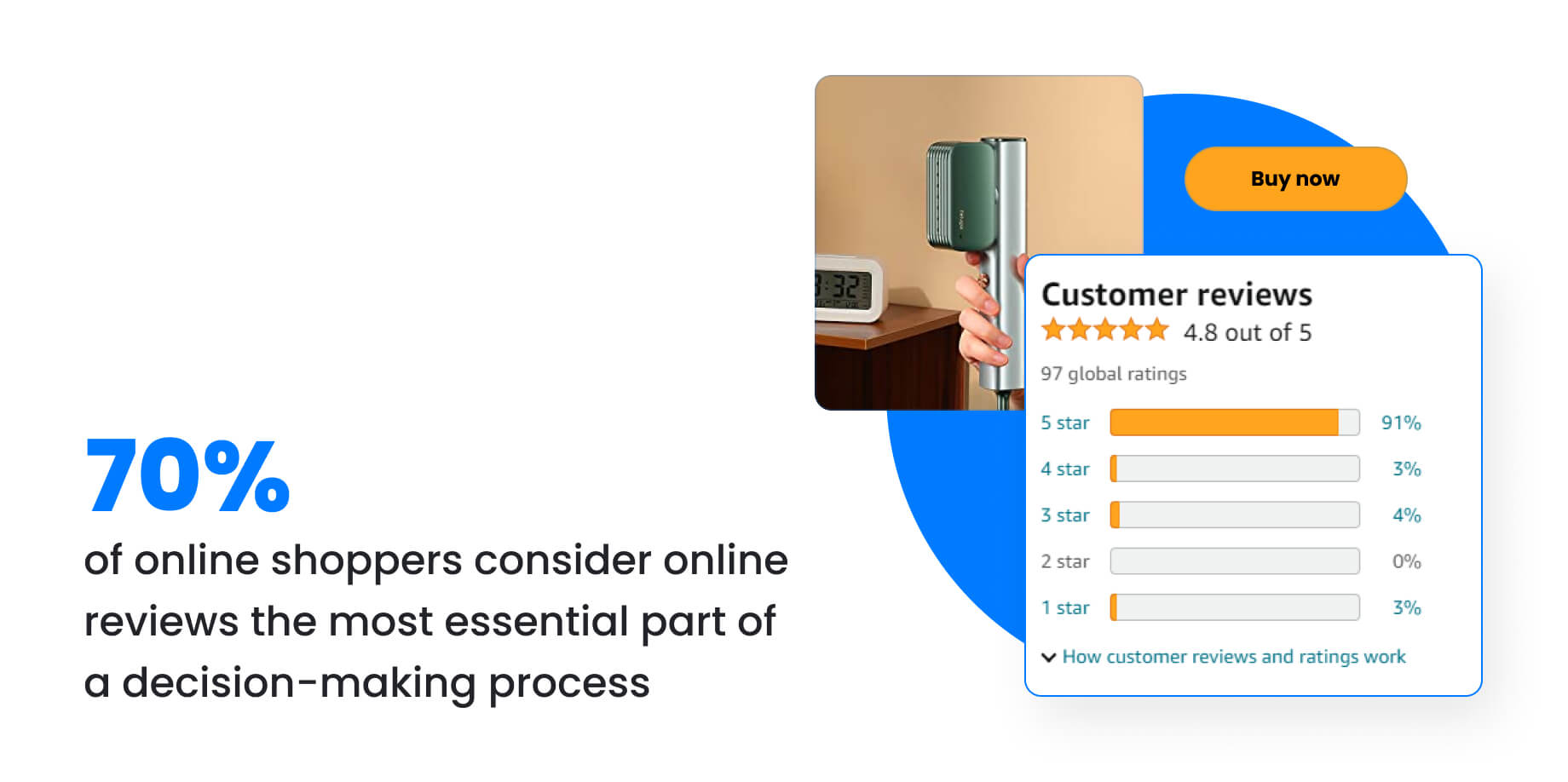 It's essential to build your brand proactively to expand your online presence. Employing social media is a great start, yet you must give customers a chance to discuss and share their experiences with other channels.
Doing so will ensure the maximum visibility of your company.
Did you know that nearly 70 percent of online shoppers consider online reviews the most essential part of a decision-making process?
Consumers are more prone to turn to Google, Yelp, and TripAdvisor for advice on where to go than they would a newspaper or their own family and friends. That's why your brand must produce consistent reviews; this will result in your products being considered when customers make their next purchase decision.
7. Directly correlated to increased sales
Harvard Business School discovered that customer reviews can directly affect your business profitability. A positive review of your brand will result in more excellent sales, and even improving the star rating could increase revenue.
However, there is a strategy to maximize conversion rates and, thus - increased sales.
Step 1 - Drive more positive reviews on high authority websites
When you have more positive customer-written reviews on Google, Facebook, Amazon, and others, the sheer volume of customers will eventually find your business.
Step 2 - Make sure your website is visible in your profile
If a customer is inspired to learn more about your business, make it easy by publishing your website URL in a prominent profile section.
Step 3 - Showcase your reviews on conversion pages
As you collect more personal recommendations for your local business or eCommerce website, share them on product or service pages, where there is a call-to-action for customers to click.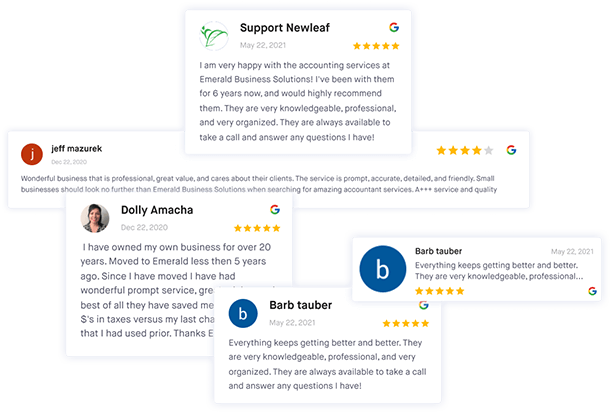 Leverage feedback and reviews to improve your online reputation
Get more online reviews and turn your customers into raving fans with ReviewsOnMyWebsite review generation software.
8. Provides vital insights into consumer feedback
Not every business is perfect. In fact, constructive criticism by outside sources (such as your customers and clients) provides exceptional feedback about your company's operations.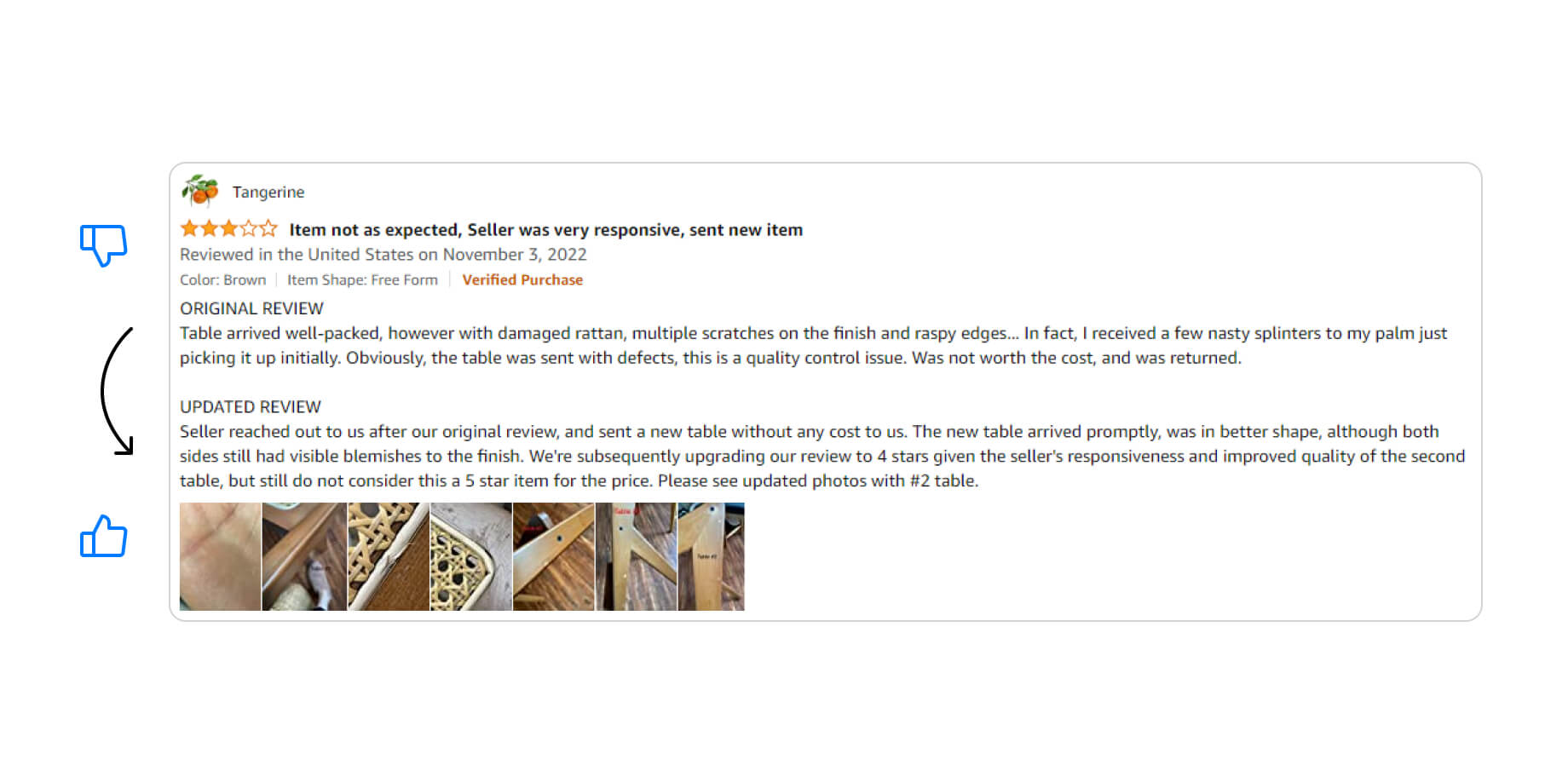 When a customer has a negative experience with a business, they are 90 percent more likely to tell others - than when they have a positive engagement. This is amplified when they have a platform to express their frustration.
However, a lot of this feedback of bad reviews is based on minor issues, miscommunication, or a failure of the business operations.
When you are proactive about reading customer reviews, you can learn more about areas of your business that need improvement.
9. Increases future positive reviews
You can turn a negative review into a positive outcome.
When customers feel like their voice is being heard, they are more likely to leave future reviews - and those will be primarily positive. This can improve your reputation in the long term.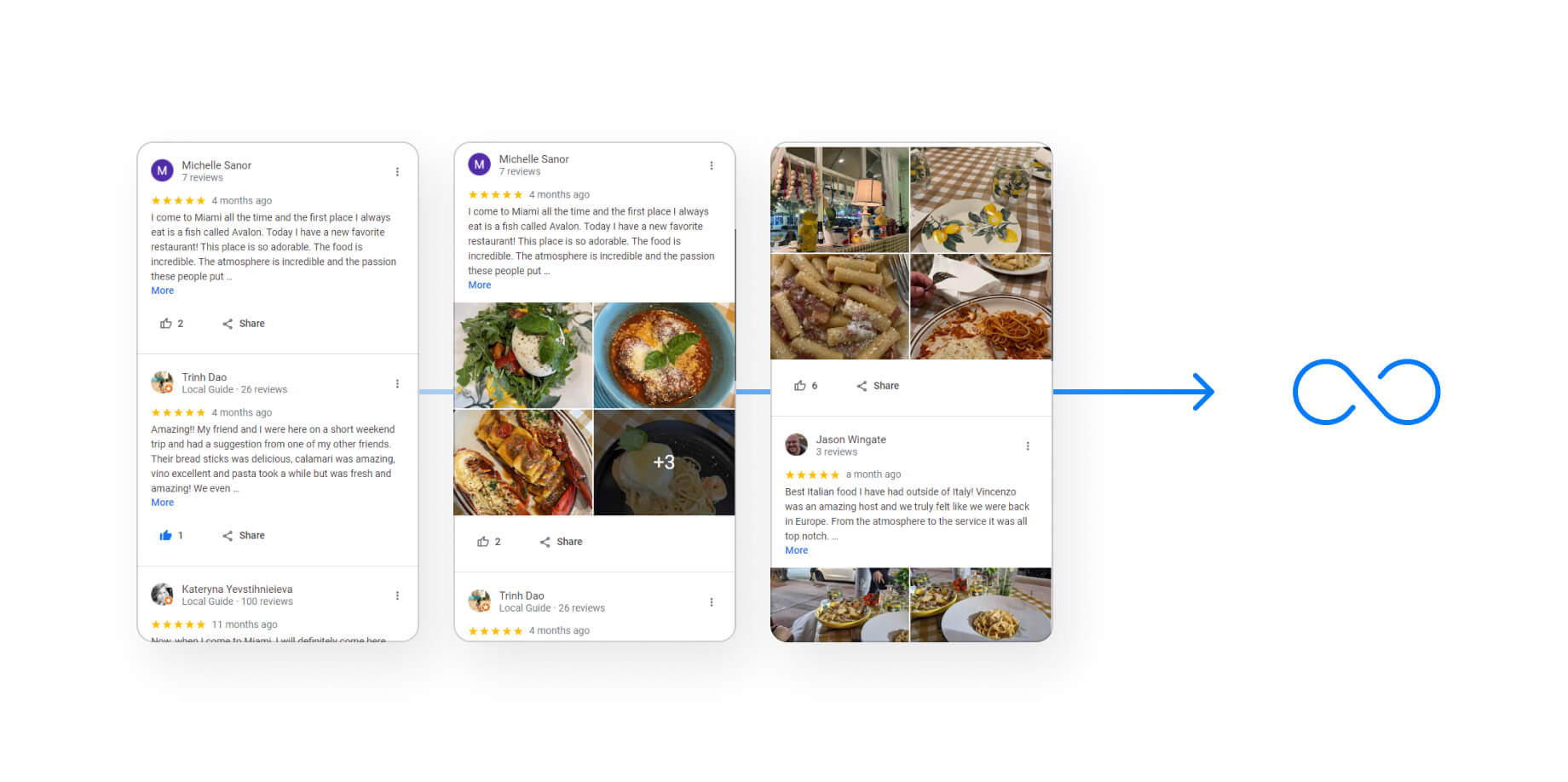 Lastly, when you consistently respond positively on review platforms and offer solutions, other customers will see that you are listening and trying to make improvements.
These are just a few of the many reasons why reviews are essential for your business. When customers have a positive experience, they often take the time to write a review, which can be an invaluable tool for businesses looking to expand their reach and increase sales.
Key takeaways on the importance of customer reviews
These are just a few of the many reasons why reviews are important for your business. When customers have a positive experience, they often take the time to write a review, which can be an invaluable tool for businesses looking to expand their reach and increase sales.
Remember that reviews are a two-way street for both customers and businesses.
It is vital to use them to your advantage, as it will drive more customers in the long run. Utilizing customer reviews can be a great way to build trust with potential clients and, thus, increase sales.
FAQ
How many reviews do you need?
It's tough to provide a dedicated number of reviews needed to improve online reputation. However, for starters, you should aim for at least 10-20 reviews to create a reliable online presence and credibility. This number can vary depending on the type of business you have and the size of your customer base. Still, it is generally seen as an acceptable minimum.
What If I don't have any reviews?
You must take proactive steps to get reviews, even if it means offering incentives to customers willing to provide feedback. Doing this will give you a better chance of gaining new customers and maintaining your online reputation. One easy way of doing this is sending direct links to your online review profiles to current and previous customers.
Why do people read reviews?
People read reviews to better understand the quality of products and services offered by businesses. Reviews provide customers with insight into how satisfied other people are with different offerings, allowing them to make more informed decisions regarding their purchases. Additionally, reviews also give potential customers a glimpse into how responsive a business is in terms of customer service.
What impact do product reviews have on consumer behavior?
Product reviews have been proven to influence consumer behavior in many positive ways. Reviews allow customers to learn more about a product and decide whether it suits them. Additionally, customer reviews provide valuable feedback businesses can use to improve their products and services. This makes customers feel valued and appreciated, which creates trust between the two.
How can reviews affect a business?
Reviews can have a powerful impact on businesses. Positive reviews endorse products and services, leading to more customers and increased sales. On the other hand, negative reviews can cause customers to turn away from your business, resulting in lost revenue. Therefore, it is crucial for businesses to monitor customer feedback and respond appropriately.
Are social media reviews critical?
Social media reviews are critical as they help to spread the word about your business. With so many people using social media, it is essential to use these platforms to reach potential customers and drive traffic to your website or product page. Customers also rely on reviews on social media to make decisions, which means you should take full advantage of them to build your online reputation.