A business serving a local community needs to grow by targeting those in their areas. Many growing companies focus on improving local search engine optimizations to accomplish this.
The question many ponder, however, do Google reviews help SEO?
And do they at all?
In short – yes. Google reviews can have an impact on your rankings in the local search results.
Google reviews are also powerful at improving customer engagement with local business profiles.
As Google reevaluates its algorithms, they factor in the quality of reviews posted on its platform, as well as the core keywords and phrases customers are using naturally within their review.
However, several factors impact local SEO rankings beyond Google reviews written by satisfied or unhappy customers. In the information below, we'll explore eight critical factors that can help boost local rankings via reviews written on your Google Business Profile.
What is Local SEO, and Why Does it Matter for Your Business?
Search Engine Optimization, or SEO, is the science of increasing the rankings of an online platform based on commonly searched terms.
Local SEO is generally created by improving content based on locally searched terms. For example – if you operate a bakery in San Diego and are trying to rank well for Apple Pie in your community, you will focus your content on including keyword phrases and variants of "apple pie in San Diego."
However, you can also improve your local searches by increasing the quality of Google reviews when customers of your local bakery in San Diego compliment your fantastic apple pie.
Local SEO is crucial to driving more organic visitors to your business. Whether it's a brick-and-mortar location or an online eCommerce business, every good business owner knows that you grow by capturing local markets first.
What is a Map Pack?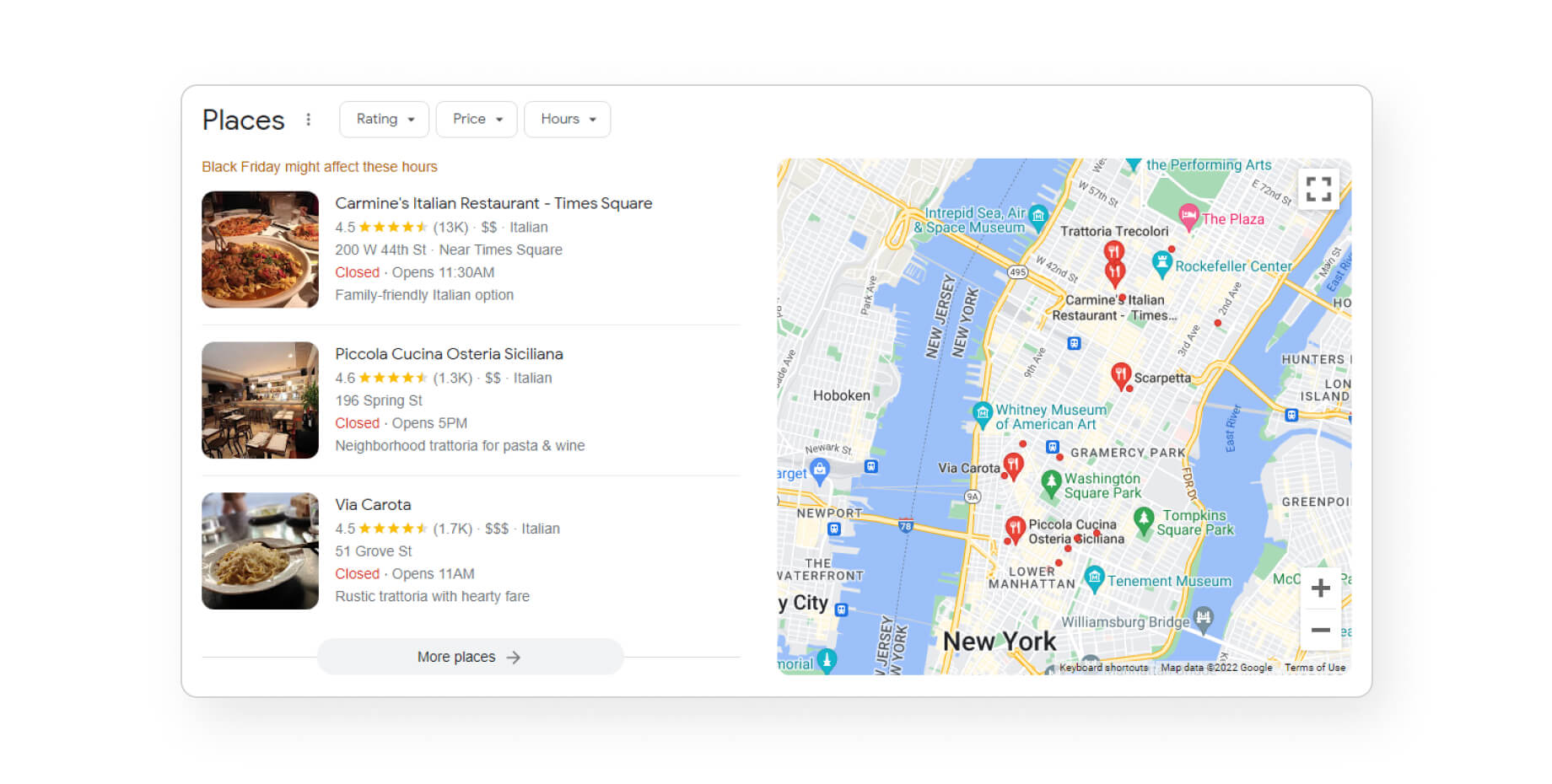 Google Map Pack is a set of three Google Maps-based results often appearing when users conduct local searches for businesses. Within the Map Pack, users see a business' Google reviews and overall star rating, a brief business summary, the business address, hours, pricing information, and featured photos.
What needs to be more commonly known is that Google Map Pack links will display higher than traditional search results. This is especially true on mobile devices, where most users find local search results.
What is Local Ranking?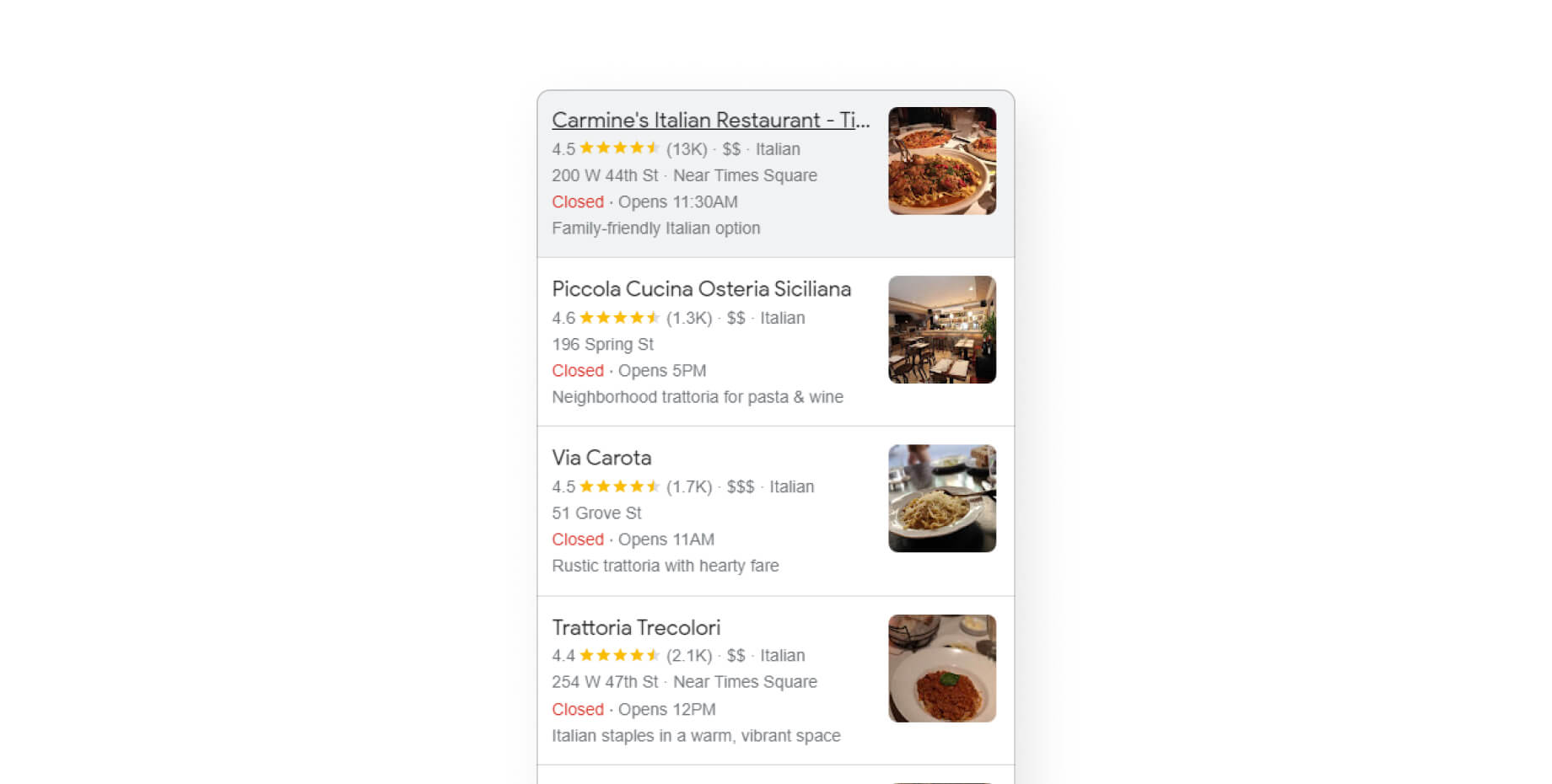 The local SERPs are displayed based on multiple criteria – including the Map Pack results, SEO within online content, and the quality of user reviews and business engagement with local businesses. The Google algorithm will factor multiple elements to provide rankings based on these local or Geographic-based elements.
For example – if our bakery in San Diego focuses a lot of effort on optimizing its website pages with locally searched keywords, actively replies to all Google reviews, and has a high-quality website that is mobile-friendly, they are likely going to rank higher than their competitor who does not spend time with these local strategies.
Do Google Reviews Help SEO?
We answered this question: Yes, Google Reviews can help your local search rankings.
Google reviews can help drive relevancy for the products and or services that your business offers, helping your profile achieve higher rankings when searchers take to Google looking for relevant terms in your local area.
The number of reviews can also impact your local ranking. According to a recent study done by SterlingSky, there has been a ranking increase when the listing went from 3 to 16 reviews. However, there really is not a ranking increase when the listing went from 16 to 31 reviews.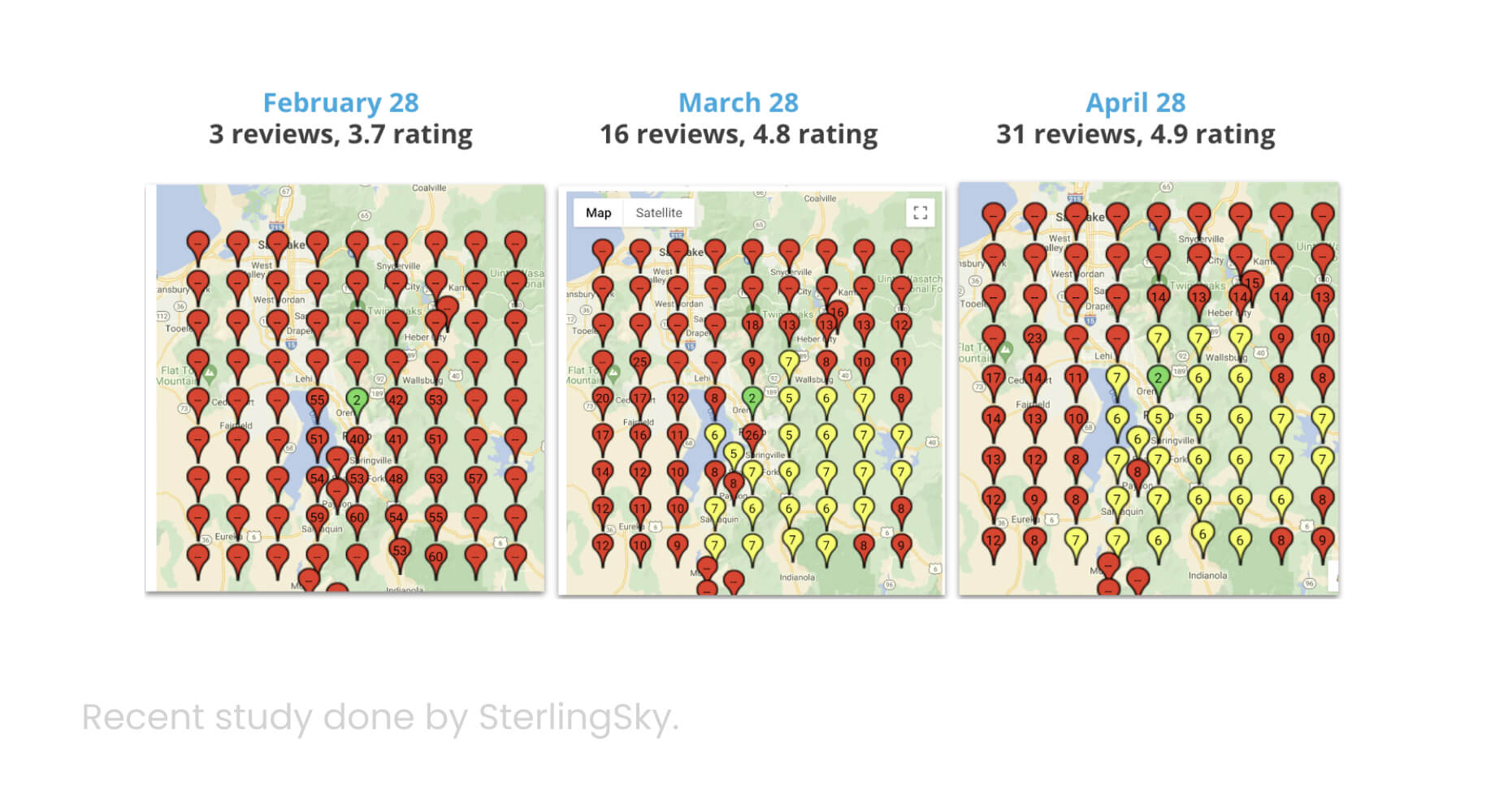 By collecting reviews for your Google Business Profile, you're helping not only to drive trust and interactions (clicks to your website, and calls), but also you're driving visibility and higher positions in the map pack.
How Do Google Reviews Affect SEO?
We all know that Google reviews can do wonders for your rankings, but what exactly is it about these reviews that help?
There are three reasons.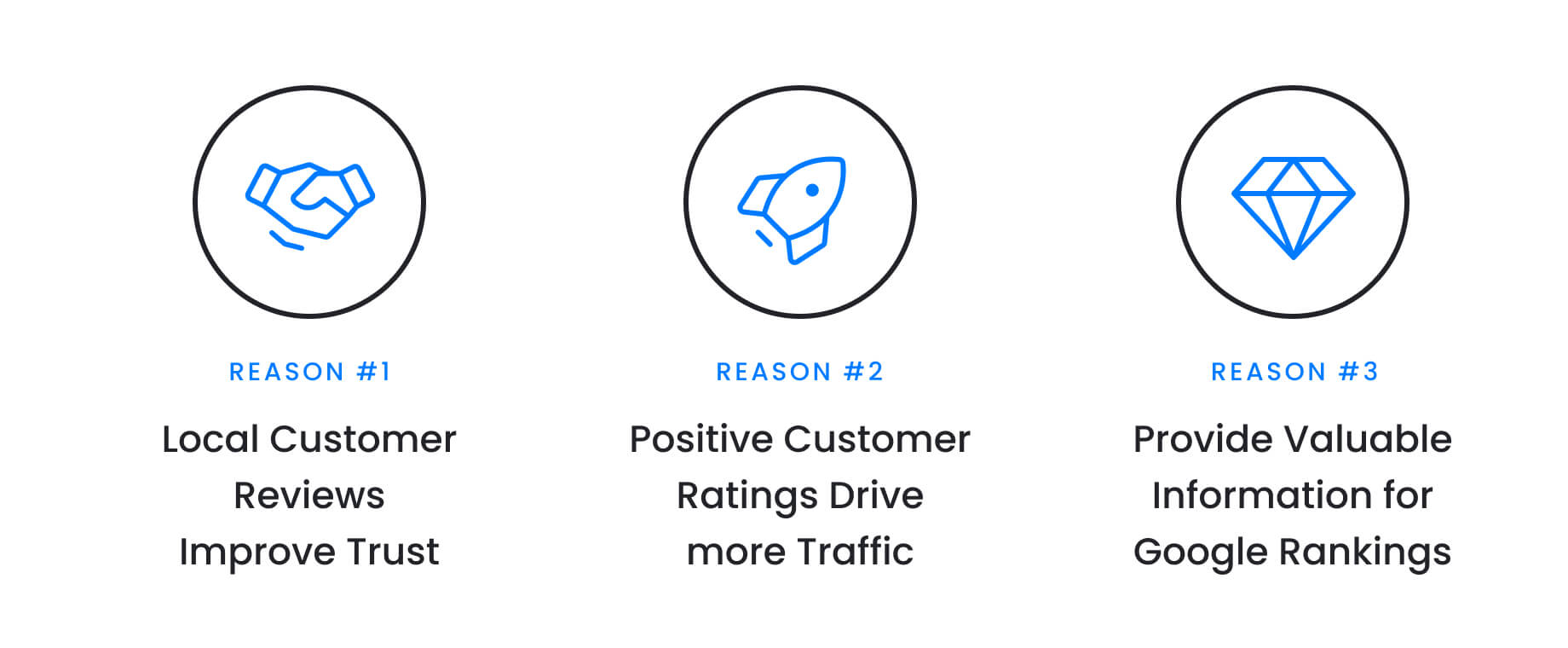 Reason #1 – Local Customer Reviews Improve Trust
Google trusts what other people say about you much more than what you say about yourself. Google rewards a company that has independent reviewers promoting the goods, services, and solutions a company offers.
For example, if you own that bakery in San Diego and have pages which mention the term "the best apple pie in San Diego," this will drive relevancy to Google for your product you serve - i.e. apple pie and can have an impact on searching using this query.
Reviews are not only a huge plus for helping to drive local rankings, but also help to build trust and get users to take action from your Google Business Profile (i.e. calling, visiting your website or booking an appointment.)
Reason #2 - Positive Customer Ratings Drive more Traffic to a Business
Consumers nowadays rely heavily on online business reviews, especially Google ones.
Suppose your business has a strong star rating and plenty of detailed reviews. In that case, searchers are more likely to trust and click on your website. The added Traffic from this surge in clicks tells Google that your website is authoritative and deserves a high search ranking.
Reason #3 - Local Reviews Provide Valuable Information for Google Rankings
If you want your website to rank well on search engines, you need to have content-rich, detailed descriptions of the goods and services you provide on your website. These full descriptions make it easier for Google and other search engines to find and crawl your site; this increases the chance that people will see your site when they do an online search.
As more consumers publish reviews on your Google Business profile, their descriptions of your company are extremely valuable to explaining to the Google bots about your business. When the descriptions of your bakery in San Diego match what you've published on your website, this improves your local SEO rankings.
Does Responding to Reviews Help SEO?
So, you might question, "does responding to Google reviews help SEO?"
User engagement is a factor in Google's consideration for how they display their results.
When a business owner takes the time to reply to user reviews, it creates a positive experience – for the reviewer and new business page visitors.
Here's a direct quote from Google's Business Profile help section:
"Respond to reviews that users leave about your business. When you reply to reviews, it shows that you value your customers and their feedback. High-quality, positive reviews from your customers can improve your business visibility and increase the likelihood that a shopper will visit your location."
We'd highly encourage you to respond to all reviews, whether positive or negative, to help provide a better user experience for your potential customers.
5 Review Factors for Local Rankings
By now, it should be clear that Google considers feedback from local customers extremely valuable when ranking a business in its search results. However, there are more factors than the review that genuinely matter.
Let's review five other review management factors that Google considers when determining how to rank a business based on user reviews.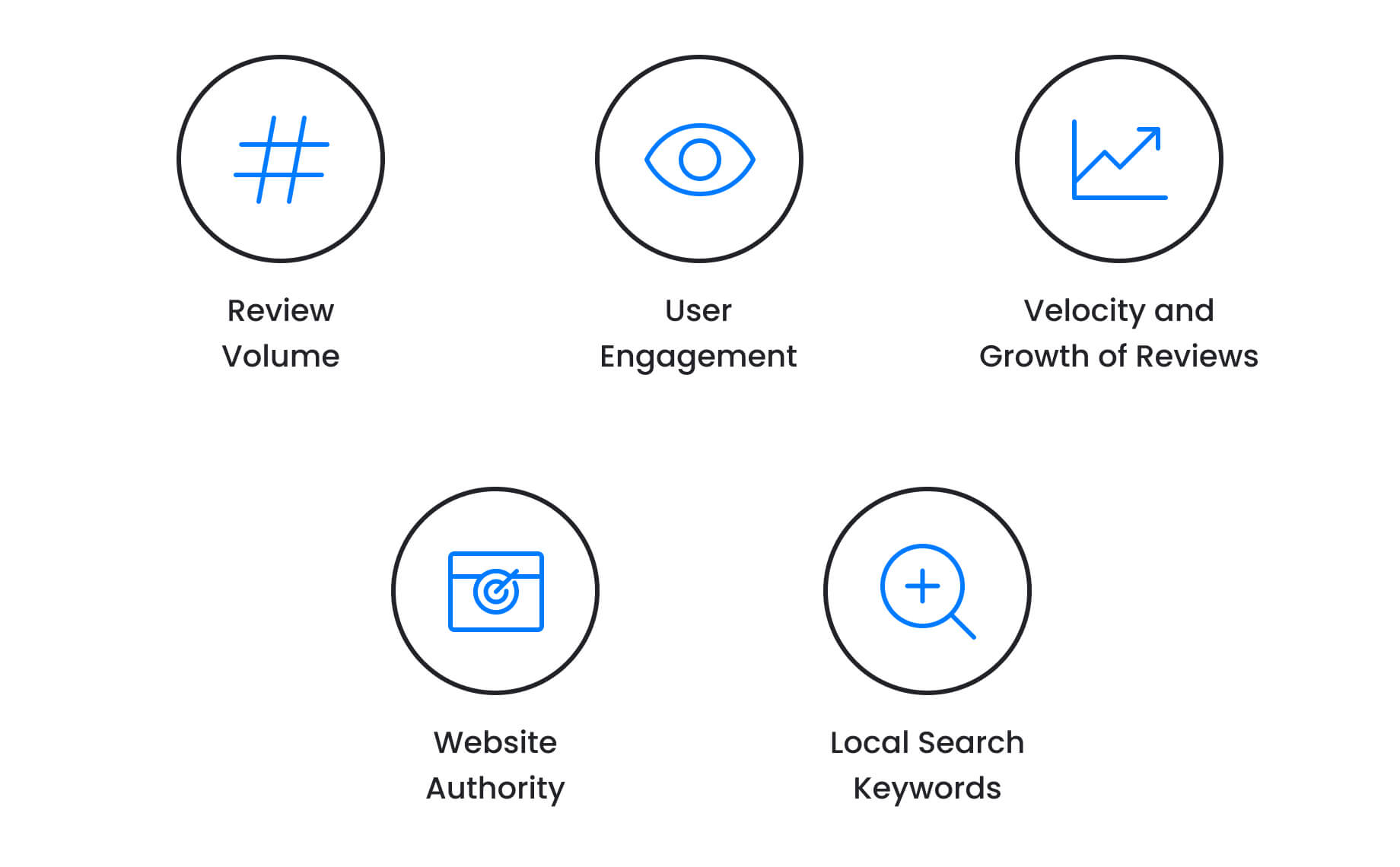 1. Review Volume
In simple terms, review volume is the number of reviews on your Google Business Page. If two businesses have a 4.4-star rating, but one has 50 reviews and the other 500, the potential customers will be more likely to engage with the profile with more reviews.
Since quantity is crucial to higher rankings, finding ways to increase your Google Reviews is vital to a successful Local SEO program.
2. User Engagement with The Business
A positive written review is critical for improving the local search; interaction between customer and business owner is a significant factor when considering ranking. When a business is proactive about replying to all user reviews, other visitors to your Google Business profile consider this positive.
Google likewise rewards companies with this proactive strategy.
3. The Velocity and Growth of Reviews
Having a high review velocity means that you are consistently getting reviews for your business. If you're regularly receiving reviews on your business page, Google will take notice and see that you're taking it seriously. As a result, they'll be more likely to recommend you to their users as a legitimate business.
But it's not just Google's magic algorithm that considers newer reviews relevant. Customers may find reviews that are more than a few months old less helpful in determining whether they want to do business with a local company.
4. Website Authority
Google is one of many games in town. And even they realize this when ranking a business on their platform. In fact, they reward companies with positive reviews on websites with high domain authority.
Every time your business is linked to from a third-party website, this is considered as a vote of confidence in your business in the eye's of Google. By getting links from third-party websites, known as "backlinks", this will have a weighing factor on your ability to rank higher in Google's Map Pack.
5. Local Search Keywords in Your Reviews
Review keywords will be more critical so people can find their desired answers. Although you can't tell a person to mention your keywords in their review, the more reviews you get, the more likely it will be that people will start mentioning what is relevant to your business.
How to Manage Your Online Reviews to Help Your Local SEO
Many factors will impact your business's rankings in Google's search results. However, there are several items that every business can focus on to improve the quality and quantity of their reviews.
Strategy #1 – Increase the Quantity and Quality of Reviews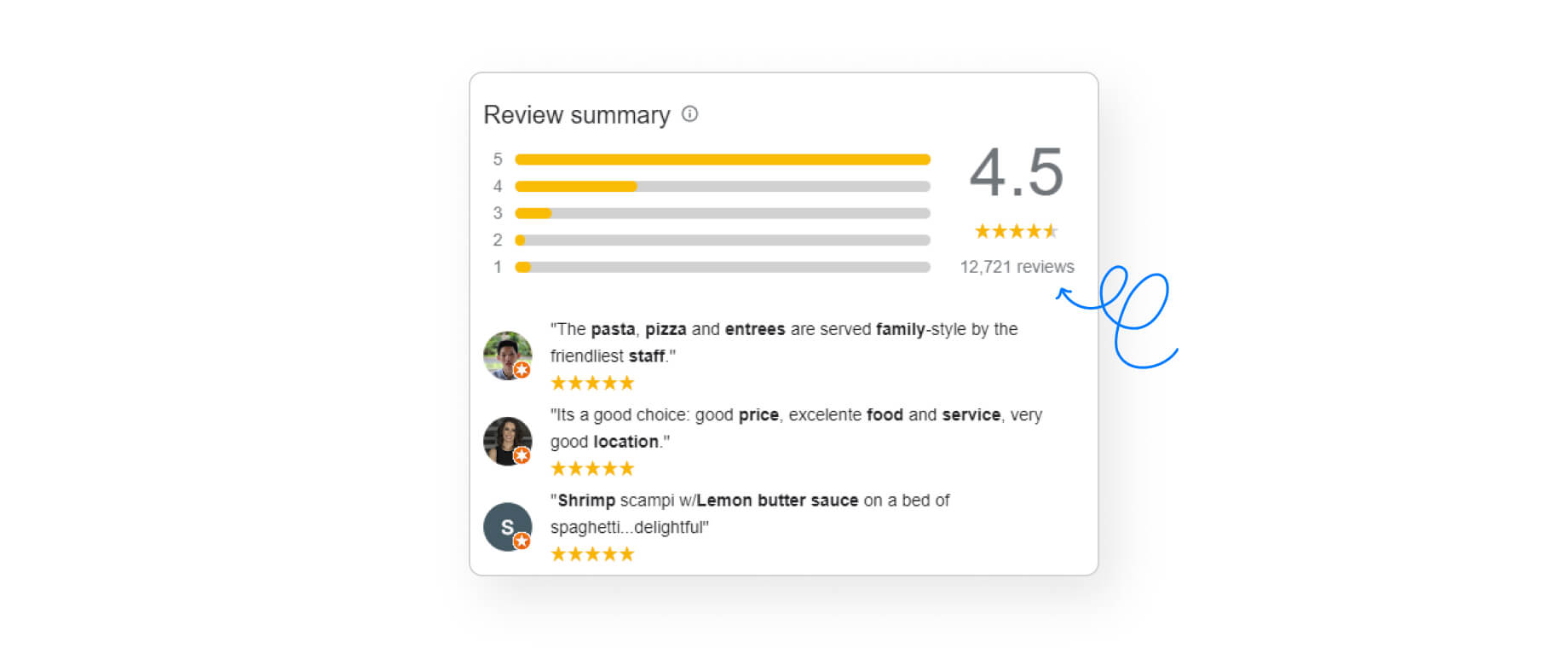 As a business grows, they typically collect each customer's contact information. This includes their emails and often cell phone numbers. When you can find a way to make it easy for those customers to post reviews on your Google Business profile, it can help your overall rankings.
How this Strategy Helps Local SEO
When you review the top few factors that impact Google rankings for Local SEO, it's the quantity and quality of written reviews. It checks both critical boxes if you can send automated SMS or email notifications – with a direct link to your Google Business page – and request customers to leave a written review.
Strategy #2 – Respond to All Reviews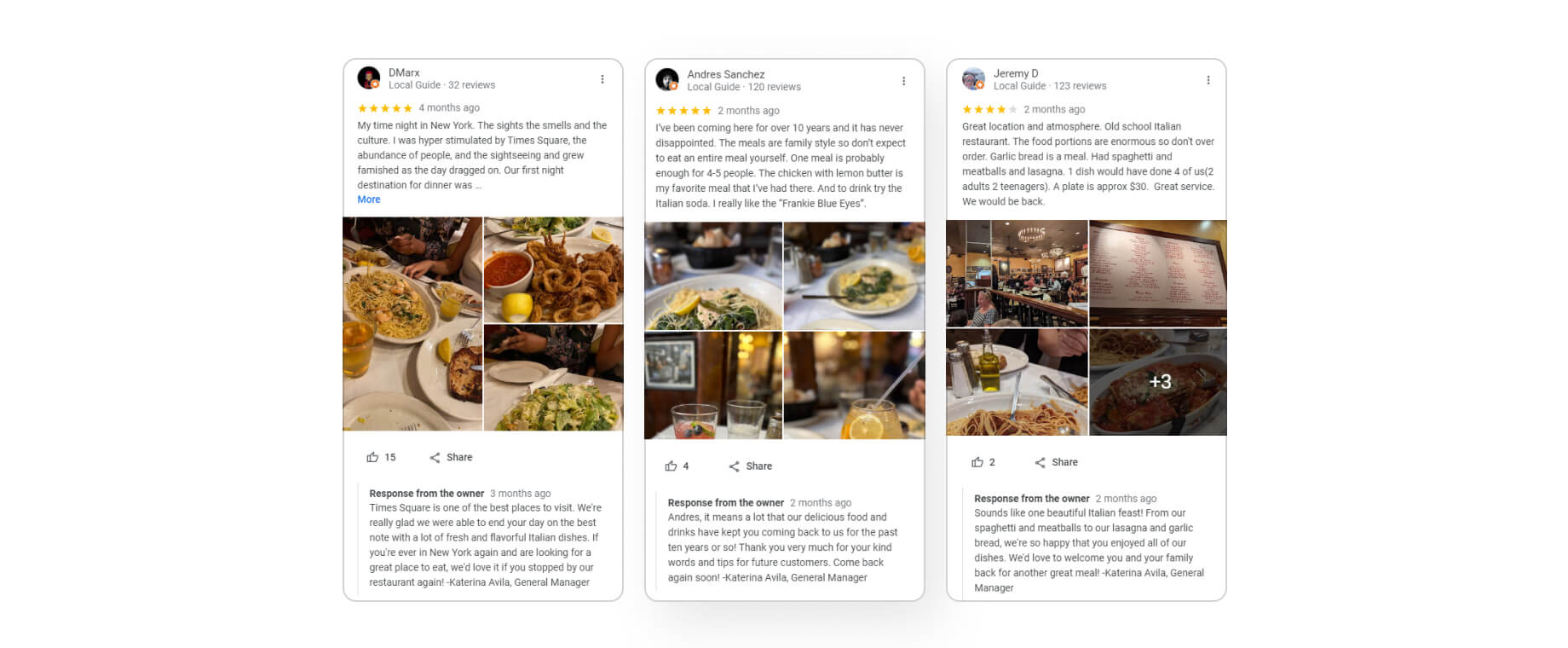 User engagement is another critical factor that Google considers when ranking websites. This can be enhanced through interaction between the user and the business. When you are proactive about positively responding to all user reviews, this increases user interaction.
The key here is to engage positively with less-than-stellar reviews. Always reply positively and ask the user who left the negative feedback to speak with you outside the platform via private message or email.
How this Strategy Helps Local SEO
This is another example of improving user engagement with reviews. However, this is also an effective way to resolve previous customer conflicts with your business. If you can fix their issue, they can be convinced to remove the negative review. And that can improve the percentage of positive reviews on your profile.
Key Takeaways
Integrating the strategies above can take many business owners and marketers time and money, creating a lot of planning to activate. However, proactive business owners and marketing teams can take advantage of software solutions like ReviewsOnMyWebsite to help automate many of these tasks.
Further – once the business captures several positive Google reviews, it can automatically showcase those on its website and other sales funnels using a Google reviews widget – which can improve social proof and build trust among new visitors.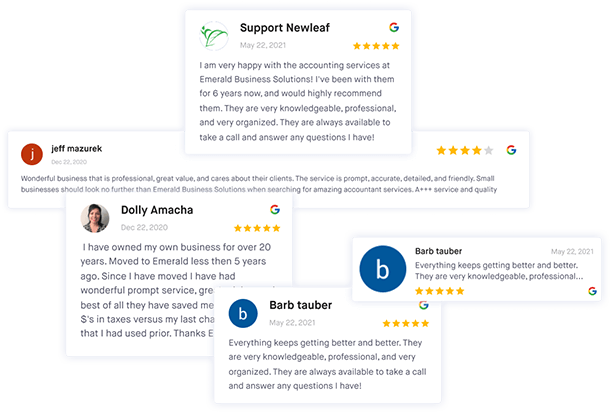 Leverage feedback and reviews to improve your online reputation
Get more online reviews and turn your customers into raving fans with ReviewsOnMyWebsite review generation software.
FAQs
Do keywords matter in Google reviews?
They certainly do. While the quality of reviews is much more important to Local SEO than the quantity, there are still a few key factors that businesses should be aware of when soliciting user feedback.
Not only will this help Google match your business with relevant searches, but it will also help you attract more positive reviews from Local SEO keyword-savvy users.
How do I respond to a Google review for SEO?
When responding to a Google review, always take the time to thank the reviewer for their feedback - positive or negative.
If the feedback is negative, do your best to resolve the issue directly with the customer. If you can resolve the issue to their satisfaction, ask them to update their review accordingly.
Updating reviews is a great way to show Google that you are actively working to improve your business.