If there is an industry dependent upon positive consumer reviews in 2022, it's the automotive industry. Car dealerships, service centers, and even professional detailers quickly learn how powerful consumer reviews drive new business to their locations. However, it can be time-consuming and inconvenient for satisfied customers to leave positive reviews online. To help automate this vital task, many dealerships utilize automotive reputation management tools.
When vehicle owners are looking to buy a new or previously owned car, truck, or SUV or have their current vehicle repaired – they typically search online for local providers. Once they locate a few local car dealerships or service centers, they'll research which ones are rated or reviewed the highest by previous customers.
In fact, more than 90 percent of automotive consumers will choose the business with the highest reviews or user star ratings.
This is where dealerships and other automotive service providers can benefit from activating a reputation management program. The information below will provide a definitive guide to modern online reputation management for car dealerships, what it is, why you need it, and the best practices used by proactive leaders in this industry.
What is Automotive Reputation Management and Why Does Your Dealership Need It?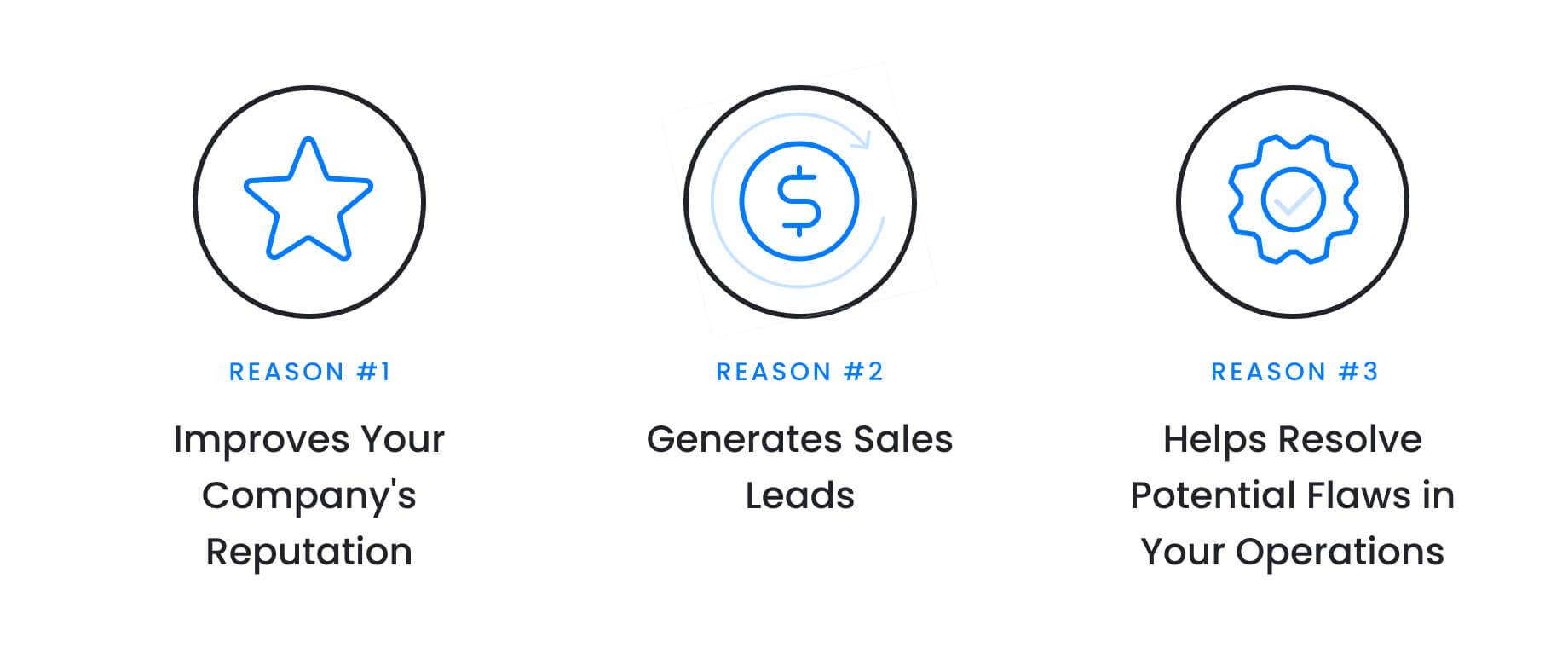 So, what is reputation management and how is it important to the automotive industry? In short, an online reputation management program helps automotive businesses streamline collecting, requesting, and replying to public feedback on the internet. This includes – but is not limited to replying to comments on social media pages, online reviews and ratings posted by previous customers, and handling objections or pessimistic comments on public forums.
There are several reasons why every automotive-specific business needs a reputation management program.
Reason #1 – Improves Your Company's Reputation
An unfortunate stereotype of car dealerships is that they are out to take advantage of their customers. However, like many other misconceptions, it's typically the actions of a few that paint a negative image of an entire industry or segment.
When you activate a reputation management program by increasing the number of positive reviews from your satisfied customers and mitigating negative issues by handling them quickly, you can quickly improve the reputation of your business.
Reason #2 – Generates Sales Leads
Today's automotive consumers depend on the internet to research new vehicles, read professional reviews, and determine which trim level is best for their needs. They also use the internet to read customer reviews, specifically from dealerships, mechanics, and other service providers. By maintaining a positive online reputation, with multiple positive reviews and mitigating negative feedback, future customers will contact you – creating qualified sales leads.
Reason #3 – Helps Resolve Potential Flaws in Your Operations
It's the goal of every car dealership to serve its customers. Sometimes client feedback perceived as being negative can highlight a few areas of your business that could use improvement. With a strong reputation management program, you'll be able to quickly recognize bad reviews, determine the root issue the customer is experiencing, and make changes to your operations if needed.
3 Benefits of Online Reputation Management for Auto Dealerships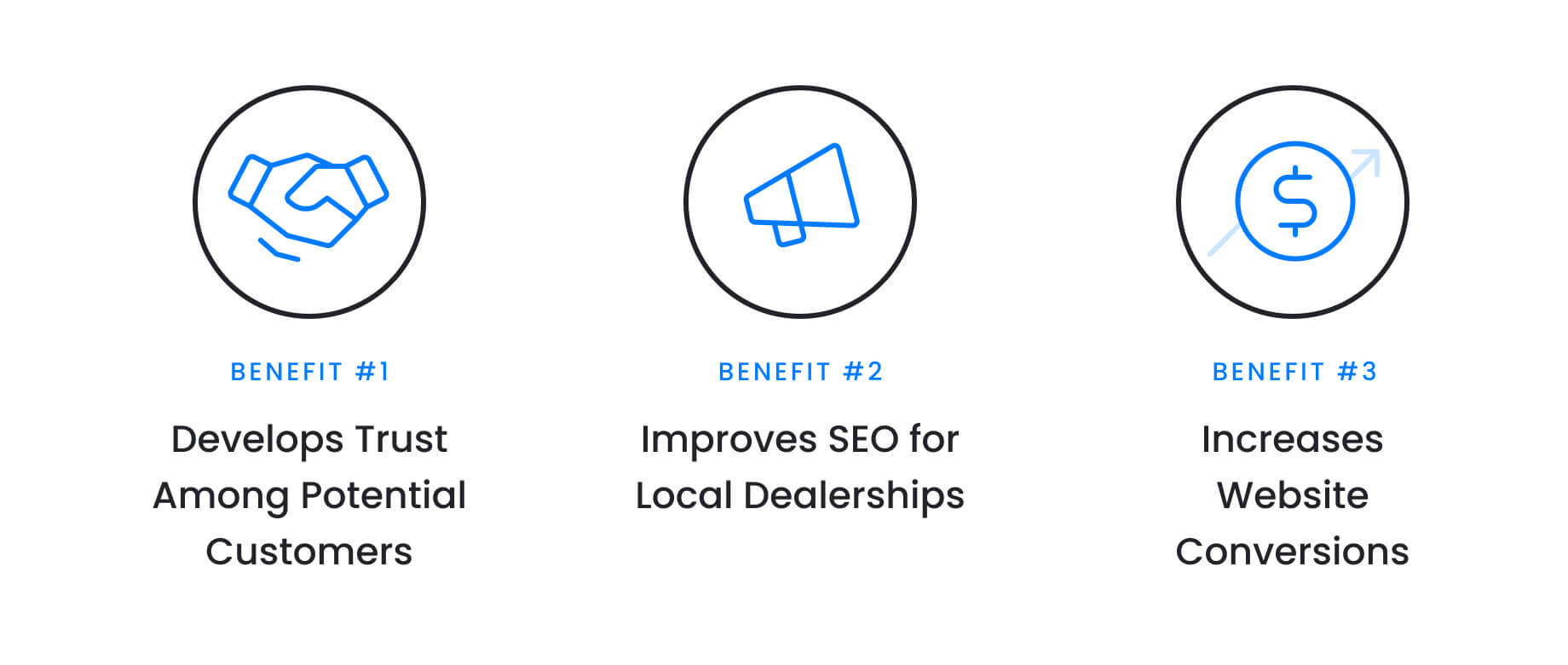 When a future automobile buyer reads a bad online review from a previous customer, they'll likely skip calling the dealership or auto service business 97 percent of the time. Positive reviews, significantly when they outnumber negative comments considerably, may help you win the battle.
Because of these reasons, many automobile businesses are starting to use software solutions to assist them in increasing the number of excellent testimonials from their delighted customers.
Here are some key advantages of incorporating software into your online reputation management strategy.
Benefit #1 – Develops Trust Among Potential Customers
Several phases involve online reputation management systems, including soliciting good feedback from happy clients or consumers. This includes vehicle buyers and car service customers who have had a positive experience at your dealership. It helps to raise the level of trust by increasing the number of excellent reviews by delighted clients and investing time in responding to them.
Benefit #2 – Improves SEO for Local Dealerships
Most car buyers prefer to purchase a vehicle from a dealership within 20 miles of their locations. As such, they depend on local SEO results to locate the top dealerships of brands they prefer. While several elements impact search engine optimization and rankings, a growth factor is an engagement in written reviews. Google perceives this as quality customer engagement, and rewards companies who take the time to connect with reviewers.
Benefit #3 – Increases Website Conversions
As you build your online reviews that are positive in nature, you can begin to share those exciting and inspiring client notes on your sales funnels - including your website and social media pages. As you showcase positive reviews online, you can improve your reputation and consequently encourage future prospective clients to visit your website.
Reputation management programs are essential for building consumer trust in your business. Consumers often base their choice of a car dealership on positive reviews, so it is essential to have a good reputation online.
4 Best Practices for Online Car Dealership Reputation Management
An online reputation of a business is created based on media published on the internet. This can range from direct consumer reviews, news coverage, and user engagement on social media pages. When automotive businesses can influence some of these elements, it can create a positive online reputation. The result is often improved customer satisfaction.
Let's explore the four best practices that each business in the automotive sector should follow to ensure their reputation management programs are successful.
1. Take Ownership of Online Review Platforms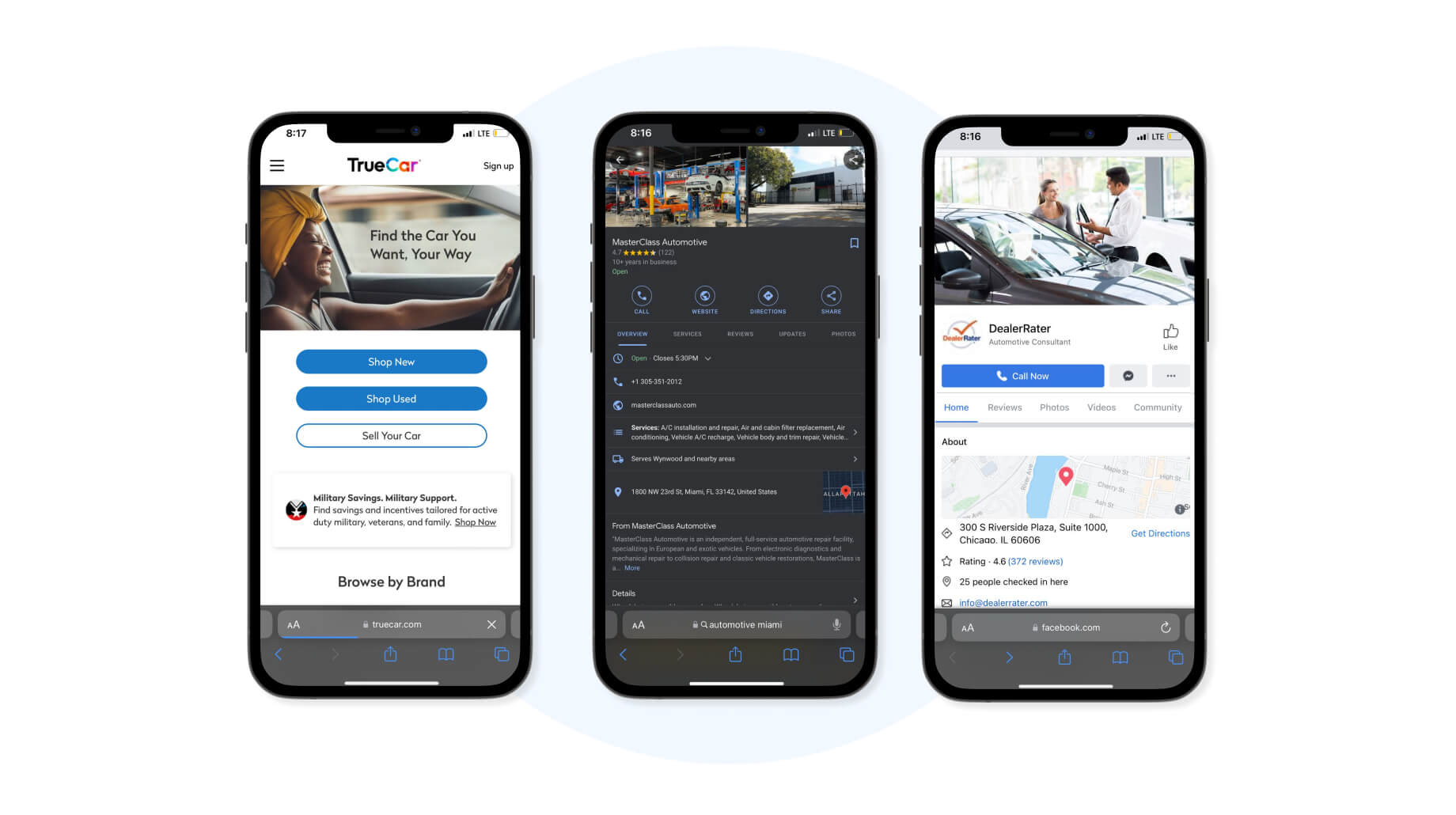 The first step for increasing online consumer reviews is establishing yourself on multiple platforms. For those in the automotive sales and service industries, there are a few that are more applicable, such as the following:
Automotive Review Platforms - Dealership sales funnels such as TrueCar.com, Cars.com, Kelly Blue Book, and others are some platforms dealers use to promote their inventory. If those sites offer customer reviews, and most of them do, make sure your company is established on those websites. You can reply directly to all consumer feedback.
Facebook - Facebook is a great social media platform for automotive companies. Once the business page is established, your customers can leave ratings and written reviews. Not only does this allow you to build your online credibility, but you can also quickly reply to those 'less than desirable' reviews left by some disgruntled customers.
Google Business Profile - If you haven't already, create a Google My Business profile. This will allow customers to provide ratings and written reviews on Google Maps. Then you can activate your online marketing strategy to help build your customer engagement and thus – improve your SEO rankings.
Consider establishing official listings on these pages and ensure that you've verified the account so that you can accept user reviews.
2. Develop a Strategy

The cycle of noticing, answering to, fixing, and then sharing customer reviews online is called an online reputation management strategy. If you follow these steps noted below, you can mitigate bad feedback and resolve those issues before they impact potential customers in the future.
Here are a few critical steps that you should include to successfully manage your online reviews.
Create a Schedule - The first step is to create a management schedule. This includes how often you will reply to reviews, who is responsible, and how you will reply.
Develop a Negative Review Strategy - How you reply to negative reviews can make or break your reputation management program. The key objective is to diffuse the situation with a public reply to their feedback. Always apologize for the inconvenience they've experienced and invite them to contact your team via private message to help resolve their issue. The key is not to publicly engage in a hostile or defending nature.
Catalog Positive Reviews - The final step in this process is to document and preserve direct links to any commendatory reviews you come across while handling your online presence. Afterward, you can post these automatically or by hand on your website and Facebook page. We'll introduce some automated solutions further down below.
3. Increase Positive Reviews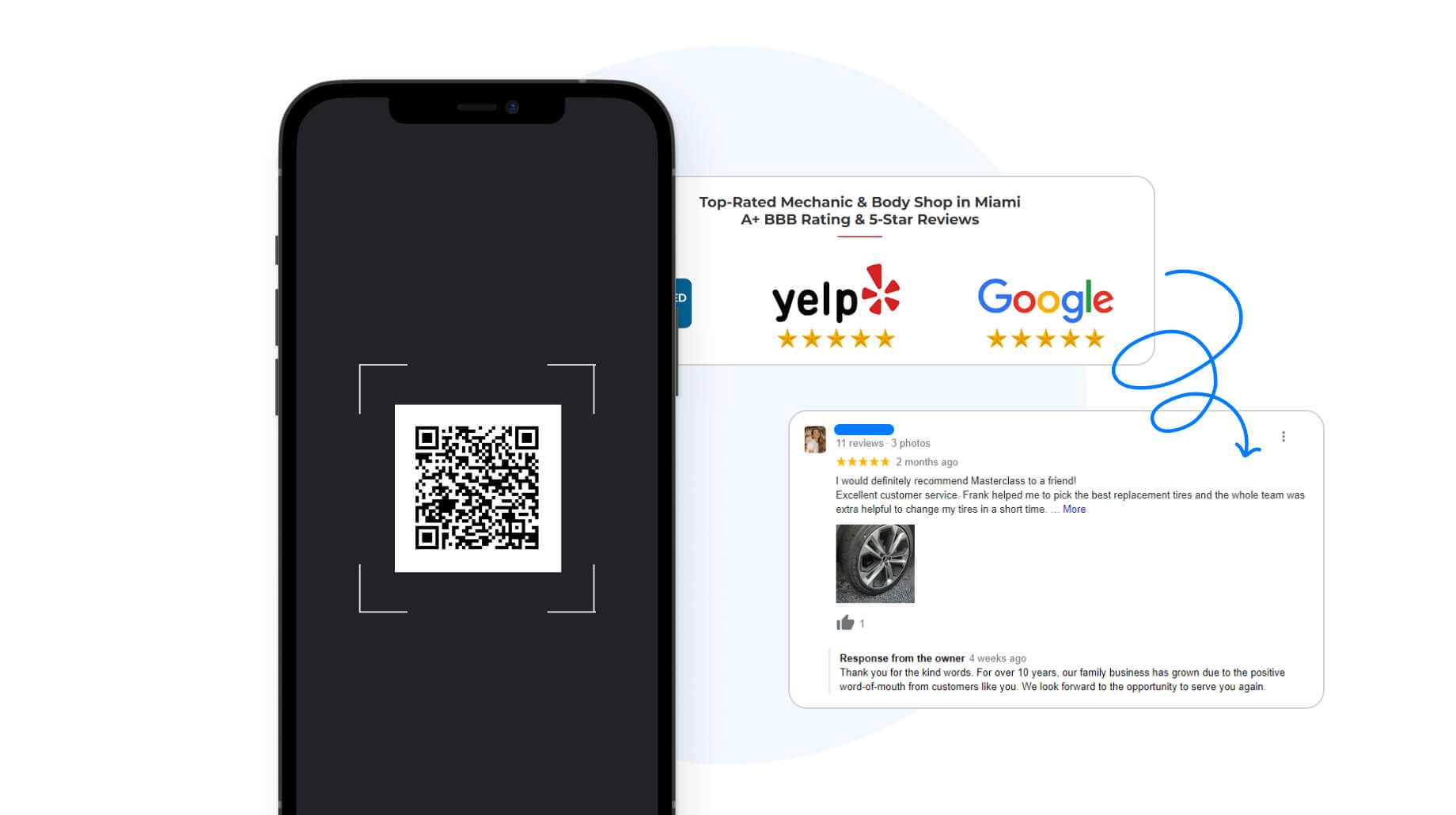 When you've done an excellent job serving your clients, requesting good reviews should be a breeze. However, this might take some time - particularly if you must send personalized emails. Follow a few basic guidelines, though, and it will be easy for you to move consumers from one platform to another. You won't need much effort to get them on other platforms.
Create a QR code for your Google Business Profile at your dealerships. This will make it easier for past or existing clients to scan the code and give a user rating or written review. You can post the QR code with marketing or sales content at strategic locations in your dealerships, such as the finance department, service, parts centers, or front desks.
Create a user review page on your website. This can help you increase conversions by allowing clients to leave feedback about your business. Creating direct links to your listings on those dealership forums or sales channels makes it easy for potential customers to find and learn more about your business.
You can also send automated texts or emails to your customers for review requests. Requesting customer feedback may be automated using those direct links to your review profiles and a customizable software tool like ReviewsOnMyWebsite.
4. Showcase Positive Reviews on Your Platforms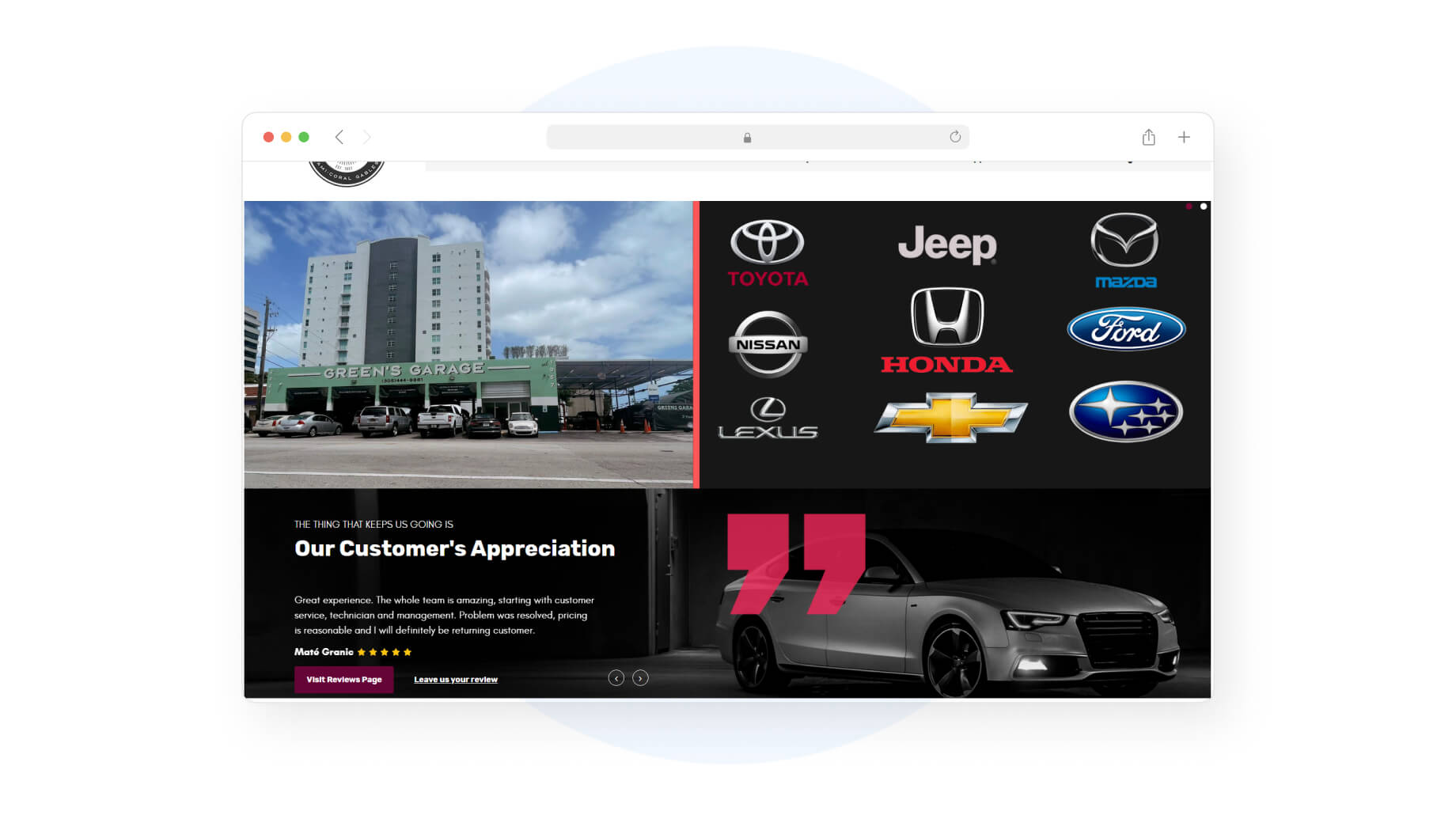 When customers research a significant purchase, such as a new car, truck, or SUV, they'll have multiple dealerships selling identical vehicles. They will select the dealer who has the best reputation online. And their perception is typically built on consumer reviews.
As you start collecting positive client feedback, post it on your website so potential customers can see it too.
ReviewsOnMyWebsite provides a customizable widget that may be embedded on any website to display reviews to help boost your online reputation. These can include Google, Facebook, and many other review platforms.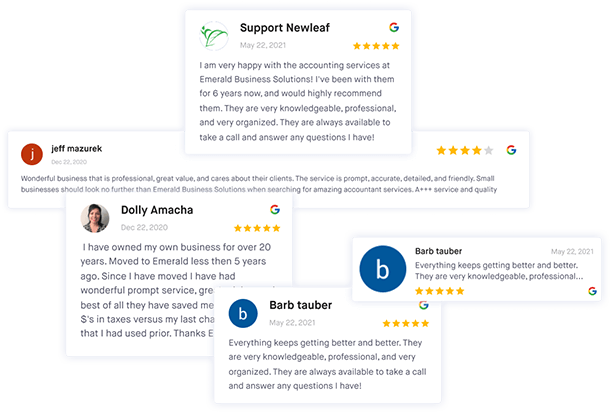 Leverage feedback and reviews to improve your online reputation
Get more online reviews and turn your customers into raving fans with ReviewsOnMyWebsite review generation software.
This automated tool lets you directly share your website's written reviews and 'star ratings' with potential customers. When potential customers visit your website and see multiple positive reviews, it helps to establish trust.
Get More Online Reviews and Grow Your Automotive Business
Every car dealership or service center understands the power of word-of-mouth referrals from satisfied customers. What if you could package this same marketing technique in an automated solution that allows you to seek positive reviews from those happy car buyers - with very little overhead and effort?
Consider using a review management solution such as ReviewsOnMyWebsite to help automate many phases of developing and maintaining an excellent online reputation. Positive Google, Facebook, Yelp, and other reviews can be requested and published based on the most critical aspects of your business.
Sign up for a free trial today to discover how ReviewsOnMyWebsite can help you take your dealership's online reputation management to the next level.