Did you know that nearly 9 out of 10 customers make their buying decisions based on independent consumer reviews published on Yelp? Of all the online platforms where customer reviews are published, Yelp has one of the most impactful closing ratios – mainly because of its strict policies towards businesses requesting Yelp reviews. Due to these policies, many local businesses struggle with learning how to get Yelp reviews without getting into trouble.
It's estimated that a positive Yelp review can sway a customer to choose a business over a competitor by more than 95 percent. On the flip side – a negative review is just as influential. This represents a challenge as Yelp reviews for businesses can make or break their online reputation. So – how can a company influence a customer to leave a Yelp review that will be positive without violating their terms of service?
While it might seem to be mission impossible, the truth is – it's not as tricky as you'd believe. You can integrate many subtle tips and tricks into your digital and onsite marketing strategy that will help increase Yelp reviews for a business page. This is what we'll explore in the article below.
We'll take some time to clarify the Yelp policies and explain how to get more Yelp reviews. We will also teach you how to ask for online reviews without crossing the line of Yelps TOS. Finally, we'll provide answers to some frequently asked questions on how to improve review sites interactions and some Yelp page management best practices.
Let's get started.
How Yelp Customer Reviews Help Your Business
If you're looking for the best way to learn how to get good Yelp reviews, the answer is simple – be the best at what you do in the areas you serve and deliver a positive customer experience. Since Yelp is a public forum with strict publishing and marketing guidelines, it's become more credible with independent happy customers.
However, beyond the legitimacy factor, there are a few key reasons businesses search for strategies to improve Yelp reviews. Below are three of the most popular reasons why a business should strive to convince customers to leave a review on Yelp.
Benefit #1 – Increased Social Proof
More consumers are starting to use Yelp as their primary source of social proof – or actual testimonials from real people who have engaged with a business. When an independent customer takes time to review a local business on Yelp, it provides other potential customers with an online testimonial. And since more than 90% of consumers will choose a business with positive Yelp reviews over others without, it's highly beneficial for a business to seek out more customer reviews.
Benefit #2 – Improved SEO
Search engine optimization is a diverse digital marketing program that involves multiple, independent steps. While quality content is optimized for search engine algorithms – positive reviews on Facebook, Amazon, Google, and Yelp are just as helpful in increasing local search results. And in case you are wondering, it's not possible to buy Yelp reviews to help boost SEO. This is a clear violation of Yelp users TOS.
Benefit #3 – Helps You Improve
It's simply impossible to satisfy every customer. While each business's goal is to have a plethora of positive Yelp reviews, sometimes you'll receive one that is not flattering. Although it may appear hostile, a poor Yelp review offers business managers and owners an opportunity to improve their services. Reviewing customer feedback gives you a great opportunity to learn how to get more reviews on Yelp.
Yelp Review Guidelines You Should Know About Before Requesting Yelp Reviews
The first step towards learning how to get positive reviews on Yelp is clearly understanding their terms of service and guidelines. Of all the review websites and online platforms published – Yelp arguably has the strictest regulations and guidelines. They clearly explain to any business that their platform is intended for non-solicitation and direct consumer feedback.
Specifically – Yelp provides a few crucial guidelines that all businesses must follow to benefit from Yelp reviews.
A business can't directly ask anyone to 'rate us on Yelp.' This includes friends, family members, and of course – direct customers.
You're not permitted to have competitions within your organization to collect Yelp reviews.
Businesses are not allowed to use surveys to request Yelp reviews from customers.
Do not reward customers or influence them to post Yelp reviews in exchange for discounts, promotional items, or giveaways.
As you can see – Yelp's guidelines are stringent. The main question asked of business owners is how does Yelp monitor a business to ensure they are following their guidelines? Unfortunately, the answer to that question – or how it is enforced has not been clarified by Yelp.
How to Get Reviews on Yelp Without Violating Yelp Policies: 5 Proven Strategies
Yelp has a series of solid community guidelines that essentially breaks down to a straightforward statement – don't ask people to leave a review on Yelp. This presents a somewhat insurmountable objection to clear for most business owners. If you're not permitted to actively target market or request Yelp reviews – is it possible to learn how to increase Yelp reviews through different strategies?
The answer is yes. Actively asking people to review your business on Yelp is direct marketing or advertising effort. What Yelp prefers is for a business to passively promote its platform. This is achieved through a few easy-to-follow strategies. Here are five proven strategies for getting positive reviews on Yelp – without directly asking for them.
Strategy #1 – Display Yelp Reviews on Your Website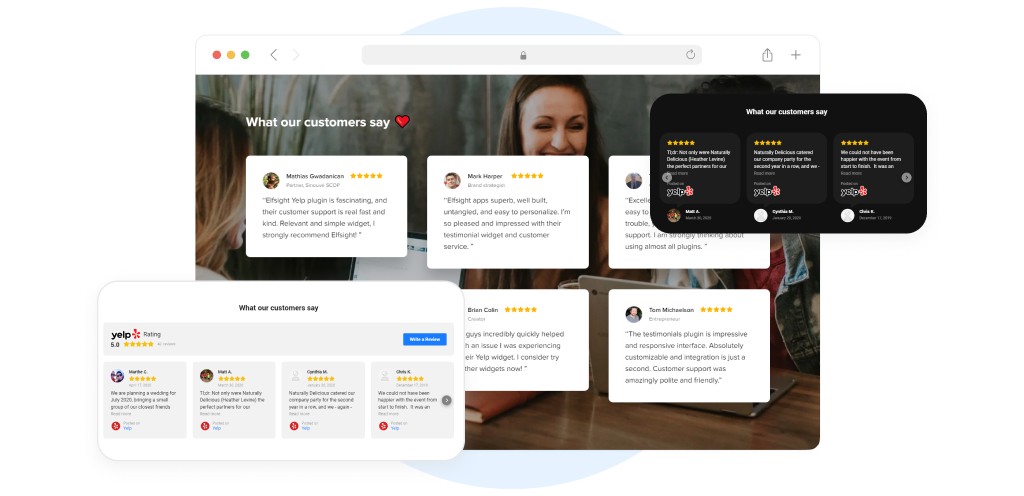 Many customers are inspired to follow the lead of others. If they see other consumers leaving reviews on your Facebook Page, Google, Amazon, or even Yelp, they are more likely to follow the trend. One very effective way of increasing your positive Yelp reviews is by showcasing previously published reviews from Yelp on your marketing platforms – such as your website.
Our software utilizes a widget that can display active user reviews directly on your website. The widget allows the company to determine what reviews are posted, where they are listed, and direct links to the platform to make it easier for users to follow the trends.
Here are three practical tips for utilizing this technology to help others leave a Yelp review.
Tip #1 – Publish Yelp Reviews on Your Home Page
Our widget can be customized for seamless integration on multiple website pages – including the home page. As Yelp is a consumer-direct review platform, it makes sense to showcase those positive reviews on high-traffic areas of your website first.
The home page will always be your most visited page – so take advantage of this technology to highlight positive Yelp reviews. You can also add a link to your home page in your email signature - with a comment to check out our five-star reviews. Loyal customers and new customers you've connected with may feel inspired to leave a similar review.
Tip #2 – Customize the Widget
Every business owner understands the value of high-quality branding. Today's consumers are influenced into action when standard imagery and website tools are customized to match the business brand. By customizing the colors and look of your Yelp reviews widget, customers will be more likely to share their thoughts on Yelp.
Tip #3 – Share Star Ratings of Multiple Consumer Review Platforms
Along with customizing colors, you can also personalize the plug-in layout to display average star ratings on multiple platforms, including Facebook, Google, Amazon, and Yelp. This is another passive way of guiding others to online platforms where others have published previous consumer reviews.
If you'd like to learn more about how automated solutions can save you time and money and drive direct customers to Yelp to write positive reviews, click the link provided below.
Strategy #2 – Respond Directly to All Yelp Reviews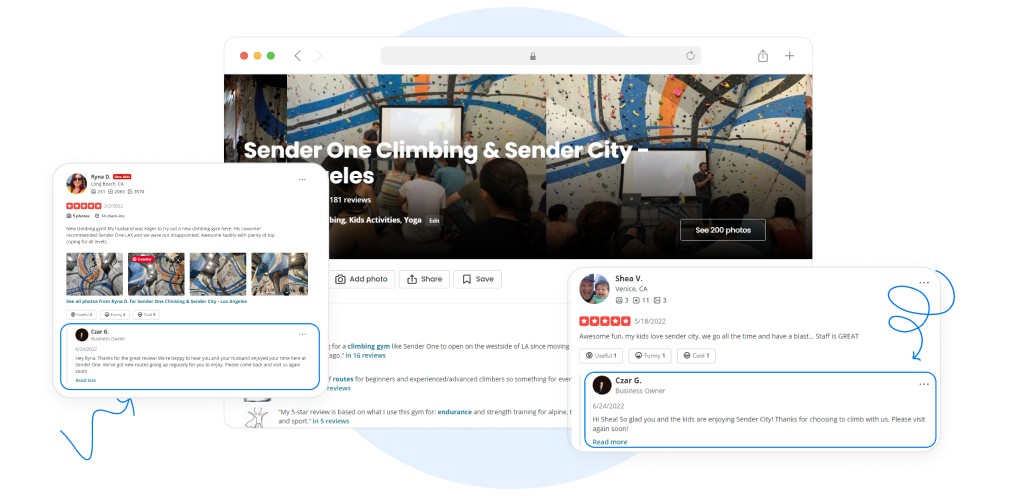 Personal interaction between customers and business owners on social media is an excellent way to boost consumer confidence. In most cases, when a customer posts a review on Yelp, it's to share their opinions with other customers. But they also love to be thanked for taking the time to publish their opinions.
Here are a few tips for replying to Yelp reviews.
Always reply to every positive review by thanking the customer for their business. The reply doesn't have to be lengthy – just take time to reply to their positive feedback in a kind and professional manner.
Take time to resolve 'negative' or fake reviews. If a customer did not have a pleasant experience with your small business, the worst thing you could do is fight with them online. Instead, thank them for expressing their opinions and ask them if they can help resolve any problems.
As you reply, as the former customer, to contact you via email or private message – and keep all conversations OFF the Yelp Review. If you want to discuss options with the customer, offer your business phone number.
We understand that your reputation management is impacted with negative or hostile reviews. Consider this fact. It's estimated that nearly 45 percent of customers are more likely to visit local businesses when they reply to negative reviews – even if they cannot resolve the problem.
Strategy #3 – Monitor & Track All Yelp Reviews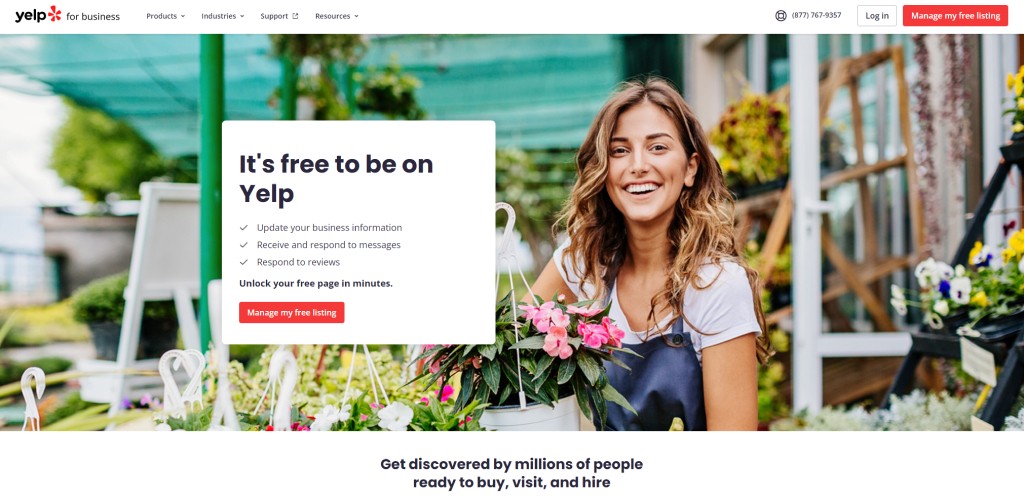 While Yelp makes it difficult for business owners to request customer reviews on their platform, they offer a few tools to help inform businesses of new reviews. Yelp has a platform for business owners called Yelp for Business which provides instant notifications on mobile and desktop devices. This is a great strategy to improve Yelp reviews because it will help you quickly accomplish strategy #2 listed above.
If you spot a negative review, you can be proactive about resolving the problem before too many future customers see the review (without your valuable input).
Strategy #4 – Promote Yelp with Branding

One of the gray areas of Yelp's user guidelines is promoting consumer reviews on its platform. While they don't want a business owner to ask customers for Yelp reviews, they are quite OK with branding their platform as one that your customers can utilize. Yelp offers business owners a dashboard that permits you the opportunity to request signage and stickers that you can place at your business.
Here are a few tips for using Yelp branding to increase reviews on their platform.
Post the "Find Us on Yelp" Stickers or review us on yelp stickers in visible locations. This is a free promotional tool offered by Yelp. You simply need to access the form on your Yelp for Business Owners dashboard. It takes a few weeks for you to receive the check us out on Yelp stickers.
Order the Window Clings. Another indirect marketing tool is the "People Love Us on Yelp" door or window cling. This is offered to businesses that maintain positive reviews on their platform.
Consider Customized Branding. Placing the Yelp logo on your website – with a direct link to your account is another acceptable form of promoting the platform.
Strategy #5 - Share Yelp Reviews Via Social Media Platforms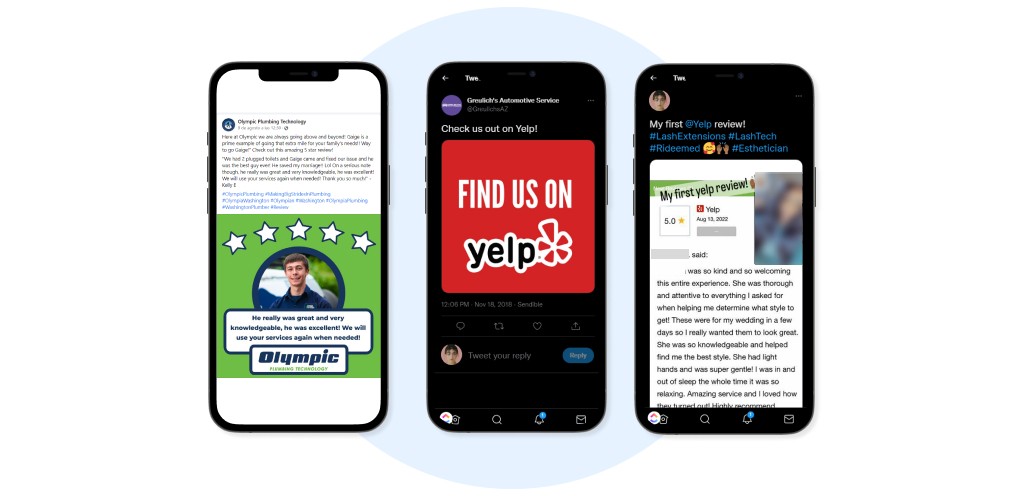 When you've established a good relationship with customers, they sometimes need a nudge to provide testimonial feedback. Using Yelp reviews to inspire others into action is sharing positive reviews from other customers in social media posts. Here are a few clever ways of sharing previous Yelp reviews – while complying with their high standards.
Create a blog post of top Yelp reviews. Promoting Yelp reviews written by previous customers is 100% OK. Consider creating a blog post on your website. You share the top 10 Yelp consumer reviews and then share that blog via social media platforms.
Showcase screenshots of Yelp star ratings. You can also utilize your social media platforms to highlight visual images of consumer reviews – specifically the star ratings. To protect reviewers' identity, make sure not to display their usernames.
Display the Find us on Yelp badges on social media image libraries.
Hopefully, by following these five strategies, you'll learn how to get better Yelp reviews – without crossing the line of actively asking customers for them.
3 Smart Yelp Review Management Tips
We touched on this in the information above, but it's essential to drive the message home. The best way to benefit from Yelp reviews is to stay on top of managing them promptly. Try these three easy-to-activate Yelp review management tips if you'd like to improve your Yelp ratings and convince users to leave future positive Yelp reviews.
Enable Desktop and Mobile Notifications. It is impossible to manage Yelp reviews if you're not aware they have been posted. Sign up for notifications via your desktop or mobile device using the Yelp for Business dashboard.
Always Reply to Reviews Quickly. Whether the consumer review is positive or negative, always thank the customer for their feedback and reply promptly. If you operate a business with a social media or marketing director, ask them to reply to all Yelp reviews within an hour of the post (during regular business hours) – or first thing in the morning the next day.
Never Argue with Customer Reviews on Yelp. While you're 100% entitled to stand up for your business when someone attacks you online, some battles are best fought privately. Many potential customers are not fond of business managers or owners insulting former customers by arguing online. If a negative review is posted, thank them for the feedback, and invite them to contact you directly to resolve the issue.
Key Takeaways on How to Get Good Reviews on Yelp
Since Yelp does not want you to ask customers for direct reviews, it's challenging indeed to help increase the number of good reviews in a direct method. There are a few critical items to remember that can indirectly impact the quality of Yelp reviews you receive. Always keep these important strategies in mind when outlining a Yelp marketing program.
Display your best Yelp reviews on your website.
Take advantage of FREE Yelp branding materials – such as the stickers and door or window hangers.
Reply to ALL Yelp reviews quickly and professionally.
When a negative Yelp review is posted, go out of your way to resolve the issue. While you can't delete bad reviews, Yelp posters can – especially when the business owners resolve the problem.
The best technique for getting Yelp reviews is to take care of your customers, make sure they're aware of your Yelp profile, and reply professionally to all feedback.
FAQs
How do I find my reviews on Yelp?
Before a business can review consumer reviews on Yelp, they need to establish their account and claim the business listing as theirs. To accomplish this, you'll have to add your business to Yelp. The best way to sign up is to access the Add to Yelp for free button found directly on their website. You'll create a free business account by entering your email address and verifying your account. Once that has been completed, you'll be able to find any false reviews.
How to handle negative reviews on Yelp?
Positively and professionally. We all know that it's impossible to please all customers. However, when they go out of their way to express displeasure with a negative Yelp review, the business manager needs to reply promptly and professionally. First off – always thank them for their feedback. Second, ask them to contact you via email or a private message to see if there is a way for you to resolve their primary issues. This simple act can showcase your professionalism – which is inspirational to many future customers.
Can you remove Yelp reviews?
This is a two-part question to answer. If you're a Yelp reviewer, removing your posting is simple. Simply visit your user profile, access your previous reviews, and click the remove review button (a trash can icon). Once you click that button, the review will be removed. However, if you're a business owner, you can't remove reviews posted to your account. The best way to resolve bad reviews is to contact the user via the review and try to resolve the issue behind the scenes.
How to get my business off Yelp?
For customers to place reviews about your business, you need to set up your Yelp business account. Removing your business off Yelp is not as easy. In fact, Yelp makes it nearly impossible for businesses to remove their business from their listings. Yelp was created to allow customers to provide direct feedback about businesses without the business being involved in the process. So, unfortunately, you cannot remove your business from the Yelp platform.
How do I get my yelp reviews to stick?
Yelp provides credibility to reviews published by users who take the time to draft high-quality business reviews. Unfortunately, there is no way for a business manager or owner to help improve the quality of user reviews. However, you can help slightly by responding to all customer reviews – even if they are negative. Yelp will boost your business account when interaction with reviewers is consistent, quick, and professional.
How many reviews do I need to get Yelp Elite?
The Yelp Elite status is awarded to highly active consumers on their platform. However, this Elite status is complicated for users to qualify for. While there is no clear-cut, predetermined number of posts you need to publish, it is estimated that a user needs to have 40 to 50 high-quality reviews per year. They need to also interact with multiple users on the platform and actively share their reviews on social media and several other non-determined factors.