Attracting new business and customers is becoming increasingly challenging for any growing enterprise. Today's savvy consumers have more options to spend their hard-earned money. And at the heart of their decision-making is choosing companies with a positive online reputation. This reality is convincing more business managers and marketers to learn how to get Google reviews that are positive, legitimate, and impactful.
It's estimated that nearly 84 percent of online consumers trust a Google review more than word-of-mouth recommendations from friends and family. What's more shocking – less than 10 percent of all online shoppers take the time to write a Google review. And when they do – it's often to express a negative opinion.
Which segues nicely to today's topic – how to get more Google reviews from customers, vendors, suppliers, and more. Is this task as simple as asking customers to please review us on Google? Or are there creative and easier ways of convincing all business partners to rate us on Google? The truth is – learning how to ask for a Google review is arguably the hardest step.
So, if you'd like to explore some proven techniques for how to ask for Google reviews, you've landed on the right article. In the information below, we'll outline three proven strategies for how to get reviews on Google.
We'll provide some clever tips that will allow you to make it easier for business colleagues or customers to provide positive feedback on Google reviews. Finally, we'll introduce you to an all-in-one review generation software that helps you accomplish this challenging goal with efficiency in mind.
Let's get started.
Why are Google reviews important? 3 Benefits of Google ratings for businesses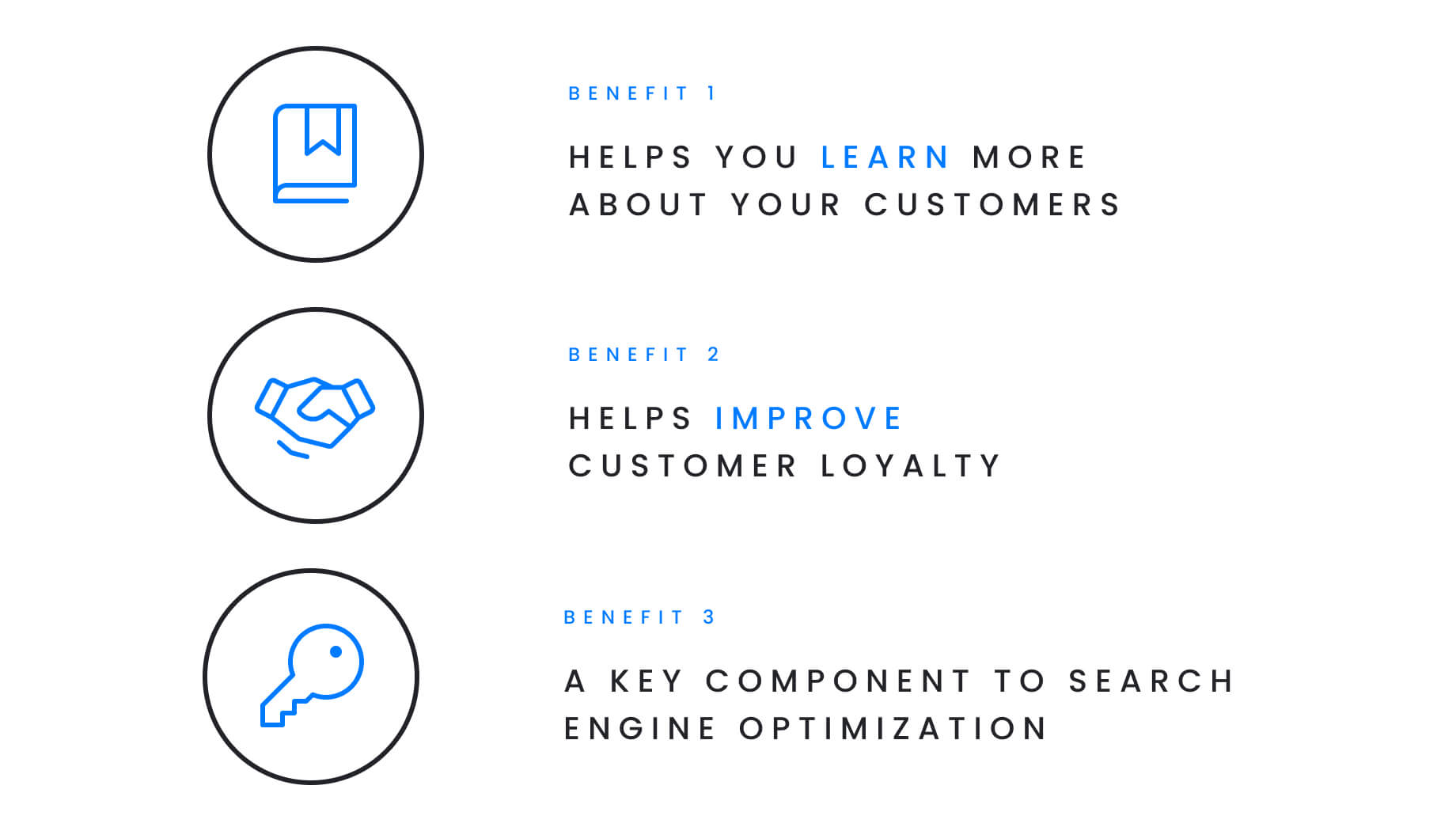 Learning how to request a Google review needs to begin by understanding why this is so critical. As we stated above, today's consumers typically find new business opportunities through search engines. And in the online digital world – Google dominates search engine results.
When a customer takes the time to provide you with a review on Google, it provides several benefits that can help you learn, improve, and accelerate business growth.
Benefit #1 – Helps you learn more about your customers
Not every Google review is going to be positive. In fact, if a customer goes out of their way to provide feedback on interaction with your business, it likely will be constructive. That's not a bad thing, though.
When you research and analyze the reviews left by customers, it gives you a better understanding of what they expect, how they make buying decisions, and how to serve them better.
Suppose a customer leaves a Google review that expresses a negative shipping experience on an item they ordered from your online store. In that case, it's not directly a bad review for your business. When you learn more about the customer's order, you can determine where the shipping error occurred by contacting them directly through the review. Further, you can adjust some of your procedures to ensure that it does not happen again.
Benefit #2 – Helps improve customer loyalty
When a customer leaves a Google review without being asked, they do so for a few reasons. First, sometimes it's to be acknowledged by the business and thanked publicly for their loyalty. Other times, it's to provide negative feedback hoping that the business will make things right. As a business owner or manager, you have an excellent opportunity to establish customer loyalty via your interaction.
Benefit #3 – A key component to search engine optimization
While you can significantly improve your online visibility and ranking through SEO-optimized content and websites, gathering more positive Google reviews offers a considerable boost. Google considers a positive review to be 'quality content and will boost local search engine rankings – mainly when local keywords are used within the review.
The bottom line is simple – the more positive Google reviews you receive will directly impact your online marketing growth speed and quality.
How to set up Google reviews for your business
When you're trying to learn how to ask for a review on Google, it's vital to set up the structure first. One of the best tools available to any company is creating a Google Business Profile. This platform used to be called a Google My Business account. This online profile allows you to connect digitally with customers searching via Google maps app. Some of the key benefits of having a verified Google Business Profile include:
Permits the business to connect with customers via messaging, responding to reviews, or phone calls.
Allows the business to showcase some of their facilities' products, services, menus, or photos.
It gives the business valuable analytical data about how your customers connect and interact with your company on Google.
However, to benefit from a Google Business Profile and prepare for receiving Google reviews, you need to set up the account first.
Step 1: Visit Google.com/Business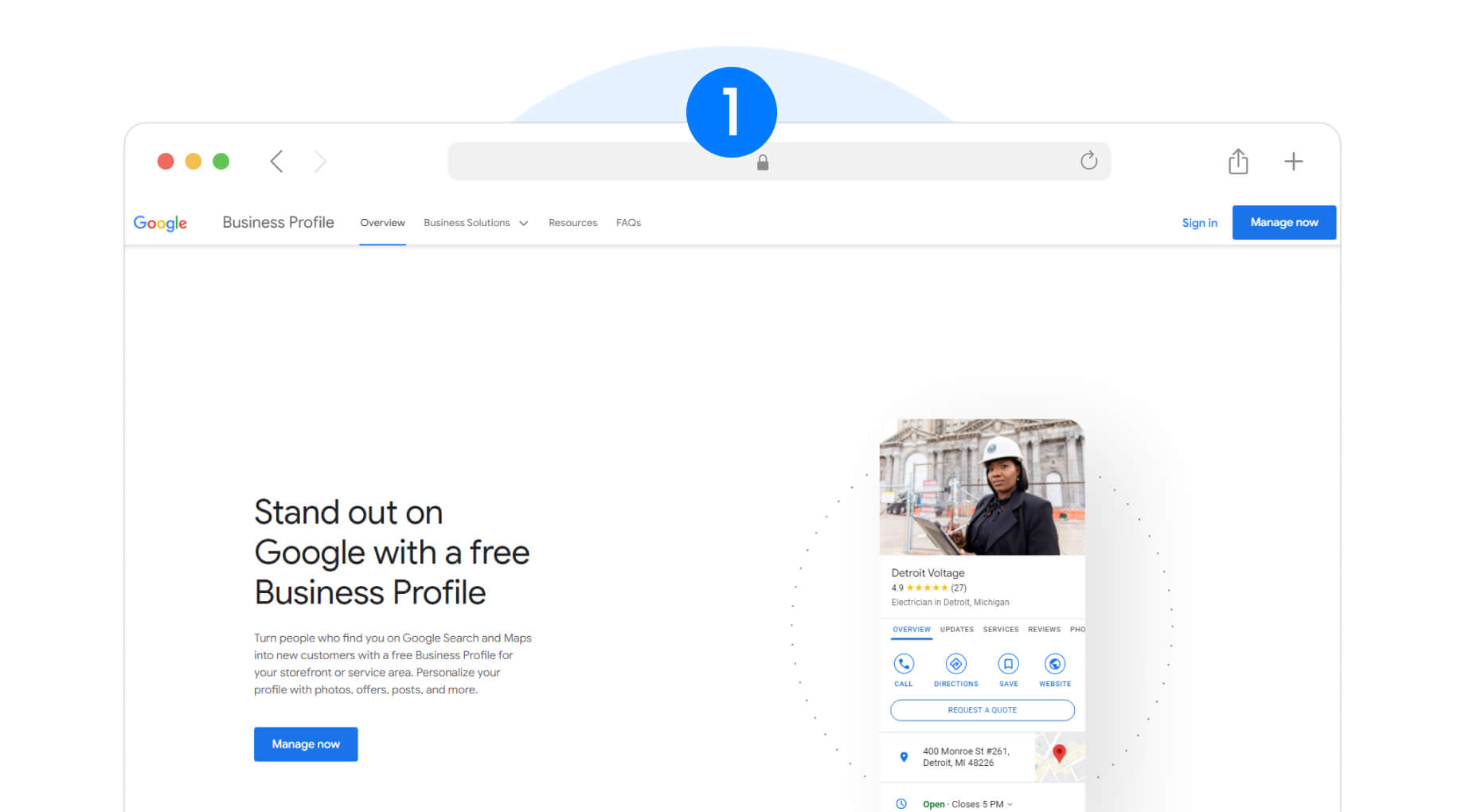 This is the website address where you'll set up the Google Business Profile. It's a good idea to bookmark this URL so you'll have quicker access to the profile once it's set up and verified.
Step 2: Log in with your Google account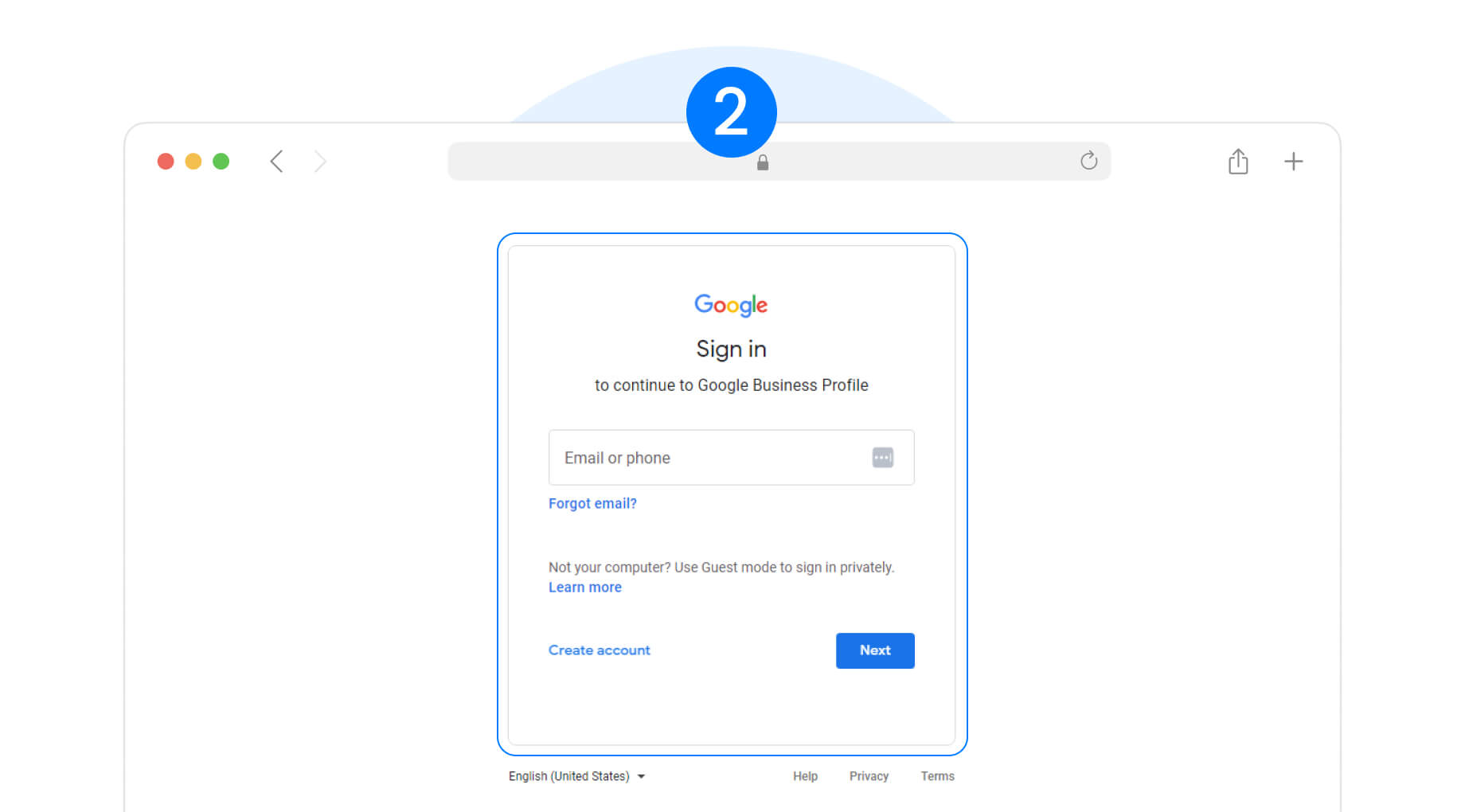 You'll need to log in to your current Google account. However, it's good to create a dedicated business Google account. So you can keep personal data away from your business information. Creating a new Google account is free.
Step 3: Enter your business details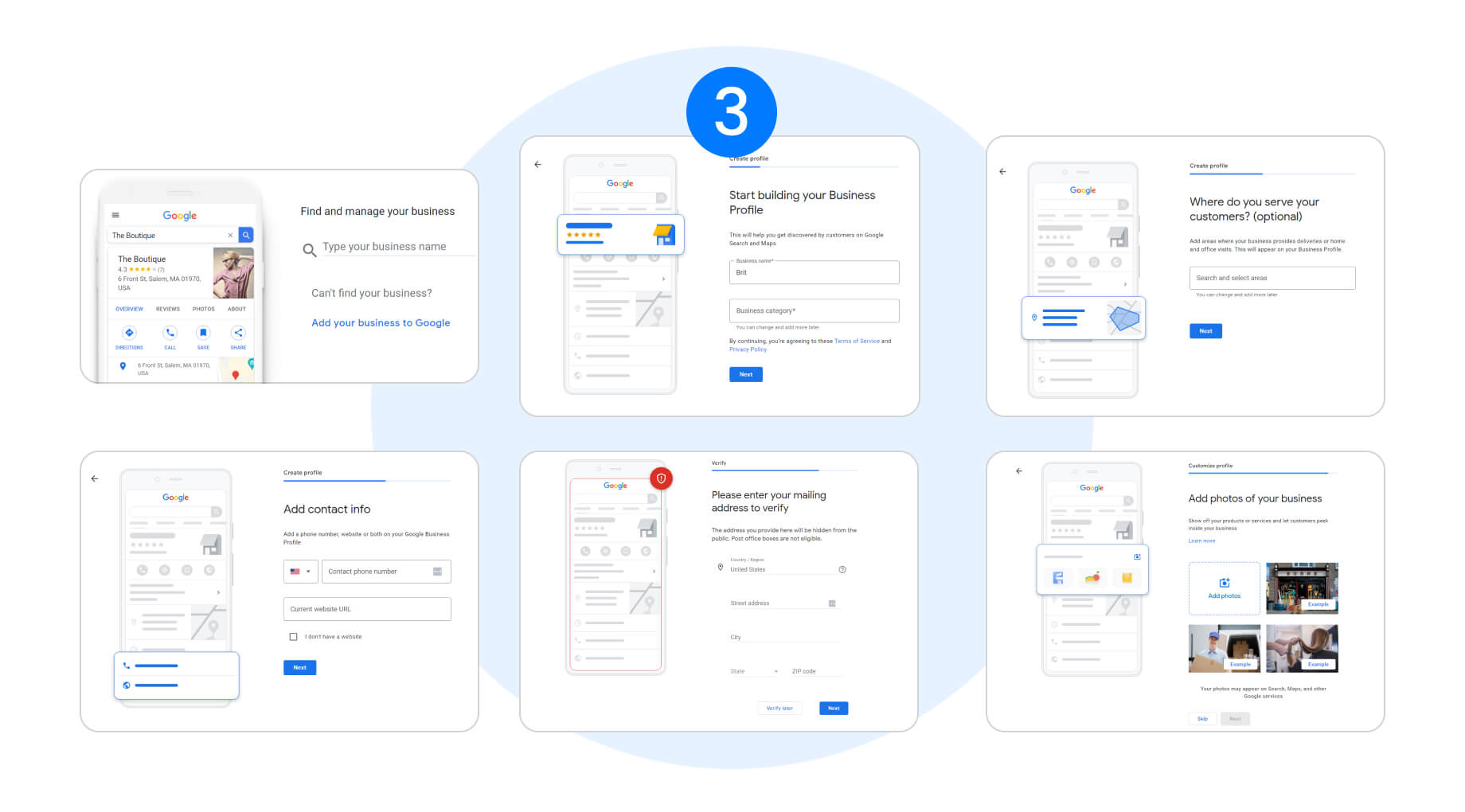 Once you're logged into the Google Business portal, you need to enter your business details. Some of the required data points include:
Business Name: Make sure to use Title Case structure (where you capitalize the first letter of each word in your business name. For example – if your business is Tom's Lighthouse Repairs – that's the way your business name should appear.
Business Address: To set up a Google Business Profile – you need to have a physical business address. Unfortunately, PO Box or Postal Annex is not acceptable. Also – if you own multiple businesses under the same physical address, this will present a challenge – as Google only permits (1) business per physical address.
Business Type: You'll need to let Google know if you are a brick-and-mortar business (like a restaurant or retail location) or a service provider. This is important as it will direct your customers to visit your online platform(s) or physical location.
Business Category: This step will require some research on your part – as it's how Google will 'index' your small business type for local searches. For example – if you own a sports bar that primarily offers American Cuisine – you should choose a business category that most consumers would search for online. In this case, a sports bar might be your best bet.
Contact Details: The final primary step for setting up a Google Business Profile is adding your contact information. This could include your phone number, email address, and website. Since Google Business Profile will track how often customers contact you via these mediums, the information must be correct.
Before your Google Business Profile can be fully activated, you'll have to verify the business listing. Typically this is accomplished by requesting a postcard sent by Google to your place of business. The postcard will have instructions on how to verify the receipt. This process can take a few weeks to complete.
Once you've verified the account and physical address – you will be ready to start receiving Google Reviews. Here is how the process works for a customer to leave your business a review.
They must visit Google Maps and locate your business.
The visitor then accesses your Google Business Profile.
From the main screen, they will scroll down to the review section of your profile.
At that point, they have the option to click a button and write a star rating or written review.
When they are finished, they submit the review – and you'll receive a notification.
While that seems easy enough, it's more work than most of today's consumers are willing to do – unless they are motivated by being upset or an extremely positive experience. It makes sense to expedite this process for your customers, vendors, and others you conduct business with daily. Personal attention is crucial to an effective marketing strategy. And when you're learning how to increase reviews on Google, those who pay attention to those personal details will succeed.
Here is how you can create a direct link that will allow others to review your business on Google with a single click.
Visit your Google Business Profile (GMB). On the Home tab, you'll find a "Get Your First Review" box. Below that listing, you'll notice a Share Review Form button.
Click that button and copy the long URL link. Paste it onto a word document for now.
Visit an online platform that allows you to shorten a link such as Bitly.
Copy the shortened link and use that to promote your Google Business reviews.
3 Proven strategies to get Google reviews for your business
Now that you're armed with the information on setting up Google reviews – and have made it easier for customers to do so for your business let's dive into the best strategies for generating interest and driving local SEO traffic.
Strategy #1 – Build online resources to make it easy for direct digital reviews
The primary objective of driving traffic to your Google Business Profile is to have customers leave positive reviews. The first strategy we recommend is creating the resources that will make it easier for your customers to write the review.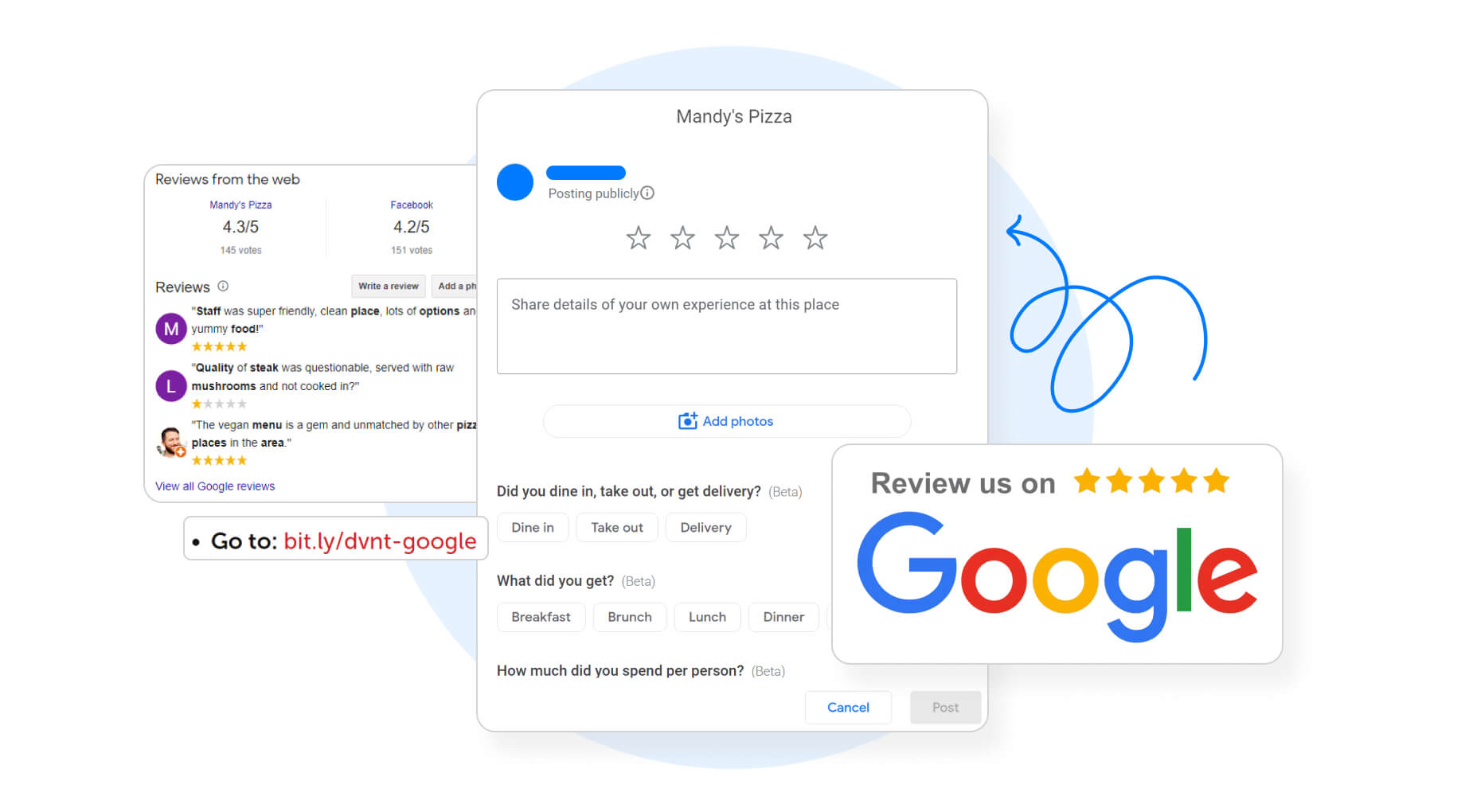 Here are some pro tips for building a few resources that will permit customers and others to write a review with a single button click.
Tip #1 – Use a short URL
The section above mentioned how valuable it is to create a single, clickable link that drives customers to write a review section of the Google Business Profile. You'll use this link on every resource you create. Here are five items you can create to make it easier for customers to leave you a Google review.
Tip #2 - Create an automated email
If your customers order products on your website, you likely have an automated email sent to the customer that verifies their order and purchases and likely includes shipping information. You can customize these emails in Shopify, WooCommerce, or other online store portals.
Why not add a hyperlink in BOLD CAPITAL LETTERS at the bottom of that digital marketing email saying – Please take time to leave us a Google Review of your experience – with a link directly to the review site? You can also add a link in your email signature to request good reviews.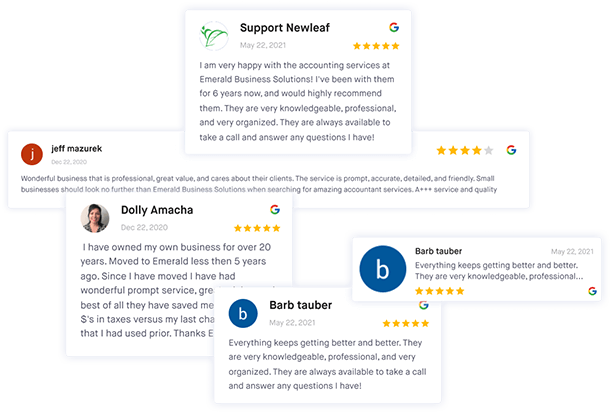 Leverage feedback and reviews to improve your online reputation
Get more online reviews and turn your customers into raving fans with ReviewsOnMyWebsite review generation software.
Tip #3 – Add a call to action on website pages
If you're serious about making it easier for customers and others to leave a positive reviews about your business, why not create a simple call to action on key website pages? A simple banner on the sidebar of your website or in the footer on all pages can make it easier for people to visit your Google Business Profile and leave a review. Two pages you should always have this call to action include your About Page and Contact Us page.
Strategy #2 – Create marketing resources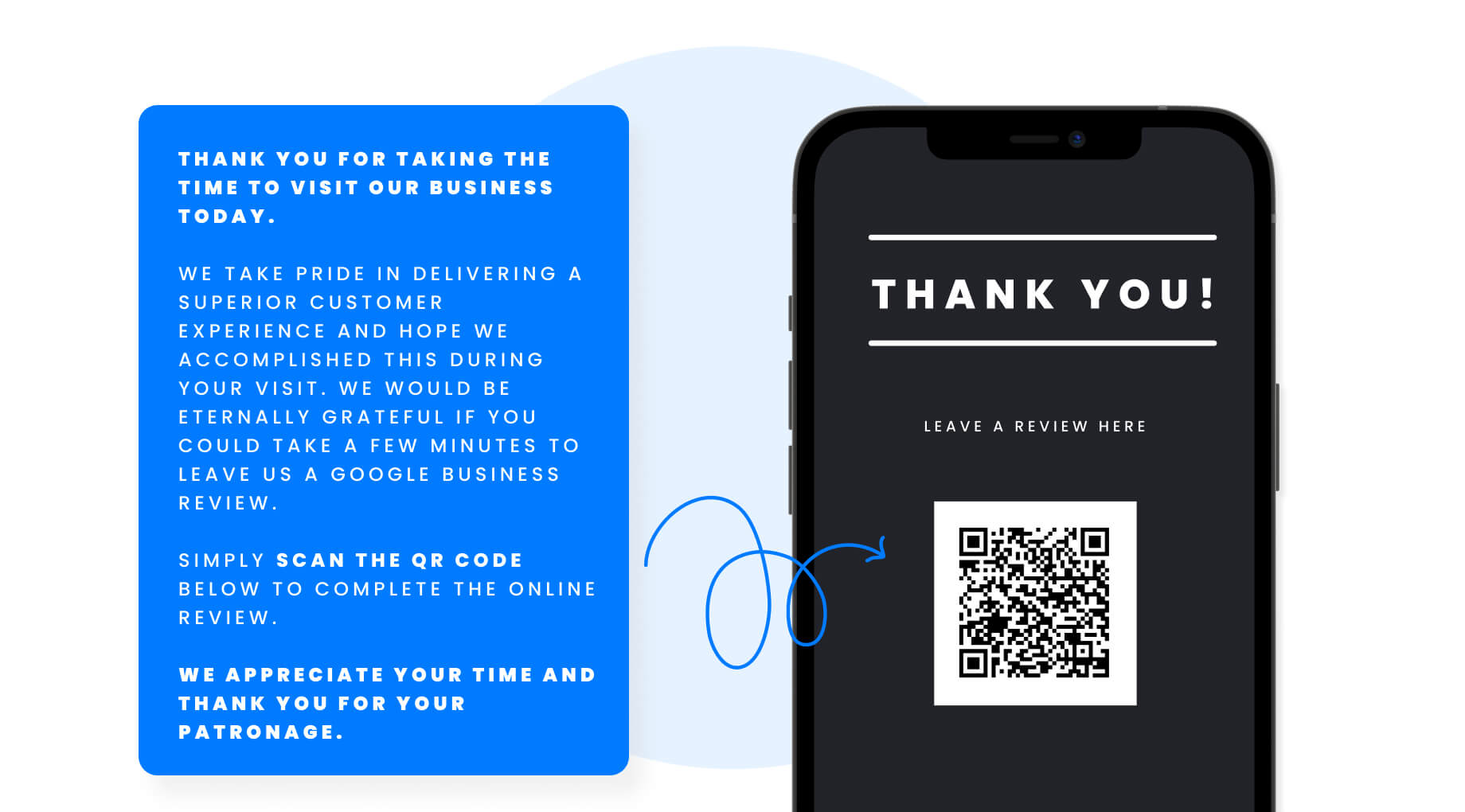 While the strategy above is straightforward for businesses that operate online to activate, those with physical locations might be challenged. However, it's easier than you'd think to create some easy-to-access marketing resources that can be placed at tables, at your cash register, and at other customer touchpoints.
Tip #1 – Convert the review link URL to a QR code
A QR code is a scannable tool that allows people with any mobile device to visit a web URL with a simple scan. Use this QR code in all your onsite marketing materials.
Tip #2 – Create postcard size review request cards
Using the QR code with the embedded link to your Google Business Profile review page, create a simple postcard that thanks customers for visiting your business. Within the text, write a phrase such as the below:
Thank you for taking the time to visit our business today. We take pride in delivering a superior customer experience and hope we accomplished this during your visit. We would be eternally grateful if you could take a few minutes to leave us a Google Business Review. Simply scan the QR code below to complete the online review. We appreciate your time and thank you for your patronage.
Tip #3 – Place a QR code with a simple message at the cash registers or restaurant tables
As customers are heading out or paying for their service, they will likely leave with a positive experience. This is an excellent opportunity to ask them for a Google review. Make it easy by creating a small sticker that you can place on your tables or cash registers with the QR code.
Strategy #3 – Get involved with social media marketing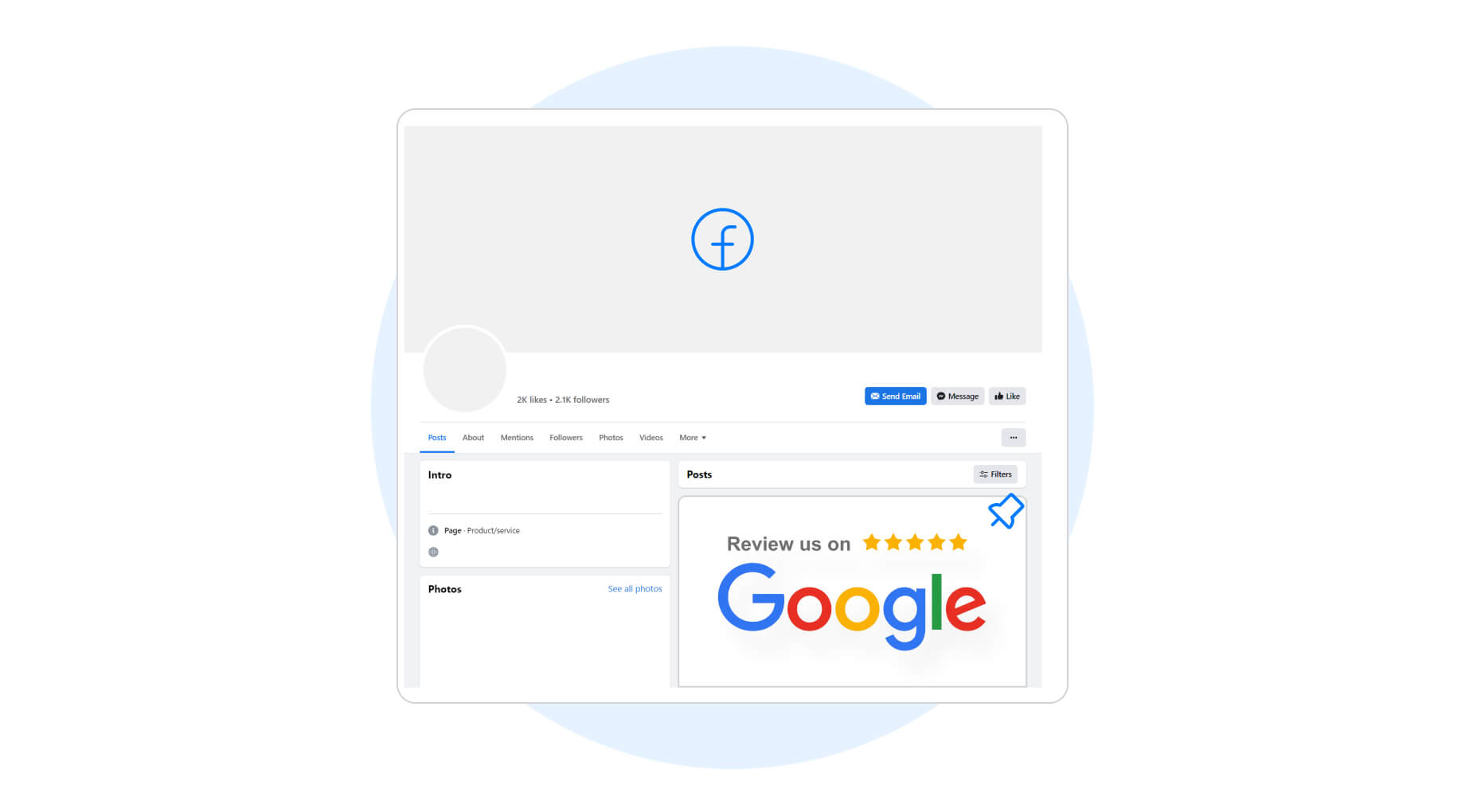 You'll often have a section that allows you to tell customers about your business on your social media channels. This is a great location to place your Google review link. However, you can make it easier to drive traffic to that Google review page through social media interaction with customers.
Tip #1 – Ask for a Google review when customers leave a positive Facebook review
If customers take time to visit your Facebook page to leave a positive review, they are more likely to do the same on multiple platforms. But, you need to make it easy for them. Use that shortened URL link and respond to their post by thanking them for the Facebook comment – and if they have time, leave a Google review. Insert the link in your Facebook Post and reply to the customer directly.
Tip #2 – Make a pinned post about Google reviews
You can also make a post and 'PIN' it to the top of your Facebook Business Page requesting former customers to leave you a Google Business review. Use the same tactic by sharing the clickable link at the end of this post. This will make it easy for new followers who are happy customers to post their Google search review.
Tip #3 – Send private message to customers with issues you resolved
If you had a customer express their negative feedback from a poor experience with your company – but you were able to turn that into a positive experience, in the end, don't be afraid to ask them (via a private conversations) if they could take a few minutes to explain the situation in a Google Business Review. Negative reviews that express initial displeasure but results in a positive outcome for a local business are attractive to potential customers.
How to ask for a Google review
Creating the resources and platforms to make it easy for customers to submit a review is the simple part. Knowing how and when to ask for a Google Review is challenging for many business owners for many reasons. Many simply don't feel comfortable asking a customer to do anything outside of their normal interactions. Others are afraid that asking might create negative feelings of obligation to the customer – and result in a poor review.
Believe it or not – more customers today are more than happy to oblige – especially when you provide superior customer service or go above and beyond to resolve a problem. We posted a great blog that teaches how to ask for Google reviews. Take some time to review that blog – as it's filled with several practical tips that will help you feel at ease with asking customers for their valuable input.
3 Google review management tips
Hopefully, you will feel comfortable knowing how to increase Google reviews for your business by now. Sometimes it's as easy as simply asking the customer if they could rate us on Google. In the end, the best way how to get Google reviews for my business is to make it easy for them. However, the next question to ask is how to get 5-star Google reviews or how to improve Google reviews from customers.
Here are three pro tips to help you manage the Google review process.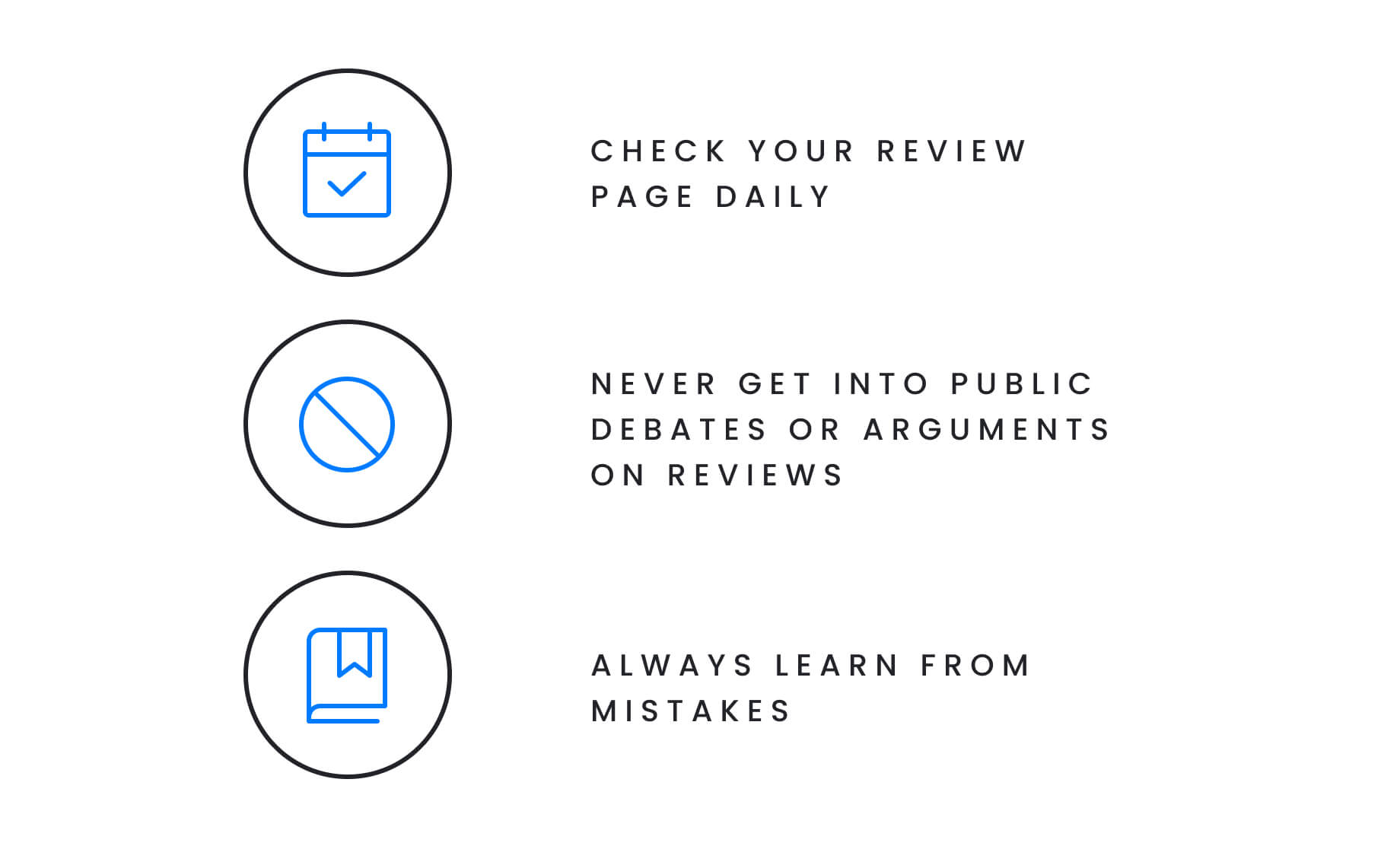 Tip #1 – Check your review page daily
The first extra Google review management tip is to schedule time to check your Google Business Profile for new posts or comments by customers. People respect businesses that place their needs and opinions as to their top priority. The best way of proving this is to reply to new reviews quickly and with a focus on professionalism.
- Always thank the customer for taking the time to leave a review.
- Apologize for any negative experiences they mentioned in their review.
- Ask the customer to contact you via email to see if you can resolve any problems.
Tip #2 – Never get into public debates or arguments on reviews
As a business owner or manager, you likely take tremendous pride in your reputation. While many Google reviews will focus only on the negative, with some customers getting personal, rude, or flat-out crude with their opinions, resist the urge to be combative online.
If you have a situation like this, simply reply to the customer that you're sorry they had a negative experience – and to contact you directly to see if there is a way to resolve this problem. Whatever you do – don't sink to their level. This will leave a negative opinion on future customers who check your reviews.
Tip #3 – Always learn from mistakes
We mentioned above that one of the critical benefits of having Google reviews is to learn about your customers. When you receive one that is legitimate from an upset customer, you must strive to resolve that issue – and ensure it doesn't happen again.
- Discover the root issue that caused the problem.
- Put in place controls or procedures to prevent the problem from happening again.
- Most importantly – follow up with the customer PUBLICLY to let them know you've made changes to ensure it never happens again.
Key takeaways
If there is a single theme that we've attempted to drive home in this article, it's the importance of making it easy for customers to leave the review. But, as a business owner, manager, or marketer, finding the time to make these changes, send them to customers, and monitor feedback online is the true challenge.
New technology has allowed businesses to streamline and automate their customer feedback. Whether it's creating a Google reviews widget that displays current Google reviews on your website or automated software that allow customers to write reviews on Facebook, Google, or the platform of your choice, we offer a solution to help save you time.
When you want to learn how to get Google business reviews, it makes sense to automate the process. Contact us today if you'd like to learn more about ReviewMyWebsite automated review solutions.
Frequently asked questions
How do I see my reviews on Google?
The best way to see your business reviews posted on Google is to access your Google Business Profile. Your business needs to be set up and visible on Google Maps for a customer to provide a review. If this has been completed, you can easily read customer reviews and reply to them once you've set up the Google Business Profile account.
How do Google reviews work?
Google reviews were created to allow customers of businesses listed on Google's Map directory to provide feedback about their interactions. The platform allows consumers to click on the business located on a Google Map, click the Leave a Review button, and provide feedback. The business owner has a right to reply directly to these reviews. Google reviews also collect data from local review websites like Yelp and others.
How do I get google reviews fast?
There is a big difference between doing something fast and doing it right. Some unethical business owners will hire overseas contractors to leave 'fake' reviews on their Google Business Profile once it's published. However, the right way to get Google reviews quickly is to have an automated solution that makes it easier for time-strapped businesses to connect with previous customers in their database. Visit ReviewMyWebsite.com to learn more about these software solutions.
How long does a Google review take to post?
Unfortunately, there is no estimated timeline for Google reviews to post. In some situations, the posted review can show up on the same day – while other posts will take a few days to post. Several variables including Google's policies can cause delays from posting, such as incorrect data about the business, content left in the review by new customers (if there is hostile or threatening language), and if the business has not verified its address.
How to get rid of bad Google reviews?
Google permits business owners or managers to access the Google Business Profile to file claims about bad Google reviews. The process of improving your reputation management is quite simple. First, open your Google Business Profile and click 'view all your business reviews.' When you find a review that you suspect is negative or fraudulent, you can flag it as inappropriate. To accomplish this, click the three dots next to that post, fill out the Report a Policy Violation form, and submit it for review.
Why doesn't my listing on Google maps show reviews?
Most Google reviews will automatically post on a business's Maps account. However, there are multiple situations where the post will be removed. This may include simple grammatical errors, such as spelling a business name wrong. In most cases, a Google review with harsh or negative language will automatically be removed – or is flagged for further review. If reviews are removed, it can impact search rankings.
Can you buy Google reviews?
In short – no, you can't buy Google reviews. The Federal Trade Commission considered this an undisclosed paid endorsement – which is illegal in the United States. Suppose a company is caught soliciting fake reviews. In that case, they are likely to be fined by the FTC – with additional penalties varying. It's simply not worth the risk for any business to engage in this type of activity.
How can you tell if your Google reviews are fake?
It isn't easy to continually monitor your Google Reviews to ensure they are all legitimate. However, there are some common themes that fake Google reviews have in common. First, check for a LOT of repeated exclamation points. Second, review the complexity of the language or words used. Third, examine the reviewers name and look them up in your customer database. Finally, check out their other reviews to see if they've made similar comments locally – or if they are spread out across the country.
Can you get too many Google reviews?
The simple answer is no – you won't be penalized for having too many Google reviews. However, quality is much better than quantity like any other feedback collection process. It's best to seek reviews from customers you have a good relationship. When you can showcase these reviews on your websites, social media pages, and other places – more people will be likely to post reviews themselves.
How long do reviews stay on Google?
Google makes it extremely hard to answer this question, honestly. Their official position is that Google reviews do not last forever. Many reviews are removed by the initial poster, flagged and removed by Google, or taken down due to policy violations. Sometimes Google's algorithms remove posts by mistake or if they determine they are not on topic.
Can I see who viewed my Google review?
The Google Business Profile is a great marketing tool for business owners and managers with full access. One of the best metrics to review is your profile page's number of unique visitors. While you're able to review how many users (based on devices used – and are only counted as (1) per day), you cannot review user specifics.