In the age of digital commerce, positive reviews online have become a critical part of a business's success. Since Google lists millions of businesses, businesses need to understand the Google review policy, so they don't get in trouble for breaking it.
Yes, review requests from satisfied customers are acceptable - but there are conditions every business needs to understand. Contacting customers in bulk with automated solutions are fine - if you permit them to leave their own reviews.
However, since Google is a tech giant, it's their goal to streamline communications between users. They strive to create a platform with user-generated content that is free from illegal activities and does not create a bad experience for anyone.
To comply with their legal obligations and to create a fair review process for the business and users, their review policy in 2023 aims to eliminate inappropriate content and get rid of abusive users.
In the information below, we'll review everything you need to know about the Google review policy in 2023. This includes the rules businesses must follow, what will happen if they don't, and how to respond to offensive content ethically.
By the time you wrap up the article, you'll clearly understand Google's review policies, how to roll with updates as they are activated, and how to use Google reviews for business to boost your business's online reputation and create a positive customer experience.
What is Google Reviews Policy?
The Google Reviews Policy gives businesses and customers a set of rules to follow when using the platform. This policy explains the rules that must be followed when a review is posted, or a response is given on Google. This makes sure that the system works well for everyone.
The goal of the policy is to make a trustworthy place where customers can freely share their thoughts while protecting businesses from fake reviews, spam, and other bad business practices. It protects the legal rights of their business, but also guidelines that help their artificial intelligence to rank businesses that create an engaging experience.
To ensure compliance with Google Reviews Policy, businesses must adhere to important rules concerning the prevention of fake or incentivized reviews as well as the elimination of content that violates Google's policies.
When responding to customer review notes, businesses are also instructed by their privacy policy to do so in a professional and courteous way. This creates a genuine experience between users and the business.
There are multiple Google review resources for business owners that are accessible from their profile dashboard. While they don't have access to user data, they can engage directly with user action and comments.
Why are the Google review rules so important?
It is very important to follow the Google review rules if you want their review system to stay trustworthy and reliable. Without these rules, it would be difficult for users to rely on its accuracy and reliability.
Reviews are an incredible asset to any customer looking to make a smart purchase. With reviews, you can determine the quality of a business and its services, as well as gain insight into their overall reputation—all in one place.
Customers gain knowledge from previous user experience reviews, which gives them the confidence to buy what works best for them. When the reviews are published by verified users, they are not considered objectionable content.
This is why Google prohibits anonymous users from publishing written comments on their platform.
But if the review platform is full of fake, spammy, or biased reviews, it could confuse customers and hurt its credibility.
The rules that Google has for reviews are meant to make sure that reviews are fair, honest, and based on real experiences. These policies help to prevent businesses from artificially inflating their ratings through fake or incentivized reviews, which can create an unfair advantage over competitors.
It's also important to understand that the rules are intended to remove the potential from harmful content, protect the customer data, and increase customer trust of businesses showcased on Google.
5 Crucial Google review guidelines
As digital marketing and managing a business's reputation become more important to its success, Google reviews have become an important thing to think about.
When you know Google's review policy and can correctly interpret its rules, your business can come up with successful strategies that will get more reviews and improve ratings while still following the policy's rules.
1. Asking for reviews from customers is OK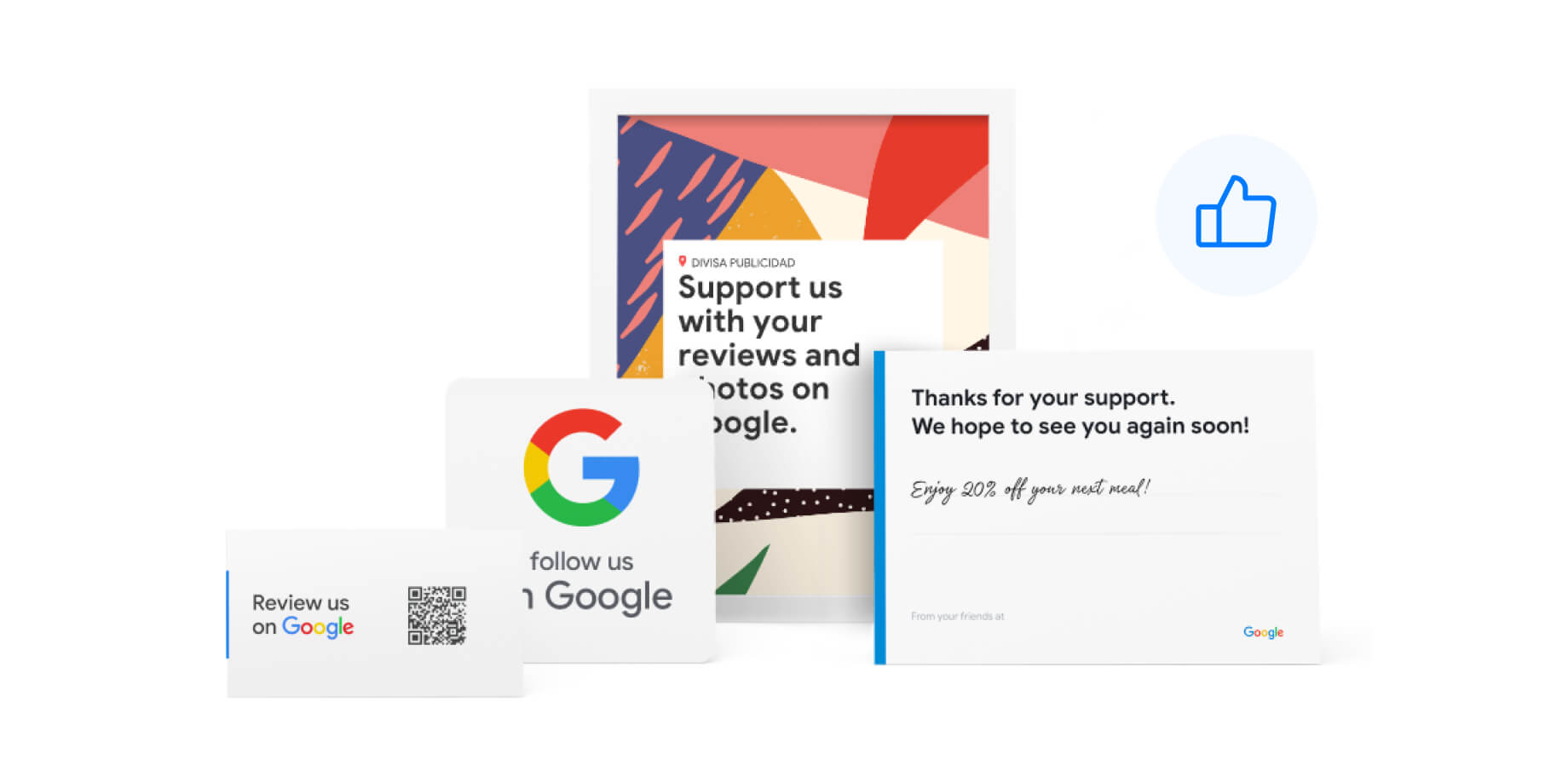 Google welcomes businesses to enlist customers for reviews.
In fact, in case you're not aware, Google offers a complimentary Digital Marketing Kit filled with posters, stickers, and social posts. All you need is your customers' permission.
If your requests abide by the company's review policy of course—so why not reach out to them today and ask for their valuable feedback?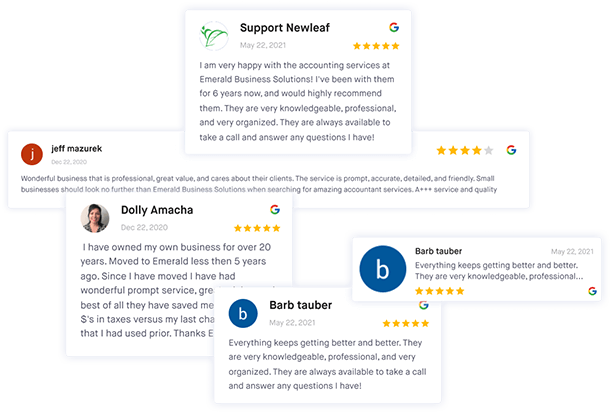 Leverage feedback and reviews to improve your online reputation
Get more online reviews and turn your customers into raving fans with ReviewsOnMyWebsite review generation software.
However, be aware that you cannot select certain types of customers to leave reviews based on the type of review (positive or negative.)
This is called "review gating," and Google just changed its policy to discourage it very strongly. We will go into more detail about this in the next section.
2. Review-gating is not permitted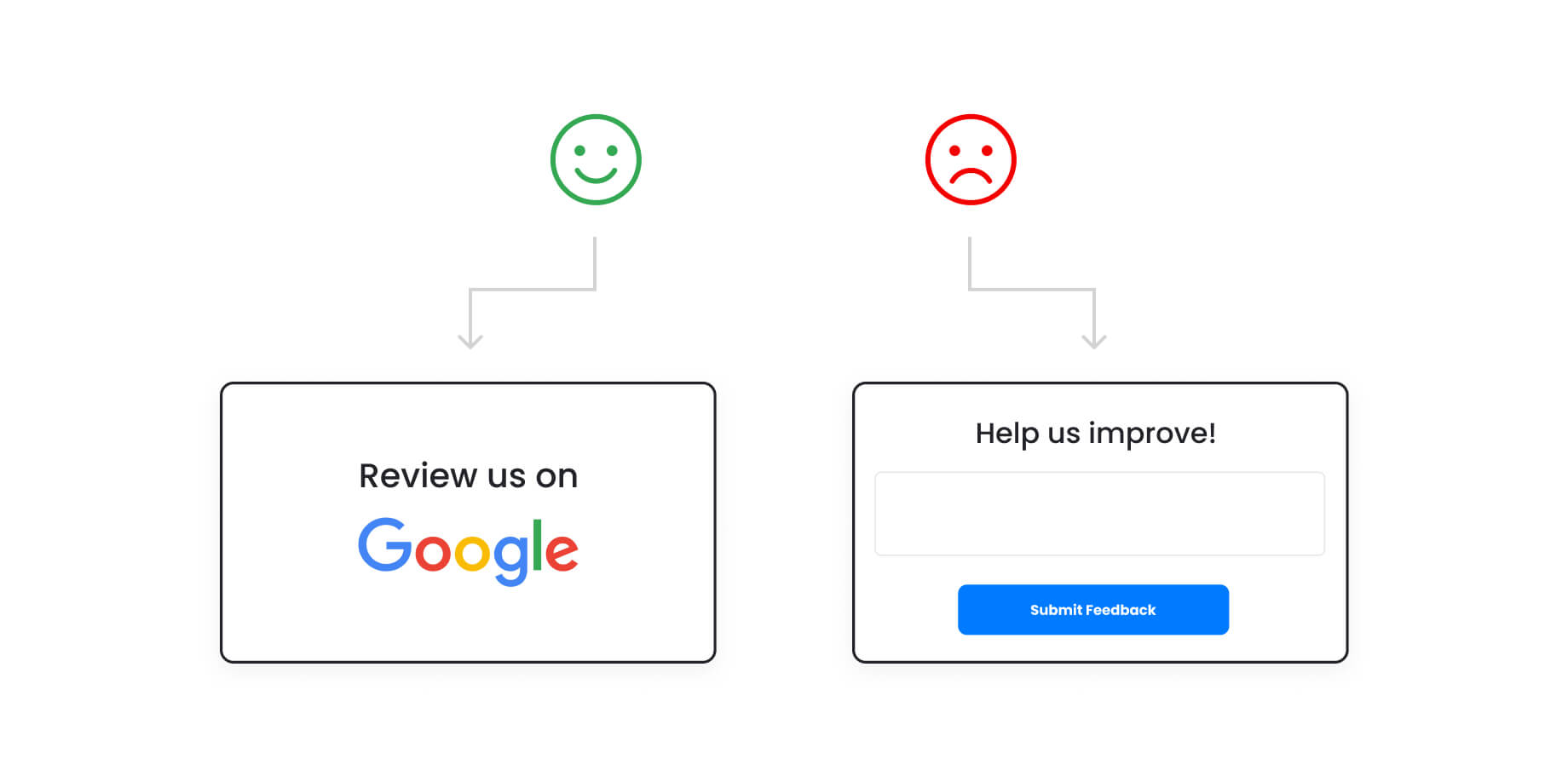 Review gathering is a good way for businesses to find out about their customers' experiences. If the customer has had a positive experience, they are asked to post a review on Google. If the feedback is negative, details can be shared privately with the business instead of publicly.
Review gating on the other hand has become a prevalent strategy with one purpose: effectively soliciting feedback from customers and potential brand advocates while making sure that those who had negative experiences are addressed accordingly before they leave damaging reviews.
To ensure genuine consent from participants, Google does not allow review gating.
In their terms and conditions, the tech giant says that businesses shouldn't "suppress or discourage negative reviews, nor should they only ask for positive feedback."
But let's clarify what this means.
Review gating is when you request reviews from satisfied customers, but the company uses a third-party software solution that gives them the flexibility to approve or prohibit reviews on their platforms.
It is critical to ensure that ANY additional software solution you use to collect reviews places the power of publishing the review directly in the user's hands.
3. Understanding Google's restricted and prohibited content guidelines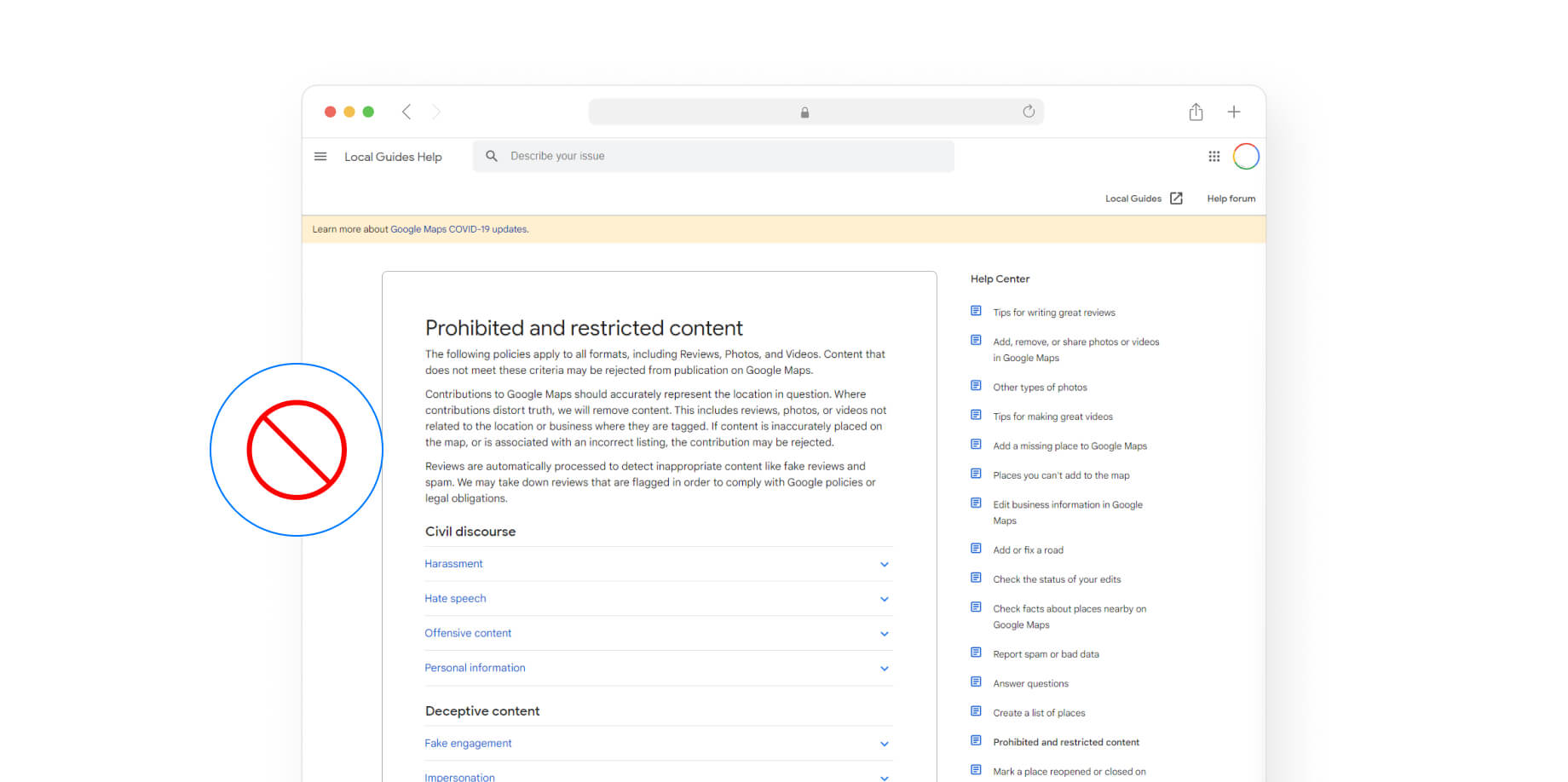 Google will remove reviews from your business listing if they contain any content that isn't allowed or against the rules.
The types of content that are not allowed include:
Any posts that contain personal attacks or insults based on race or gender will not be accepted. Google takes this policy seriously to provide a safe environment where customers can share their honest opinions without fear of harassment.
Spam: Genuine customer reviews are essential and can't be biased or promotional. Companies may invite their customers to post a review yet should never reward specifically positive feedback or fabricate new ones.
Off-topic content: Customer reviews should be pertinent to the business being evaluated. Such areas are not suitable for airing individual grievances, like thoughts on social issues unrelated to the company in question.
Fake or duplicate content: Google strongly prohibits businesses from publishing counterfeit or plagiarized reviews taken from other websites.
Illegal content: All reviews must align with Google's Terms of Service and Content Policy, which strictly forbids any content that is in breach of the law. This includes information about pirated software or materials protected by copyright.
Sexually explicit remarks: To maintain a secure environment for customers and business owners, it is essential that sexually explicit language is not used in any form of communication.
Conflict of interest: Employees, friends, and family members with a possible vested interest in the business should not be leaving reviews. Additionally, they should abstain from reviewing their own services or products to avoid any hint of impropriety.
4. Google reviews can't be bought

There are a lot of service providers out there who offer "5-star review services" and guarantee perfect work. This includes Google profiles that are fully filled out and accounts that have real photos attached.
These are 100 percent prohibited.
Google doesn't allow buying reviews, even though it might seem like a good and cheap way to improve your online presence and search engine rankings. Not only can you lose your business listing for doing so, but it could cause you to have zero visibility online--the exact opposite of what you were hoping to achieve.
5. Incentivizing Google reviews is prohibited

Google outlines a clear policy when it comes to customer reviews— "Don't offer or accept money in exchange for reviews." Even though the wording may not say "giveaways" or "gifts," Google has acted against businesses that offer review incentives for leaving feedback, such as free stuff or discounts.
This is a common standard on other review sites as well, and it's important to keep in mind when your business interacts with customers.
Giving customers rewards for leaving good reviews on Google is a bad idea that could have serious consequences. The Federal Trade Commission (FTC) has put out clear warnings against it, and they will not hesitate to take legal action if any businesses are found guilty of this deceptive review practice.
Offering undisclosed prizes or incentives to potential reviewers can get you into hot water with the FTC very quickly, so make sure you are aware of their policies before attempting anything like this!
What happens if you violate any of Google reviews guidelines?
Google takes careful steps to make sure that its reviews are accurate and reliable. Violations of their customer privacy or policy guidelines may result in severe consequences, such as:
Erasing reviews from your company's Google business page could cause the deletion of all reviews, not merely those that are non-conforming.
If you choose to ban your Google Business Profile page, it'll mean no one can find it on either Google search or Maps. Plus, the same business name won't be able to create a new page in the future which could limit opportunities for people who are looking for what you offer.
If you consistently breach the terms of service, your access to all Google services may be blocked. This includes Google device access to Chrome, YouTube, Google Earth, Gmail, Financial Services, App Review, Google Review Link +, AdSense and PlayStore.
Moreover, if you've been using Google Pay or Google Plus in the past - device access to these services may be blocked.
Does the Google review policy change over time?
Yes, the Google Review Policy can – and often will evolve and change over time. In the world of digital marketing, it is a well-known fact that Google is always making changes to its services and algorithms.
Their AI and platform are designed to grow with the data it collects from users. Inevitably, patches in policies may be added to address sudden unexpected issues or experiences that have a less than desirable effect on the user.
For instance, Google changed its review policy in 2020 to account for how COVID-19 would affect businesses. The update added new rules for reviews that mention COVID-19.
For example, reviews that give false information about a business's safety practices, emergency services, its intellectual property rights, or reviews that criticize a business for things it can't help, like delivery delays, will be taken down.
Google may also change its policies to crack down on certain types of fraud or to make its review platform more accurate.
Google, for example, has taken steps to stop fake reviews by adding new algorithms that can better spot suspicious behavior and get rid of fake reviews.
Key takeaways
Businesses need to be aware of any changes to Google's review policy, because breaking these rules can lead to things like account suspension or termination.
If your business follows Google's rules to the letter, reviews from happy customers posted to your Google business profile are a great way to build trust online. Getting past and existing customers to rate and review your business on Google can speed up the credibility curve.
ReviewsOnMyWebsite is one of the best tools for automating this task. It helps businesses to send automated emails and SMS messages to previous customers with a link to leave a review on Google or any other review platform.
This makes it simple and easy for users to leave their feedback, with a simple click of one button – and the flexibility from their preferred communication methods.
By staying up to date on the Google review policy and following the rules, businesses can keep a good online reputation and build trust with their customers.