Through search engine optimization and other innovative strategies, SEO reputation management can assist businesses in transforming their online image.
When it comes to safeguarding, administering, and restoring your brand's credibility, there are some things you can control - and others that you simply can't. As hard as you try, it's inevitable that eventually, someone will post negative information about your company.
In fact, a negative search review published on a high-authority website like Google or social media profiles can quickly sink your brand's online reputation.
Many businesses, from start-ups to enterprise level, activate search engine reputation management strategies to combat these unfortunate situations.
If you've heard of SEO online reputation management but need help understanding the facts, this article will serve as a clear guide.
What is reputation management in SEO?
Online reputation management is an indispensable component of a comprehensive digital marketing plan. It's the process of proactively managing the public perception of an individual or company by increasing the quantity and quality of positive digital media.
SEO, or search engine optimization, is the most effective way to maximize the visibility of your business across various web platforms to potential customers.
Through SEO practice, you can ensure that your content - including blog posts, social media videos, and landing pages - is among the highest-ranking results on Google Search and other popular search engines.
Several SEO tactics include integrating commonly searched terms (keywords and phrases), backlink building, and improving the quality positive content of engagement with consumer reviews.
We'll explore some of those tactics for hiding negative search results included with online reviews in the sections below.
Why SEO online reputation management matters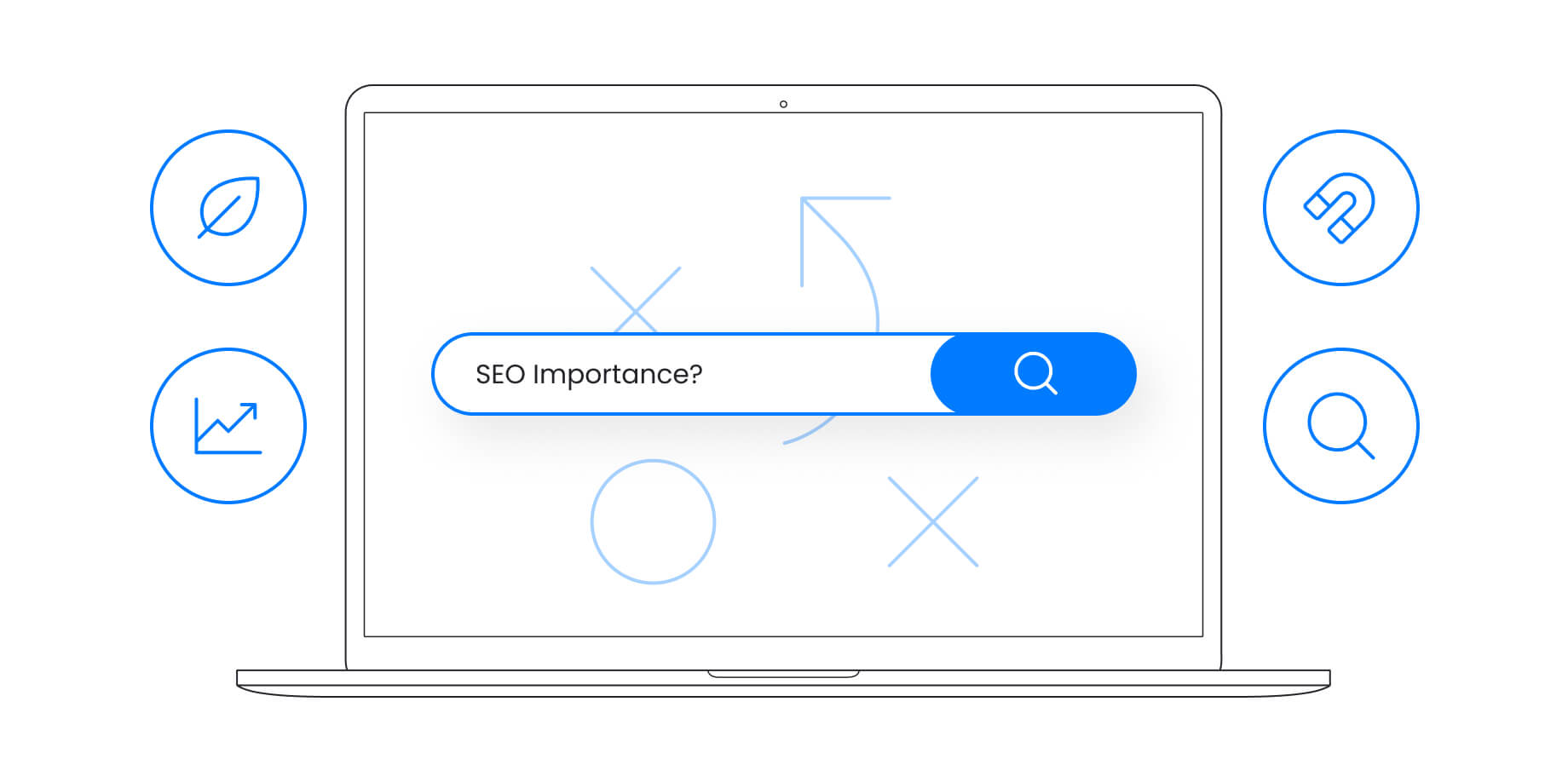 Online reputation management aims to introduce and promote a positive image of your company on web platforms.
SEO plays a vital role in helping businesses build trust with their target consumers. If you have a strong understanding of SEO tactics and understand how to use them effectively, you can significantly improve your business's visibility and credibility in the online space.
Here are a few ways that SEO reputation management strategies can help improve any organization's online visibility and perception.
1. Helps improve organic search results
Organic search engine traffic is crucial for the success of any company. When a company improves the optimization of positive content related to the brand, Google ranks those web pages higher on its search engine.
This means that potential customers are more likely to stumble upon your brand's website or online presence and learn more about your products or service.
2. Increases site traffic and user engagement
SEO reputation management can help a business increase its website traffic and user engagement, which helps boost the company's overall visibility.
By creating optimized content for specific keywords and phrases, businesses can ensure that their content appears at the top of search results. This helps draw more visitors to their website, social media sites or social profiles, and ultimately resulting in a higher number of conversions.
3. Improves your brand equity
If a negative search query causes your brand value to suffer, other companies offering similar products instantly gain an advantage, with consumers flocking in their direction instead of yours.
Through SEO reputation management, you can ensure that your brand remains visible on the web and therefore increase brand equity. When people type in a search term related to your business profiles, you'll improve online real estate as well.
3 Uses of SEO for reputation management
As it's clear to see, SEO is a fundamental part of managing your reputation. When you're creating an ORM strategy, SEO needs to be a top priority. That means optimizing content, so it appears as close to the search results' first page.
To reduce the likelihood of unfavorable and inaccurate material reaching the top page, ensure to fill your first page with positive and accurate information. This is often completed via guest posts on high authority websites, responding to negative reviews or content, and adding keywords throughout social profiles.
However, there are others uses of SEO in content creation, that can improve online reputation.
Use #1 – Increase the ranking of positive reviews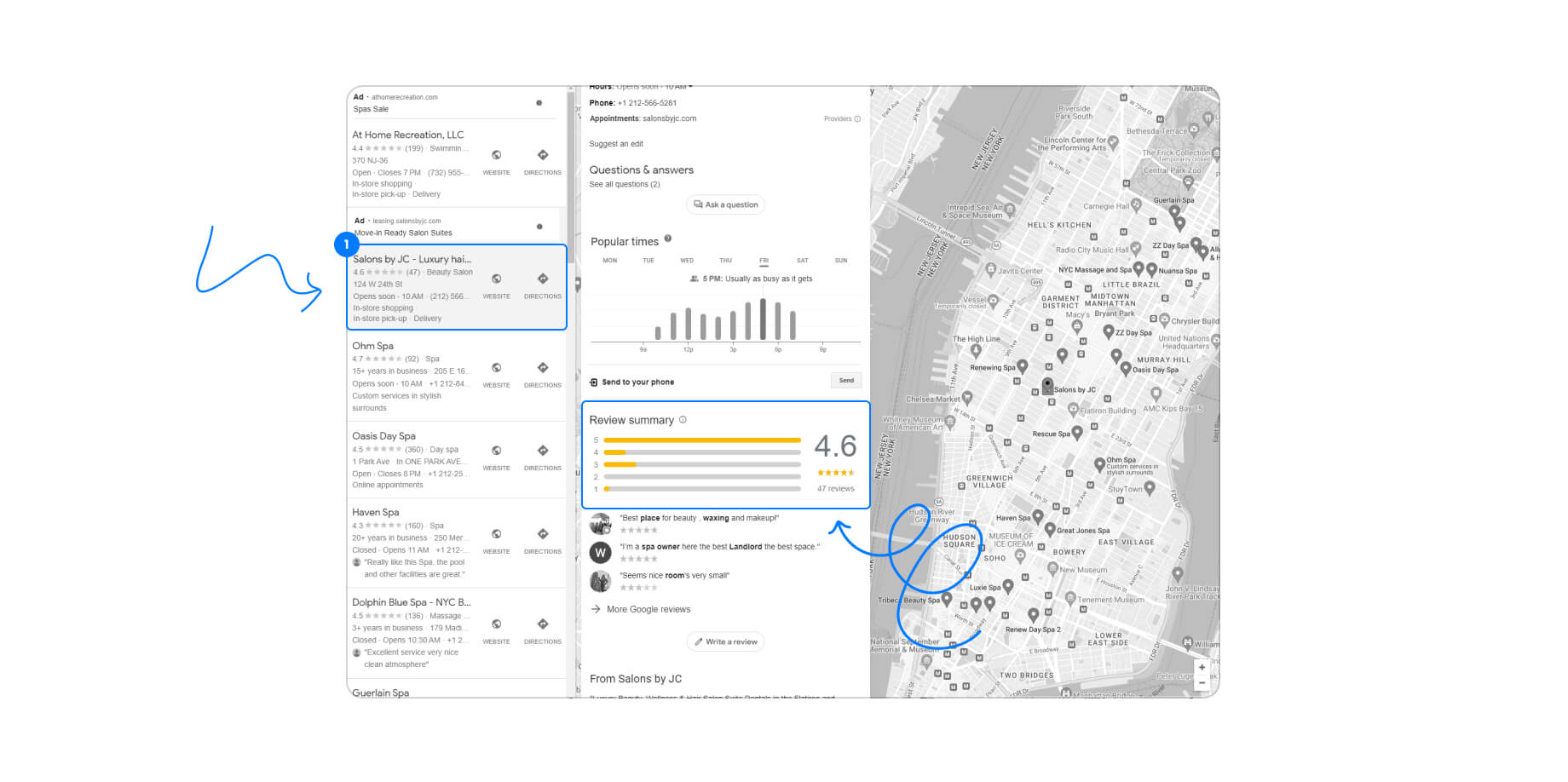 Positive search results can have a drastic impact on the reputation of your brand. Encouraging customers to leave feedback and responding to them promptly will not only enhance relationships but also increase rankings for those reviews.
Using SEO tactics such as optimizing review titles, video content, your Google Business profile, adding image alt tags, and selecting relevant keywords for each page can help improve the visibility of these search rankings.
It's also advised to optimize featured snippets, content written on news sites with high domain authority, social media content, and other content type with your target keyword.
Use #2 – Drive negative results down the Google ranking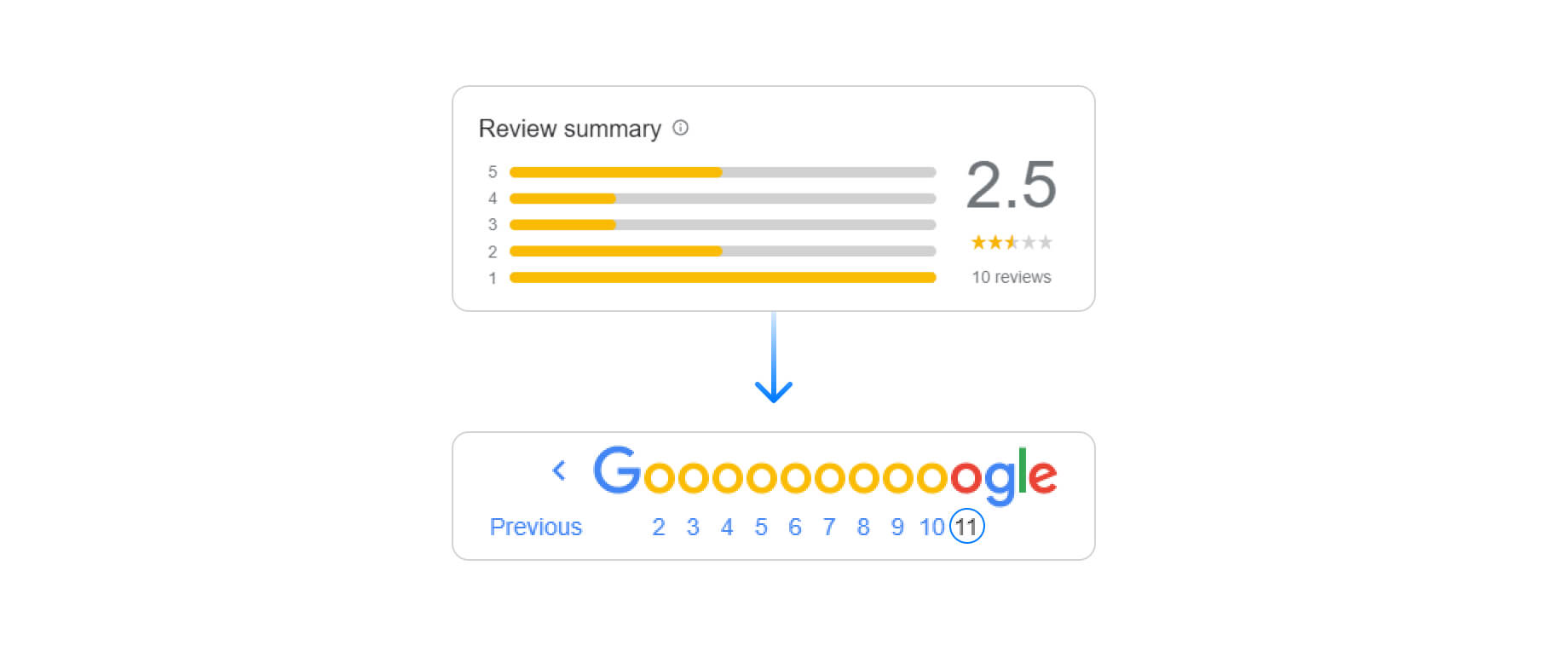 To push those negative mentions search results out of sight, it takes more than one page to secure the front page with positive search results in pieces of content. Google limits its primary organic listings on its first page to only two pages from your website.
So, if you're going to activate an effective SEO reputation management strategy, you need to consider improving the quality of content on other independent websites to drive down negative content. We'll explore this concept below.
Use #3 – Use multiple platforms to spread the positive results

One of the biggest keys to improving SERPs is linking your brand to websites with strong domain authority. Social media platforms like Facebook, Twitter, Instagram, LinkedIn, and YouTube have extremely high domain authority.
Using SEO keywords in social media posts, or other pages on your business listings social media accounts can also have a positive impact. Social accounts with high DA, that are keyword optimize naturally rank higher.
When you have customers provide positive feedback, use your social media presence to share these reviews. Not only does this help improve your online image, but it enhances consumer trust factor.
You can also use these social media accounts to publish SEO enhanced blog posts. This is a great way to increase organic search traffic, drive visitors to your websites, and increase conversion rate.
Other platforms with high DA include Google and other review websites that are industry-specific - such as Zillow reviews for realtors or Angi for service providers.
The key is to showcase those posts written by happy customers on all business listings. This is the best way to reduce negative feedback that is published online in a key ranking factor.
6 Proven reputation management SEO strategies
As you consider activating an SEO reputation management program, you must have a solid attack plan. Most digital marketing experts suggest integrating SEO efforts and content best practices on your website and some creative outside SEO tactics.
Here are five proven reputation management strategies to consider for 2023.
Strategy #1 - Start creating quality content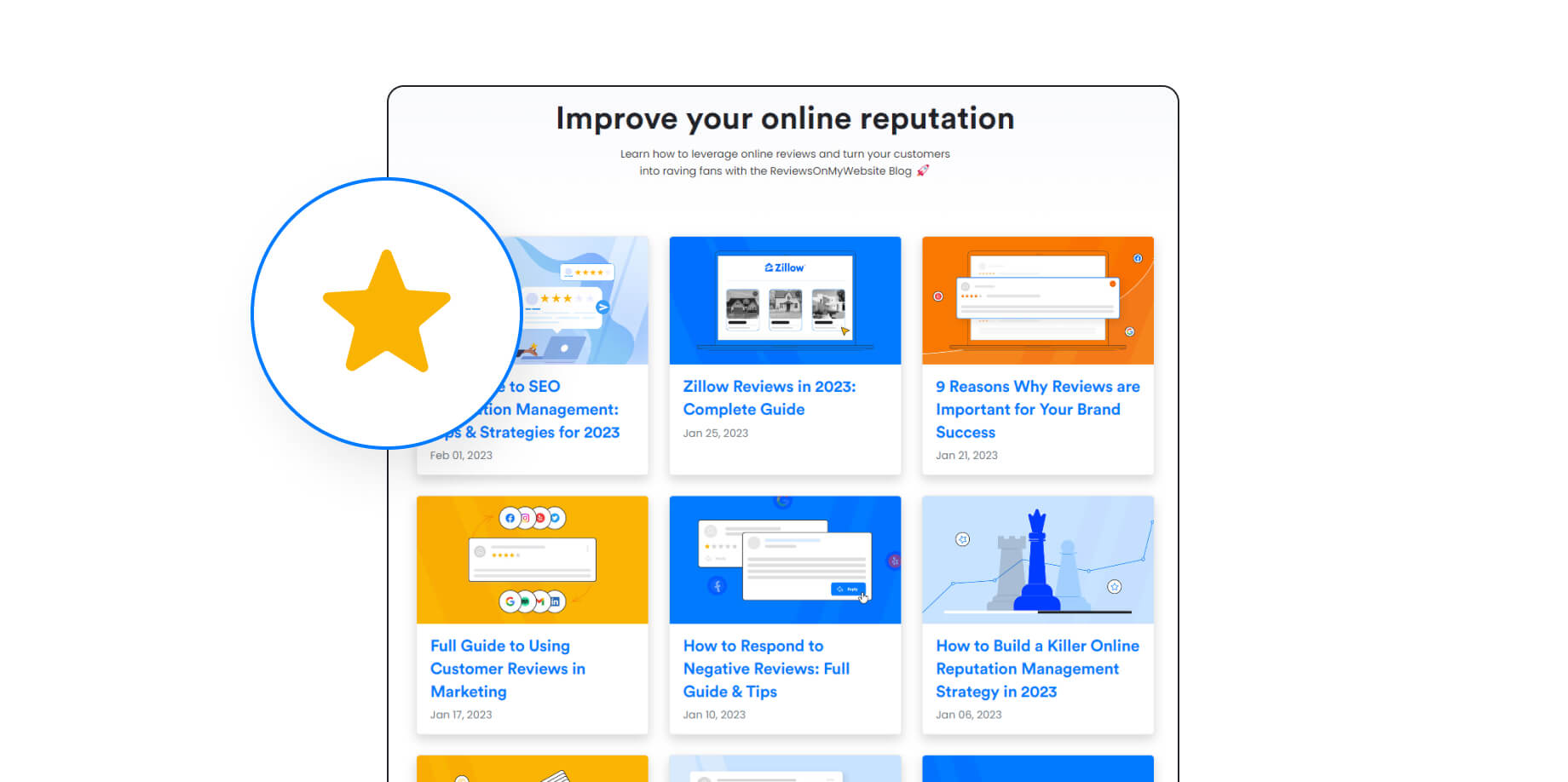 Composing content that resonates with the intended audience and brings value is imperative to uphold an impressive online status. While inserting keywords into content is vital, Google rewards engaging content.
Google considers content 'quality' if it stimulates conversation, is shared on different platforms and has positive engagement with multiple users. The more high-quality content written and shared online, the less likely that unflattering content items will show up.
Every reputation management SEO technique and content marketing strategy - from social media marketing to Google search and maps listings, starts and ends with quality relevant content.
Strategy #2 - Monitor your brand mentions regularly
You must be conscious of where your brand reputation stands. This entails actively tracking discussions about your brand on social media and monitoring traditional and digital news outlets and customer review sites.
Anytime a previous customer or anyone publishes negative feedback on your social media pages or a high authority review website, it can show up during a simple online search.
By frequently monitoring online review sites or websites where your business is established, you can be aware of those poor reviews, negative links or comments and take appropriate action.
Strategy #3 - Respond to reviews quickly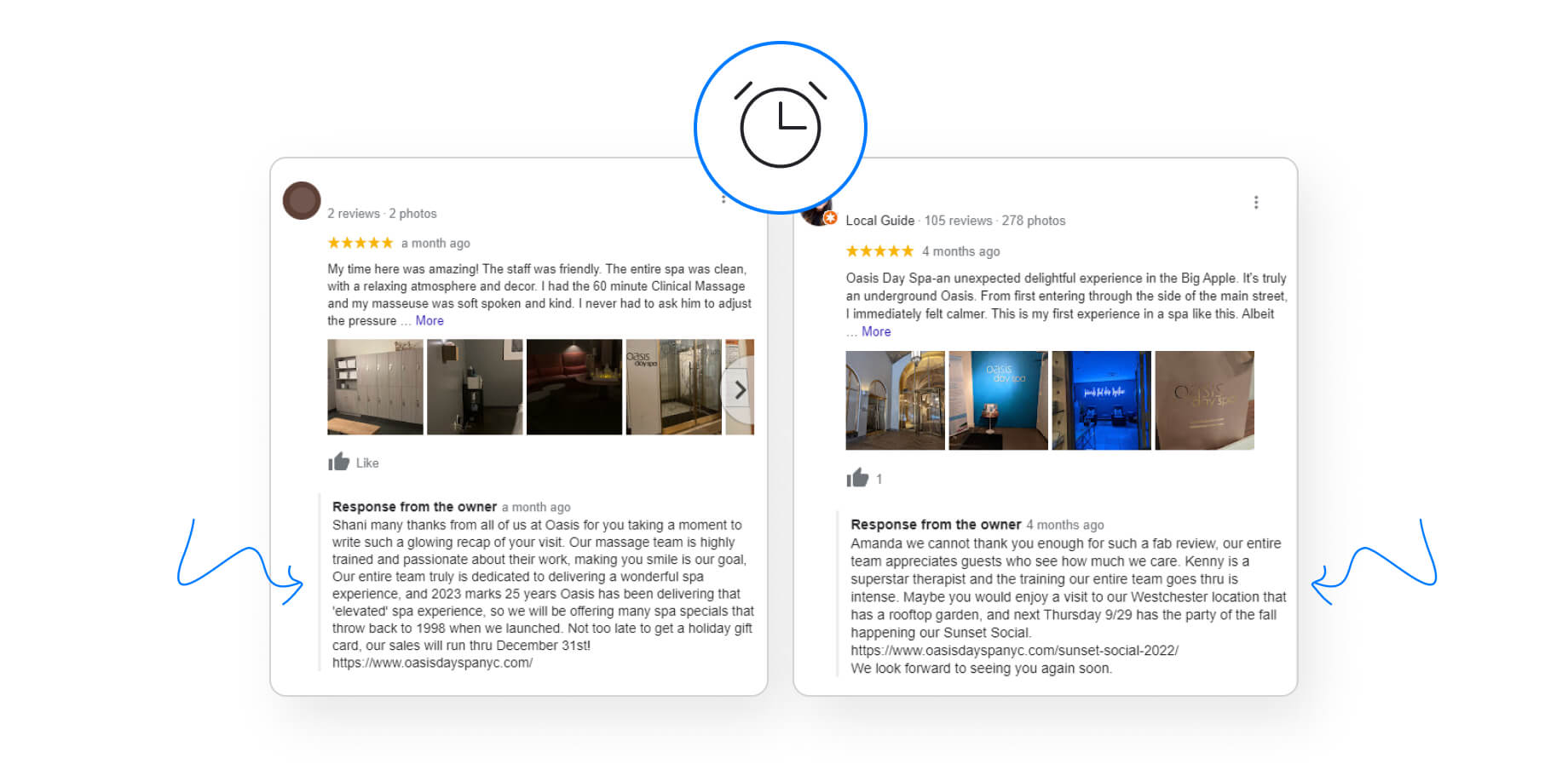 Perception matters - especially that of future customers. When they are searching for your business on Google, and your company has a business listing, one of the first things they will do is check out your customer reviews.
If they discover bad links from poor reviews or comments - that is not answered by the business directly, their perception is that the review is accurate. This is especially damaging when these negative links come from relevant websites to your business.
Every good SEO agency and PR firm will suggest that the best way to resolve negative issues - is to get ahead of the situation. By responding promptly and professionally to reviews, you can demonstrate your dedication to customer feedback and improve your reputation.
You can expedite this strategy by setting alerts for mentions on your online review websites.
Strategy #4 - Engage with your audience
Proactivity is the cornerstone of reputation management. Regardless of your industry, it's always wise to interact with customers and prospects on social media. Make sure you promptly address any questions, comments, or complaints, so everyone feels heard and valued.
Doing this will foster positive relationships between you and your customer base. However, engagement also results in search engines classifying it as quality content.
And since we've established that quality content has a huge impact on SERPs, it's a vital component to SEO online reputation.
Strategy #5 - Monitor and optimize your SEO
Improving your website's search engine optimization (SEO) is essential to maintain a positive online reputation.
By optimizing titles and meta descriptions, adding content keywords and images, and linking to relevant internal pages - you can better ensure that your web pages are seen more often by the right people.
Therefore, taking an SEO-first approach will boost the visibility of crucial information and trust in your brand.
Strategy #6 - Take customer complaints privately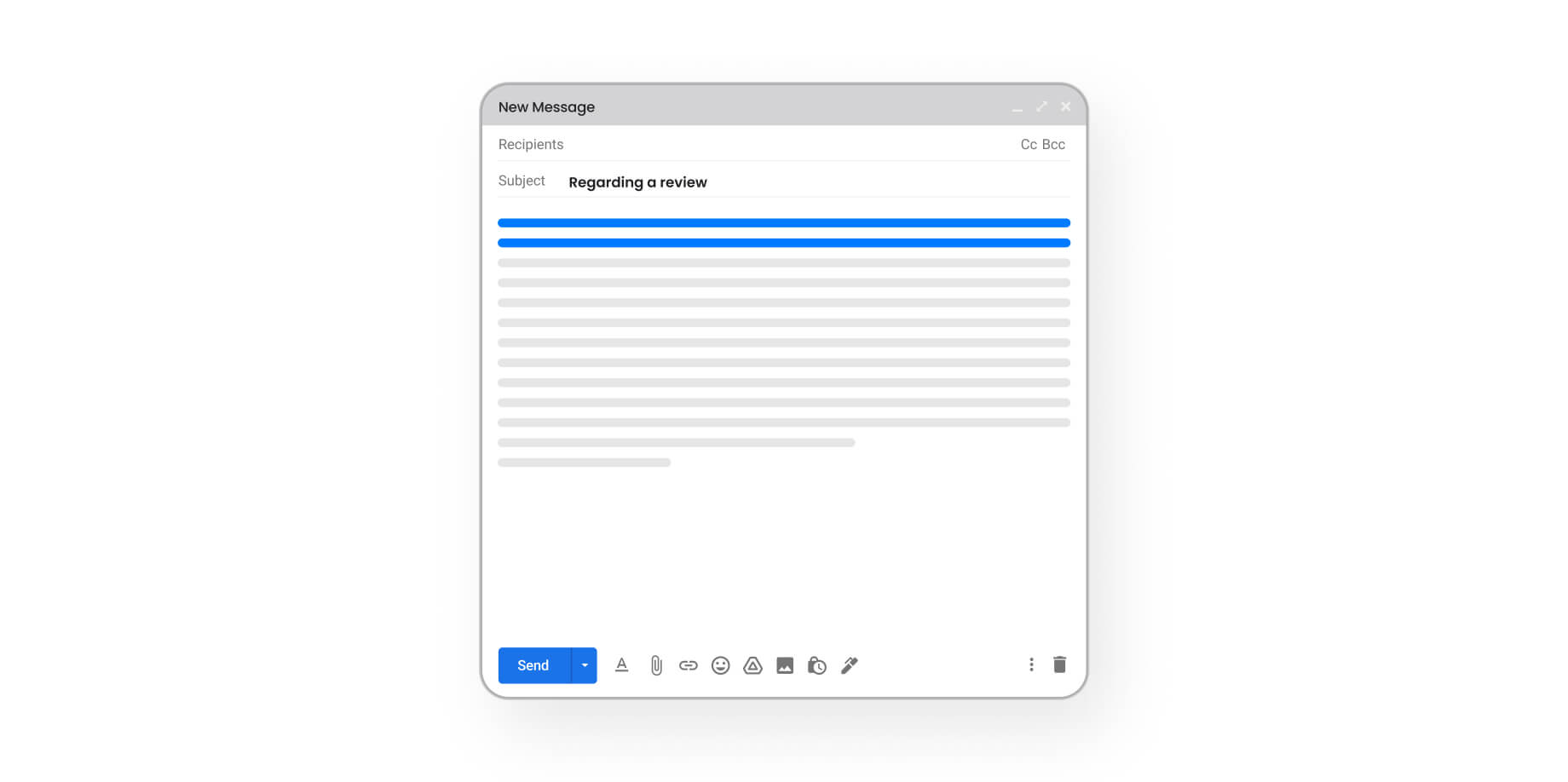 User reviews and customer feedback can significantly impact your brand identity, SEO ranking, and other search engine optimization elements. The data you get from analyzing these grievances and testimonials may help facilitate the constructive internal transformation that will improve your business practices.
However, as we mentioned above, engagement with user review posts is cataloged by Google as quality content - which will increase search ratings. This can backfire if the content is harmful.
To avoid this situation, always take discussions from negative posts to private conversations. Whether it's email, a phone conversation, or a private message, reducing public 'arguments' is crucial.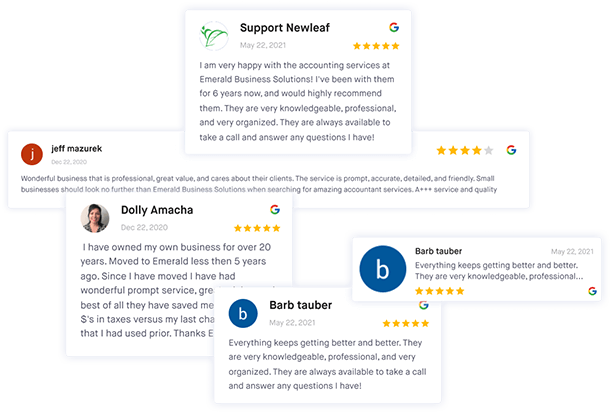 Leverage feedback and reviews to improve your online reputation
Get more online reviews and turn your customers into raving fans with ReviewsOnMyWebsite review generation software.
Key takeaways on SEO reputation management
SEO reputation management is an essential part of the success of any business. Investing in search engine optimization and taking proactive measures such as customer reviews, engaging with your customers on social media, monitoring and optimizing your SEO, and taking customer complaints privately can help bolster a positive online reputation for your business.
Additionally, leveraging online reputation management software such as ReviewsOnMyWebsite can help automate the process and ensure a solid online presence.
By applying these tips & strategies to your business, you will be able to maintain a positive reputation for years to come. Contact our team today if you have questions or want to learn how ReviewsOnMyWebsite can help with your SEO reputation management programs.
FAQs
Is reputation management a part of SEO?
Yes, reputation management is a part of SEO. Reputation management entails monitoring what visitors see when searching for your brand or business online. This includes both organic and unpaid search results, social media mentions, customer reviews, and other content related to your brand.
What are black hat reputation management tactics?
Black hat reputation management tactics are unethical practices that seek to manipulate search engine results to hide or remove harmful content about a brand. These methods can include buying links, creating fake reviews, and engaging in other activities that violate search engine guidelines. This black-hat SEO strategy is frowned upon and a violation of most online review websites' terms of service. Companies who engage in them develop a bad reputation, especially when they attempt it on authoritative sites.
Is it illegal to manipulate reviews?
It is illegal in many places to manipulate reviews. Buying fake reviews or incentivizing customers to post favorable ones can be considered fraud and result in legal penalties. The Federal Trade Commission has actively pursued companies engaged in this practice, so it's essential to ensure you're following all applicable laws when attempting to influence your search engine results.
Can you sue if someone ruins your reputation?
Yes, in some cases, it is possible to sue someone who has attempted to ruin your reputation. The same laws and regulations will vary depending on the jurisdiction. Still, you can pursue legal action if someone has made malicious or false statements about you that have caused financial harm.
Is it illegal to remove negative reviews?
Removing negative reviews is typically not illegal, but it can violate the terms of service of websites and other platforms. If you're found to be in violation of these rules, your account could be suspended or even terminated. It's important to always check the terms and conditions before attempting to remove any content related to your business.
What's the average cost of SEO reputation management?
The average cost of SEO reputation management will depend on the scope and complexity of the task. Factors such as the business size, the number of negative reviews or mentions, and other factors can also impact costs. Most businesses can expect to pay between $2,000 and $4,000 for a full suite of ORM services.