It is becoming increasingly difficult for any expanding business to attract new clients and revenue. Today's savvy customers have a more comprehensive range of choices regarding how they spend their money. And one of the most important elements in their purchase decisions is selecting firms with a positive online reputation. More company executives and marketers are learning how to acquire Google reviews for a business - that is good, genuine, and effective because of this truth.
According to a 2014 study by Forbes Insights, Google business reviews are more trusted than word-of-mouth recommendations from friends and family by a factor of nearly two to one. What's more incredible is that less than 10% of all online shoppers bother to write a Google review. And when they do – it's often to express a negative opinion.
The number of Google reviews a business receives is directly related to how visible it appears on the search engine results page. Is this task as simple as asking clients to leave us a Google evaluation? Or are there more creative and quicker ways to get all business partners to rate us on Google?
The reality is that asking for a Google review may be the most challenging aspect of the process. Not because of the comfort level but mainly due to the lack of bandwidth every growing business deals with daily.
So, if you're looking for information on how to ask for Google reviews, you've come to the correct spot. We'll explain three tried and true methods for obtaining Google business information evaluations in the information below.
We'll provide you with unique ideas that will allow associates or consumers to give good feedback on Google reviews for businesses more efficiently. Finally, we'll show you how to use an all-in-one review generation software that helps you complete this time-consuming task efficiently.
Let's get started.
How do Google reviews work for businesses?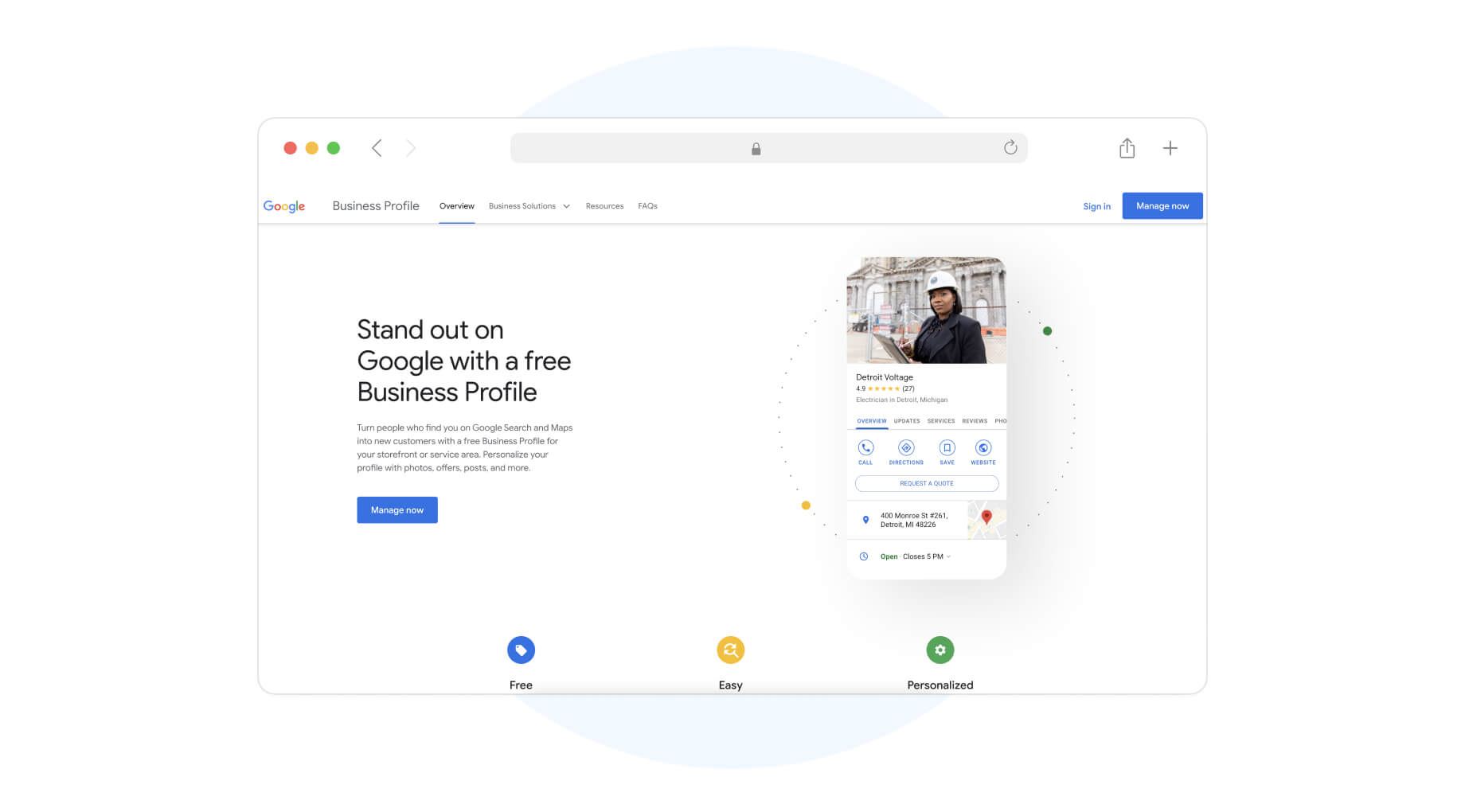 A company needs to establish a Google Business Profile to receive Google reviews for business. This platform used to be known as a Google My Business account. Once established, it permits a business to connect digitally with consumers using the Google Maps app by creating an online profile.
As a customer engages with your business, they can publish reviews on your Google Business Profile that range from a simple star rating to a full, written critique. But it's only possible when you have a verified Google Business Profile.
Some of the key benefits of having a verified Google Business Profile include:
Allows the business listing to communicate with consumers through messaging, reviews, or phone conversations.
This is an excellent opportunity for any business to connect with its target audience to develop customer loyalty.
This capability allows you to see how your clients interact with and connect with your firm on Google, which is great for understanding customer behavior.
Once the Business page is verified and established, you're ready to start collecting reviews from customers. As more people take time to fill out the review forms, your business is provided an average ranking – based on the total number of reviews and how many 'stars out of 5' they rated the business.
Typically, a business with a higher star rating is more likely to receive more positive comments – while those with a lower rating tend to collect more negative feedback. It's known as the herd mentality – when people follow the lead of others.
Why are Google reviews important for your business?

Why is it so essential to get a Google review? As we mentioned, today's customers typically discover new business opportunities through search engines. And in the online digital world – Google reigns supreme regarding search engine results. In fact, more than 92% of online inquiries are completed via Google search.
When a consumer takes the time to submit a Google review for you, it offers several advantages: you may learn, improve, and accelerate your business development.
Benefit #1 – Gives you a better understanding of your customers
Not every Google review is good. In fact, if a client takes the time to provide feedback on their experience with your firm, it's likely to submit bad reviews. However, it's still likely to be helpful. Researching and analyzing the reviews left by customers gives you a better understanding of what they expect, how they make buying decisions, and how to serve them better.
Consider a customer leaving a Google review claiming they had a negative shipping experience with an item they purchased from your online shop. In that scenario, it isn't yet a terrible review for your company's online presence.
You can find out where the shipment mistake occurred by contacting the client directly through their review when you learn more about their purchase. When you take the time to resolve their issue and provide feedback directly on the review for others to see - this becomes a positive.
Related content: Positive review response examples
Benefit #2 – Enhances customer loyalty
When a consumer leaves a Google review without being prompted, they do so for various reasons. First and foremost, it's to let the company know they appreciate their patronage by publicly thanking them. Other times, it's to offer critical feedback in the hopes that the business will resolve the problem.
When a business manager or owner takes time to thank the customer for their feedback, it's an exceptional opportunity to establish customer loyalty. This also improves the quality of the post, which ultimately impacts your SEO rankings.
Related content: Do Google reviews help SEO?
Benefit #3 – Improves online visibility
Gaining more good Google reviews can substantially boost your online visibility and ranking. Google sees a positive review from a current client as "quality content," which helps to improve local search engine rankings, mainly when local keywords are used in the review.
How to get Google reviews for your business
Hopefully, by now you understand how valuable good Google reviews are for building your social proof or digital reputation. However, the key to increasing reviews for any business is to make it easier for your customers. Since there is different type of companies – from brick and mortar to eCommerce only, we've created three unique strategies below that you should consider.
Related content: How to get Google reviews
Strategy #1 – For physical location businesses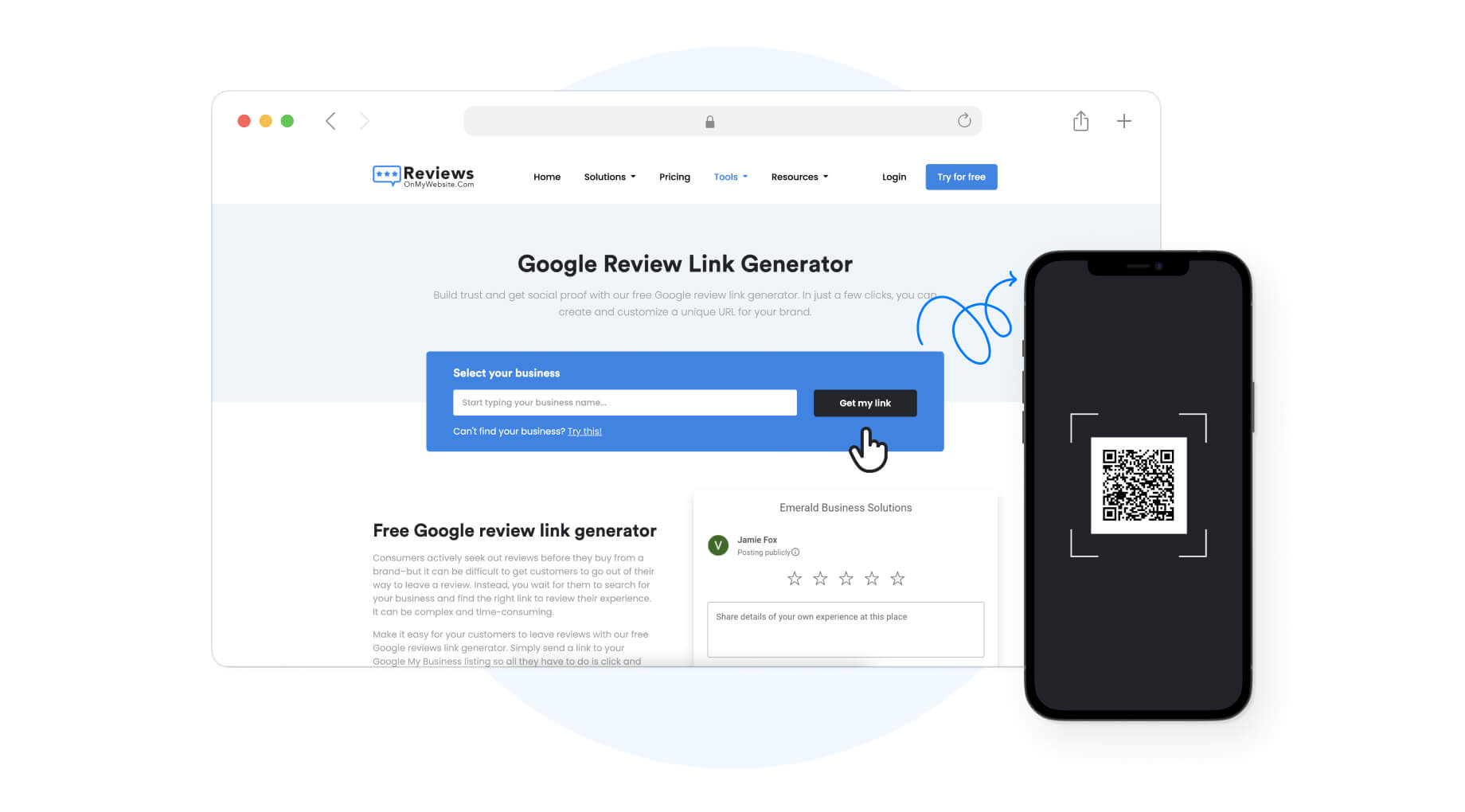 The primary objective of driving traffic to your Google Business Profile is to have customers leave positive reviews. The first strategy we recommend is creating the resources that will make it easier for your customers to write the review when you have a physical location.
While the lack of online engagement might seem challenging for brick-and-mortar stores, restaurants, and other service-based businesses, it's easier than you'd think. Here are a few simple tricks to create easy-to-access marketing resources that can be placed at tables, at your cash register, and at other customer touchpoints.
Tip #1 – Create a direct link to write a Google review
With our free Google review link generator you can easily create a direct URL to write a review for your company. While these URLs tend to be very long, easy-to-use online tools can convert them into shorter URLs. TinyURL, for example, allows you to paste a longer website address to create a short one.
Once you complete this task, you'll use that short URL with each step listed below. Again, the key here is to make things easy for people to post reviews. And since most customers use their mobile devices to post reviews online – like Google My Business- you should help them accomplish this with a simple click or scan.
Tip #2 – Convert that short URL to a QR code
QR code is a scannable tool that allows people with any mobile device to visit a web URL with a simple scan. Like TinyURL, several online resources are available for creating QR codes. Regardless of how you accomplish this step, you should make a dedicated QR code for your Google My Business page.
With the code, you can create several marketing materials – to make it easier for customers to leave a review. Some ideas include:
Sticker at each cash register. Make a sticker with the phrase "Leave us a Review on Google" – with the QR code.
Place the sticker on your front windows or door.
Consider placing the QR code on your receipts if you have a restaurant.
Strategy #2 – Companies with both physical and online platforms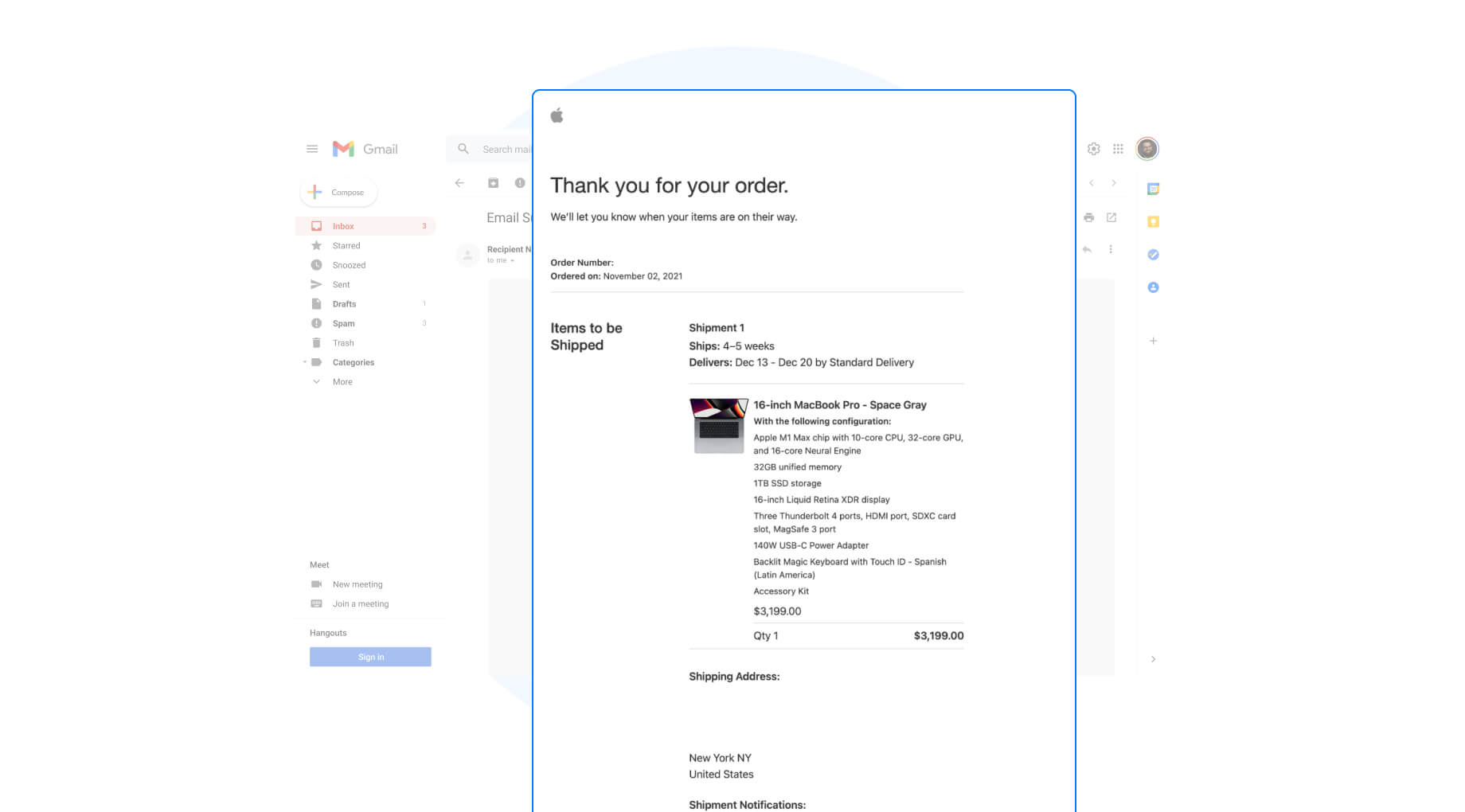 Having both physical and digital sales platforms represents the best of both worlds for collecting online reviews. On the one hand, you can connect with people and inspire reviews in person. With a digital platform, you can create additional resources to make it easier to ask for Google business reviews.
Here are a few tips.
Tip #1 - Create an automated email
You may send out an automated email to your clients if they order items on your website. The message will likely contain shipping information. These emails can be modified in Shopify, WooCommerce, or other online shop platforms.
Suggestion: Create a link in BOLD CAPITAL LETTERS at the bottom of that email that says - Please take the time to leave us a Google Review of your experience - with a link to the review page on Google. You may also add a request for excellent reviews in your email signature.
Tip #2 - Promote reviews via social media
You'll often have a section that allows you to tell customers about your business on your social media channels. This is a great location to place your Google Review Link. However, you can make driving traffic to that Google review page easier through social media interaction with customers.
Strategy #3 – Online exclusive businesses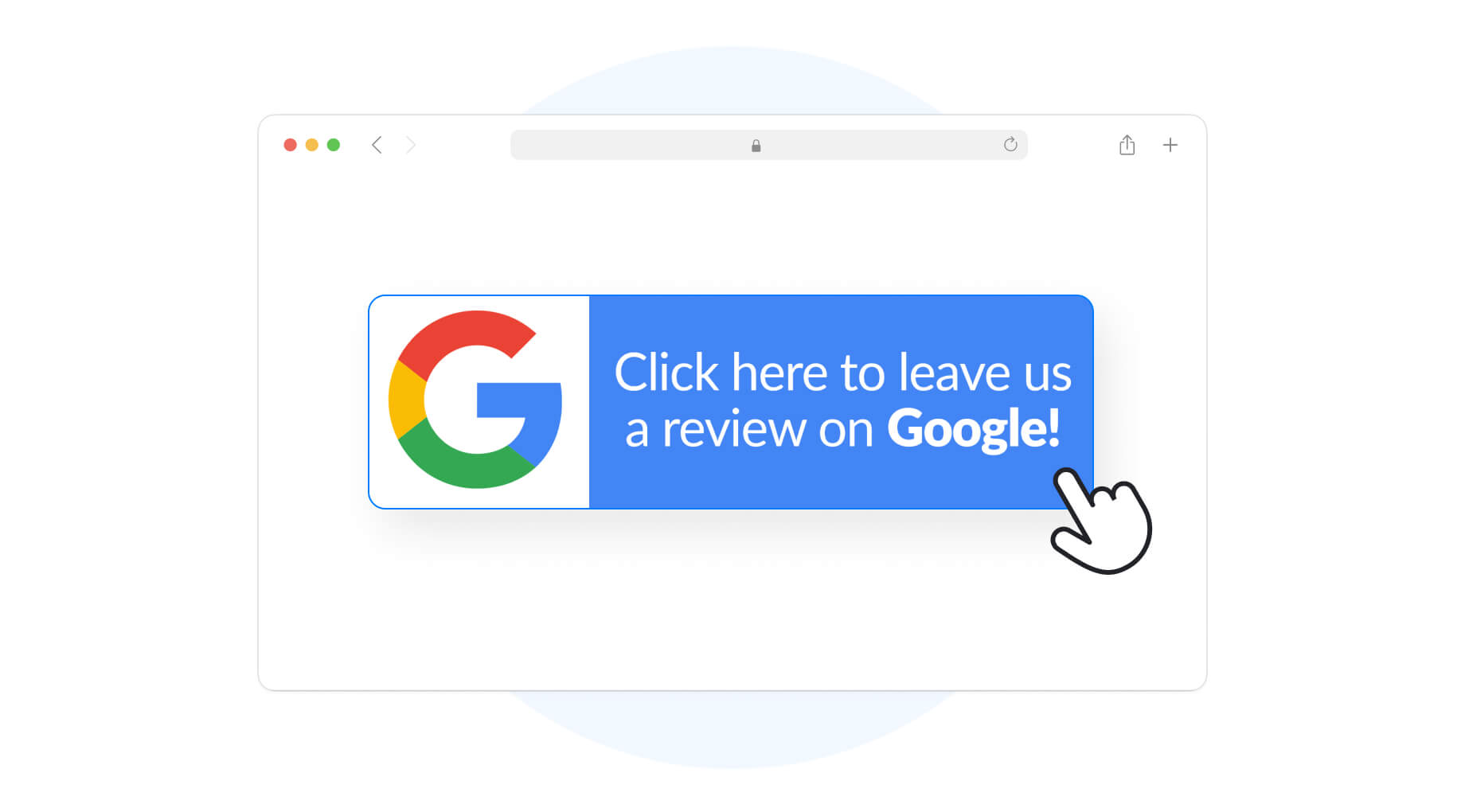 As an eCommerce business, you understand the value of online technology and resources to make buying things easier for customers. Why not integrate a few tips to make it easier for your website visitors to leave reviews on Google?
Tip #1 - Add a call to action on website pages
Why not include a simple call to action on essential website pages to make it easier for consumers and others to post a positive reviews about your company? A modest banner on the sidebar of your website or product pages can help visitors go to Google Business Profiles and leave a review.
Tip #2 – Use digital email marketing for follow-up
We touched on this item above, but for those with eCommerce exclusive businesses, this is arguably your best chance at a Google review conversion. Create an order confirmation email template and send it to all customers after they've received their order. Create a section requesting a Google My Business review within the email.
How to successfully manage your Google business reviews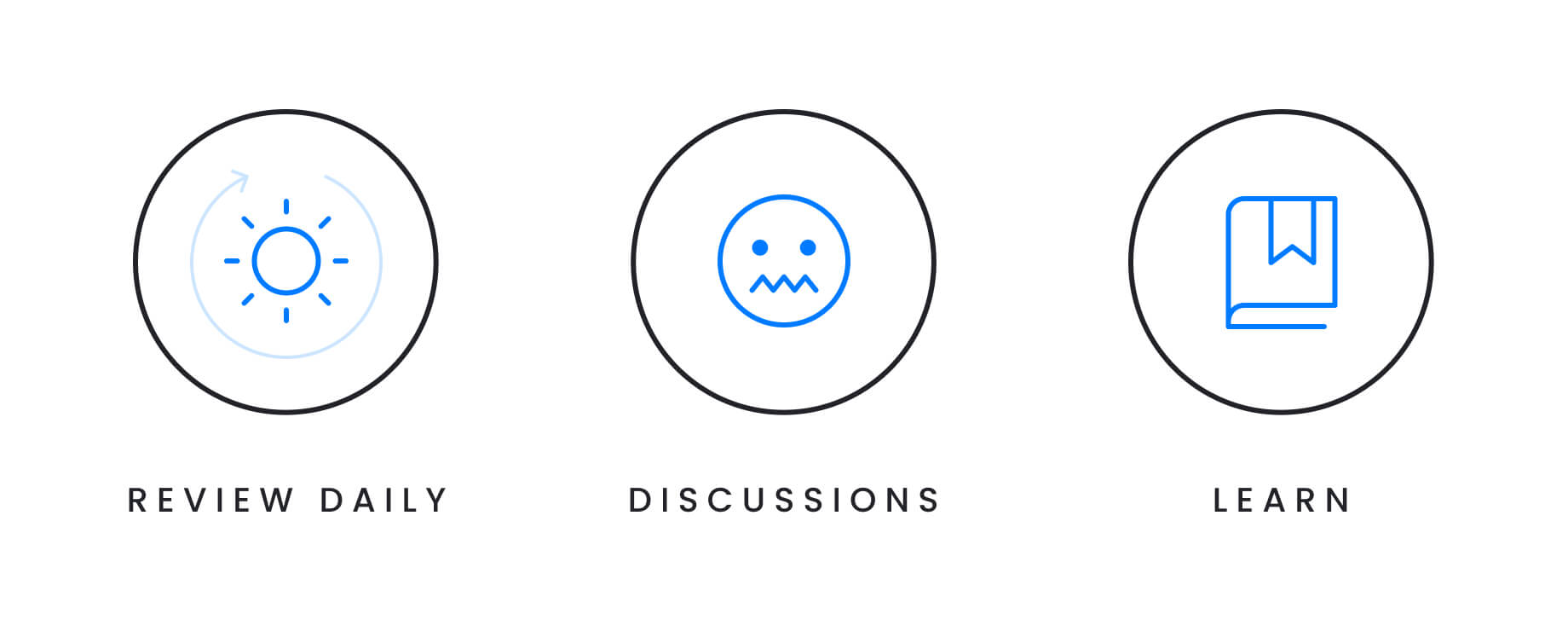 Hopefully, you've learned how to improve Google ratings for your company by now. Simply asking the consumer if they may rate us on Google is sometimes enough. Ultimately, making it simple for people to leave reviews is the greatest method to increase Google ratings for your company.
However, you must manage your Google Business page to ensure that any negative postings are dealt with professionally. Here are three pro recommendations to help you manage the Google review page and convert negative feedback into constructive comments.
Tip #1 – Check the reviews daily
The first Google review management suggestion is to set aside time to check your Google Business Profile for new content or consumer feedback. People trust companies that put their needs and opinions first. The easiest method to demonstrate this is to respond promptly and professionally to new reviews.
Related content: How to respond to Google reviews
Tip #2 – Take any discussions to private messages
As a company owner or manager, you undoubtedly care about your reputation. While many Google reviews will focus only on the facts, some customers will get personal, hostile, or straight-out lewd with their assessments. On the internet, resist the urge to be defensive.
If this happens to you, apologize for the inconvenience, and inform the client that you're sorry they had a negative experience. To discuss this problem further, please have them contact you directly at your business email address or via private message. Whatever you do, don't stoop to their level. This will damage your reputation as a provider of excellent service.
Tip #3 – Always learn from mistakes
One of the most important advantages of obtaining Google reviews is understanding your consumers. When you get one from a dissatisfied customer, make it a point to correct the problem and ensure it doesn't happen again.
Here are a few specific tips:
First, review the posts to discover if there is a reoccurring theme.
Second, make changes to your business to reduce those common errors.
Third, always follow up with customers with negative reviews to let them know issues have been resolved. Do this publicly, as it will show all future visitors to your Google Business page that you're compassionate about your business and customer feedback.
How to leave a Google review for a business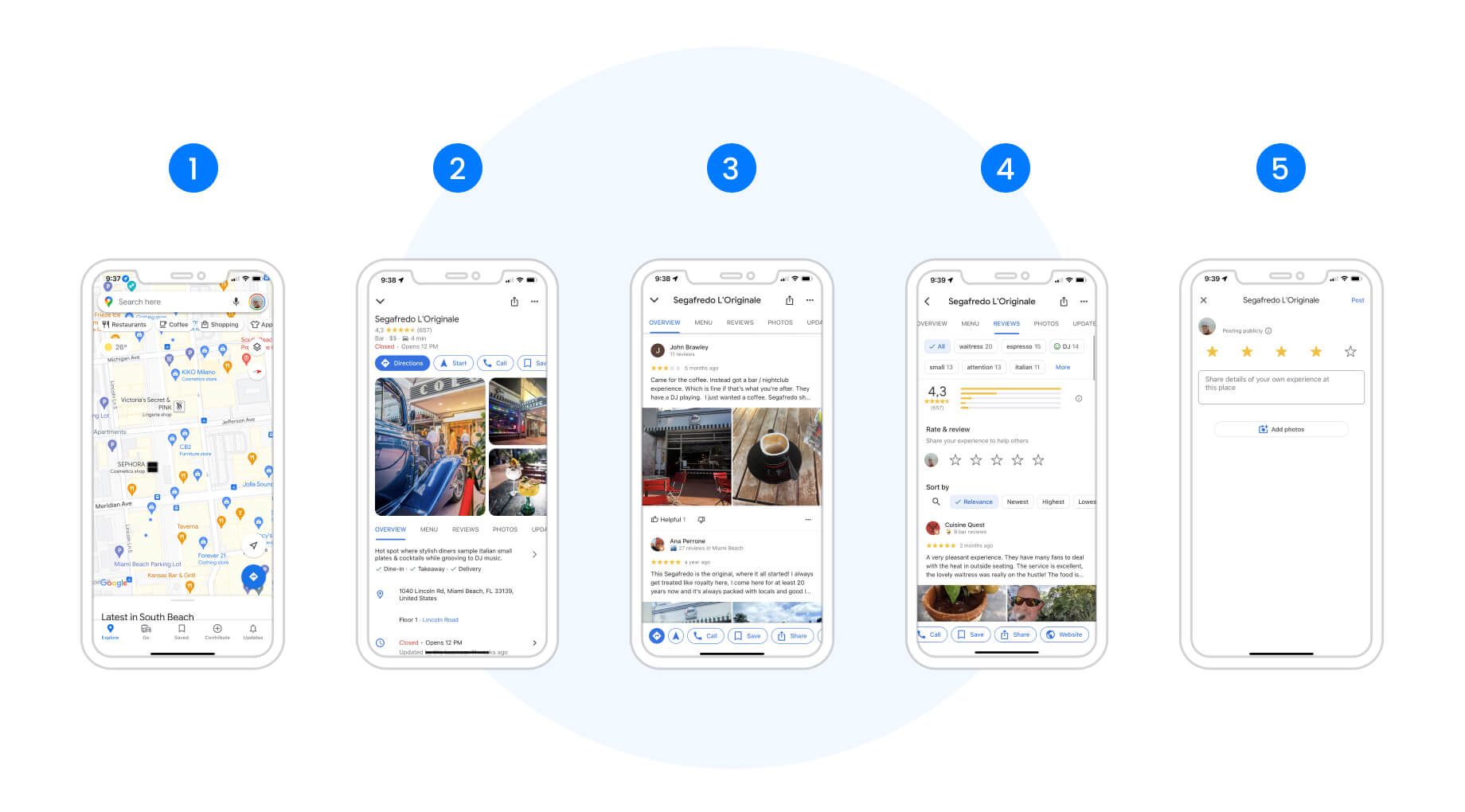 After you've confirmed your Google Business page's account and physical address, you're ready to begin receiving Google Reviews. A customer's experience with your company may be described in the form below.
Step 1: The customer will go to Google Maps and find your business name address or location. This is the reason for Google to verify that your address and business are linked.
Step 2: The visitor then visits your Google Business Profile.
Step 3: They will move down to the review section of your profile from the main screen.
Step 4: The customer reviews can also rate and provide feedback on the product or service afterward.
Step 5: The customer will finally submit the review, and you will receive a notification when it's complete.
While that may appear straightforward, it is more time-consuming than most people today are willing to put in – unless they are inspired by being provoked or having a remarkable experience.
How to get Google's star rating in search results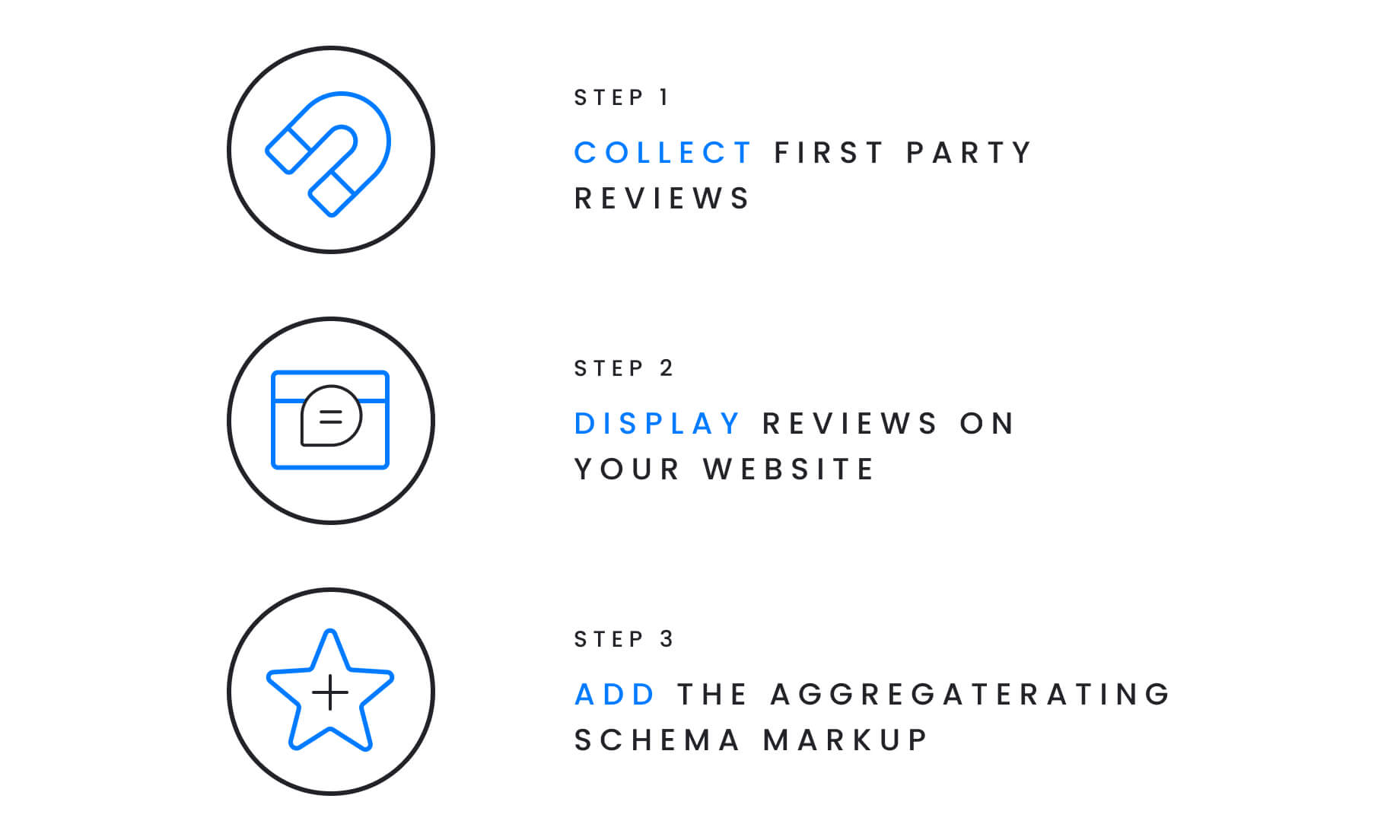 There are three proven steps to ensure that your business Google Ratings shows up on Google's Search Engine Results Page (SERP).
Step 1: Collect first party reviews
Google states that reviews must be collected directly from the company's website to be eligible for star ratings. This is referred to as a first-party review. Star ratings are not given to reviews gathered via third-party sources such as Google, Yelp, and others. Currently, a business only requires a single first-party review to qualify.
Step 2: Display reviews on your website
Once you've started collecting reviews, it's time to put them on your website. Instead of displaying the reviews on the homepage of your website, we propose creating a stand-alone page for them.
Step 3: Add the aggregateRating schema markup
The last step is to tell Google where your reviews are on your page by adding the aggregate rating value to your LocalBusiness schema markup. You may need basic markup skills or an app that takes care of it.
How ReviewsOnMyWebsite can help you get a better rating on Google
The most significant barrier to raising Google ratings usually breaks down into three components: time, money, and bandwidth. Various software solutions are built to eliminate these factors by automating interaction with customers, vendors, and other parties. This includes asking for Google Business reviews from previous customers.
Related content: How to ask for a Google review
We have built a complete review management solution that allows a business to ask for Google reviews and display those reviews through your marketing channels. Our software can send SMS text messages and/or emails asking current or former customers to provide feedback on multiple sales channels.
Here are three ways to help boost your Google reviews by using ReviewsOnMyWebsite.
1. Create and promote your product review landing page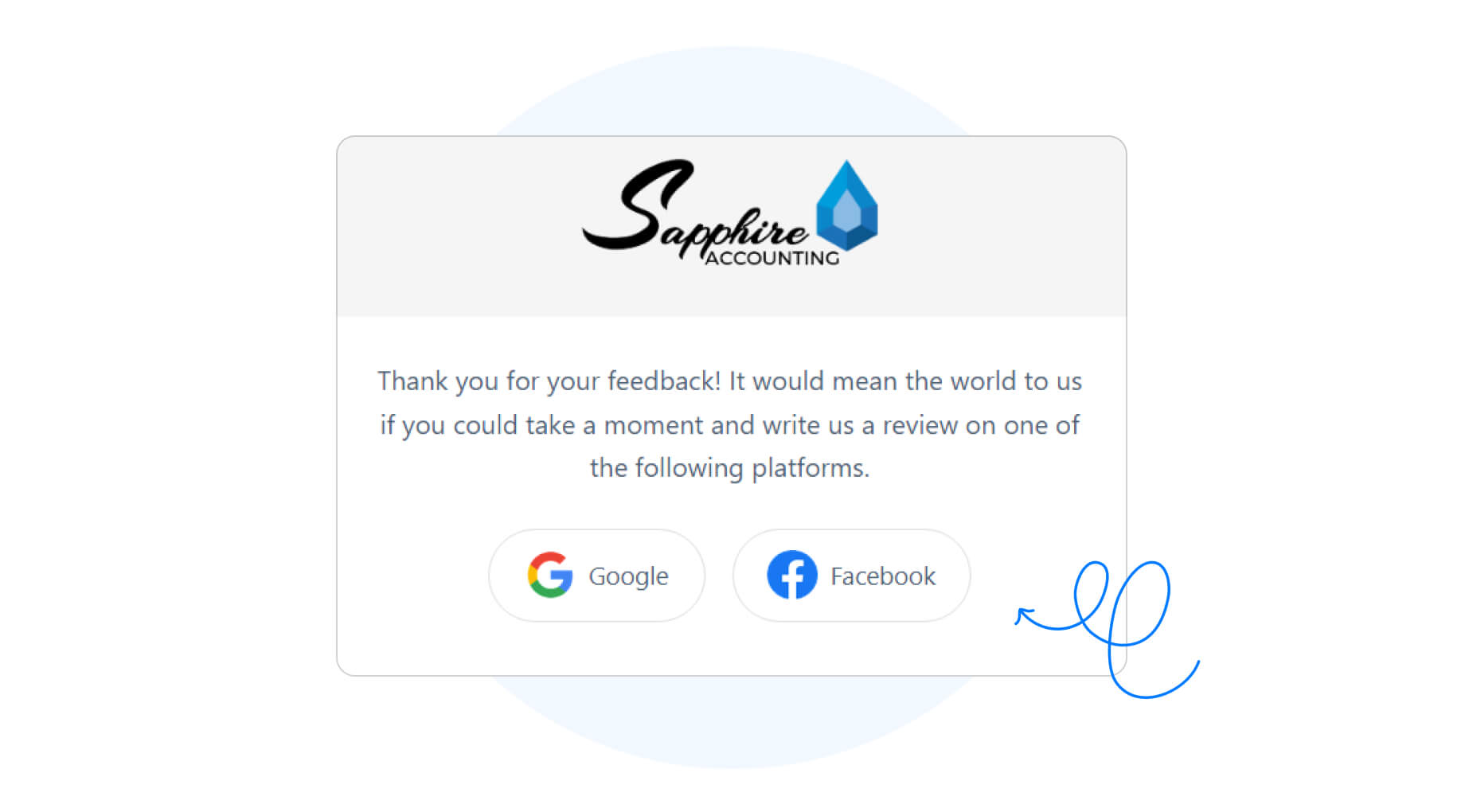 Consumers today value the flexibility of choice. You could build a single landing page with direct links to several online review platforms, including Google Business, if they bought something from you on Amazon or directly from your website.
Once you've created your review landing page, you can automate the process of sending traffic to it. This would serve as that critical first-party review that Google requires for star ratings to be displayed via the SERP.
2. Drive traffic to your Google review page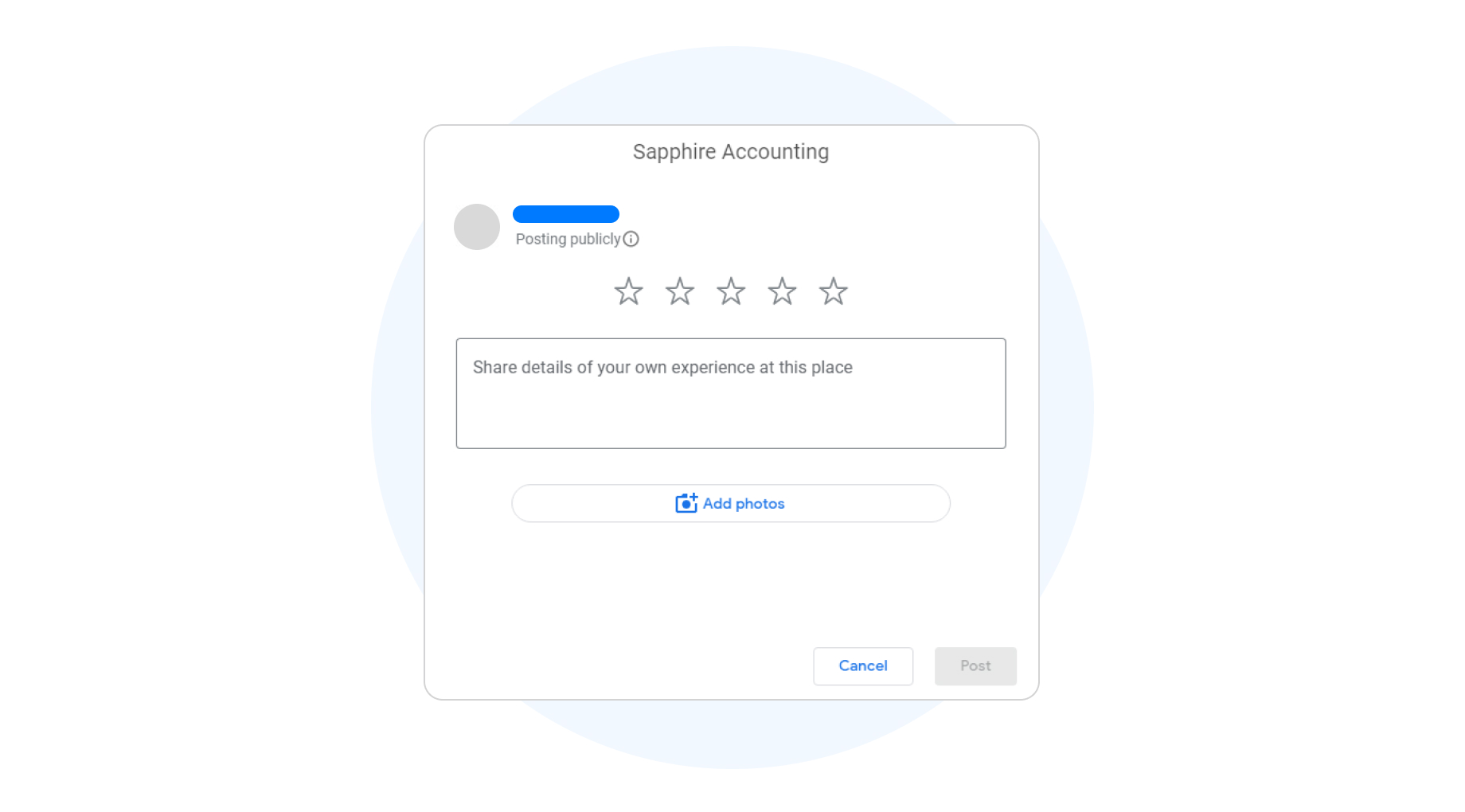 Everybody loves convenience – especially when someone is asking for something that benefits them. You can use ReviewsOnMyWebsite to send automated review invites to customers – with direct links to your business page on Google. This makes it simple for the user to leave a written review with one click of a direct link.
3. Publish previous Google reviews on your website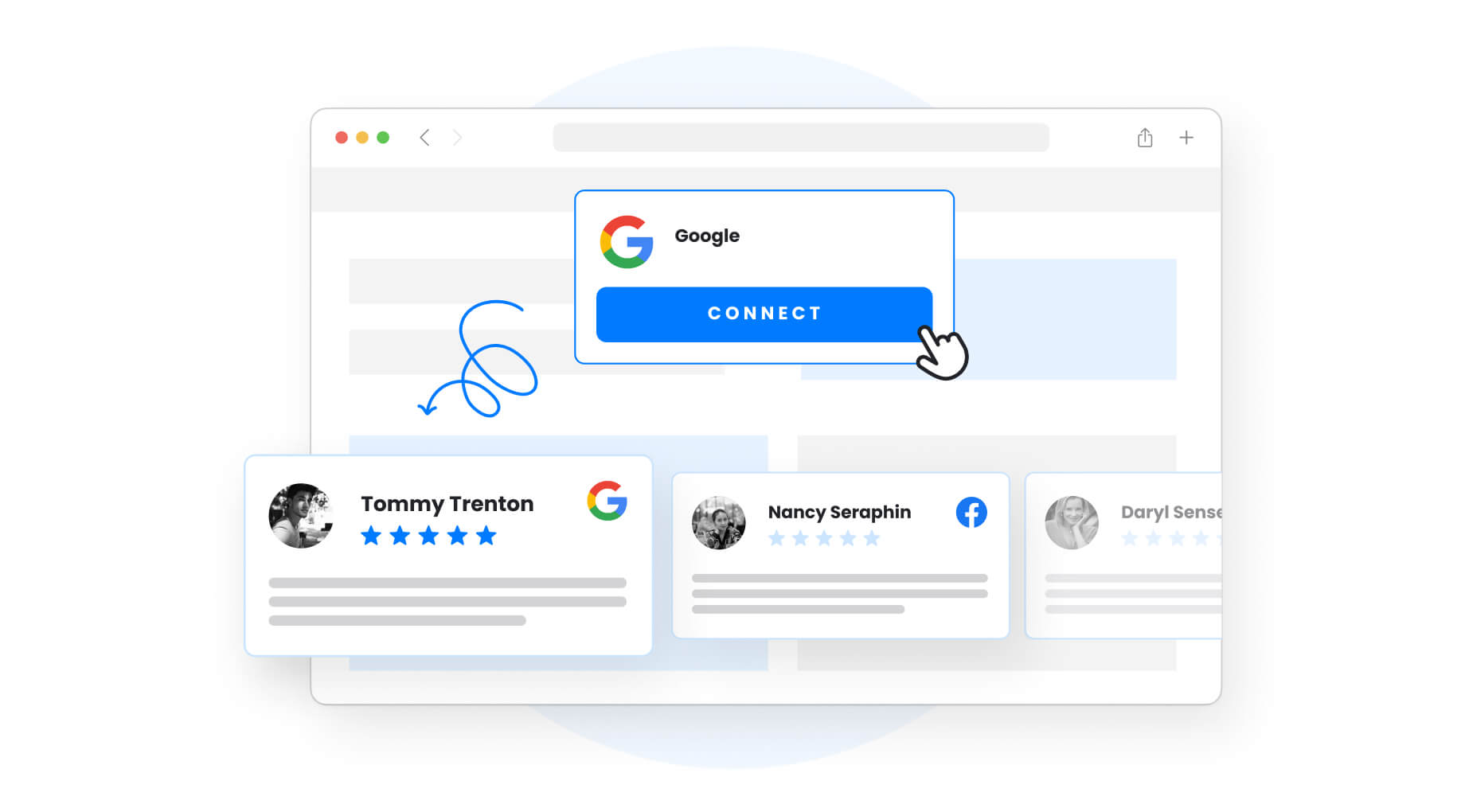 Customers are more likely to leave a review after reading one. It assures them they are not alone in their opinion of your company. Using our Google reviews widget to display existing client reviews from your Google account on your website is an easy method to boost consumer confidence and increase happy customers.
The buyer may then click the link to your company page and leave a positive or instructive product review on your Google Business page.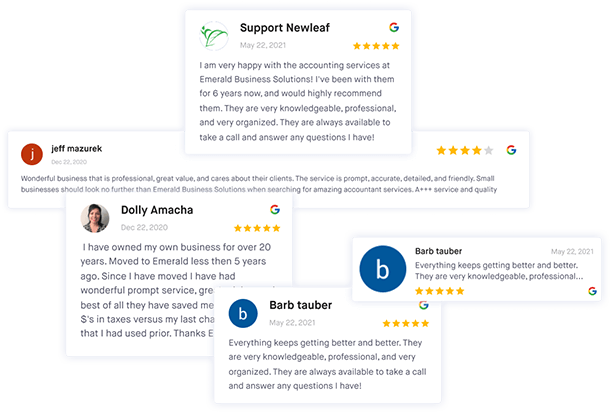 Leverage feedback and reviews to improve your online reputation
Get more online reviews and turn your customers into raving fans with ReviewsOnMyWebsite review generation software.
Key takeaways
The significance of making it simple for consumers to leave feedback on Google should be clear after reading this article. However, making these modifications, sending them to clients, and monitoring comments online is the real challenge for a business owner, manager, or marketer.
Businesses may use new technology to simplify and automate the collection of consumer feedback. We provide a solution to save you time, whether creating an automated widget that displays current Google reviews on your website or helping automate the process of requesting your customers to leave a review on Google.
Frequently asked questions
Can you leave a Google review on your own business?
In short – no. While Google Business reviews do not require the user to have an active Gmail account, the platform is becoming more aware of 'fake reviews.' Leaving a review on a business page that you own, manage, or are affiliated with violates their terms of service. The result will be a suspension of the Google Business page listing, which will have a negative impact on your business's online reputation.
How many Google reviews are good for a business?
There are no criteria for determining a positive amount of Google business reviews. The overall goal is to receive higher quality reviews published by actual customers who take the time to publish written reviews. The general consensus is that having 10 positive reviews with ratings of 4 or higher is more effective to potential customers than 100 reviews with an average rating of 2.5 out of 5.
How effective are Google reviews?
Very effective. Most consumers use Google as their search engine when looking for local businesses. A company that maintains a positive Google Business rate will likely appear on top of the SERPs. As many online users are more likely to choose top-rated pages on Google and choose a company with positive feedback, having positive Google reviews is highly effective.
Is it possible to leave an anonymous Google review?
No. Google recently disallowed the practice of publishing reviews left by non-verified users. This one follows the answer about publishing reviews for your business, as it represents a fraudulent user review, which can harm the user and the business page itself.
Can I turn off Google reviews for my business?
The short answer is no. Google has created the Google Business review service to permit all customers to leave feedback based on their personal experiences. As such, they don't permit a business to manually turn its page on and off. You'll have to permanently delete the account if you wish to stop collecting Google Business reviews.
Can you report a business for fake Google reviews?
Google permits users to report reviews as fraudulent – but not specifically to report a business for publishing fake Google reviews. Any user can access a toggle next to all reviews to report the review as 'inappropriate.' Google's team will then investigate the post and determine its authenticity.