If you operate a retail store, restaurant, multiple eCommerce platforms, or a service provider, driving new visitors to your business, converting leads, and increasing sales is the name of the game in 2023. But how do you accomplish this task without spending tremendous marketing or advertising dollars? Whether you're cost-conscious or looking for efficient ways of reaching new customers, reviewing social proof examples can guide you to make intelligent consumer outreach decisions.
Social proof is a psychological theory postulated by Psychologist Robert Cialdini in 1984. He wrote a book called Influence: The Power of Persuasion, which outlined six habits people follow when looking for guidance to enact the correct behavior during uncomfortable situations. Social proof is the third concept that essentially states that people tend to follow the actions of others to receive that psychological 'vote of confidence in a given situation.
In business, social proof is used as a marketing technique, where companies activate programs that harness the power of word-of-mouth advertising. Social proof advertising works exceptionally well and lets customers complete the legwork for businesses.
The information below will showcase several excellent examples of social proof psychology in action. We'll identify five social proof advertising methods and introduce a cost-effective and potent social proof software solution.
Let's get started.
Check Out These Inspiring Examples of Social Proof on Websites
We all know the power of word-of-mouth advertising. While every business's goal is always to satisfy its customers, it's impossible to please everyone. It's estimated that less than 20% of all happy customers go out of their way to post a review on Amazon, Google, Yelp, or Facebook. However, when a customer is not pleased, that ratio rapidly increases above 50%.
Social proof marketing strategies are intended to inspire those happy customers to share their experiences with others. And it has been proven to work.
According to Nielsen, more than 90 percent of customers trust recommendations made by peers and others that are non-solicited. That's higher than any other form of advertising. While this seems to be the ultimate positive, the reality is that negative social proof examples are just as influential as positive ones.
Before we explore the examples of social proof in action, it's crucial to identify the different types of social proof. Here are five different social proof techniques that digital marketing experts utilize to create trust and establish report.
User Reviews
When a customer posts a review – a simple star rating or written testimonial on a company website or online review sites such as Google My Business, Facebook, Amazon, Yelp, and others. Customer reviews can also backfire on a company if they are too negative.
Social Media Sharing
If a customer shares their experience with a business via their social media accounts like Twitter, Instagram, Facebook, and others, it connects with their peers. Social shares is often better than random endorsements to a target audience that have already developed trust with the person sharing the business information.
Direct Customer Referrals
This is word-of-mouth advertising in action and a great form of social proof. It occurs when an individual directly refers your business to their friends, family, and peers who could benefit from your services. It also works with written reviews and online product ratings.
Website Activity
Customers also follow the actions of others in real-time. If they are visiting a website homepage or landing page that sells a service or eCommerce products, they can be influenced into action by seeing live examples of other user activity. It can also create the fear of missing out on a special deal or discount.
Influencer Endorsement & Affiliate Programs
Celebrity endorsements have served as influencers for hundreds of years. Their fans are often influenced by the celebrity stamp of approval. Usually, these influencers are rewarded with a pay-for-play compensation or a percentage of revenue they generate via an affiliate program.
An affiliate program rewards influential people for promoting your business, products, or services through a commission-based pay structure. They use their social media platforms, blogs, and other content creators to promote brands – typically with a customized promotional code that will track sales.
5 Social Proof Examples that Show How to Do It Right
The six social proof techniques posted above are among the most popular and successful. More importantly, they are those that are shown to establish trust. They're also easier for most businesses to incorporate into their marketing programs, scalable, and can directly impact the bottom line.
Now it's time to provide a real-world example of each of the five social proof persuasion examples listed above.
Case Study #1 – Uber Real-Time Customer Feedback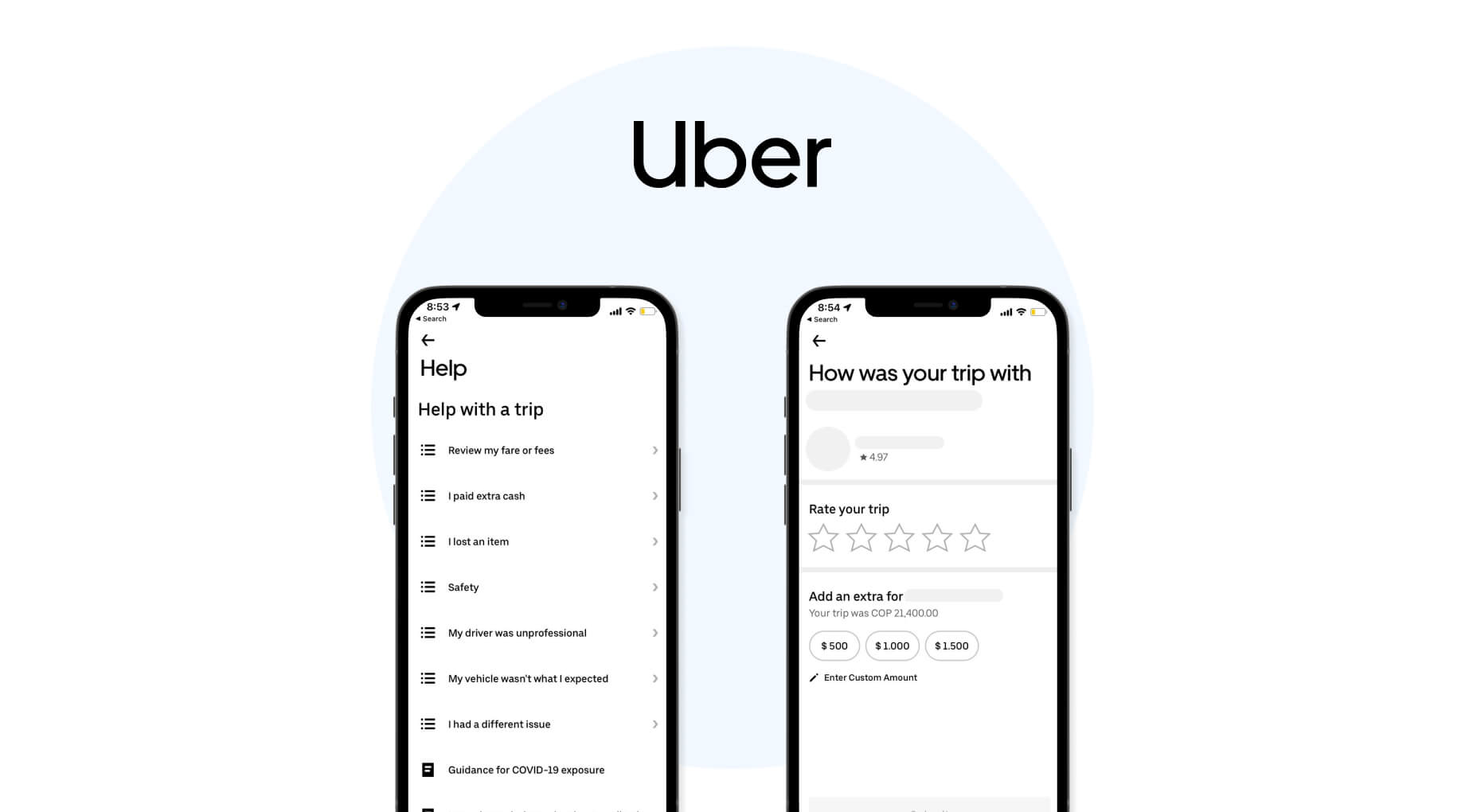 Rideshare applications have significantly changed the way people travel locally. Whether traveling from the airport to a hotel destination on vacation or to a doctor's appointment, it's easier for riders to hitch a ride with Lyft, Uber, and other rideshare companies. One of the best examples of receiving customer feedback or reviews that impacts many areas of business is that completed by one of the industry experts - Uber's real-time customer feedback program.
What Makes This Example Successful?
A company can benefit from customer testimonials in many ways. If the feedback is positive, it can direct other customers towards their business. However, if the feedback is negative, it can help the company improve its service, goods, and other products they might sell.
With Uber's real-time customer feedback program, it provides multiple benefits.
Helps to notify Uber of negative customer experiences. When the customer finishes their ride, they are asked for a quick review – typically a simple rating between 1 to 5 stars. However, the Uber app also allows the rider to provide direct feedback on their experience. If the driver was not operating their vehicle safely, was rude, or provided poor service, Uber can remove that driver from their preferred network.
Helps improve driver rankings. For drivers of Uber who showcase exceptional service, positive reviews will help elevate their ride-sharing ranking. When a customer books a ride, the top local drivers are listed. Those who are higher ranked will often be alerted first for pick-ups.
Inspires customers to choose preferred drivers. Many Uber users will only ride with drivers with favorable rankings. The real-time user feedback program gives consumers confidence in Uber, allowing many riders to choose them over competitors.
What Social Proof Strategy & Type this Example Represents – User Reviews
User reviews are arguably the most impactful social proof strategy to employ – mainly due to the diversity and multiple opportunities for success. In Uber's case, it's intended to directly impact three aspects of their business:
Satisfy Riders & Improve Consumer Confidence in Uber
Reward or Penalize Drivers
Make Improvements to their Operations
This represents the Holy Trinity of customer outreach success stories. Suppose you can activate a social proof program by requesting more user reviews – specifically from satisfied customers. In that case, you can improve your business reputation, influence future customers, and improve SEO rankings.
Case Study #2 – Starbucks Coffee "My Starbucks Idea"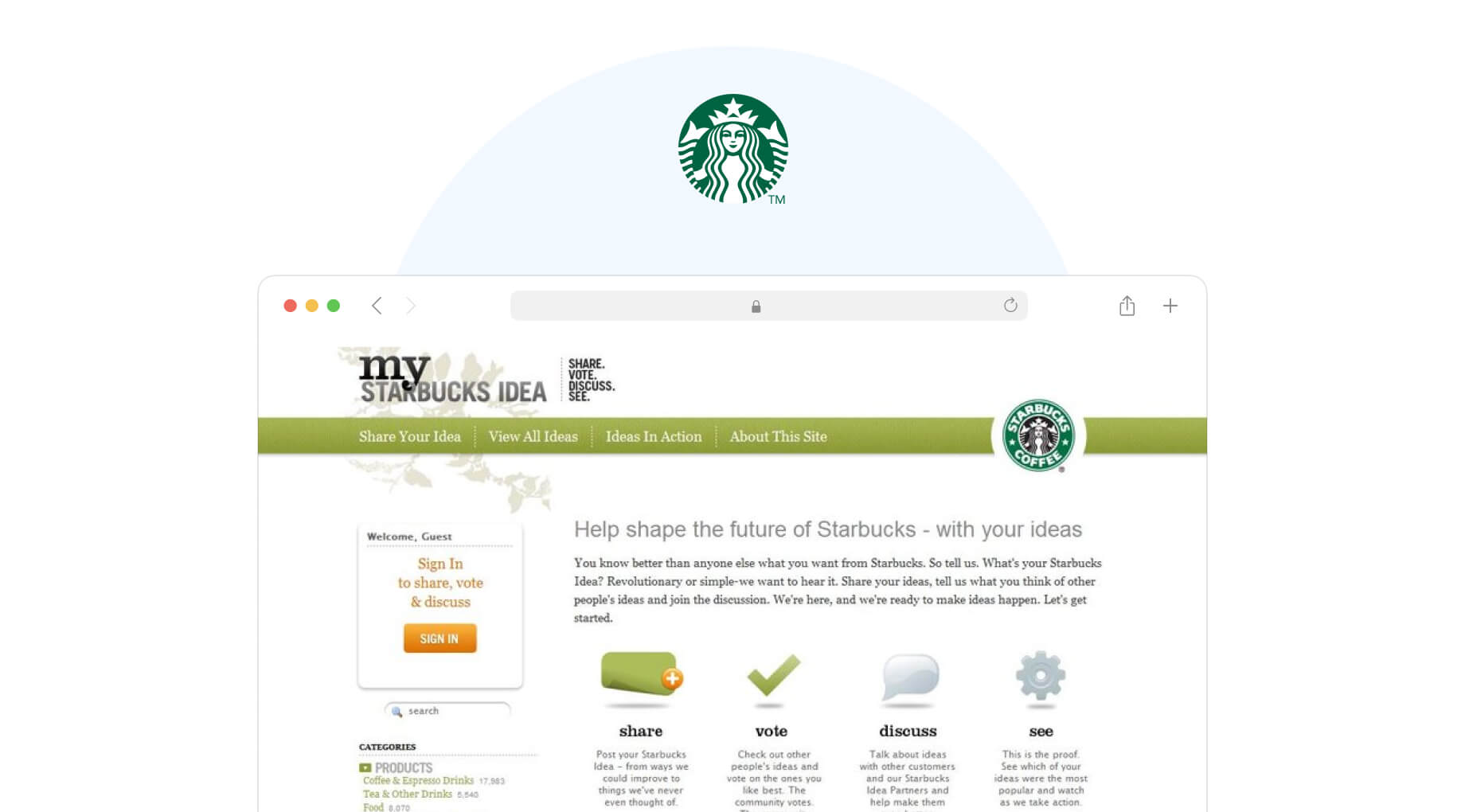 Since its first coffee shop opened in Seattle in 1996, Starbucks has always been at the forefront of customer engagement. From writing their customers' names on their cups of coffee to creating upscale caffeinated cold and hot beverages, Starbucks has always looked for creative ways of improving the customer experience and in-store conversion rates.
In 2008, Howard Schultz launched the My Starbucks Idea platform. It was a dedicated website that allowed visitors to suggest different beverage concepts, new product ideas, and event marketing programs.
The customer would submit their idea, be sent a direct link to their posting, and asked to share it with their social media audience. As more users clicked on their submission, both the visitor and submitter were rewarded with 'points' they could use for discounts.
What Made This Example Successful?
For nearly a decade, the My Starbucks Idea portal generated more than 150,000 product ideas from customers. Some of their ideas have led to brand-specific products such as their popular cake pops and, of course, pumpkin spice everything.
However, more than the simple site visits, the program helped to create brand awareness that few others have been able to replicate. This made the customer a part of the business decision process – which is significant for developing trust. A few of the successes generated by this program include:
Free Media Coverage and Advertising: When this platform was launched in 2008, it led to a media blitz of free publicity. This created excessive brand awareness, which is very difficult to measure.
Increased Sales: In 2008, Starbucks' sales revenue was just shy of $11 billion. When this platform shut down a decade later, sales revenue doubled to $24.5 billion.
Helped Expand Influencer Marketing: Before 2008, social media influencer marketing was very sporadic. However, programs like My Starbucks Idea put the power of marketing in the palm of the customer's hand. With a few simple clicks, they could share their ideas, promote a brand, and reap the rewards.
What Social Proof Strategy & Type this Example Represents – Social Media Sharing
While this example ended in 2018, it created a foundation of social media sharing used by nearly all businesses today. The concept is to convince customers to share information about your business through social media platforms like Facebook, LinkedIn, Twitter, and Instagram.
Companies can also direct customers to write product or service reviews on their business social media pages, then share those reviews on their websites to engage potential customers and drive higher conversions.
Case Study #3 – Tesla Referral Program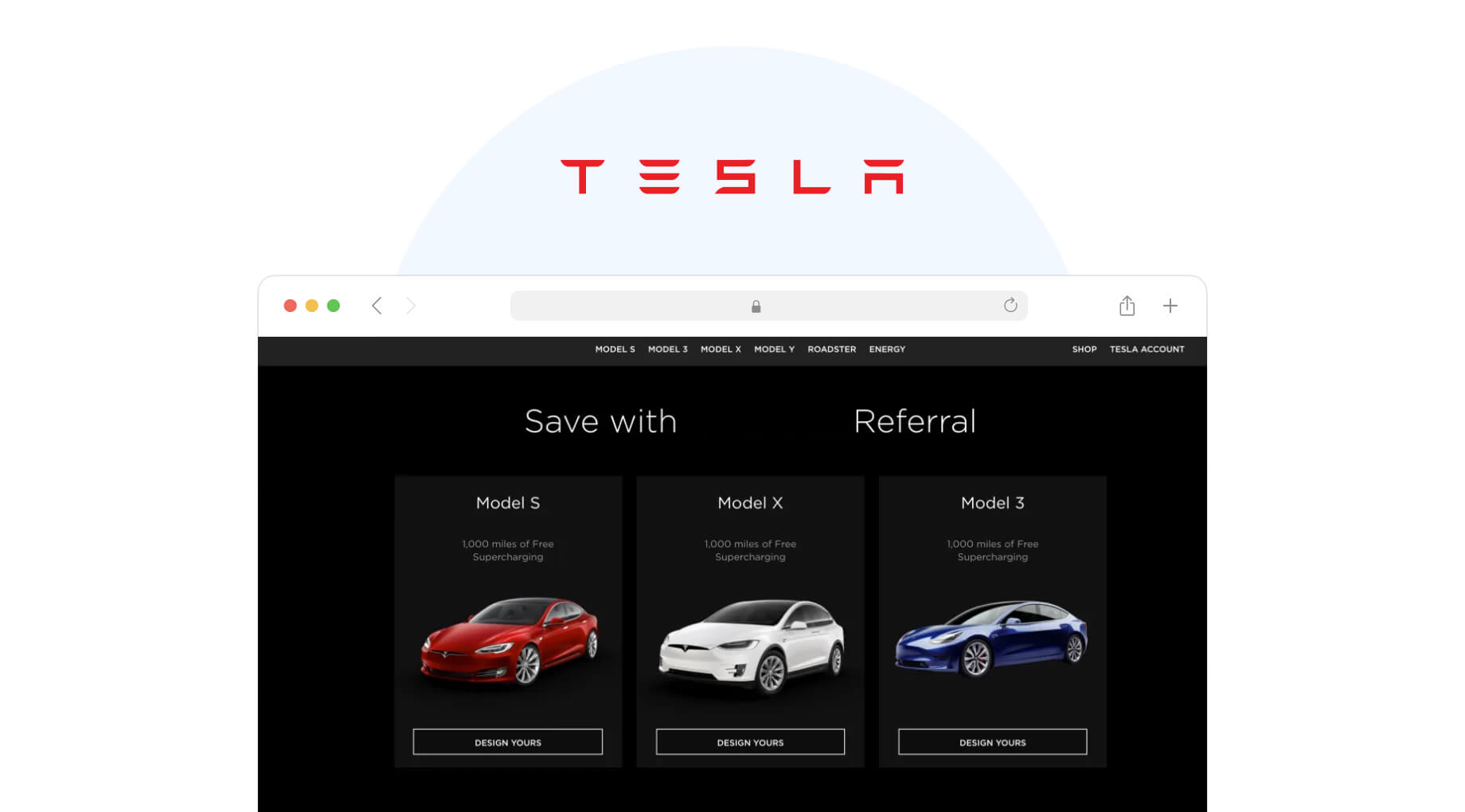 Elon Musk has always been a leader of innovation. The founder of Tesla and SpaceX is known for taking concepts established by others and infusing modern technology to bring them into reality. The Tesla Referral Program gave Tesla customers the power of influence by offering them perks and rewards for every friend they referred who bought a Telsa.
The program was quite simple. Each Tesla owner was given 10 referrals. If the customer bought a Tesla, they received a $1,000 discount. For each qualifying referral or QR that converted, Tesla owners were provided with trips to Tesla factory tours, grand opening parties, and for the first individual to convert 10 friends – a FREE Model X SVU.
What Made This Example Successful?
Many businesses determine the success of a marketing campaign by return on investment. If that's their primary metric, you can consider Tesla's referral program a home run. However, beyond financial profits, the rewards program provided several ancillary benefits for Tesla.
ROI: They made 42-times more money than they spent promoting the program.
Promoting their Supercharger Network: In 2019, the program morphed, providing 1,000 miles of free Supercharging via the company's remote charging stations for every referral.
Increased Brand Awareness: They also continue to inspire action by giving away a FREE Model Y or Roadster every fiscal quarter to those with enough referrals to qualify. Each winner was showcased via the company's extensive social media channels, which created the "can't miss out" concept – inspiring other Telsa owners to promote the brand.
What Social Proof Strategy & Type this Example Represents – Direct Customer Referrals
The key to activating creative and effective direct customer referrals is rewards on both sides of the table. The previous customer needs to be motivated with compensation, while the new buyer likewise needs a financial benefit. This social proof concept is like affiliate programs, but there are several subtle differences that we'll address below.
Case Study #4 – Booking.com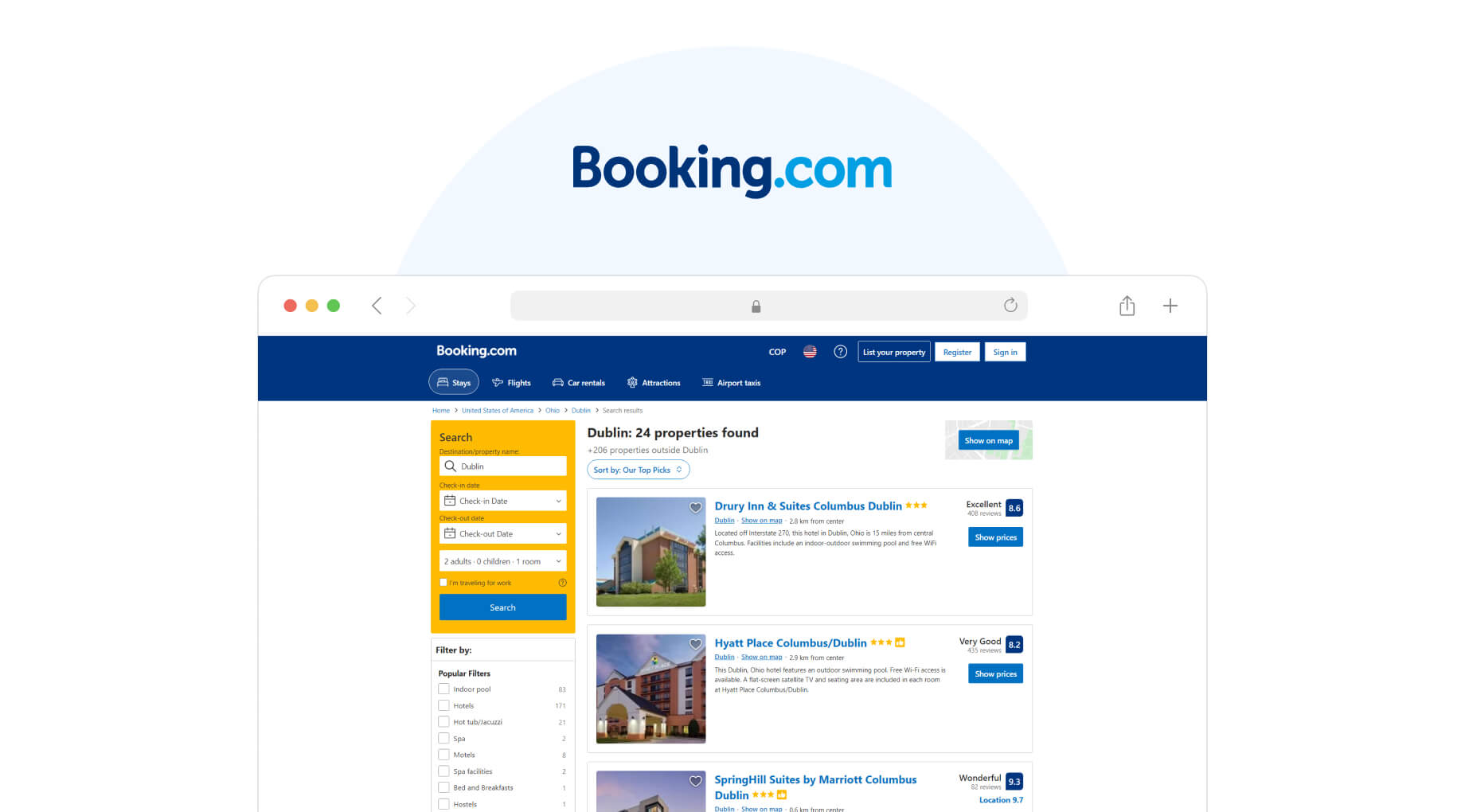 Ecommerce platforms activate a slightly different social proof concept – real-time user conversions and activity. A great example of this technique is how Booking.com uses an automated software solution to display current user data on their travel booking platform.
What Made This Example Successful?
Consumers are often inspired to purchase something based on a visual cue or suggestion. For example, Costco Wholesale and Sam's Club activate a similar strategy in their warehouses by offering product samples for customers to try.
Some of the critical items Booking.com display's in real-time include:
How many active users: This social proof concept embraces the 'follow the leader' idea. Users are inspired to action when they know multiple people are actively doing the same thing as them.
Active bookings: A second tool they utilize is to show real-time results of people who have booked one of their services. They often protect the identity of the actual user due to privacy concerns by listing a first name and last initial, along with a generic location (such as just the US state they live).
Specific bookings to desired locations: The Booking.com platform can identify user locations, recent searches, and other targeted marketing details during their current visit. If a website visitor is trying to book a trip (airlines, hotel, rental car) to Las Vegas, they might display recently reserved trips to suggested hotels or airlines that fly to that destination from the user's location.
What Social Proof Strategy & Type this Example Represents – Website Activity
Sometimes the consumer doesn't need to taste the product to be influenced to purchase the item. Sometimes, the simple act of seeing somebody else put the item in the basket is enough. Online platforms activate a similar social proof strategy.
These social proof software tools can often be customized to target specific customer conversions. Whether it's signing up for a newsletter or making a direct purchase, many consumers are inspired to 'follow the leader.' Many proactive companies are starting to display previous consumer reviews posted on credible platforms, including Facebook, Amazon, Yelp, and the company's Google My Business listing.
Case Study #5 – Amazon.com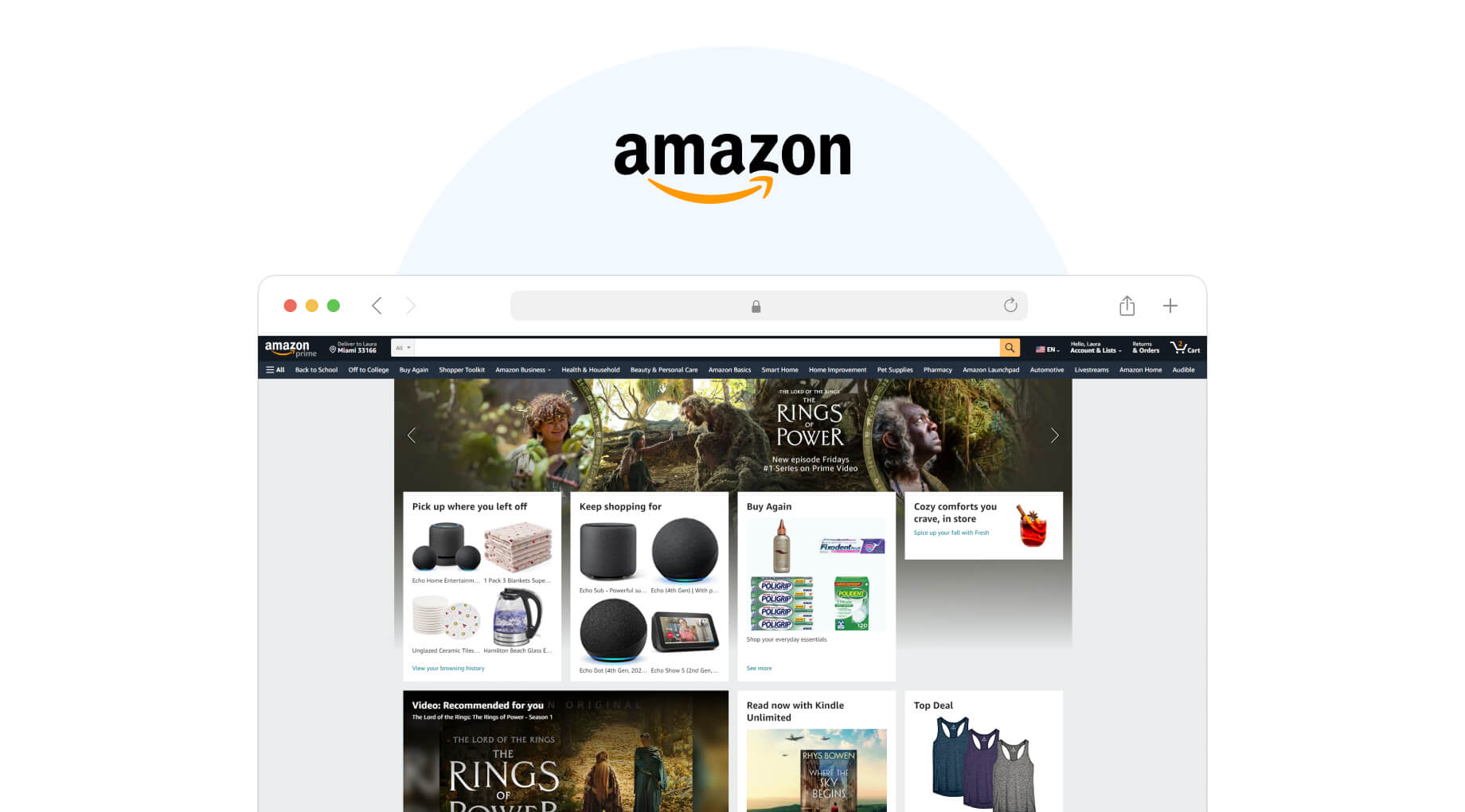 Amazon.com generates $17 million every hour of each day. At the end of 365 business days, this online giant captured nearly $390 billion in revenue in 2021. But here is the statistic that might shock you, nearly 45% of their market share is driven to their website via influencer marketing and their Amazon Associates affiliate marketing program.
What Makes This Example Successful?
There is a saying in modern retail – volume sales cure everything. Even when product margins are smaller, when a retailer has a massive network of people promoting their platforms, the sales revenue and profit will balance out in the end. So, what makes this influencer marketing program more successful than others?
Sheer Volume of Micro-Influencers: The key to Amazon's affiliate program is the 900,000 active users enrolled in the program. These are considered micro-influencers. While they may not have large numbers of social media followers, there is strength in numbers.
Substantial Commissions: Amazon Associates are rewarded with commissions ranging from 1 percent to 20 percent on some select Amazon-branded products.
Unlimited Earnings: You'll notice that nearly every major YouTube influencer will list products they are reviewing in their video description. They also direct their viewers to 'check out the products below. This is direct marketing to a large group of people.
What Social Proof Strategy & Type this Example Represents – Influencer Marketing & Affiliate Programs
In 1955, entertainer Frank Sinatra was at his peak of celebrity status. He was making Hollywood movies every year and was playing concerts across the globe. He was very fond of Jack Daniels Tennessee Whiskey and always appeared in movies, during television interviews, and on each show, with a fresh glass of the liquid he referred to it as "the nectar of the Gods." He did so without any compensation.
And Jack Daniels benefited greatly. Their first strategy was to hold back on production, to create a significant consumer demand. This helped to raise the price, which lead to higher profits. In 1960, the Tennessee distiller ramped up production - which doubled sales from 150,000 barrels per year to 300,000+. This is a phenomenal example of the power of social proof.
Since those days, companies have paid celebrities and influential people millions of dollars to promote their products. Clever companies see the value in creating affiliate programs that court micro-influencers – like Amazon's program. Not only does this allow them to drive business to your business platforms and sales channels, but it also offers minimal financial risk.
Use Powerful Social Proof on Your Website with ReviewsOnMyWebsite Widgets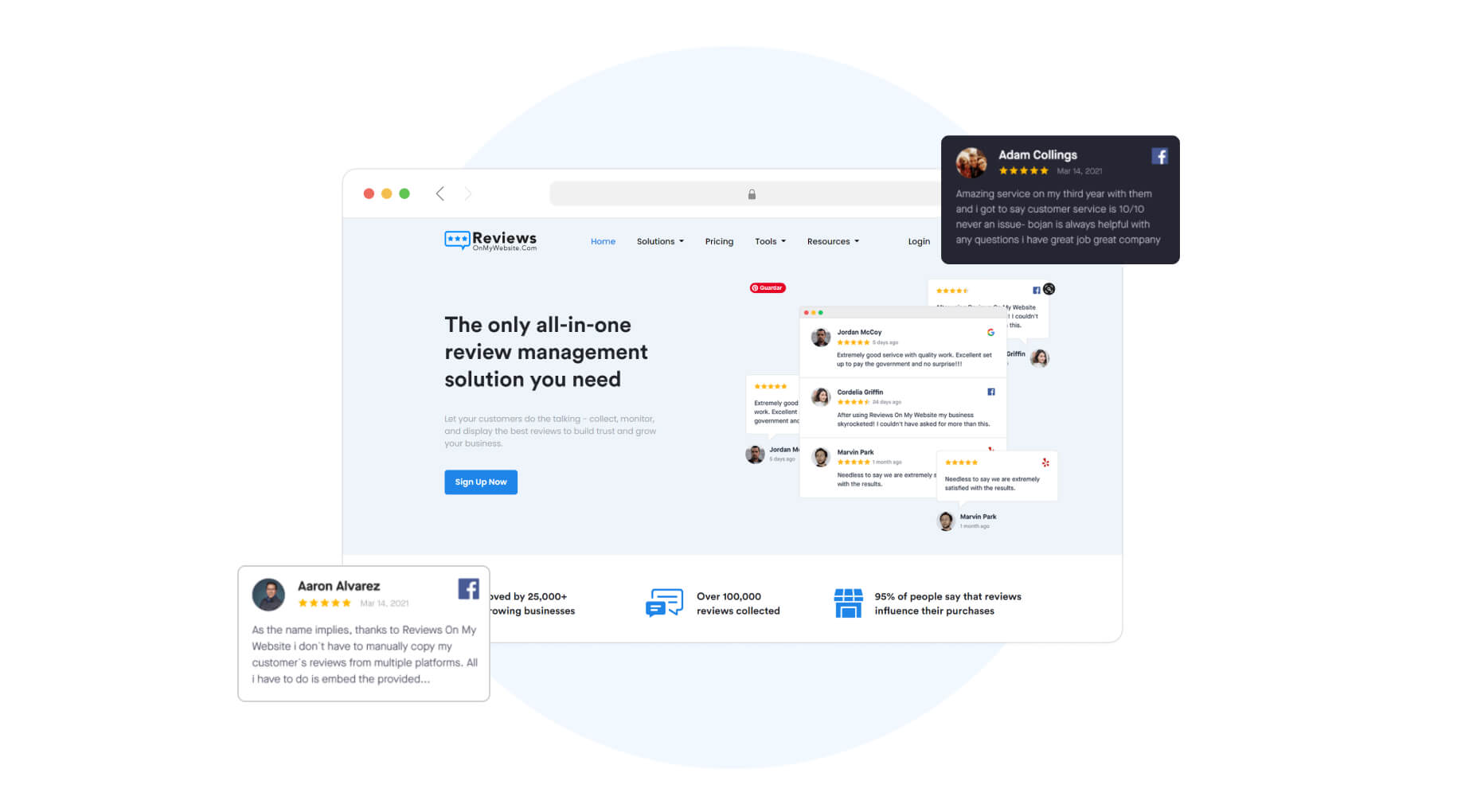 Each social proof marketing program listed above offers multiple business chances to increase their customer base, improve website conversions, and ultimately drive sales. However, they also have something else in common – the more effort and time you put into these programs, the better the results.
This introduces a problem for today's time-strapped businesses. How do you justify hiring more employees to contact previous customers to seek online reviews, promote them via their social media channels, or allow them to become affiliate ambassadors?
The good news is that modern SaaS solutions like ReviewsOnMyWebsite offer a practical and cost-effective solution.
Key Takeaways on Social Proof Marketing Examples
When your customer base becomes apparent, and you start to locate those customers with exceptional buying or user experience, you can use the automated software to contact them via email or SMS – whichever your customer prefers. Like the example we listed above from Uber, this helps you create more direct consumer reviews marketed to future customers on high-authority websites.
The customization features allow you to guide them to high-profile consumer review pages, including those on your business Facebook Page, Google My Business, Yelp, or Amazon – whichever are more beneficial to target pre-qualified customers.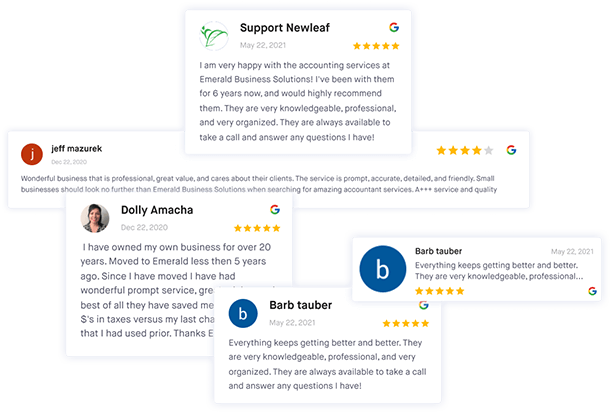 Leverage feedback and reviews to improve your online reputation
Get more online reviews and turn your customers into raving fans with ReviewsOnMyWebsite review generation software.
To take advantage of website activity like that completed by Booking.com - you can customize the social proof widget to fit your brand and the feel of your website to publish selected reviews from Amazon, Google, Facebook, Yelp, and more. The platform makes it easier for satisfied customers to share their opinions where it matters most.
Top Features
All-in-One Review Management Software - ReviewsOnMyWebsite allows you to collect, monitor, and display social Proof boosting positive reviews, building trust with future customers, and growing your business.
Constant Stream of Social Proof - Allow your customers to use their word-of-mouth powers to serve as your strongest advocates. Collect more positive reviews via the communication channels your customers prefer.
Save Time and Money - Save time with pre-built templates and automated review requests. Save money on email marketing programs.
Affordable Solution
ReviewsOnMyWebsite offers a free 14-day trial with no credit card required. Once you test the platform, you can select three package options – ranging from $9.00 to $39.00 per month.
The social proof examples we posted above have all been shown to positively impact your online credibility, increase customer retention, and improve online conversions.
FAQs
What is social proof in marketing?
In marketing and advertising, Social Proof embraces the principles introduced in the book Influence: The Power of Persuasion. Essentially, the philosophy states that consumers will follow the lead of others. In many ways, Social Proof in marketing is a modern equivalent of word-of-mouth advertising – but in the digital space. It can be activated via social media platforms, larger review websites, or directly on your websites.
What are some negative social proof examples?
When an expert in the field, industry, or provides their testimonial via social media or other platforms, this is referred to as a social proof statement. However, if a customer or expert in the industry goes out of their way to criticize a business, this is an example of a negative social proof statement. Other examples include a situation where a business owner or manager is overly aggressive trying to argue with someone who posted a negative statement.
What is a social proof notification?
Social proof notifications are alerts that appear on websites to display users' activity. This is typically generated by a widget or plugin that scans website data, such as the number of visitors, conversions, and users' locations. This social proof tool can be customized to list different website statistics and actions, which can influence the actions of new website visitors due to a tendency to follow others.