The childhood game Follow the Leader has been a staple of early learning across Planet Earth for several centuries. Its basic premise is to assign one person who completes an action, which needs to be replicated by other participants in the game. Those who fail are eliminated until there is a single follower. While times have changed significantly, the follow the leader mentality continues to impact our society, represented in the Social Proof psychology phenomenon.
In today's capitalistic society, the actions of an individual tend to influence others – especially with buying habits. If the neighbor down the street buys a new Tesla, it is common for others to consider a similar purchase. While the Social Proof Theory is less than 50 years old, the principle of social proof has driven business marketing and advertising efforts for decades.
The information below will discuss the power of social proof persuasion. Specifically, we'll address the origins of the Social Proof in psychology and how it relates to businesses in multiple sectors.
Plus, we'll introduce some social proof examples used by many of today's leading businesses.
What is Social Proof in Psychology?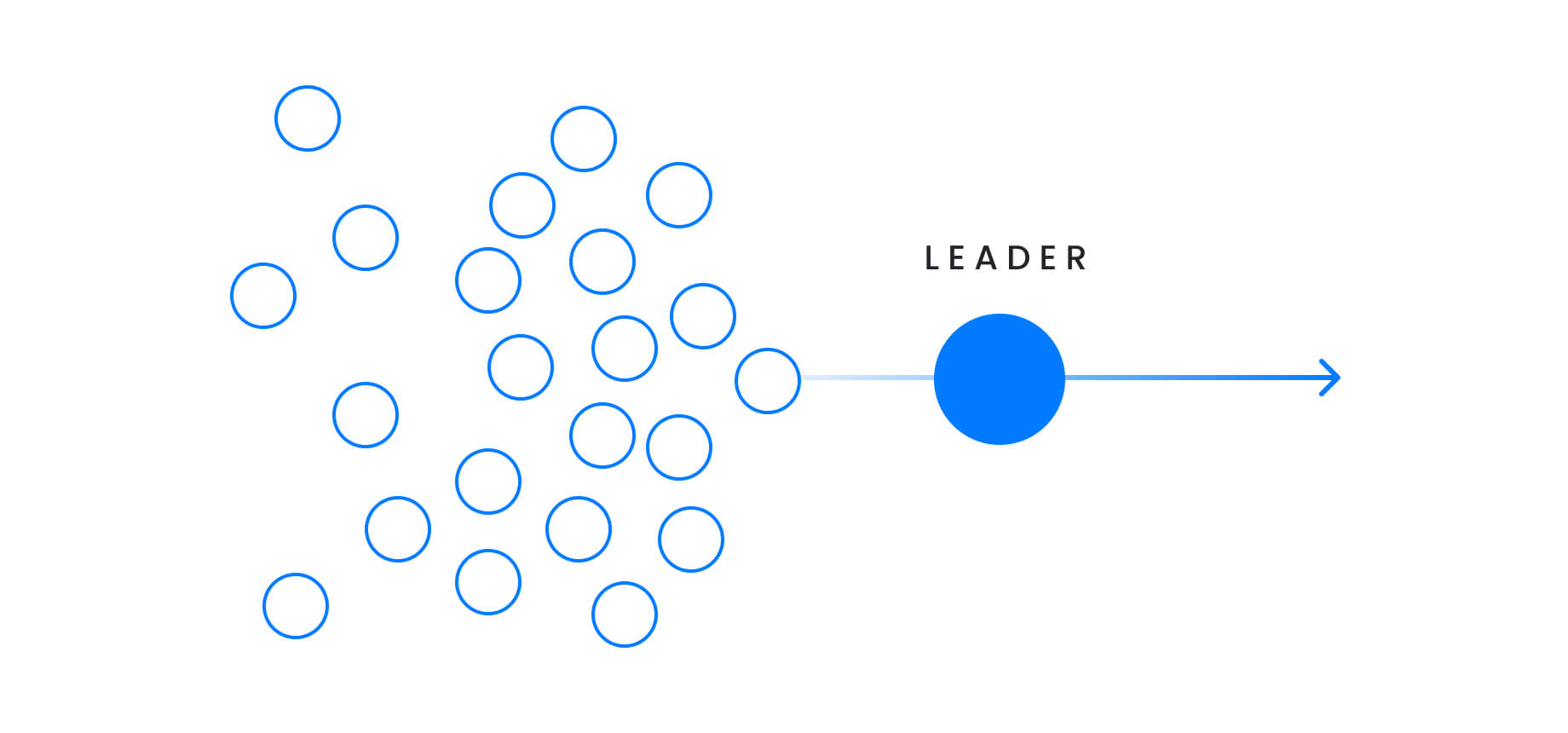 Social Proof is a societal, psychological phenomenon where an individual or group will replicate the actions of others to 'fit in' in a specific situation. It's essentially the herd or mob mentality, where people look to leaders or influential people's actions to guide them. The belief is based on an individual or group who is unsure how to react during unfamiliar situations.
For example, suppose you've been invited to a private get-together hosted by a friend or acquaintance and attended by many strangers. In that case, it's common for you to be uncomfortable for a while. The social proof philosophy suggests that you'll likely review the individuals in the room and engage with those who showcase comfort, confidence, and have an engaging personality.
In layman's terms – the actions of others directly influence the decisions of individuals.
Robert Cialdini's Social Proof Theory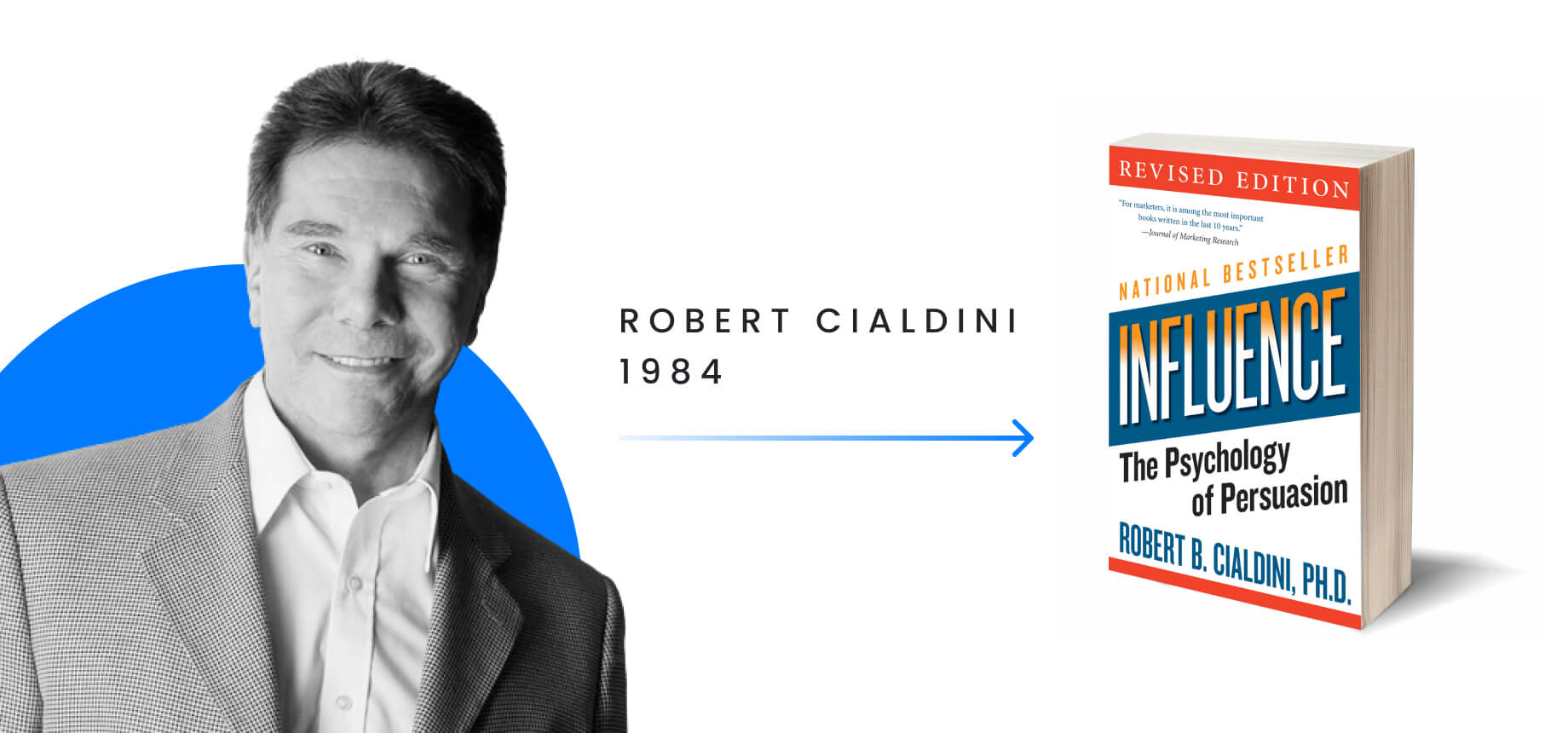 In 1984, Psychologist Robert Cialdini wrote a book called Influence. The subject matter introduced the Social Proof Theory, which postulated that an individual who does know how to act in specific situations will be influenced by others who showcase confidence in the same environment. The theory emphasizes the importance of social influence on our decision-making process, which is why it's often referred to as Informational Social Influence Theory.
How the Psychology of Social Proof Works: 4 Social Proof Principles and Mechanisms

Four primary mechanisms and principles of Cialdini's Social Proof Theory help guide people in making decisions.
Mechanism #1 - Uncertainty
The unfamiliar or uneasy feeling at the source of social proof is defined as uncertainty. It occurs when people are involved in a situation they have never experienced or don't feel comfortable. When people are engaged in an unfamiliar situation, they often review the behavior of others or seek guidance.
Mechanism #2 - Similarity
When an uncertain individual is looking for a peer for inspiration on how to act, they are attracted to like-minded people. Relatability, whether due to demographics, social class, or community, is a significant factor influencing others.
Mechanism #3 - Expertise
When an individual is perceived as knowledgeable, they are considered experts in a particular field, topic, or industry. Social proof is enhanced when experts provide recommendations to others who are not knowledgeable.
Mechanism #4 - Number
The final mechanism of the Social Proof Theory is articulated best when it's supported by the actions and behavior of multiple people. Suppose an individual seeks input from others and has multiple opinions or options at their discretion. In that case, they are likely to choose the most popular. This is where the terms herd behavior and the mob mentality is derived.
5 Social Proof Examples in Psychology by Different Uses
While the theory of Social Proof was introduced by Cialdini in his book Influence; Principles of Persuasion it is one of six key elements that factor into decision making or influence. In his book, Influence, Cialdini wrote about the importance of all six factors, which include the following:
Reciprocity: This is an act of providing a service or guidance to an individual or potential customers seeking help without asking for anything in return.
Commitment and Consistency: In general, most people strive to act in a behavior that is consistent, meaning they don't make rash decisions on the fly. By doing something simple and consistent, it becomes easier to complete a slightly more challenging step.
Social Proof: We touched on this earlier. However, within these six concepts, social proof becomes more potent when the seeker of knowledge follows the actions of those who practice the above attributes of reciprocity and commitment.
Authority: This is also referred to as the 'expert opinions' within the Social Proof Theory. People tend to seek the endorsements of people in authority positions.
Liking: Individuals are also influenced by those who they like. Whether it's a friend, a respected personality, or someone who displays likable tendencies, people looking for guidance are attracted to those they prefer.
Scarcity: This is the supply vs. demand or the 'don't miss out' mentality. Digital marketing experts and advertisers often use it as a final influential step to convert a customer into action.
In psychology, these six elements of influence and social proof are present in multiple daily encounters. Some of the most famous examples of social proof in action include these examples.
Example #1 – Social Interactions
It's prevalent for people to be cautious in social situations – especially when they are not comfortable in their surroundings. Humans tend to embrace social proof concepts to protect themselves from embarrassment or from committing an action that others would deem as inappropriate.
Example #2 – Entertainment
One of the most classic entertainment tropes is the laugh track, introduced in the 1960s on television sitcoms. This form of social proof was the inclusion of a recording of laughter played in front of a studio audience to stimulate them into similar action. It is also used with reviews, which is why many movie and television studios spend millions of dollars catering to the opinions of influential critics to obtain a positive review.
Example #3 – Marketing & Advertising
Social Proof psychology is a potent advertising and marketing tool. The power of influence helps to guide the decisions of consumers. If they are searching for a specific product or business type to visit, they are likely to choose one with multiple positive reviews from similar consumers.
Example #4 – Education
Many educators utilize social proof as a tool in teaching students. Children and younger adults are highly influenced by peers, especially those who are famous. Many educators will recognize students who showcase strong interpersonal skills and are willing to participate in classroom teaching. This stimulates other students to follow their lead.
Example #5 – Social Media
The concept of social media follows the Social Proof Theory to the letter. In fact, the rise of social media launched influencer marketing, which is quickly becoming the primary marketing tool of many consumer products.
How the Principle of Social Proof Works for Businesses and Brands
As mentioned above, social proof concepts have been used in marketing and advertising for several decades. In fact, one of the world's largest retailers, Costco Wholesale (originally Price Club), built an entire empire based solely on word-of-mouth advertising – or what many marketers consider a vital element of the Social Proof Theory.
Times have changed in recent years, as technology and digital media have given the power of influence to consumers. Intelligent and proactive merchants – whether they own a local brick-and-mortar location or an eCommerce business- embrace Social Proof's principles in their marketing and activation strategies.
Here are four examples of how many of today's leading enterprises infuse Social Proof concepts into marketing tactics.
Example #1 - Online Consumer Reviews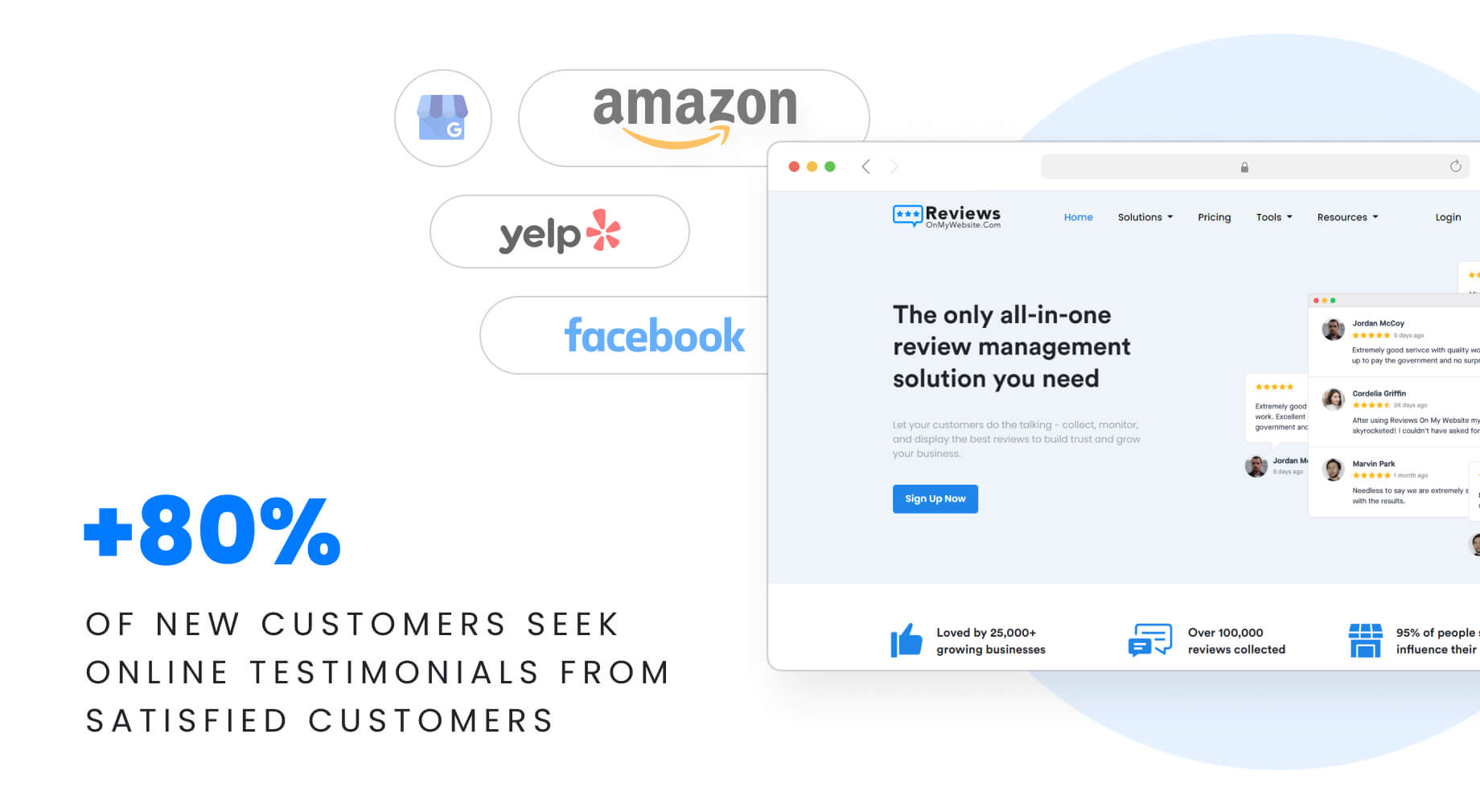 It's estimated that more than 80 percent of new customers seeking a specific product seek online testimonials from satisfied customers to guide their buying decisions. Consumer shopping platforms like Amazon.com showcase customer reviews directly linked to specific products sold by individual merchants.
85 percent of all Amazon buyers are positively influenced to purchase products from vendors with positive star ratings. Other platforms, including Google My Business, Yelp, Facebook, and other review websites, are potent channels for customers to review before buying.
The main pain point with activating this social proof strategy is finding cost-effective and time-sensitive techniques for increasing online reviews, ratings, feedback and ultimately improving conversion rate. Fortunately, technology in the form of Software as a Solution or SaaS has streamlined connecting with direct customers to request platform-specific reviews.
ReviewsOnMyWebsite offers an effective way to request reviews on popular websites like Facebook, Amazon, Google, and Yelp, as well as showcase those reviews directly on your website using the social proof widget. As you build your customer database of those purchasing products, you can use these automated solutions to contact satisfied customers via email or SMS – whichever your customer prefers.
Here are three tips for using this service to help boost your online reviews.
Tip #1 – Drive Traffic to a Customer Feedback Page on Your Website
Using the ReviewsOnMyWebsite automated software, you can create a dedicated and customized feedback page or landing page on your website with direct links to specific sales channels. This allows them to choose where they prefer to post their review.
Tip #2 – Ask for Written Reviews
Using the automated solutions, you can seek written reviews on Yelp, Amazon, Facebook, or your Google My Business page from customers who have purchased several times from you. These customers are more likely to take the time to leave positive feedback beyond a star rating.
Tip #3 – Send SMS Text Messages to Mobile Device Shoppers
For customers you've determined shop via their mobile devices, consider creating an SMS / text message embedded with a direct link to the product page they accessed to make the order. This will allow them to click the link and write the review in one easy step.
Example #2 – Direct Website Notifications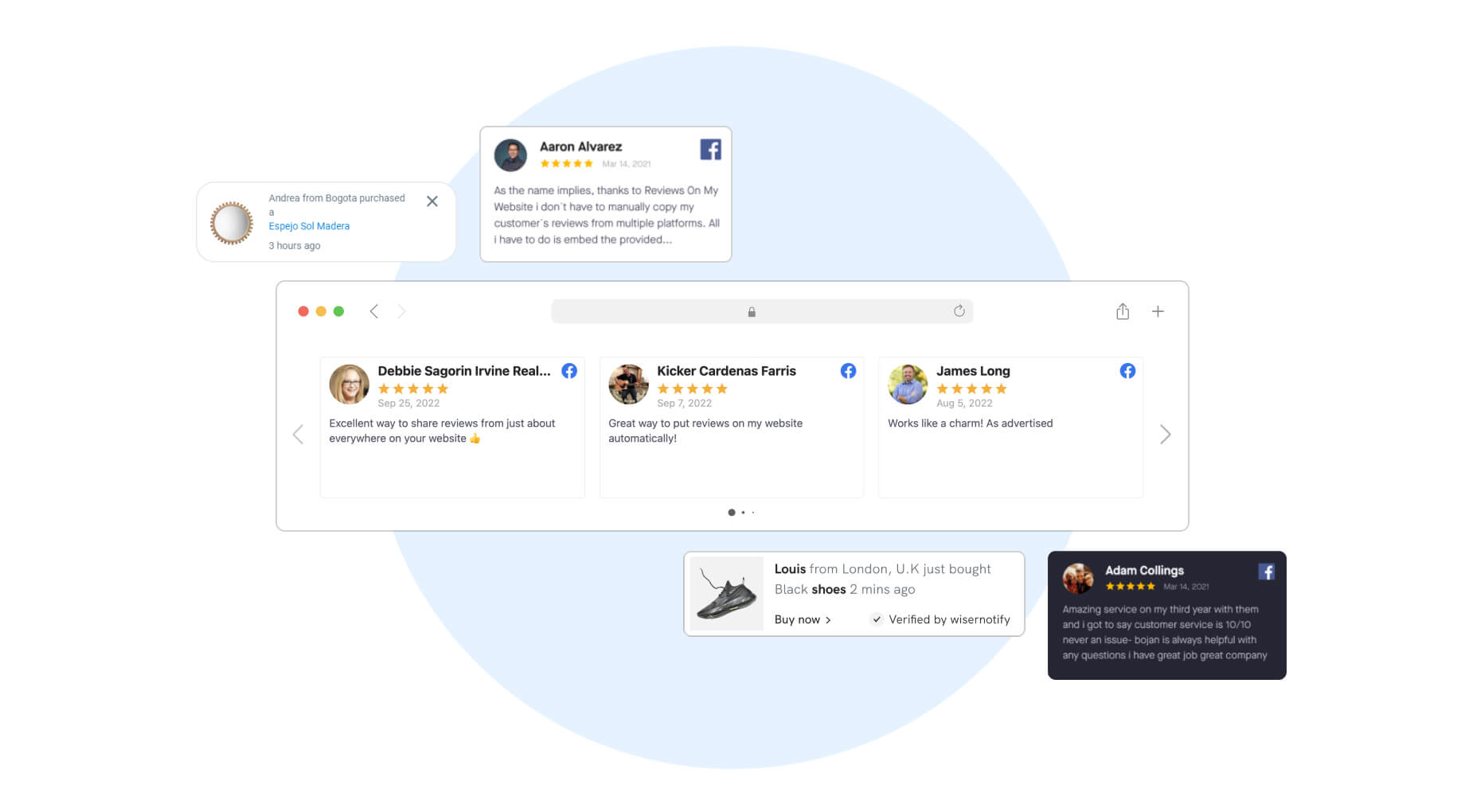 If a customer reads a positive review on a company's Google My Business or Facebook page, they will likely be inspired to visit their website to learn more. Many proactive online merchants – especially those in the eCommerce space, will utilize social proof tools that showcase the actions of previous customers who recently visited the website.
Some of the customized options they can display include:
Previous positive reviews by satisfied customers on major review websites.
Current user activities – such as conversions (either making a purchase, signing up for email notifications or other actions).
The current active users on the website.
ReviewsOnMyWebsite also includes an online notification solution that permits you to showcase your best online reviews on high-volume and influential websites. This tool is straightforward to customize and use.
Connect: Choose which review sites you want to display reviews from, including Google, Yelp, Facebook, and more.
Customize: You can customize the look and feel of your social proof tool that helps build brand consistency.
Embed the Code: Simply copy and paste the pre-generated code onto your website and display those reviews on high-traffic or targeted pages.
Example #3 – Case Studies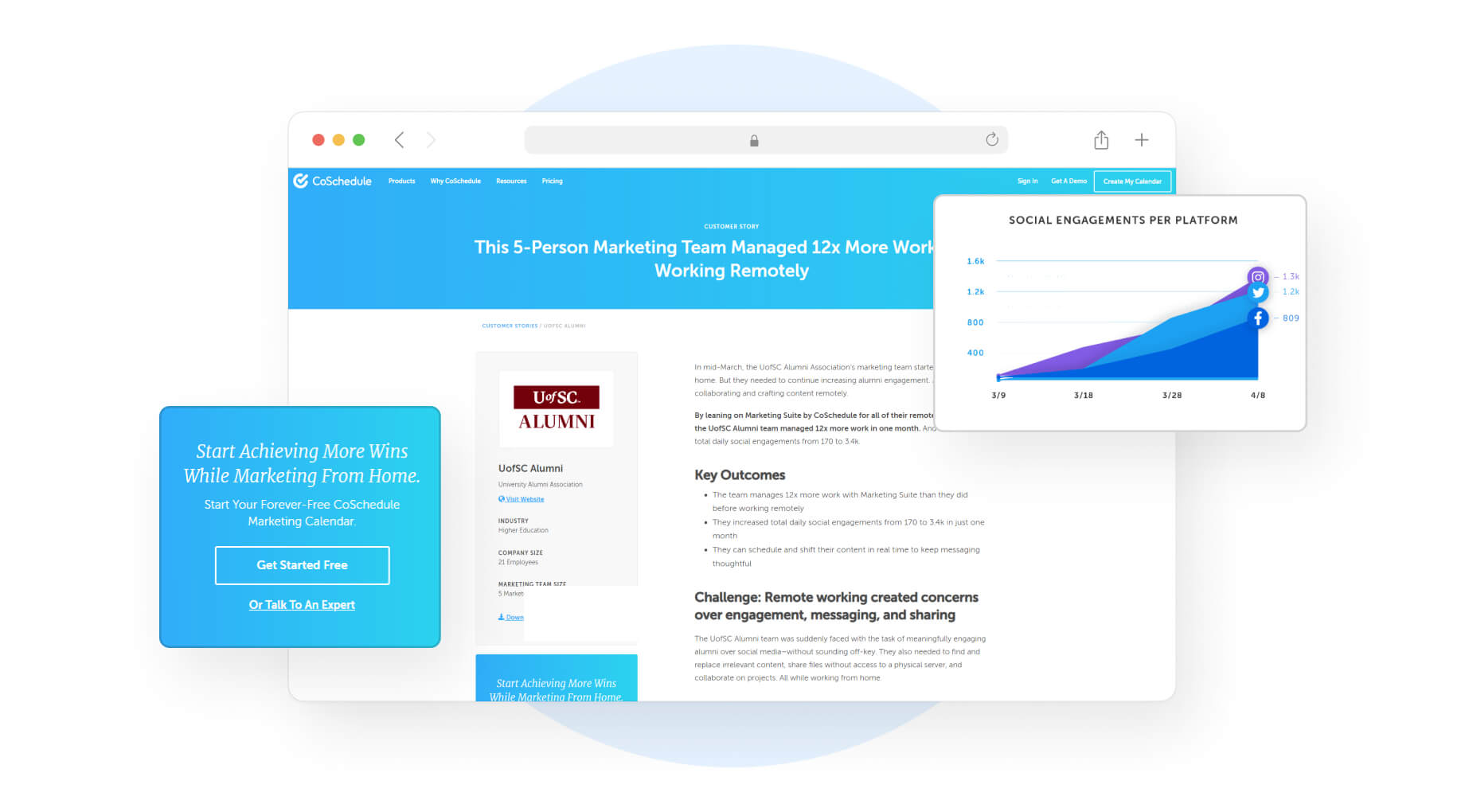 This social proof concept embraces the expert testimonial factor influencing a customer's buying decision. Case studies provide factual data specific to a particular service or solution a business offers. Typically, a case study involves multiple data points such as statistics of results (before and after), how they achieve those results and the ancillary benefits of using that solution.
Example #4 – Influencer Marketing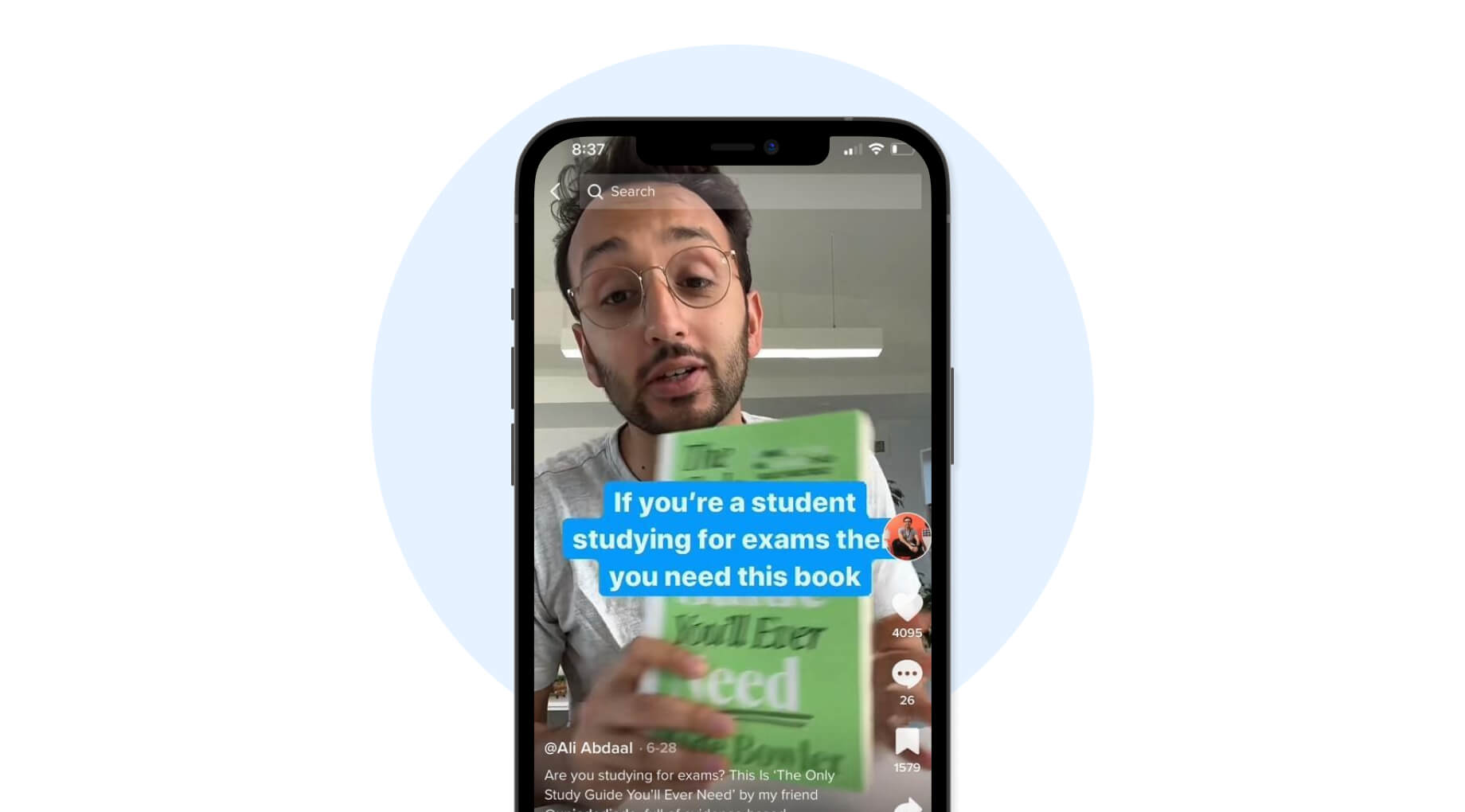 As introduced by Cialdini, the fifth element of influence is the likability factor. People simply trust the opinions of peers, mentors, and celebrities. Several businesses – small to enterprise-level, spend a tremendous amount of money on paying influencers to promote their products.
Key Takeaways on Social Proof Theory
Social proof theory is a proven psychological concept. It is used to guide people's decisions in social climates, entertainment, politics, and consumer purchases. Like Cialdini stated in his book, "Often we don't realize that our attitude toward something has been influenced by the number of times we have been exposed to it in the past." At its source, that's the most impactful social proof technique to embrace – especially in marketing.
When companies are looking for automated solutions to increase their online presence, consider embracing SaaS solutions like those available from ReviewsOnMyWebsite as the primary tools for activating multiple types of social proof concepts.