Today's consumers are influenced by the actions of others. In fact, it's estimated that nearly 85 percent of online shoppers are likely to purchase a product from a company that showcases positive star ratings posted by other consumers. This consumer attribute is possible thanks to a marketing concept referred to as Social Proof. Therefore, many businesses utilize social proof tools to help influence future customers' buying decisions.
Social Proof is retained through product reviews, ratings, and feedback left by previous customers on credible platforms, like Google, Facebook, Yelp, and Amazon, for example. Several businesses utilize social proof tools or software solutions to make it easier for their previous customers to provide this valuable word-of-mouth marketing service.
Since it is critical for today's restaurants, eCommerce merchants, and Fortune 500 enterprises to search for the best social proof software that is automated, easy to use, and customizable. This is what we'll explore today.
The information below will identify the top 10 social proof app solutions. We will explain why it's essential to use the right social proof notification tool, how it can help improve your business reputation and credibility, and how the right solutions can be used for multiple marketing purposes.
What Is Social Proof?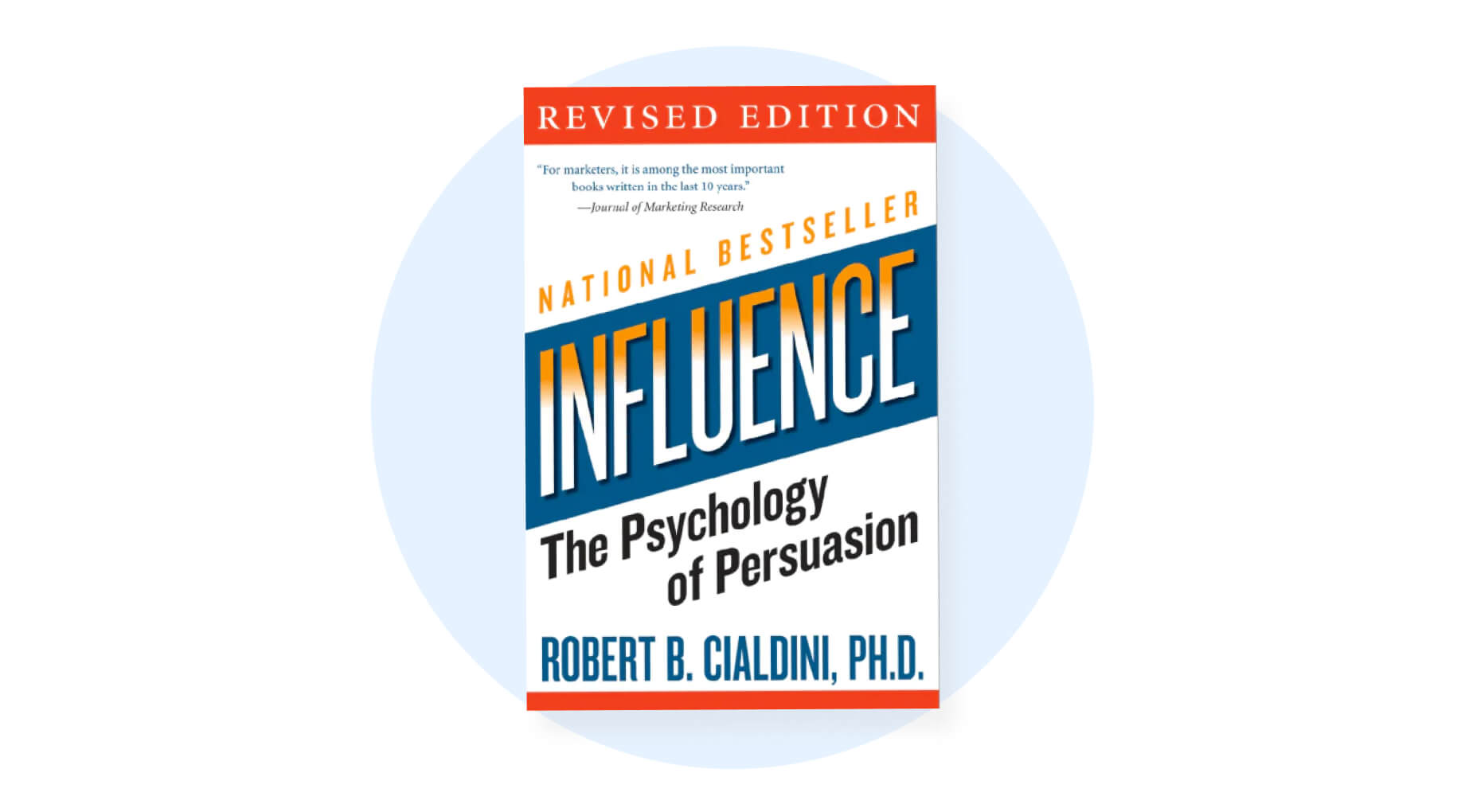 In 1984, Robert Cialdini wrote a book called Influence. In it, he described a phenomenon called informational social influence, which is based on the premise that people copy the actions of others to emulate the behavior in specific situations.
One of the best examples he provided in the book was how people follow the actions of others in uncomfortable social situations – such as during a party. If they didn't know anyone, they would watch how others interacted – what type of language was used, what they were drinking, and how they were interacting in general. This was done to ensure that the individual 'fit in' with the new group. This is where the term social proof was coined.
In marketing and advertising, Social Proof follows the same concept – new consumers will follow the lead of others. In many ways, Social Proof is a technical variant of word-of-mouth advertising. It can be activated via social media platforms and larger review websites or directly on your websites. However, in today's digital world, it can also be accomplished through media coverage, direct product or company reviews, and feedback about a customer's buying experience.
Why You Need a Social Proof Tool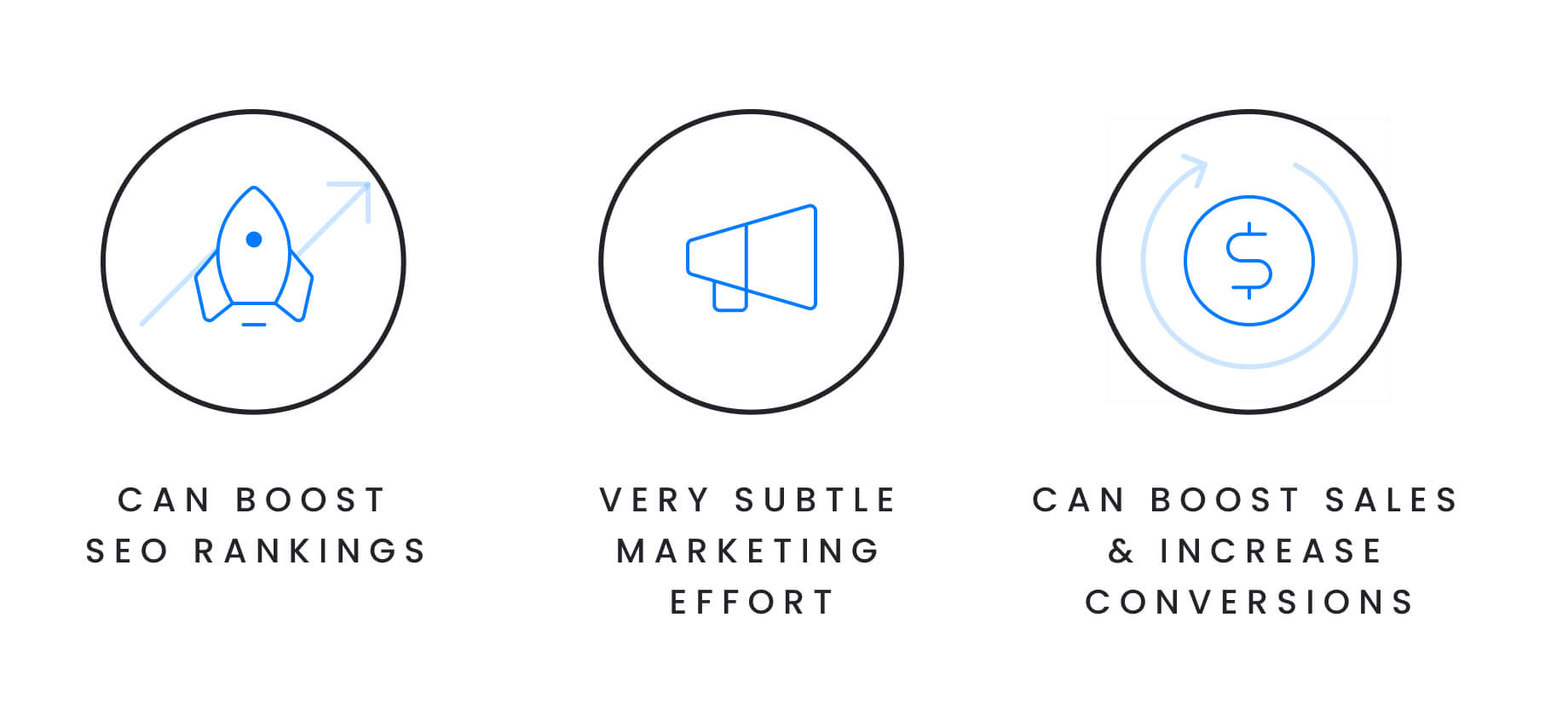 There are several ways of improving your social Proof. Some of the top social proof concepts that hold influence over future customers include:
Expert Proof: When an expert in your industry supports your business, products, and services, it improves your credibility.
Celebrity or Influencers: Celebrity endorsements can significantly impact the growth and sales of your business.
Direct User Proof: Feedback from previous customers is arguably the most potent social proof source.
Crowd Wisdom: This is a large volume of direct user feedback. As they say, the more, the merrier.
The social proof concepts above are easier to improve when you can direct each group to a specific task. For example, suppose you can showcase previous consumer reviews on your website. In that case, it can significantly influence future or existing customers to 'follow the trend.'
Beyond providing influence, integrating an effective social proof tool into your digital marketing efforts offers a business multiple ancillary benefits.
Can Boost SEO Rankings
A major contributing factor to search engine optimization is online reputation. Guiding customers to post Google reviews via your Google My Business profile helps improve online visibility, which helps improve ranking.
Very Subtle Marketing Effort
The key to improving social Proof is to 'influence' customers to post reviews, ratings, and direct feedback that is positive in nature. When you force-feed them messaging, many customers consider that to be spamming. As a result, they'll be more influenced to write a negative review, decreasing social Proof.
Can Boost Sales & Increase Conversions
All marketing efforts aim to drive volume to your sales channels and convert those visitors to a sale or follow-up. When you can improve social Proof with multiple positive reviews and ratings on several platforms, the potential of increased web traffic is significantly improved.
5 Social Proof Tools to Consider Using in 2023
At this point, you're likely convinced that investing in an effective social proof tool is a sound business investment. However, while some tools on our list might have a higher price point, it's essential to factor in the cost of using them, the ease of customization, and how automation comes into play.
Here are five of the best social proof software solutions for 2023 business owners and marketing managers to consider.
#1 - ReviewsOnMyWebsite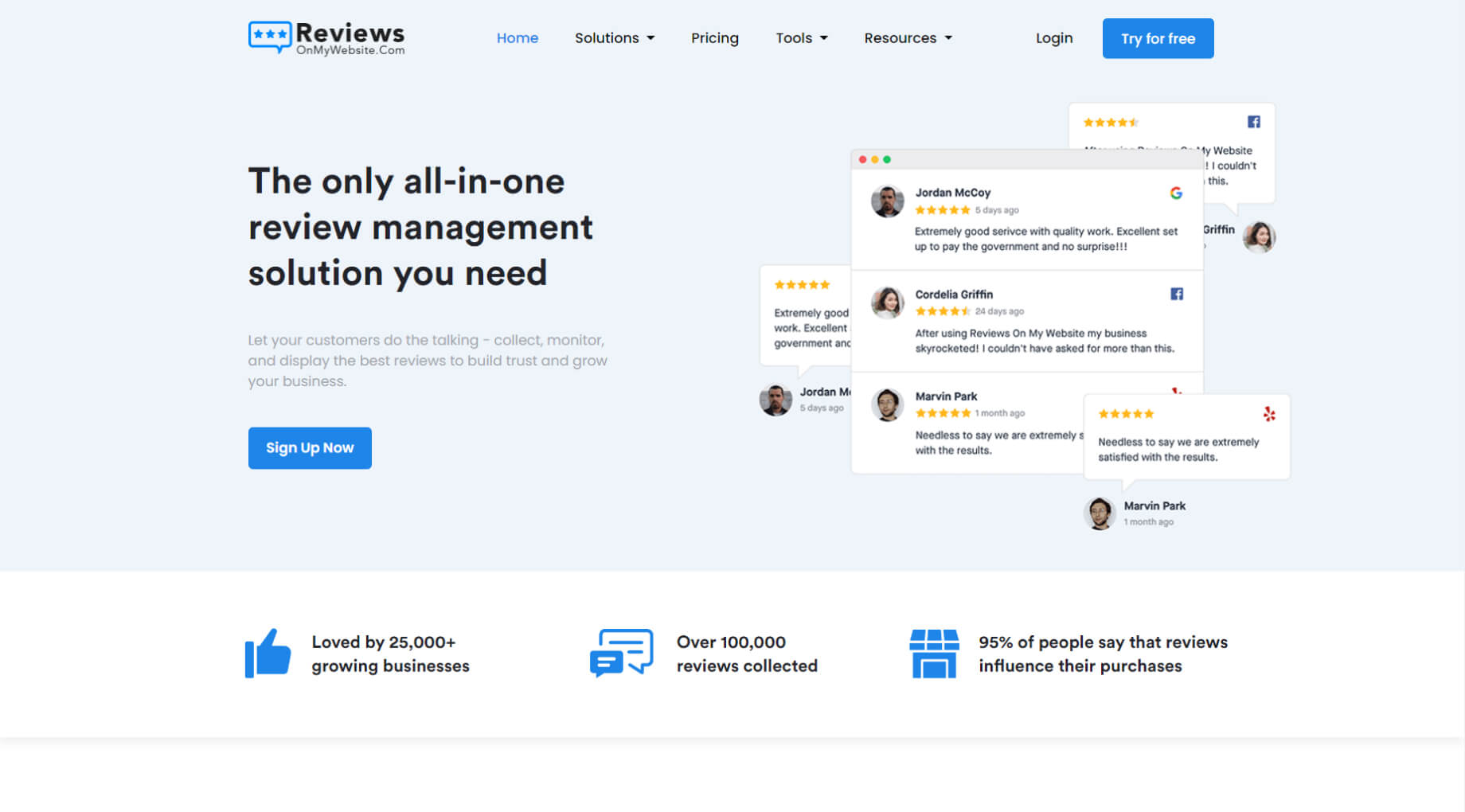 One of the quickest growing social proof software solutions is offered by ReviewsOnMyWebsite. It allow you to request direct consumer reviews and display existing reviews through your marketing channels.
As you build your customer database of where they shop, you can use their automated software to contact them via email or SMS – whichever your customer prefers. Further, you can customize the social proof widget to fit your brand and the feel of your website to publish selected reviews from Amazon, Google, Facebook, Yelp, and more. ReviewsOnMyWebsite makes it easy for your customers to share their opinions where it matters most for your business.
Top Features
All-in-One Review Management Software - ReviewsOnMyWebsite allows you to collect, monitor, and display social Proof boosting positive reviews, building trust with future customers, and growing your business.
Constant Stream of Social Proof - Since your previous customers are your strongest advocates, this SaaS allows you to collect more positive reviews via the communication channels your customers prefer.
Save Time, Money & Resources - Save TIME with pre-built templates, save money on email marketing programs, and automate review requests to save your people time.
Pricing
ReviewsOnMyWebsite offers a free 14-day trial with no credit card required. Once you test the platform, you can select three package options – ranging from $9.00 to $39.00 per month.
Pros & Cons
Pros
Display reviews from Google, Facebook, and other review sites
Organize your reviews by individual products & services using tags
Embed on any website in a matter of minutes
Boost conversions through displaying positive customer reviews
Cons
Limited access to posting LinkedIn reviews
#2 - ProveSource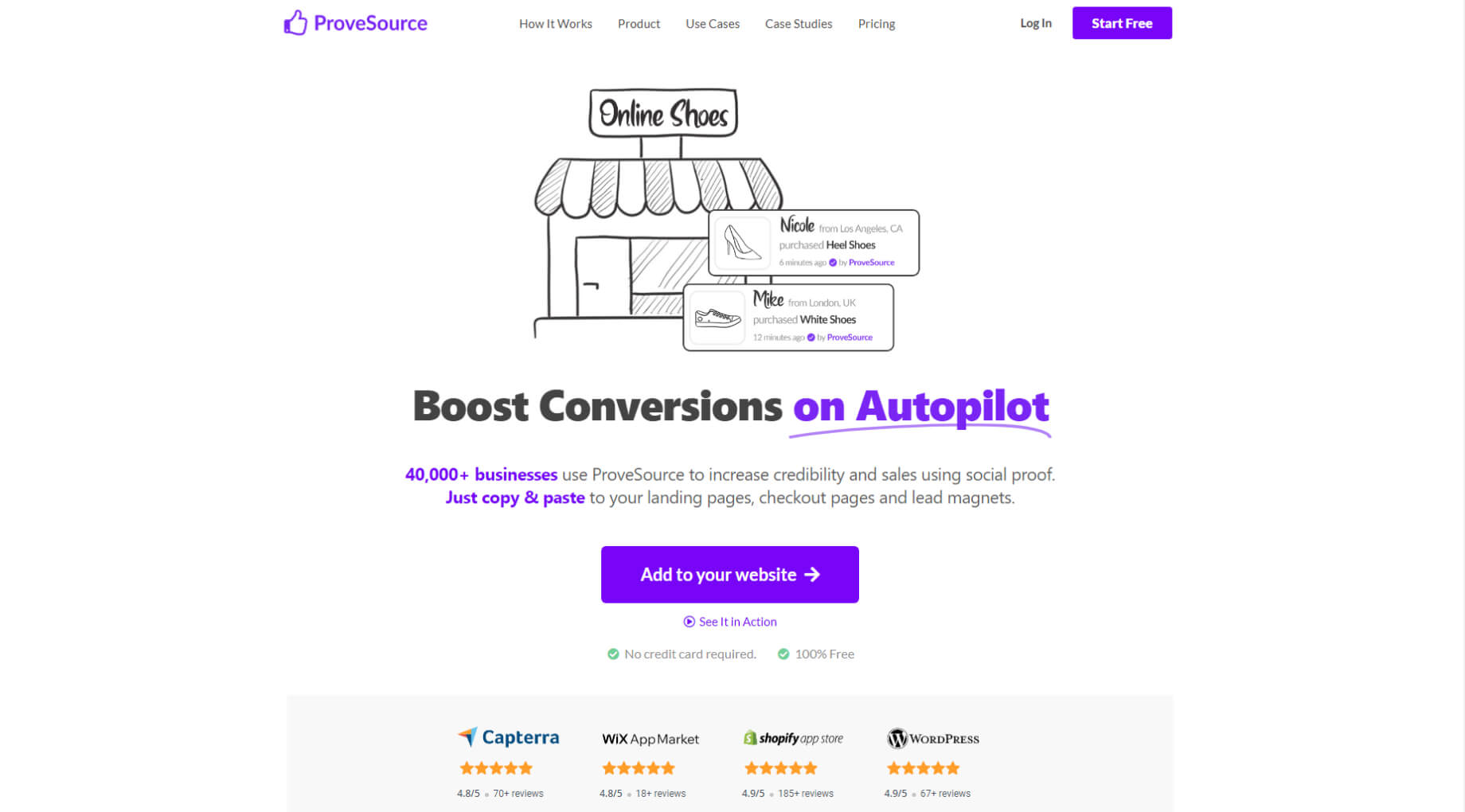 ProveSource is another social proof solution that measures different metrics, including sales, page visits, actions completed by users, and conversions. It's an easy-to-use tool that allows users to add GIFs to social proof notifications.
This tool also includes over 100 different integrations of 3rd party platforms, making it one of the more robust and connected software tools for measuring the metrics. However, it's not intended to connect directly with consumers to seek reviews.
Top Features
Content & Lead Management for landing pages
Reporting and Analytics
Pricing is based on on-site visitors.
Pricing
The pricing structure for this tool is based on monthly unique visitors – allowing you to scale performance as your business grows. The tool is free for less than 1,000 users, then increases gradually with packages starting at $19 up to $99 per month.
Pros & Cons
Pros
They offer a free version for start-ups.
Clean dashboard and easy to track conversion rates.
Good customer support.
Cons
It is mainly a metrics tracking software for reviewing conversions.
Smartphone optimization is lacking.
Limited customizations.
#3 – Boast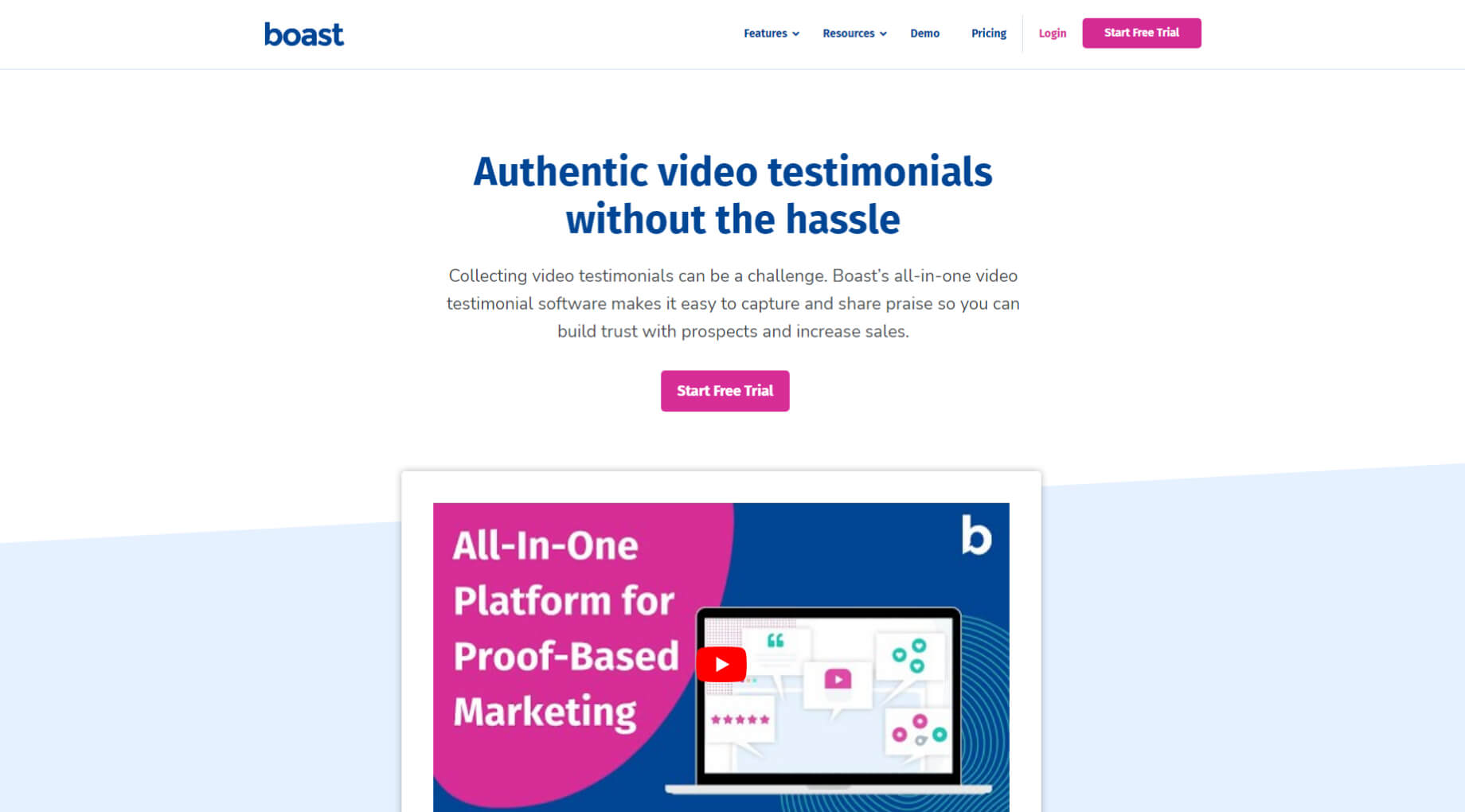 The following social proof tool on our list is Boast – better suited for collecting consumer video testimonials than others on this list. It is designed to improve the process of obtaining video and text testimonials so you can share them via your social media pages. It includes a mobile app that lets customers record their testimonials directly on the application from their smartphone.
However, its main limitation is that it's focused on video testimonials vs. ratings and reviews.
Top Features
Testimonial Ratings: You can add your own ratings for video testimonials.
Automatic Follow-Up: The tool lets you customize a thank you email sent to the user after posting their testimonial.
Weekly Reminders: Boast sends you a weekly reminder to ask customers for video testimonials.
Pricing
Boast offers three different packages based on how many responses you receive. Up to 600 responses start at $50.00 per month. 1,800 climbs to $100.00 per month. Those larger companies and agencies receiving 6,000 responses will pay $208.00 monthly.
Pros and Cons
Pros
Great for collecting video testimonials
Customers can upload videos directly to the app
Cons
One of the more expensive social proof tools
Limited to video testimonials and does not track customer activity
Limited integration to different review sites
#4 – Proof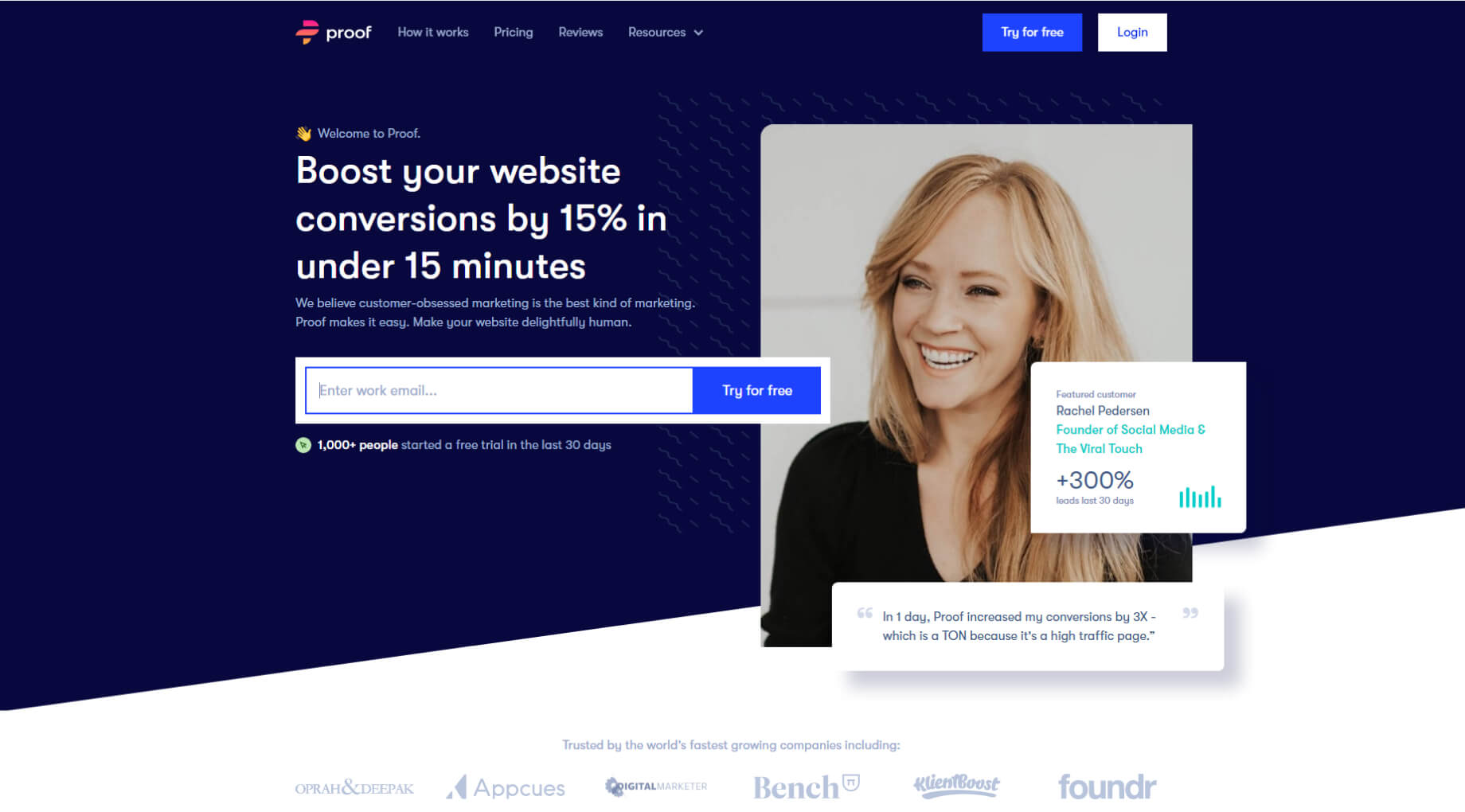 Suppose analytics and live user interaction are crucial for your marketing activation strategy. In that case, Proof is a tool that might be attractive to use. This platform is very similar to ProveSource – where its primary task is to collect data from website visitors to show you and new website visitors their activities that result in conversions. It's easy for users to set up, can be customized for display rules, position, and timing, and is very quick to load.
Top Features
Displays user activities on your website for others to 'follow.'
Showcases the live visitor count
Show the recent activity of users who have taken action on the website.
Pricing
Proof has a unique pricing program – that, like many other social proof solutions, is based on website visitors. The range starts at 10,000 users at $79.00 per month and rises to $299.00 per month for 300,000 monthly users. Enterprise-level clients with more monthly visitors are offered customized pricing.
Pros and Cons
Pros
Very effective at showing new site visitors' conversions of like-minded shoppers
Great tool for eCommerce websites
Customized activity notifications on the homepage and product pages
Cons
Does not guide customers to review platforms
It can be expensive for start-ups
#5 – Provely
Another excellent software solution that is best for online marketplaces is Provely. This social proof pop-up is extremely simple for companies to integrate into their website. In fact, according to the company, it takes about two minutes to populate.
Like a few of our picks posted above, the tool is designed to display website visitors' actions – hopefully inspiring others to follow their leads.
Top Features
3 types of campaigns – Live, Rotate, and Past Data
Shows notifications in real-time or for the desired length
Customized Widget for colors and popup templates
Pricing
Provely, pricing is bundled into three different packages. The price range begins at $17.00 per month for a single domain, rises to $27.00 per month for five domains, and tops off at $37.00 per month for unlimited domains.
Pros and Cons
Pros
Offers unlimited domain coverage
Intended to increase sales on your website
Pricing is more affordable than competitors
Cons
Mainly intended to drive website conversions
Only influences visitors to your website
Does not drive new traffic to your online store
Five Other Social Proof WordPress Plugins to Consider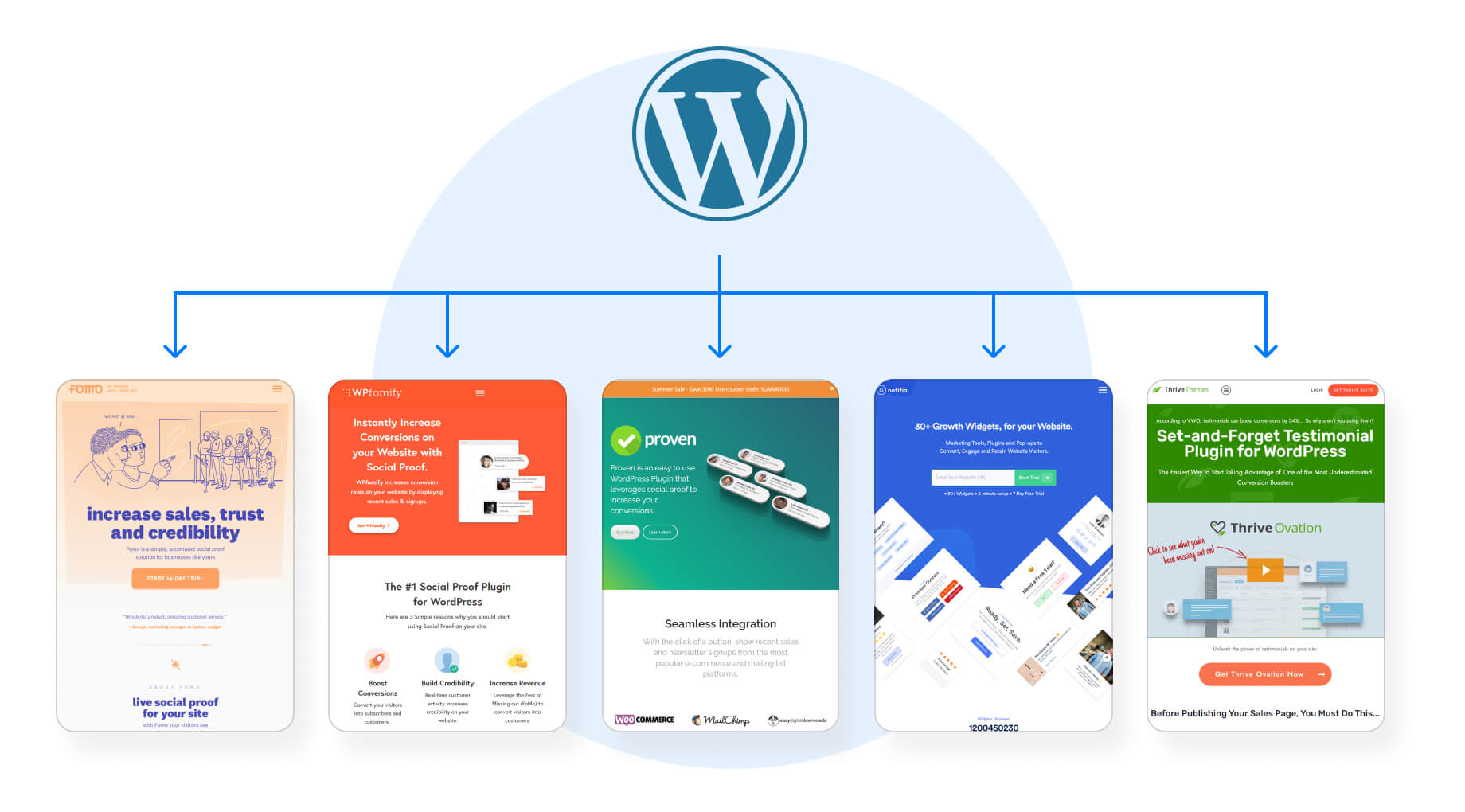 The five software solutions mentioned above are very good at improving your business through social proof strategies. However, suppose you have a WordPress website for your small business with an attached WooCommerce store. In that case, there are some other plugins and widgets you might want to explore that are designed mainly for notifications and online conversions.
Fomo – Starting at $19.00 per month
WPfomify – Starting at $99.00 per year
Proven – Starting at $39.00 per year
Notify – Starting at $9.00 per month
Thrive Ovation – Starting at $19.00 per year
Choosing the Best Social Proof Software Tool for Your Business
As we indicated above, multiple strategies exist for improving your business reputation and implementing social proof marketing programs. However, the key to any marketing platform is to define the goal. If you're social proof psychology is to improve conversions for customers visiting your website, then using one of the plugins that display user activities is a great way to increase direct online sales.
However, the problem with those strategies is that they don't help bring new business to your website. Therefore, it's crucial to increase the number of positive consumer reviews on large-volume online portals like Facebook, Yelp, Google, Amazon, and more.
Before you search for social proof tools, here are a few helpful hints.
Define your goals. Are you looking for direct website conversion improvement or to drive more traffic to the website – perhaps both?
Where do your customers post their reviews?
Where are all your sales channels? Do you have an Amazon or Shopify store, Facebook marketplace, or brick-and-mortar location?
Do you have a database of previous customers who are extremely happy with your service?
Does the social proof tool offer a trial free plan?
Gather social proof statistics that are applicable to your business.
Key Takeaways on Social Proof Software
When you're thinking about choosing a software solution to assist with your social proof programs, make sure they include the following capabilities.
Make it easy to request online reviews, ratings, and testimonials on high-traffic public websites.
Allow you to send these notifications via email or SMS text message to make it easier for the customer.
Be able to customize the messaging to drive traffic to specific channels (like Amazon, Facebook, Yelp, and Google My Business pages)
Have a plugin to showcase top consumer reviews on your website (to improve website conversions).
A software like ReviewsOnMyWebsite provides you with highly effective social proof tools to drive conversions for website visitors and inspire more potential customers to visit your business.