People are not afraid to showcase their opinions in 2023. Whether they hop on Twitter to express concern over a negative shopping experience or post a positive review on Amazon, consumers have become more vocal in airing their opinions thanks to the expansion of online platforms. Proactive businesses understand the value of this online feedback. They often utilize review management software solutions to help increase positive reviews from satisfied customers.
Today's consumer is very likely to follow the actions of others. This marketing concept is referred to as social proof or seeking the input of others when an individual is researching an unfamiliar topic. Review management tools help improve a brand's online reputation by guiding consumers to submit their reviews on popular platforms.
There are multiple customer review management software solutions – some significantly better than others. In today's article, we'll outline the top 5 online reputation management software solutions of 2023. We'll explain their top features, which type of businesses benefit the most from using them, and some critical technical attributes and costs.
We will also provide some important steps you can take to determine which software solution is best suited for your application.
What is Customer Review Management Software?

Whether you operate an eCommerce business or a brick-and-mortar location, driving traffic to your sales funnels and converting those leads into transactions is the best way to increase revenue. This is why many proactive and growing businesses use customer review management tools at their source.
A customer review management software solution permits a company to improve its online reputation by making it easier for customers to leave feedback and showcase these reviews on the companies' websites.
Related Content: Using Customer Reviews in Marketing
Most of the review management tools are automated. They can be customized to fit the business's brand identity, direct consumers to specific review pages, or showcase online activities to stimulate website visitors into action.
5 Best Online Reputation Management Software to Consider in 2023
Being proactive about increasing your digital reputation is an excellent way of beginning a cost-effective marketing program. Online reputation management software is a sound business investment. But which tools offer businesses the best ROI? The five tools on our list each have their own benefits – or are suited for different types of online reputation management strategies.
Let's review the five that you should carefully consider if you want to engage in an affordable and impactful social proof marketing strategy.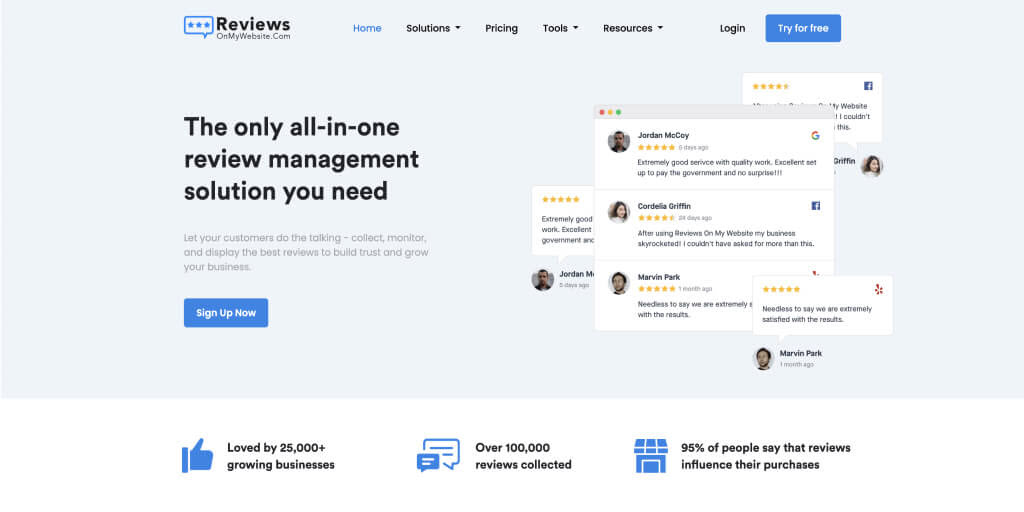 ReviewsOnMyWebsite provides a cost-effective, automated, and adaptable review management solution that allows you to request direct consumer feedback and show current evaluations on your marketing channels.
This customer review software permits a business to contact customers via SMS or email, whichever they prefer. As your client database increases and you begin to data-mine valuable metrics such as where they prefer to buy or use your goods and services, you can customize the tool to direct them to post reviews on those channels.
You may customize the widget to reflect your brand and website design and send review requests to customers to leave a review on Amazon, Google, Facebook, Yelp, and other review platforms. ReviewsOnMyWebsite makes it easier for customers to share their opinions where it matters most for your business.
What Makes this Software Good + For Whom it Works Best?
The best social proof marketing programs require two essential elements. First, a business needs to have a core of satisfied customers willing and able to share their thoughts through star reviews and written feedback on the excellence that the business provides. Second, the business needs to make it easy for a customer to post their reviews on high-traffic review websites.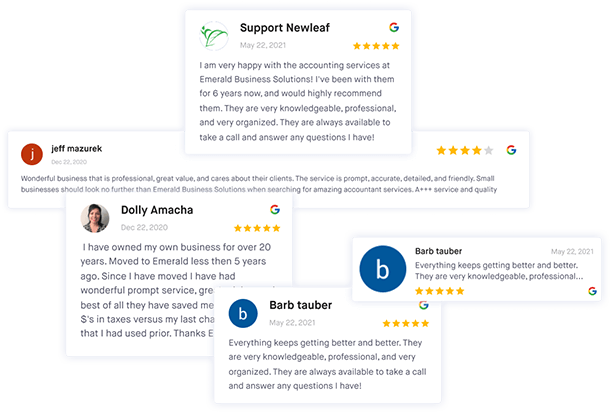 Leverage feedback and reviews to improve your online reputation
Get more online reviews and turn your customers into raving fans with ReviewsOnMyWebsite review generation software.
ReviewsOnMyWebsite is an all-in-one solution that allows you to collect, monitor, and display social proof boosting positive reviews, building trust with future customers, and growing your business.
Once you establish a core of positive reviews on Google My Business, Yelp, Facebook, Amazon, and more, you can activate the second phase of your social proof marketing program – publishing them directly on your website. Since many customers are influenced into an action based on the direct feedback of others, this can increase online conversions, drive more sales, and create more satisfied customers.
It's also an excellent solution for local businesses and smaller companies with limited bandwidth. It includes pre-built templates, which help save money on email marketing programs and can automate review requests to save time.
Technical Information & Pricing
Display reviews from Google, Facebook, and other review sites
Organize your reviews by individual products & services using tags
Embed on any website in a matter of minutes
Boost conversions of new customers by displaying past customer reviews
Help improve SEO by showcasing positive customer experience reviews on a search engine and key websites
ReviewsOnMyWebsite offers a free 14-day trial with no credit card required. Once you test the platform, you can select three package options – ranging from $9.00 to $39.00 per location per month.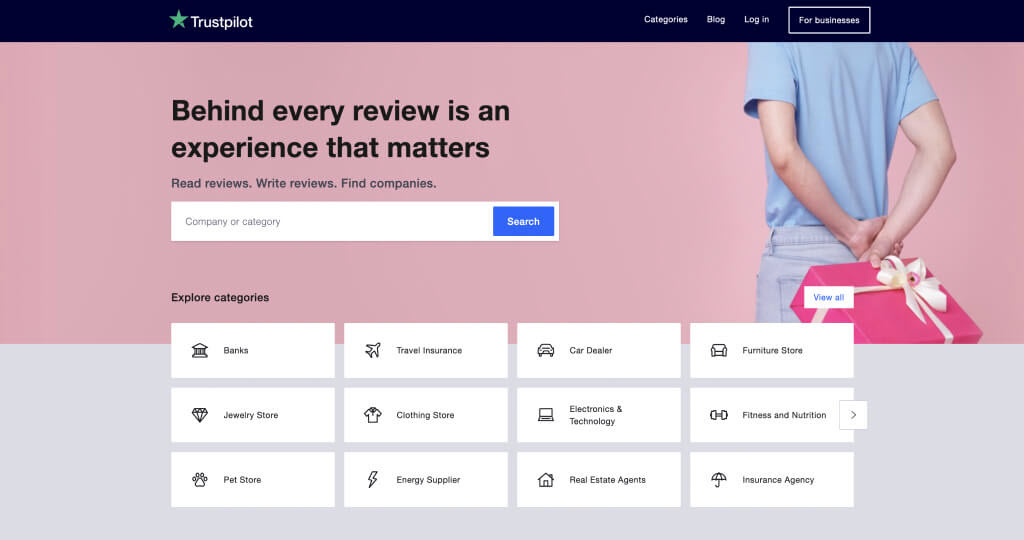 Trustpilot is an online reputation management solution that allows you to collect and display customer reviews through your marketing platform. It is built on a single management dashboard and permits multichannel review generation, customization, and user-friendly management options.
What Makes this Software Good + For Whom it Works Best?
One of the better features is their analytics dashboard, which allows users to review their campaign performances among different review websites. However, these features are only accessible through their premium subscription. Trustpilot is better served for larger businesses that may not be too concerned with the premium subscription costs.
Technical Information & Pricing
Feedback management for positive and negative reviews
Monitor bad reviews and other review requests
Customization and moderation options
Analytics and insights
Trustpilot offers a free service with limited tools. Their standard plan begins at $199 per month based on impressions.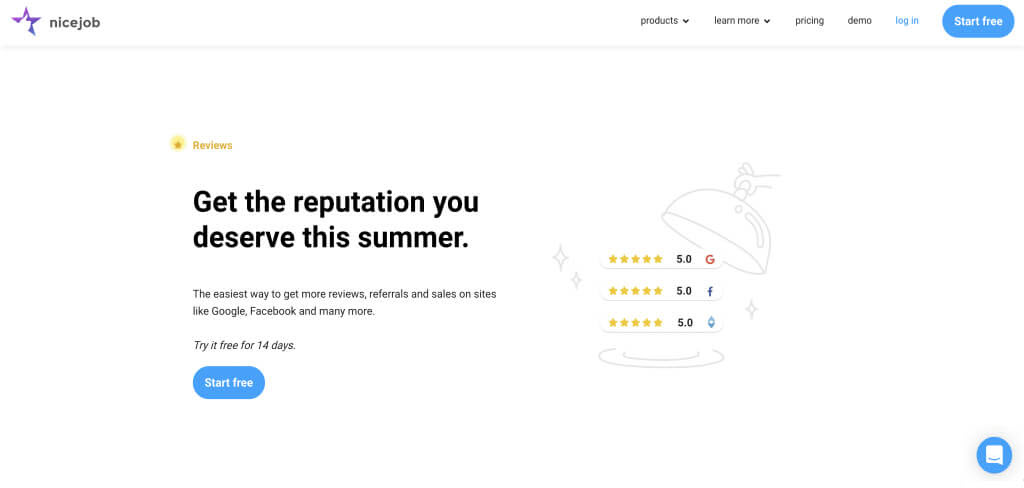 The third reputation management solution on our top 5 list is NiceJob. This cloud-based reputation management software helps a growing business manage reviews, sales, and referrals. It likewise allows the business to send SMS and email requests and distribute reviews to different websites. NiceJob is also automated, so the program offers good results with a few customization clicks.
What Makes this Software Good + For Whom it Works Best?
Arguably the best-selling point of NiceJob is its simplicity in structure. However, if there is a drawback, it may be the complexity of plans and pricing. NiceJob is available on four different levels – each including different user functionality. Additionally, the pricing is also tiered based on the number of customers.
While this might be alluring for some businesses, this tool might be better served by businesses looking to scale their online management progressively.
Technical Information & Pricing
Ease of use
Single management dashboard
Multichannel review generation
Review monitoring dashboard
Feedback and analytics
As mentioned above, the pricing for NiceJob is rather complex. They offer four tiers – up to 2,500 customers for $75 per month, 5000 customers at $95, 9,999 at $145, and 10,000+ starting at $290. Prices increase based on user functionality and additional tools.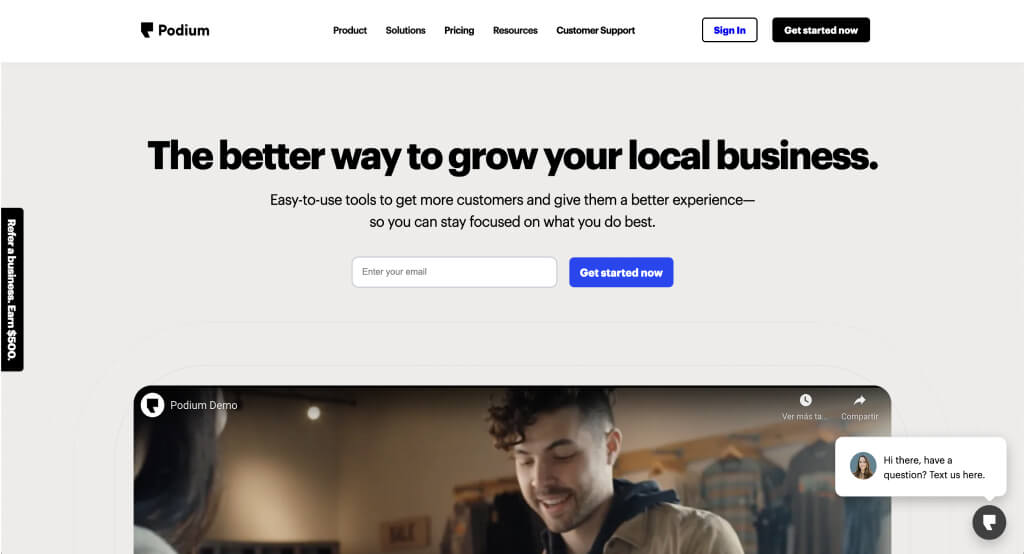 Suppose you operate a home-based business, are a freelancer, or are looking for an all-in-one CRM or customer communication platform. In that case, Podium is a unique offering to consider. Unlike the other tools listed above, Podium is primarily marketed as a complete customer engagement solution that offers webchat, SMS text marketing, and payment processing.
What Makes this Software Good + For Whom it Works Best?
This software is a good option for a small business looking for a single solution for customer engagement. It's mainly targeted at smaller automotive, healthcare, and other service providers who have a need to book and have customers pay for services using SMS technology.
Technical Information & Pricing
All-in-one customer messaging app
Engage with users via social media, email, and text
Accept payment through intelligent credit card readers.
The pricing for Podium is based on their three package options. Their Essentials package starts at $289 per month, Standard starts at $449 per month, and their Professional package begins at $649 per month.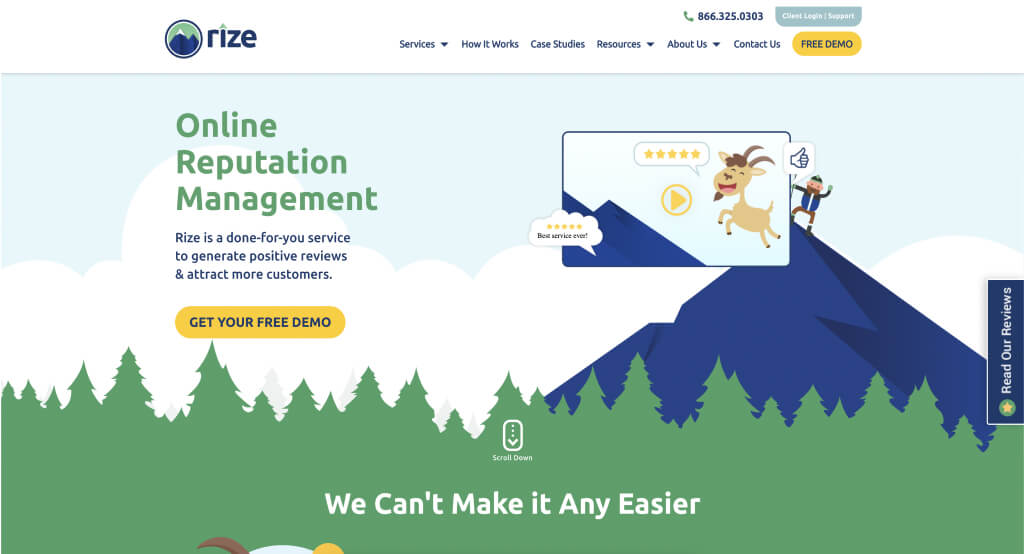 The final inclusion on our list is Rize Reviews. This reputation management software solution helps smaller businesses monitor customer satisfaction, generate online reviews, and collect feedback from customers. Like others on this list, it offers custom brand messaging, connects with users via SMS or email communication, social media platforms and can display top Google reviews and others on your website.
What Makes this Software Good + For Whom it Works Best?
Rize Reviews works for those in small business, home services, medical, legal, and others. It's supported by a team of internal developers with good customer feedback and positive user reviews. However, the lack of transparency with pricing seems to be a concern for those that consider that factor in their buying decisions.
Technical Information & Pricing
Custom messaging features
Custom-built reporting tools
Offers multiple-location or franchise integration
Rize Reviews offers a free demo, but you'll have to set that up and contact them directly to receive any pricing information.
How to Choose the Best Reputation Management Software for Your Needs

When you compare some of the best review management software solutions, you can see that they seem to have similar functions, tools, and customization features. Some are designed for enterprise-level businesses, while others help boost local search and local SEO for smaller businesses. What tends to be the primary variable is the complexity of pricing plans, the level of engagement, and the simplicity of use.
Consider the following steps when you're serious about finding the best online reputation management tools for your individual business.
Step 1: Understand Your Customers
Every reputation management strategy is unique. But they all start by understanding where your future and current customers gather insights about your business. Do they purchase your products from Amazon? Do they prefer to leave feedback on your Facebook page or Google My Business listing?
A good understanding of the review platforms of choice that attract business to you will help you select software that can increase positive reviews on those websites. It can also help you organize your marketing campaigns.
Step 2: Investigate the Details
A great social proof and reputation management platform will include three critical elements. First, you need to constantly collect new reviews from customers. Second, you must continually monitor those reviews and actively engage with users who post reviews on your behalf or are displeased. Quick review response can easily turn a negative review into a positive one.
Related Content: Positive Review Response Examples
Finally, it's essential to drive home consumer confidence by displaying reviews on your website – specifically those that can help drive conversions. Make sure any tool you choose offers these three capabilities.
Step 3: Is the Price Right?
Sometimes a business owner or department manager will consider price as the number one factor when selecting tools. However, the most essential item to consider is whether the tool provides you with a solid return on investment. Always consider the package options offered carefully and consider the following three questions.
Is their pricing simple to understand and transparent?
Does their pricing structure fit your business needs today and into tomorrow? Meaning, is it scalable?
Will you be locked into a long-term contract, or can you cancel anytime?
Key Takeaways on Online Review Management Software
It's estimated that more than 90 percent of all customers who read a positive review published by an individual are influenced to give that business a chance at earning their business. This is the power of social proof and why staying on top of your online reputation is critical.
Automated tools for seeking customer reviews and testimonials are designed to streamline processes. But it's important to set up workflows with review widgets to ensure you take advantage of all their features. If you are looking for automated review management software solutions to increase your online presence, drive more engaged leads to your business, and have a better chance at converting them, consider embracing SaaS solutions like those available from ReviewsOnMyWebsite.