In a perfect world, every customer interaction would result in a profitable transaction for the business and a delighted consumer ready to tell the world about their fantastic experience. But try as we might, it's still common for some previous customers to publish negative comments on one or several popular consumer review websites.
But not all reviews are negative. In fact, when a company stays on top of monitoring the top review websites to quickly respond to a critical comment or potentially negative situation, they have a chance to turn it into a positive experience.
Monitoring the best product review websites and engaging with all previous customers gives all businesses a fantastic opportunity to learn from their mistakes. They can also resolve a customer's negative experience, which does receive notice from your future customers.
So, what are the best business review sites? Are there specific consumer review websites that are business-to-consumer related? And finally, what tools can you use to help boost your positive online reputation and publish those great reviews on your sales platforms? These are all a few questions we'll answer below.
What are Business Review Sites?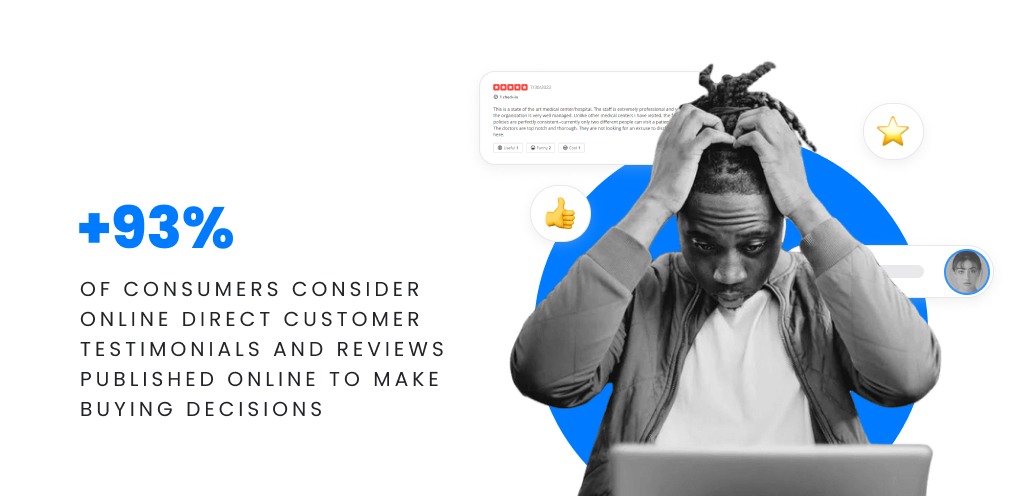 It's estimated that more than 93 percent of consumers consider online direct customer testimonials and reviews published online to make buying decisions. A business review website is an online platform that is targeted at consumers. In several cases, they serve primarily as major online retailers – such as Amazon, primary search engines such as Google, or significant social media networks such as Facebook.
Several of the most visited websites give consumers the power to rate vendors or suppliers who provide services via their platforms. This helps to keep the playing field even and rewards companies that provide positive customer experiences.
Why Reviews on Consumer Review Websites are Important for Your Business
Contrary to popular belief, consumer reviews that don't highlight your business in a positive light are not always bad. In fact, even the worst product review can provide a business owner or manager with valuable insights that help you fine-tune and improve your operations.
There are several reasons why consumer reviews can help any business. Here are three important ways that you may have never considered.
Provides Important Feedback
While star rating reviews assign a scale of satisfaction, a written review extrapolates on that number ranking to provide a business justification for the rating. By reading all published reviews, a brand can identify trouble areas of their operations, product quality, customer service, shipping, or other scope-focused areas.
Suppose a company takes the time to fix its everyday struggles. In that case, it will likely have fewer negative reviews, improving its online reputation.
Turns Negative Reviews Around
It's estimated that more than 85 percent of customers are positively impacted by businesses that reply directly to their online customer reviews.
Even if the review is filled with negativity, the perception of a business manager taking time to thank the customer for their input and taking time to resolve the problem is positive. However, failing to reply to reviews can reverse impact public perception.
Helps Drive More Traffic
When customers are researching new products or service providers online and reading direct customer reviews, they are more likely to visit that company's website to learn more.
In fact, studies show that 65% of consumers reading direct feedback from previous customers online that are positive are more likely to visit that business's website and make a purchase.
Related Content: Using Customer Reviews in Marketing
7 Best Reviews Websites to Collect More Customer and Product Reviews in 2023
Now that we've explained what a review website is and why they are essential to a business's growth, let's introduce these seven best review platforms. We will explain what types of reviews are best suited for these websites and why increasing reviews on these picks is a good idea.
#1 - Google Customer Reviews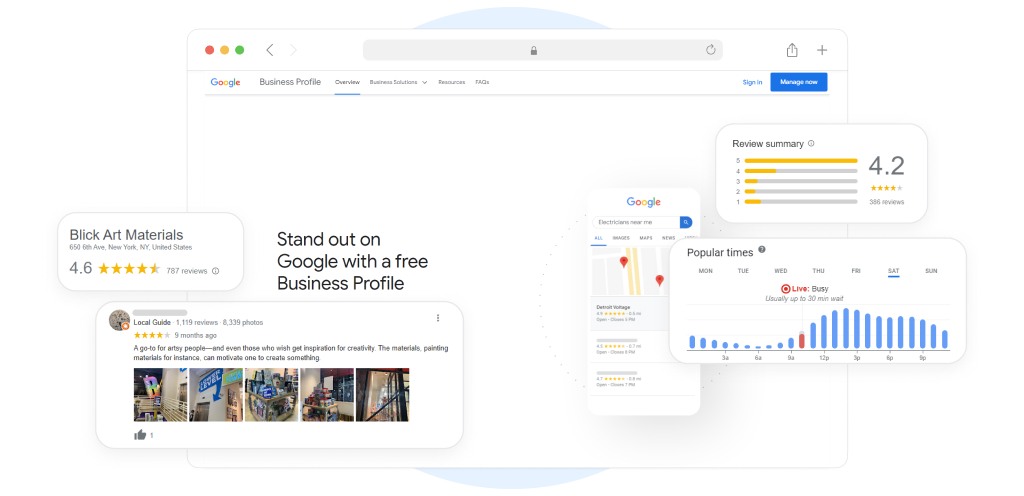 When it comes to full-service, all-inclusive company reviews by customers – it's hard to be the king of the SERPs Google. While this is a relatively new service for Google reviews, it's quickly become one of the most impactful for business growth.
The Google My Business service allows a company to establish a business profile account, verify the location of their business, and provide valuable insights about the goods, services, and solutions they offer consumers. Once the account is established, customers can rate or leave a written product review for others to see.
Related Content: How to Ask For a Google Review
Types of Business/Industries this Review Platform Serves
The top reason Google My Business ranks atop our list is that it's perfect for any business with a physical address that can be verified on Google maps. This allows eCommerce providers, from independently owned to franchise-level entities, to take advantage of this review platform.
Benefits of Collecting Reviews on this Platform
It's free for businesses to sign up and accessible for customers to review
It Helps improve SEO with the more positive reviews published
Easy for customers to publish reviews and read reviews during their Google search
#2 - Amazon Customer Reviews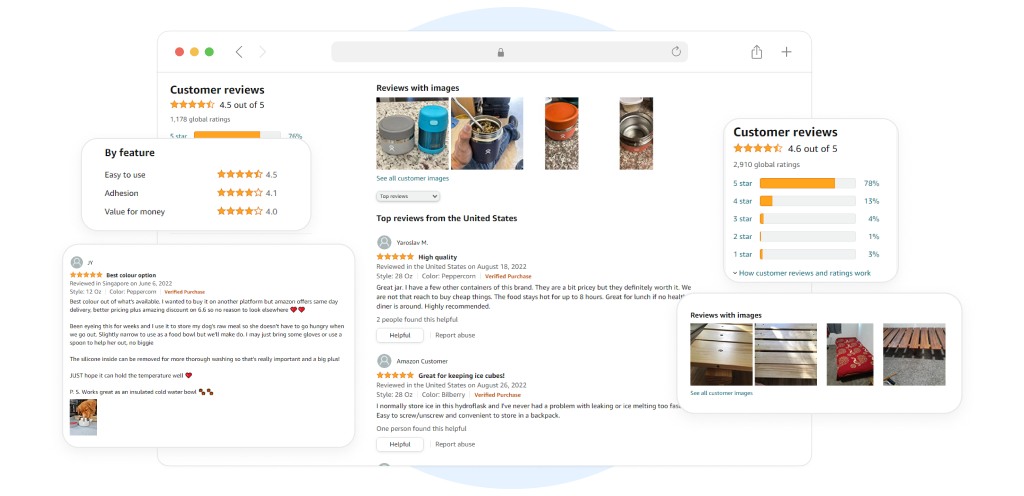 Our next pick for top customer review platforms is Amazon.com. Not only is this eCommerce giant one of the best at fulfillment, target marketing, and returns, but their customer review section is among the most trusted among consumers and business owners themselves. The review section permits verified customers to provide a rating out of 5 stars on the quality of their service and transaction. They can also write a written review about their shopping experience with that seller.
Types of Business/Industries this Review Platform Serves
Amazon's review section is reserved for vendors and sellers who provide goods and services to customers through their fantastic platform. This type of direct targeting helps customers provide direct feedback on their purchases.
Amazon's review service provides customers with reassurance that the vendors and sellers doing business on their website will operate with ethical standards. Because of this, Amazon has quickly become one of the most trusted by consumers and brands alike.
Benefits of Collecting Reviews on this Platform
Helps improve brand reputation for companies selling on Amazon
Can improve sales on other platforms
Gives insights into possible operational problems
#3 - Angi.com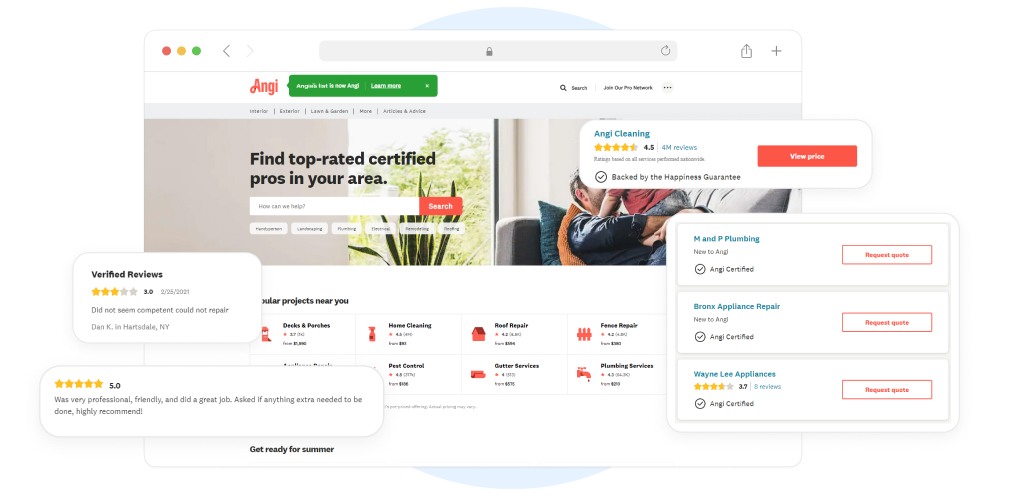 What used to be Angie's List is now Angi.com. It's a service-industry review website that sets a standard for allowing verified consumers to publish testimonials based on their interaction with contractors and businesses providing home-based services.
Since its inception 26 years ago, they have connected with more than 150 million property owners and rental tenants. They have reviewed the functionality and operations of hundreds of thousands of certified plumbers, electricians, carpenters, pool builders, and more.
Types of Business/Industries this Review Platform Serves
This website was developed to help consumers find trustworthy and reliable service providers – mainly those in the home construction and maintenance industries. Today, Angi permits reviews of more than 200 service providers, from movers to furniture refinishing. For customers to leave a review, they need to sign up for an account. This helps improve the credibility of user reviews.
Benefits of Collecting Reviews on this Platform
A business must be a certified home service provider to sign up and engage with reviewers
It's easy to request feedback and reviews directly from the platform
Reviews are verified before being published
#4 - Consumer Reports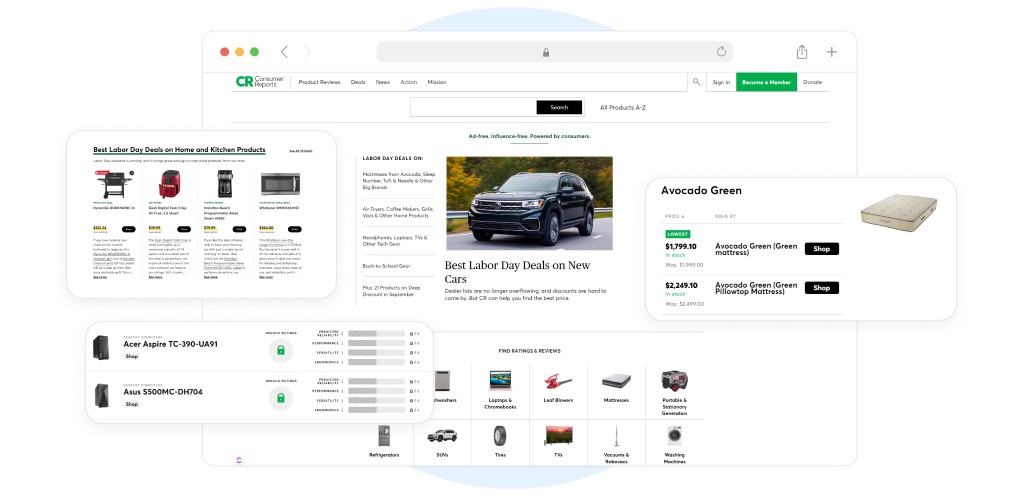 Consumer Reports was founded in 1936 when consumers were inundated with overhyped consumer products, services, and business offerings. It is a non-profit organization that helps to gauge the quality, value, and authenticity of services and goods sold in the United States.
In years past, the reviews were provided by a qualified pool of consumers to provide transparency to the review process. Today, their online platform is supported by 63 testing laboratories, 130+ independent researchers & scientists, and spends more than $30 million on reviewing consumer products.
Types of Business/Industries this Review Platform Serves
This review website is intended for consumer goods manufacturers– automotive, electronics, medical devices, safety systems, and major appliances. It's an education-based platform that removes customer bias–making it a great review platform for businesses who want to have the quality of their goods tested and published to a vast audience.
Benefits of Collecting Reviews on this Platform
Great for manufacturers of consumer goods looking for independent and verifiable reviews
Positive reviews on ConsumerReports.org significantly improve online reputation for companies
Highly trusted by consumers due to its non-profit, independent status
#5 - Yelp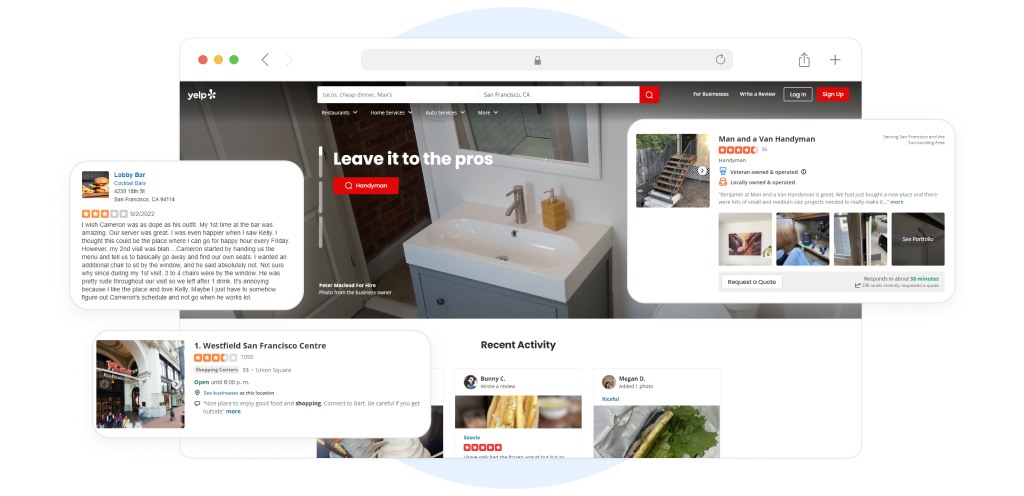 One of the best online review sites for local businesses to embrace is Yelp. This consumer-focused app allows users to publish a star rating or written review for businesses they frequent. The first step is for the business to sign up to permit users to leave Yelp reviews. From the app, new customers can check-in, leave their star ratings, or publish written reviews for potential customers to review.
Types of Business/Industries this Review Platform Serves
It was mainly intended for restaurants and other service providers but has grown significantly in recent years to include multiple business types. The website app focuses mainly on restaurants, home services, auto services, and entertainment venues.
Benefits of Collecting Reviews on this Platform
It's free for companies to sign up for consumer reviews
A great review platform for local businesses looking to target customers in local search situations
Assists helping customers with their local purchase decisions from small businesses
#6 - Better Business Bureau (BBB)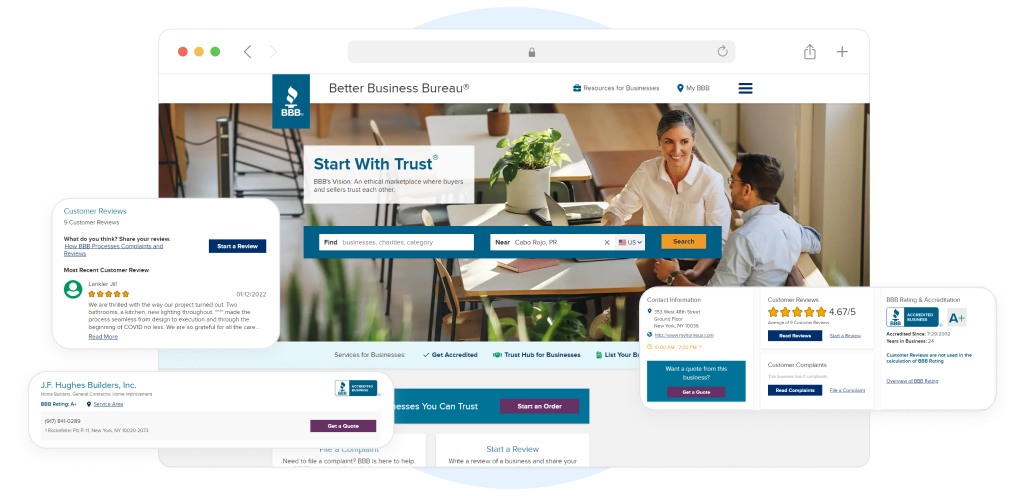 If you're a business looking to ensure you maintain a positive online reputation, having a positive rating through BBB is a critical first step. The Better Business Bureau has been a trusted resource for consumers to report scrupulous or unethical business practices for more than 100 years. Like ConsumerReports, the BBB is a non-profit organization that supports businesses and customers.
Types of Business/Industries this Review Platform Serves
The BBB is an independent source to rate the credibility and ethical business operations of all licensed entities in the United States. They even have an international division. As such, all businesses can benefit from having a positive BBB rating.
Benefits of Collecting Reviews on this Platform
BBB.org is not necessarily a consumer review website. It's mainly intended to provide factual investigations of consumer claims of business misconduct.
An A+ Rating by the BBB significantly improves your online credibility and helps earn consumer trust.
#7 - TripAdvisor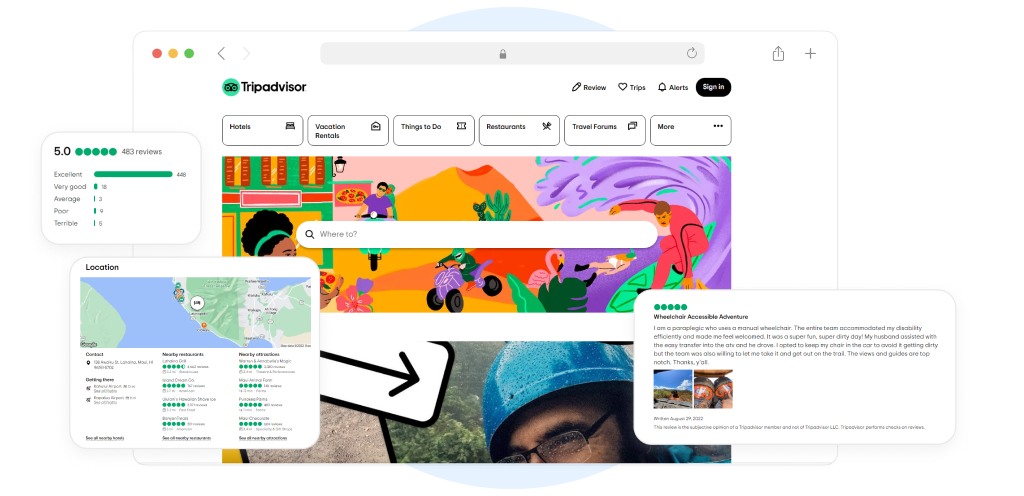 Travel, hospitality, or entertainment industries can benefit from customer reviews on Tripadvisor.com. It's a free online platform for businesses to sign-up. It is considered the most prominent travel website that is visited by worldwide audiences.
Types of Business/Industries this Review Platform Serves
Tripadvisor and its associated websites (more than 15 niche-specific) are targeted to travelers. Their business model allows businesses that meet their operational criteria to be listed on their website. Customers can then provide and review previous rankings and make reservations directly from their platform.
Benefits of Collecting Reviews on this Platform
It's a one-stop shop for hotels, rental car agencies, restaurants, and other travel-industry businesses to have reviews listed and court customers to book reservations.
Permits customers to seek out previous traveler reviews before booking directly.
Some other review websites you might consider based on your needs include Foursquare, Manta (for local referral), your Facebook Page (for customer feedback), Glassdoor (for recruiting employees based on business listings), Yellow Pages online, and Opentable (for restaurants).
The Best Review Sites and Platforms in 2023 Compared
| | | | | |
| --- | --- | --- | --- | --- |
| Website | Monthly Traffic | Type | Cost | Region |
| Google.com | 158+ million | All Businesses with a verified address | Free | Global |
| Amazon.com | 85+ million | Businesses selling products via Amazon | Must be Amazon Seller | Global |
| Angi.com | 5+ million | Service Industry | Free | USA |
| ConsumerReports.org | 13+ million | Manufacturers of consumer goods | Varies | USA |
| Yelp.com | 40+ million | Local Businesses | Free | USA |
| BBB.org | 6+ million | All Businesses | Varies on Size of Business | USA |
| TripAdvisor.com | 28+ million | Travel Industry | Free | Global |
Key Takeaways on Consumer Reviews Websites
While hundreds of consumer product and service review websites are available, these seven represent the top shelf for businesses in their specific industries. While having your customers publish reviews on these websites helps increase your online reputation, proper management of these reviews is more important.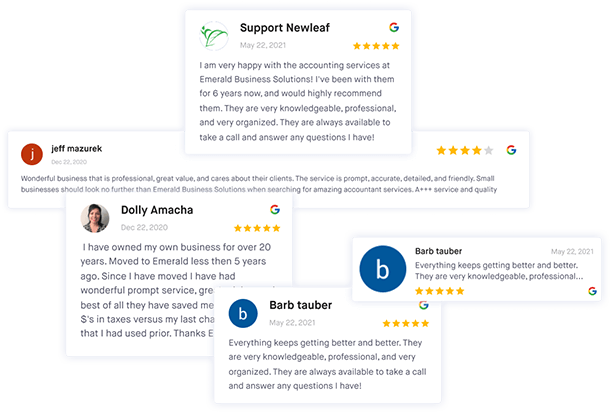 Leverage feedback and reviews to improve your online reputation
Get more online reviews and turn your customers into raving fans with ReviewsOnMyWebsite review generation software.
Businesses can now automate and streamline the gathering of customer feedback thanks to new technologies. ReviewsOnMyWebsite allows you to request reviews from your customers on several of these highly influential websites. Plus, once the customer leaves a review on Google or Amazon, you can easily showcase those testimonials directly on your website.