Your online reputation can make or break your money-making opportunities as a realtor. More than ever, future clients search for online reviews of all service providers they work with daily. This includes real estate agents, as many future home sellers and buyers seek out Zillow reviews from your previous clients. If you're new to online reviews and wonder how to get reviews on Zillow, this article will provide a clear guide.
In the information below, we'll explore some frequently asked questions about Zillow reviews for agents. We will explain how former clients write Zillow realtor reviews, how a real estate agent can proactively seek a Zillow review request of satisfied homeowners, and why managing Zillow reviews for realtors is just as critical as the number of ratings you receive.
Let's get started.
Zillow Reviews for Agents: What they Are and How they Work
When it comes to the top visited websites of future homeowners, Zillow takes the cake. In fact, statistics from 2021 – during the COVID-19 pandemic, Zillow averaged 36 million unique ISP visitors every month. For this reason, among many others, Zillow is regarded as one of the most credible websites for home shoppers.
So, it makes sense that proactive-thinking real estate agents seek consumer reviews on this high-traffic website. This section should clarify if you're unfamiliar with how the Zillow review process works.
A Zillow review is published by a potential, existing, or former client of real estate agents who can rate and write a review on agents published on Zillow. Reviewers can provide a rating – on a scale from 1 to 5 on the agent's responsiveness, local knowledge, negotiating skills, and process expertise.
The rating scale is gauged by whether the user is very likely (a 5 rating) to very unlikely (a 1 rating), with different approval grades. As each user's reviews are calculated, Zillow then provides an average score (again, between 1 and 5) – and is again averaged based on all user ratings for individual Zillow testimonials.
Written reviews are received by users who use an accessible form to enter personal remarks about their interaction with the realtor.
How Good Zillow Agent Reviews Can Help Your Business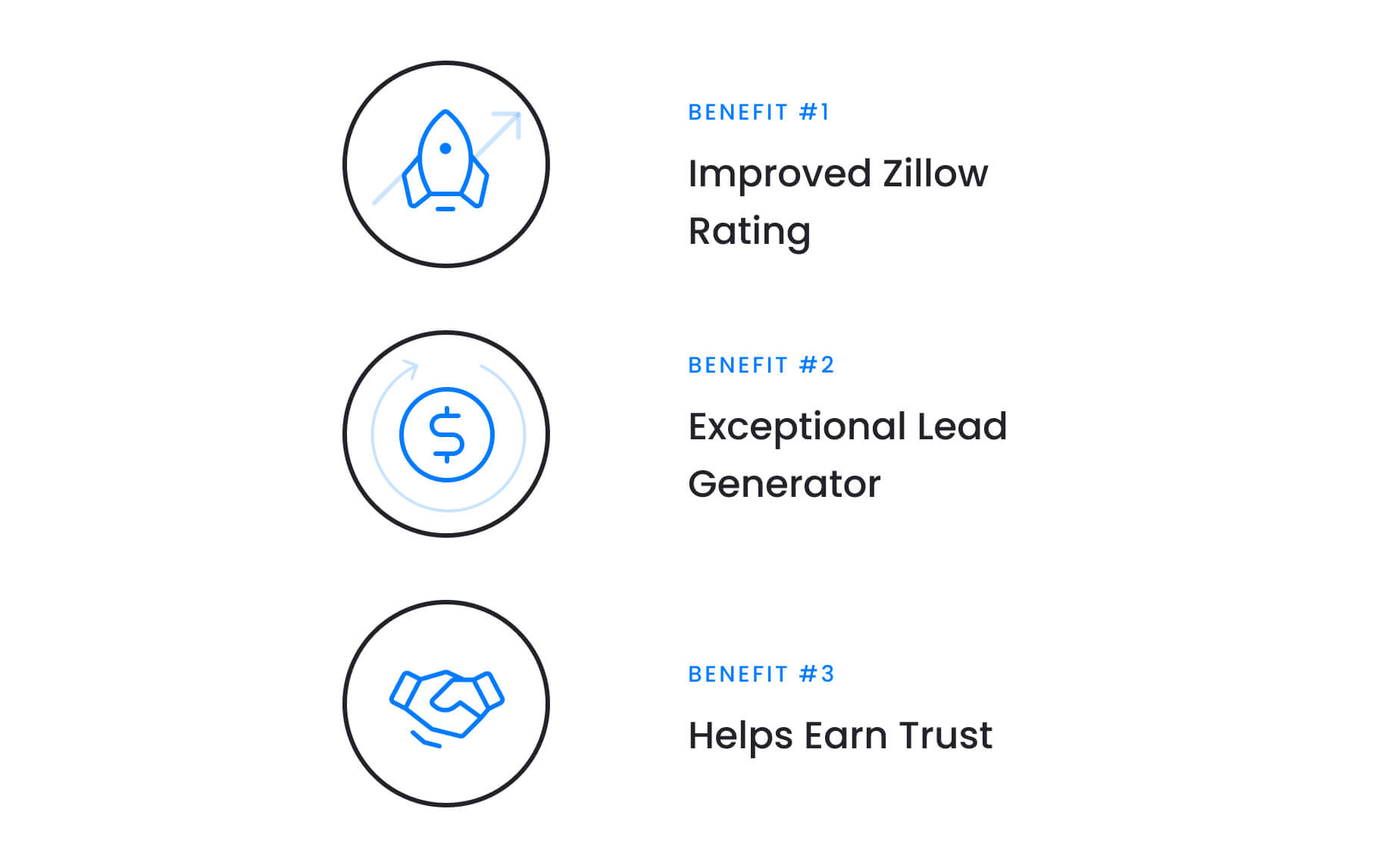 When a future home buyer or seller is searching for a realtor, they are often bombarded by emails, text message campaigns, and sometimes direct messages on Facebook. However, before they sign any contract, they'll likely complete some due diligence to verify that their future realtor is credible, has a proven portfolio, and operates with business ethics.
And like any other major purchase, most consumers will research Zillow reviews as a form of Social Proof to help guide their decision-making process.
Like any other professional review, when an agent has positive Zillow ratings and comments, it helps to improve their standing in the public eye. And the more positive reviews you receive, the more credible they are perceived in the eyes of your future clients. There are several benefits to seeking and receiving positive reviews on Zillow.
Benefit #1 – Improved Zillow Rating
It's a well-known fact that knowing your customer, their habits, and how they make decisions is a crucial sales technique. But did you know that most first-time visitors searching for an agent on Zillow can filter search results of local agents in their zip codes by the quantity and quality of reviews? It's known as the Zillow agent rating system, which rewards top-ranked realtors with higher results on searches on their platform.
While signing up for a Zillow Premier Agent account is another way of boosting your internal rankings, those Premier Agents with more reviews and higher rankings will eclipse others.
Benefit #2 – Exceptional Lead Generator
A central focal point for all realtors – but especially important for newer agents is finding creative ways of generating qualified leads. One easy way of showcasing your skills, experience, and strengths is to ensure you have a robust and diverse portfolio on Zillow.
When you receive more Zillow reviews, your portfolio will showcase the diversity of your previous clients, your success stories, and, more importantly, how you were able to help that specific former client close a sale or buy their dream home. This vital information helps pre-qualify those looking for a serious real estate agent, which leads to higher qualified leads.
Benefit #3 - Helps Earn Trust
We mentioned the concept of social proof and how positive Zillow reviews help to establish this with home buyers and sellers searching for agents. The social proof concept maintains that when people are unfamiliar or uncomfortable in a situation, they seek the guidance of others to help direct their decisions.
With online reviews becoming par for the course with most businesses, this same concept applies to the real estate industry. If you're a Zillow Five-Star Agent, website visitors perceive that you've earned this due to multiple positive reviews from former clients.
It makes sense that when you have more positive reviews and a higher ranking on Zillow's platform, it is more accessible for you to earn the trust of new potential clients.
How to Get Reviews on Zillow in 2022: 4 Proven Strategies
After reading the information above, you're likely thinking: "Great, but how do I ask for more Zillow reviews"? This is arguably the most challenging thing for any business to seek, mainly due to many uncomfortable feelings about soliciting positive published feedback.
When you establish a positive relationship with home buyers or sellers, and you've made or saved them a lot of time, it's easier than you'd think. While a few proven marketing strategies and tools will help you streamline the process of seeking more Zillow reviews, realtors can activate a few simple checklists to their standard closing procedures to accelerate growth.
We also believe that it's a good idea to incorporate some of the similar strategies mentioned in our How to Get Google Reviews article.
Here are four of our best techniques and strategies for improving your Zillow reviews.
Strategy #1 – Claim Your Listings and Sales on Zillow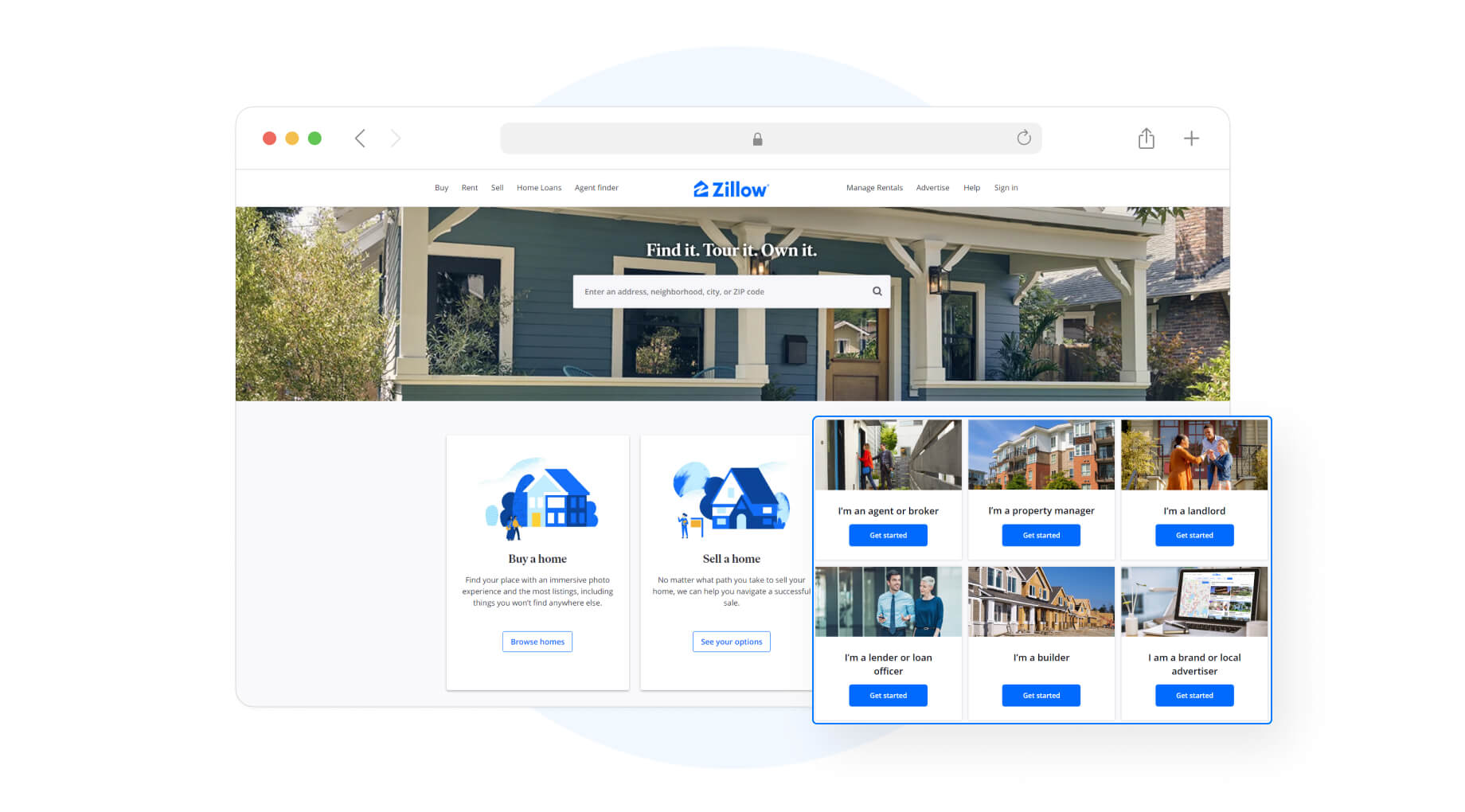 The first step to activating any marketing strategy is to ensure you're prepared to reap the rewards. This begins by ensuring your Zillow account is established and you know how to best use their tools as a resource. Zillow permits realtors to claim their recent sales and listings published on their platform – which links these success stories to your portfolio.
Here are a few of our pro tips for activating this strategy.
Pro Tip #1 – Don't Assume This is Automated
Zillow is an excellent platform for realtors – but many of the action items you'd assume are automated simply are not. If you work for a large brokerage firm, you likely have a dedicated marketing specialist that will link your sales and listings to your Zillow corporate account. However, if you operate a smaller or independent firm, you'll have to do this on your own.
Pro Tip #2 – Add it to your Closing List
Each realtor has a considerable punch list of items that must be verified and completed during a closing. While this might add an extra step to your closing list, it's well worth the effort.
Pro Tip #3 – Ask Peers for Guidance
If you're new to Zillow, don't be afraid to ask your peers or mentors to help claim your sales and listings on Zillow. Find out how they complete this step, so you can save some time with research.
Strategy #2 – Host a Client Event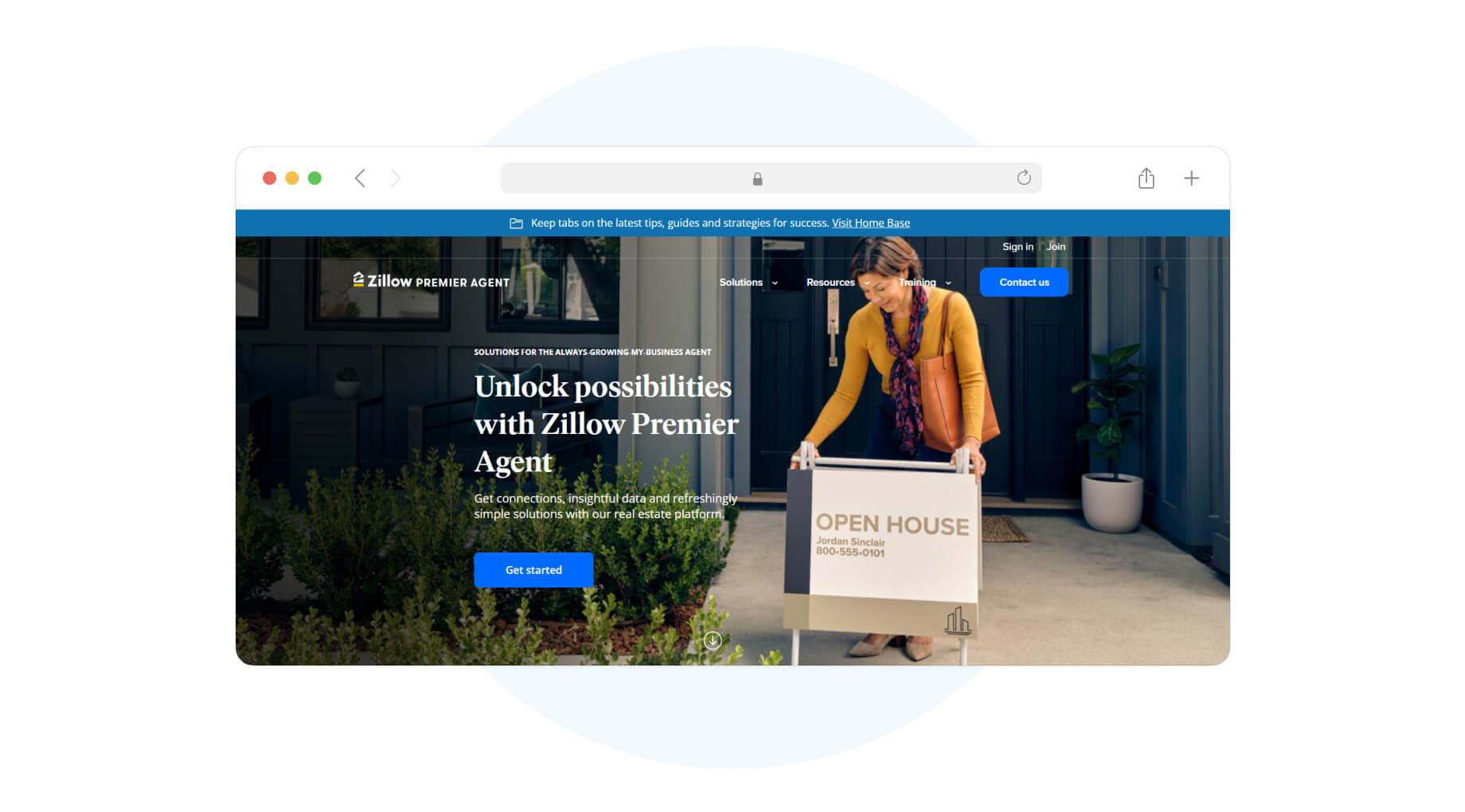 Many real estate agents will host open houses for their clients at their office, a restaurant – or another client's property listing. These client appreciation parties are generally luncheons or brief social get-togethers. You can treat your former clients and allow everyone to network. This represents a fantastic opportunity to ask these satisfied clients to post a review on Zillow.
Pro Tip #1 – Invite Clients. You've Established Strong Relationships
Suppose you've been a real estate agent for a while. In that case, you understand the value of building strong relationships with homeowners and buyers. The main reason is that they'll go out of their way to help you when you've helped them sell or purchase a property quickly. If you're going to ask people to review you on Zillow during a social event – these are the first people to invite.
Pro Tip #2 – Set Up Your Laptop
Make it easy for your attendees to post a review on Zillow by setting up your laptop before the event. Open your browser to Zillow, but ensure you've logged out of your own account. You can ask them to sign into their account if they choose or post a general review as a guest.
Strategy #3 – Request a Zillow Review Request Template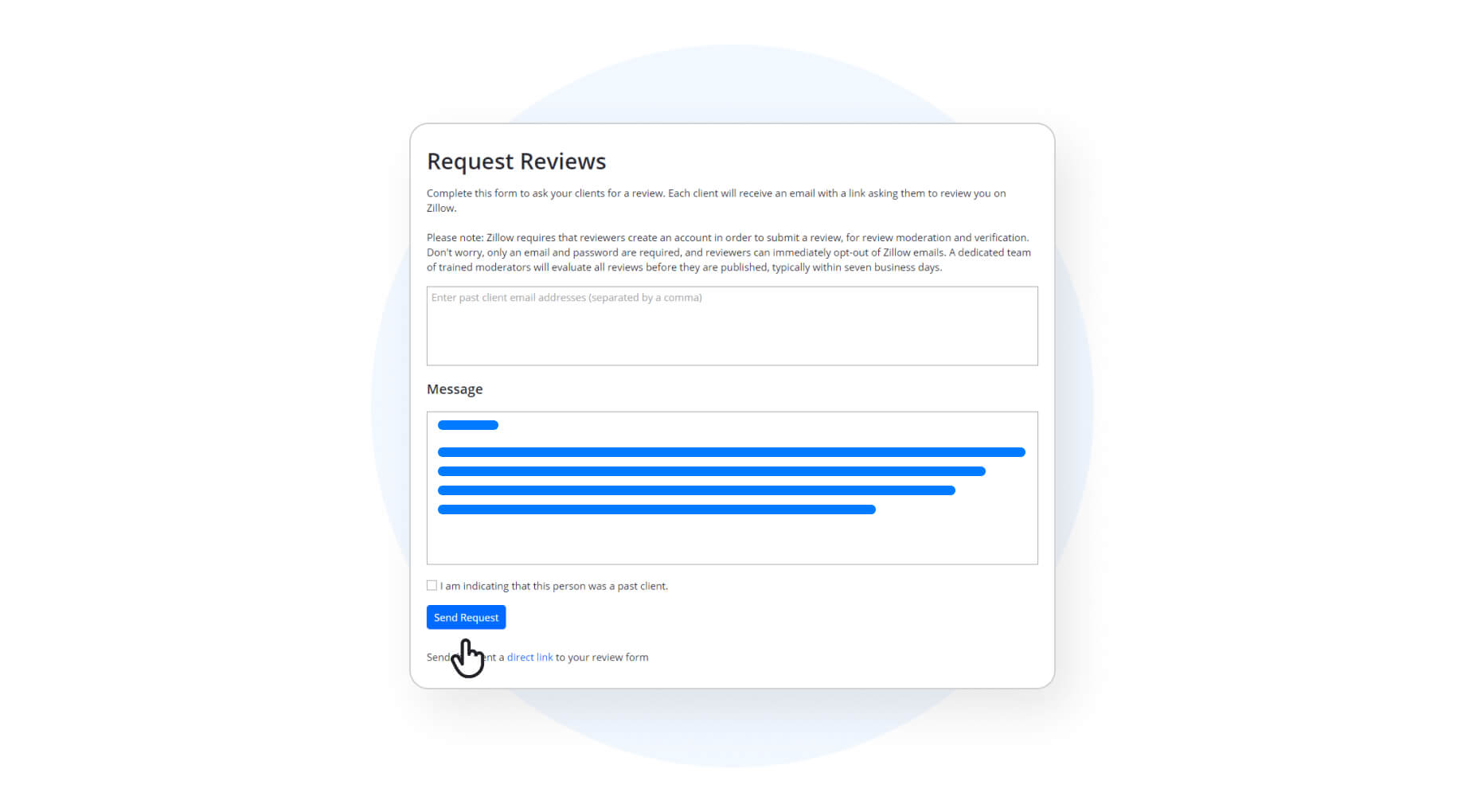 Zillow is more than happy to help its agents improve their standing on their website – especially for their Zillow Premier Agents. One of the easiest ways of increasing your Zillow review is to request a free Zillow agent review link template. The process is straightforward – and we've listed the steps below.
Pro Tip – Follow these Easy Steps for Requesting a Zillow Review Template
Here are the steps for setting up your Zillow Review Request Template
Login to Zillow Premier Agent
Click on Agent Hub Profile
Click on the Profile button
Click Review Request
Scroll to the bottom of the page
Click on small Send the Client a Direct Link
Copy the direct review link from the pop-up window
From this point, you can use this link in future activation strategies – including the two mentioned below.
Strategy #4 – Use ReviewsOnMyWebsite to Promote Zillow Reviews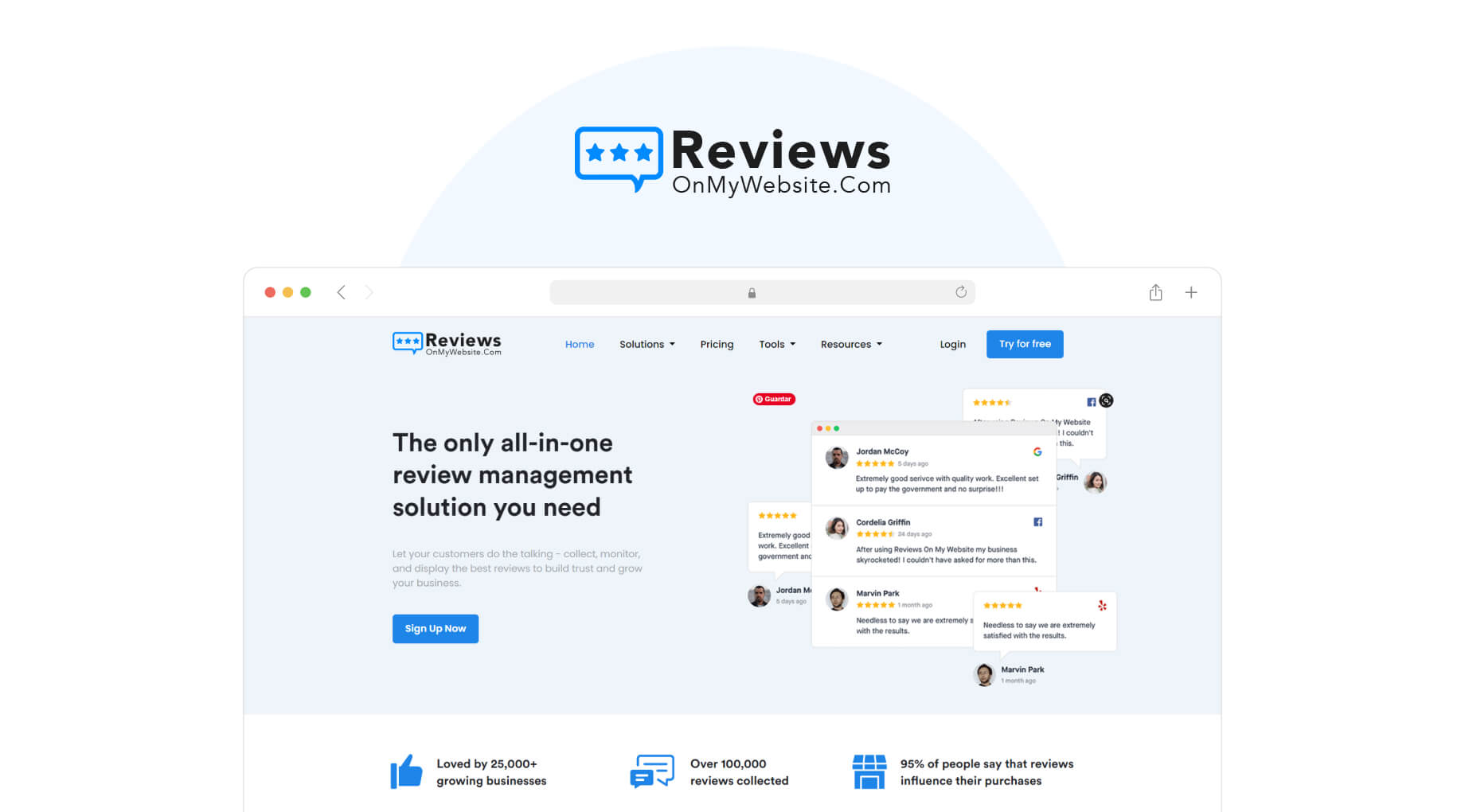 The strategy above is a great one – for those who are Zillow Premier Agents. But what if you haven't signed up for that premium service? The truth is that the link that Zillow provides can easily be self-populated, then used in conjunction with a reputation management software like ReviewsOnMyWebsite.
ReviewsOnMyWebsite has an effective automated solution that allows you to request reviews on popular websites like Zillow. As you build your customer database of clients you've successfully engaged with, you can use the software to contact them via email or SMS – whichever your customer prefers, to request reviews.
Here are three tips for using this service to help boost your online reviews.
Pro Tip #1 – Drive Traffic to a Customer Feedback Page on Your Website
ReviewsOnMyWebsite will provide you with a personalized landing page with direct access to particular sales channels - like Zillow, Realtor.com, or others you've established accounts and use for marketing purposes. At that point, the client can choose which platforms they'd prefer to write a review on.
Pro Tip #2 – Ask for Written Reviews via Email Marketing
With ReviewsOnMyWebsite, you can seek written reviews on your Zillow profile page from customers who have previously worked with you. This tool is excellent for creating a section in your weekly or monthly email marketing campaigns - with an embedded link to your Zillow page.
Pro Tip #3 – Send SMS Text Messages to Mobile Device Customers
For customers that would communicate with you frequently via text messages from their mobile devices, consider sending an SMS / text message requesting them to write a review. This will allow them to click the link and write the review in one easy step.
How to Maintain Good Zillow Realtor Reviews: 3 Practical Tips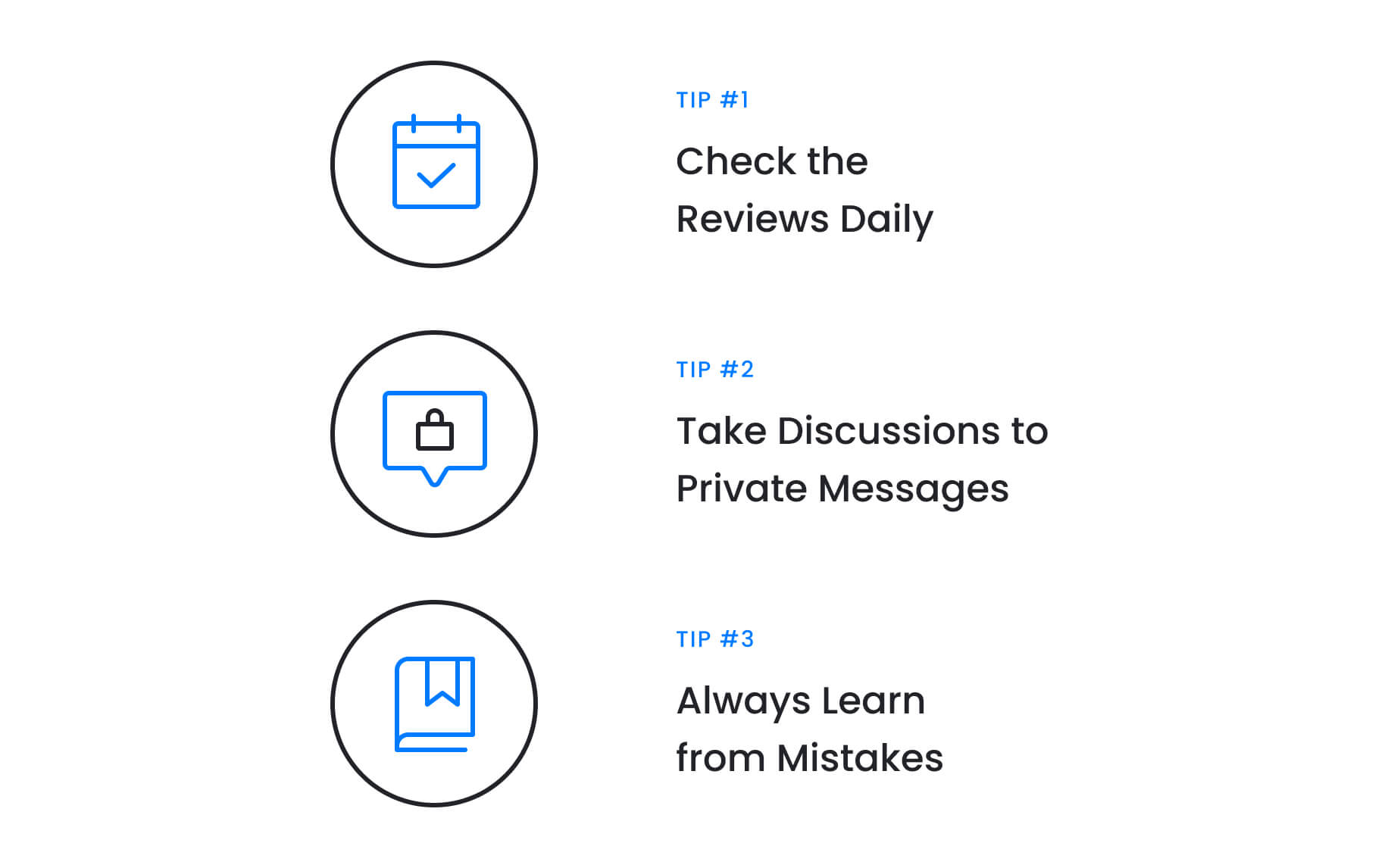 Hopefully, you've learned how to improve your Zillow reviews and ratings from the information above. However, not all Zillow reviews will paint a glowing image of your services. As hard as you try, it's nearly impossible to please everyone. Negative reviews are simply going to happen occasionally.
But believe it or not, a negative review can be transformed into a win for you - when you can handle it professionally. And you must manage your Zillow review page to ensure that any negative postings are dealt with timely.
Here are three pro recommendations to help you manage the review page and convert negative feedback into constructive comments.
Tip #1 – Check the Reviews Daily
The first advice for maintaining a successful Zillow profile is to schedule time to check your Zillow profile for new information or consumer comments. Individuals trust real estate professionals that put their needs first and address their concerns. The most straightforward approach to demonstrate this is by reacting promptly and courteously to new reviews, whether they are positive or negative.
Tip #2 – Take Any Discussions to Private Messages
Any business owner cares about their company's reputation, whether large or small. Some customers write reviews that include personal attacks, which can be challenging to read. It is natural to want to defend yourself, but it is best to resist this urge on the internet.
If you experience this, apologize for the inconvenience, and inform the customer that you're sorry they had a bad experience. Please have them contact you directly at your company's business email address or through a private message to discuss this issue further.
No matter what, don't follow in their footsteps. This will lower how others see your customer service excellence and ability to resolve conflict - something every real estate agent must master.
Tip #3 – Always Learn from Mistakes
Criticism can be tough to hear, but it's essential for business success. Zillow reviews are a great way to stay in touch with your customers' wants and needs. When you receive less-than-positive feedback, use it as an opportunity to make changes so that the issue doesn't arise again.
Here are a few specific tips.
Before anything, scan the negative posts for a pattern. Sometimes there is validity to the user's comments – so take a step back and look at how they perceived your interaction.
Second, make improvements to your company to minimize the most common blunders.
Finally, always follow up with dissatisfied customers to let them know the problem has been addressed. Do this publicly so that your Zillow page visitors will see how considerate you are about your company and customer comments.
Key Takeaways on How to Get Zillow Reviews
The significance of making it simple for consumers to leave Zillow reviews should be clear after reading this article. However, making these modifications, sending them to clients, and monitoring comments online is the real challenge, even for the best multitasking realtor.
The good news is - you can use technology to simplify and automate the collection of consumer feedback and posts on Zillow. ReviewsOnMyWebsite provides a solution to save you time, whether creating an automated widget that displays current reviews on your websites or providing automated template solutions that enable consumers to post reviews on Zillow with a click of a button.
Contact us today if you'd like to learn how to get reviews on Zillow with ReviewsOnMyWebsite.
FAQs
How to ask for real estate reviews on Zillow?
There are several ways to ask for real estate reviews on Zillow. The first tip is to send an email to all of your clients with a link to your Zillow review profile. Second, you can send them text messages with that direct link via a platform like ReviewsOnMyWebsite. This will make it easier for you to send multiple requests simultaneously. Plus, it makes it easier for clients to post their experiences on Zillow.
When is the right time to request reviews on Zillow?
Many real estate marketing experts suggest that asking for a review as part of your closing process is the best time to request the review. When you have recently found the home of your client's dreams or made your clients a lot of money by getting more than they sought, they will likely be more inclined to post a Zillow review on your behalf.
How long does it take for a Zillow review to show up?
A few days. Zillow is a great place for agents to seek reviews from their former and current clients, mainly since it's very credible. But it's also a great website because its admins take time to carefully vet and review posts listed on an agent profile for spam. All posts are reviewed for two to four days until a human editor approves the review. Zillow website is regarded one of the best for agents since Zillow offers this quality control service.
What if a Zillow review gets rejected?
Suppose a Zillow review is rejected by the editors and admins on that website. In that case, the user will have to attempt a second post or rating. Zillow reviews are held in moderation and manually approved by an editor. If the review is not approved, it is likely due to spam, embedded links, or aggressive language in the post. Regardless, any rejected review is permanently deleted.
Can you buy Zillow reviews?
No. In fact, it's against the terms of service for agents to pay people to publish reviews on their profiles. The best way to increase your Zillow reviews is to email your clients directly, send them SMS text notifications, or have a clickable link on your website. It is also helpful for the agent to provide superior service to increase the chances of positive reviews.
How to get Zillow reviews on WordPress?
There are a number of online solutions that offer embeddable widgets that permit you to publish Zillow reviews on your WordPress website, such as ReviewsOnMyWebsite. It allows you to automatically send requests for more Zillow reviews from previous and current clients. This makes it easy to publish reviews from multiple social media platforms on your real estate website. It also creates an effective and organic lead generation tool.
How to get Zillow reviews to show on Google?
Unfortunately, linking Zillow reviews from referrals to your Google My Business profile isn't a feasible option. Google does not allow businesses to import customer reviews from other sources since each review site has slightly different forms and expectations. If customers are made aware that you would appreciate a review on Google, they may be more likely to leave one. ReviewsOnMyWebsite gives you multiple opportunities to seek star reviews for your real estate business from clients on multiple platforms.
How many reviews do you need on Zillow to get a rating?
Zillow allows past clients to submit two types of reviews. They can enter a free form comment, or they can complete a survey, which assigns several ratings for questions asked of the user. The scale ranges from 1 (less likely to recommend) to 5 (highly likely to recommend). After all, ratings are received and averaged together to produce an overall rating. There are no review quantity requirements to meet this standard.