When trying to build your business's online credibility, you'll often start by creating a Google My Business profile.
Not only does this introduce your services to local customers, but it also offers them a secure platform for leaving positive feedback or Google reviews.
However, not all reviews on Google are positive. This inspires many business managers to often wonder how to delete a Google review for your business.
A bad Google review is not going to make or break your business.
But when fake Google reviews are posted by online trolls or those who simply enjoy making others look bad, there needs to be a way for business owners to defend their online reputation.
Fortunately, Google understands this reality – and offers a few ways to learn how to remove a Google review.
So if you've always wondered how to delete a review on Google - this article is for you.
In the information below, we'll answer the question – can you delete a Google review? We will explain how you can delete posts or replies you've made, how to file a dispute on an alleged false Google review and provide a few examples of what Google considers inappropriate reviews.
Can You Delete Google Reviews?
The short answer to this question is - sometimes.
Google reviews for business ratings, reviews, or negative complaints can damage businesses, especially those trying to establish a solid online reputation.
But just because someone does not believe your company, services, or products meet their expectations does not mean you have the right to silence their opinions.
Google understands and appreciates the right to free speech we enjoy in the United States. And for many business owners, a less-than-positive or negative Google review may damage their growing enterprise.
Still, many businesses ask how to get a Google review removed? As much as you'd like to have these types of reviews removed from your profile, that's just not possible. However, you can turn those negative opinions into positive reviews by responding to and handling their feedback.
The good news is that you can dispute a Google review if it is something you posted or is questionable with regards to Google's standards of being appropriate. However, the process is not easy and can be frustrating.
10 Types of Inappropriate Reviews According to Google
Like any central online portal, Google has a rather impressive list of terms and conditions. This applies to the types of Google reviews permitted on their platform. Google makes it very clear that inappropriate feedback is not acceptable on their service. But what qualifies as inappropriate that may get flagged – automatically or through user request?
Here are 10 of the most common inappropriate reviews, according to Google.
Most of the post's content is manufactured to push a narrative and deceive visitors into thinking one thing. It's also possible that some users may be rating your listing for the wrong reason, for example, if you're part of an SEO campaign or attempting to improve your commercial profile.
Off-topic posts, like political commentary or personal rants, are not specific to the discussion.
Promoting any action or item that breaks local laws, such as alcohol, gambling, guns, pharmaceuticals, adult services, and more.
Content that is illegal or shows illegal activity, such as copyrighted content, products made from endangered animals, graphic violence, human trafficking, etc.
Terrorist in nature.
Content that is sexually explicit or in any way sexually exploits children.
Content that is considered offensive, obscene, or profane.
Dangerous, considered harassment or intimidating, or that incites hatred.
Misrepresenting oneself or impersonating another.
This includes posting reviews of your business (or having a current or former employee do it for you) and trying to manipulate a competitor's ratings.
How to Delete Google Reviews for Your Business in 4 Steps
We teased this earlier but removing a review from Google is not easy. However, if you are the owner or manager of a business with an established My Google Business page – and you suspect a negative review (or false one) – there is a four-step process for requesting removal.
Step 1 - Respond to the Review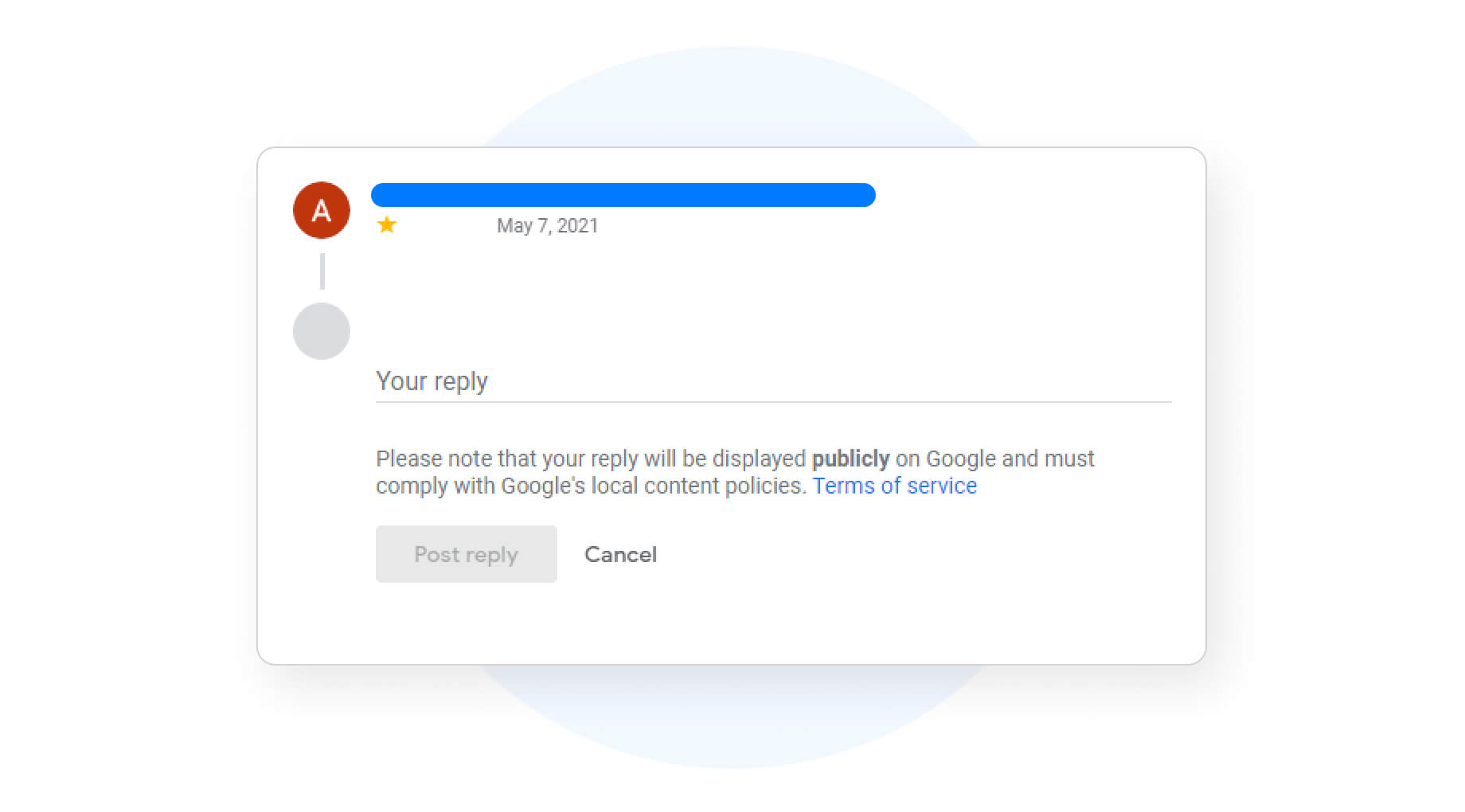 The first step you need to make - with any potentially harmful review - is to respond directly to the user's comment. As a business owner, you should take the first step of responding to the reviewer if you want them to remove their Google review. If you maintain professionalism, address their concern, and determine if there is a way you can resolve their problem, they might voluntarily choose to delete their review.
This is your best-case scenario, as others will see your reply as being proactive, respectful, and compassionate of the user's concerns (if it's a legitimate gripe). Here are a few tips for responding to negative reviews.
Always respond kindly. Thank them for taking the time to leave feedback on your Google profile.
Engage with a positive tone. Resist the urge to get defensive. Also, never make it personal or attack the user.
Always apologize for their inconvenience and see if there is something you can do to resolve their issue.
Keep the response brief and to the point.
After your initial reply is nearing the end, encourage the user to contact you through a private channel. You NEVER want to resolve the issue or publicly engage in a further conversation.
These suggestions might be the missing link and help you avoid a bad review being withdrawn or remaining intact. When you can request that they contact you directly so that you can further investigate the problem that prompted them to give you a negative review in the first place, it will always be seen as positive. If they respond, make every effort to assist them to have a good experience while shopping with your business.
Step 2 - Flag the Review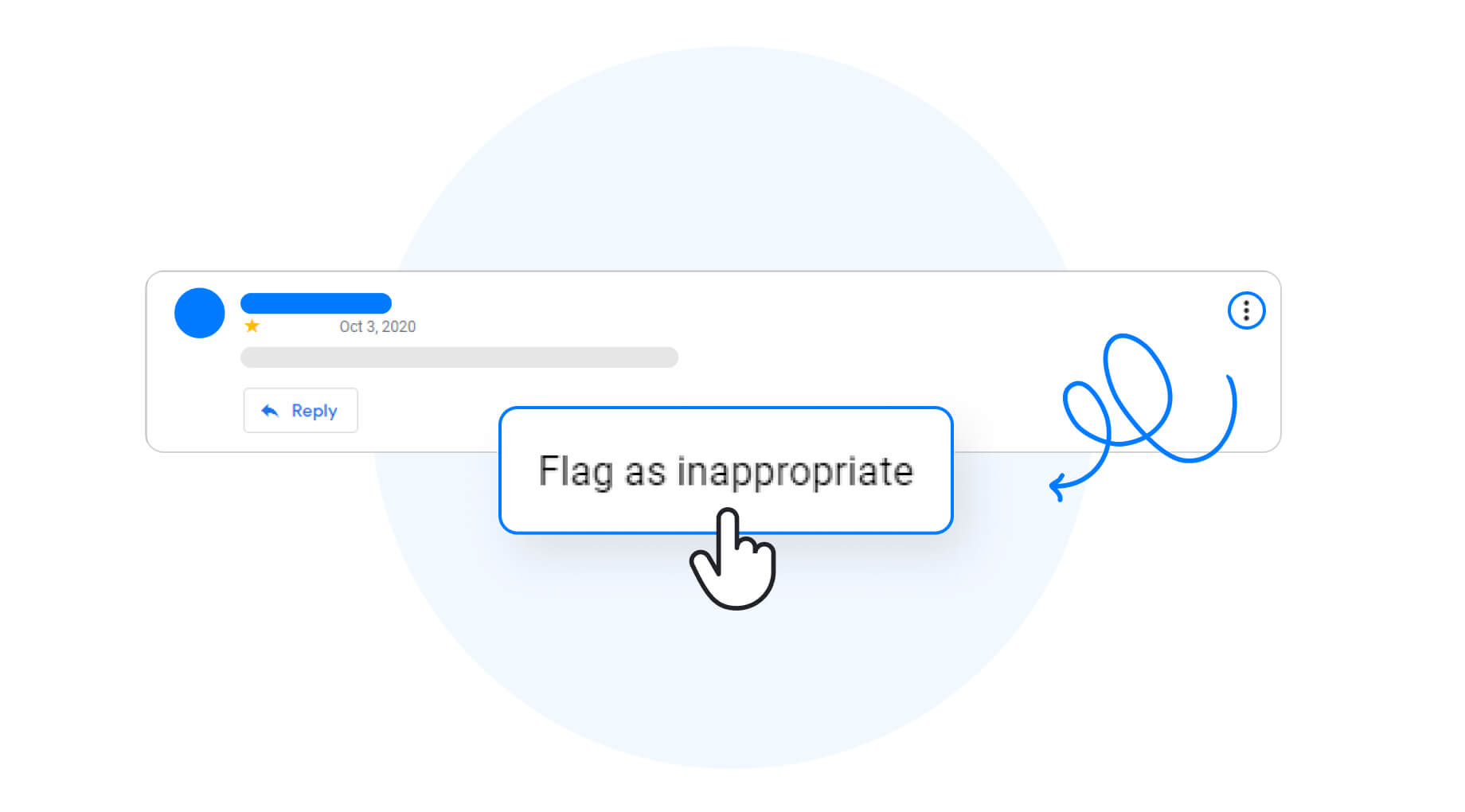 Suppose you've taken the proactive step to attempt and resolve the negative review but believe it to be fraudulent. In that case, you can request to have Google flag and remove it. If a review you've received is fake, inappropriate, or promotes one of your competitors, flag it for Google to review and potentially remove. Only those reviews that violate Google policy will be removed.
Follow these steps to flag a review:
Log into your Google Business Profile.
Select the location that received the false review (applicable when you have multiple businesses listed on Google).
In the menu, select "Reviews."
Find the review in question.
Click the three-dot menu, then select "Flag as inappropriate."
It may take several days for Google to look at your request and decide whether you should have your Google review deleted. If possible, ask others to flag the review as well since this might raise more awareness about a scathing review and get Google to remove it.
Flagging a review and/or defending yourself against unjust remarks may sometimes result in it being erased. However, automatically flagging does not always resolve the problem. You may have to engage in a further step.
Step 3 - Contact Google Small Business Support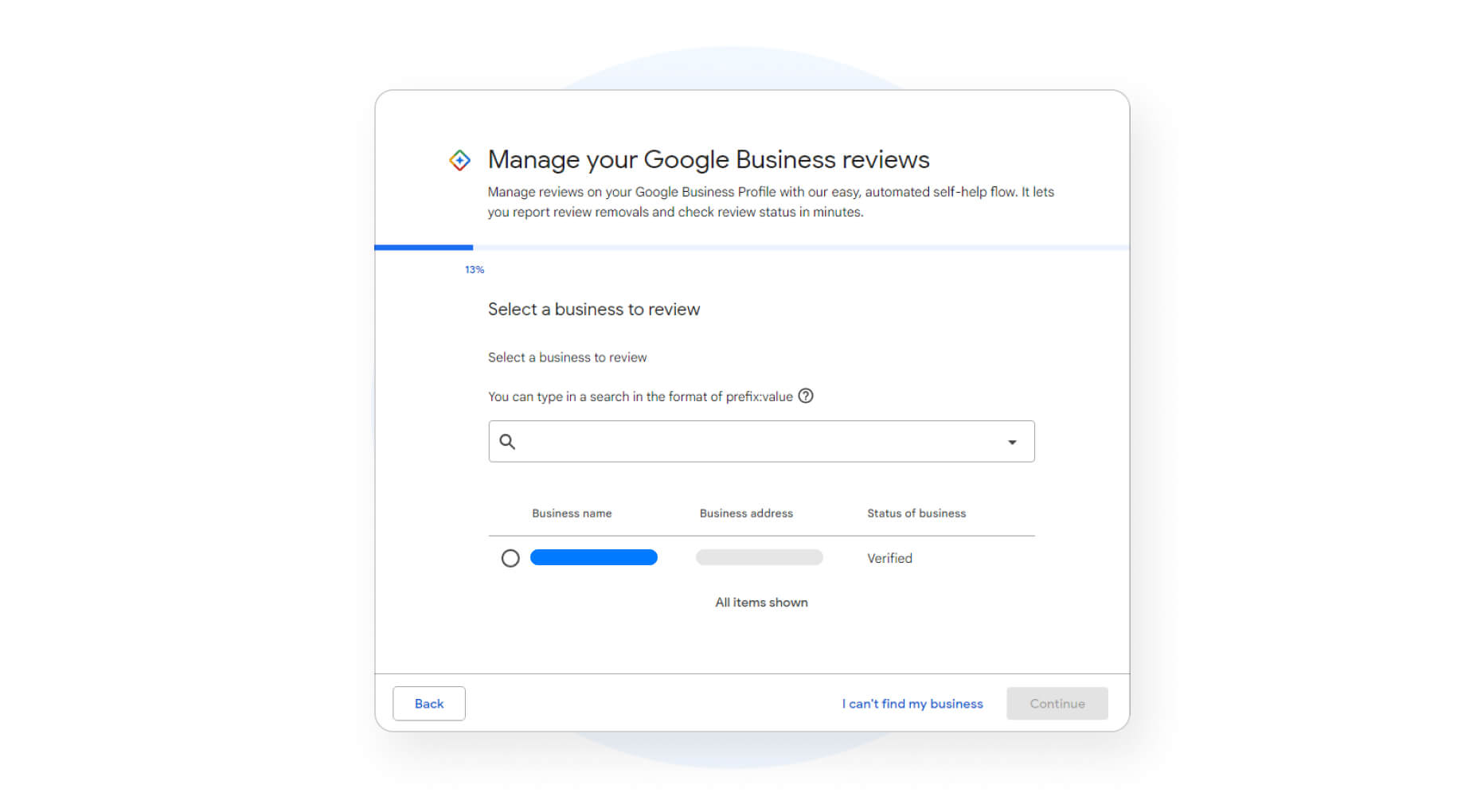 If those methods fail, the next step is to contact Google Small Business Support about the review. To contact Google's support for businesses, follow these steps:
Visit the website support.google.com/business.
Make sure you log in to your Google account linked to your My Business profile.
Scroll down and select the "contact us" button or link.
Select the "customer reviews and photos" section.
Select the "manage customer reviews" section.
Choose to receive help via phone, web chat, or email.
If you're looking for a quicker reply, web chat is your best option. However, you may have to wait an extended period for an agent to reply. This is the same as phone assistance.
Using any of these techniques, you can expect assistance in under 24 hours. You may also tweet from your company's Twitter account at the Google Business Profile team. Someone might respond to you, and you may proceed from there. The removal of reviews is also discussed on the Google community support forum.
Step 4 - Explain the Reason for Deleting the Review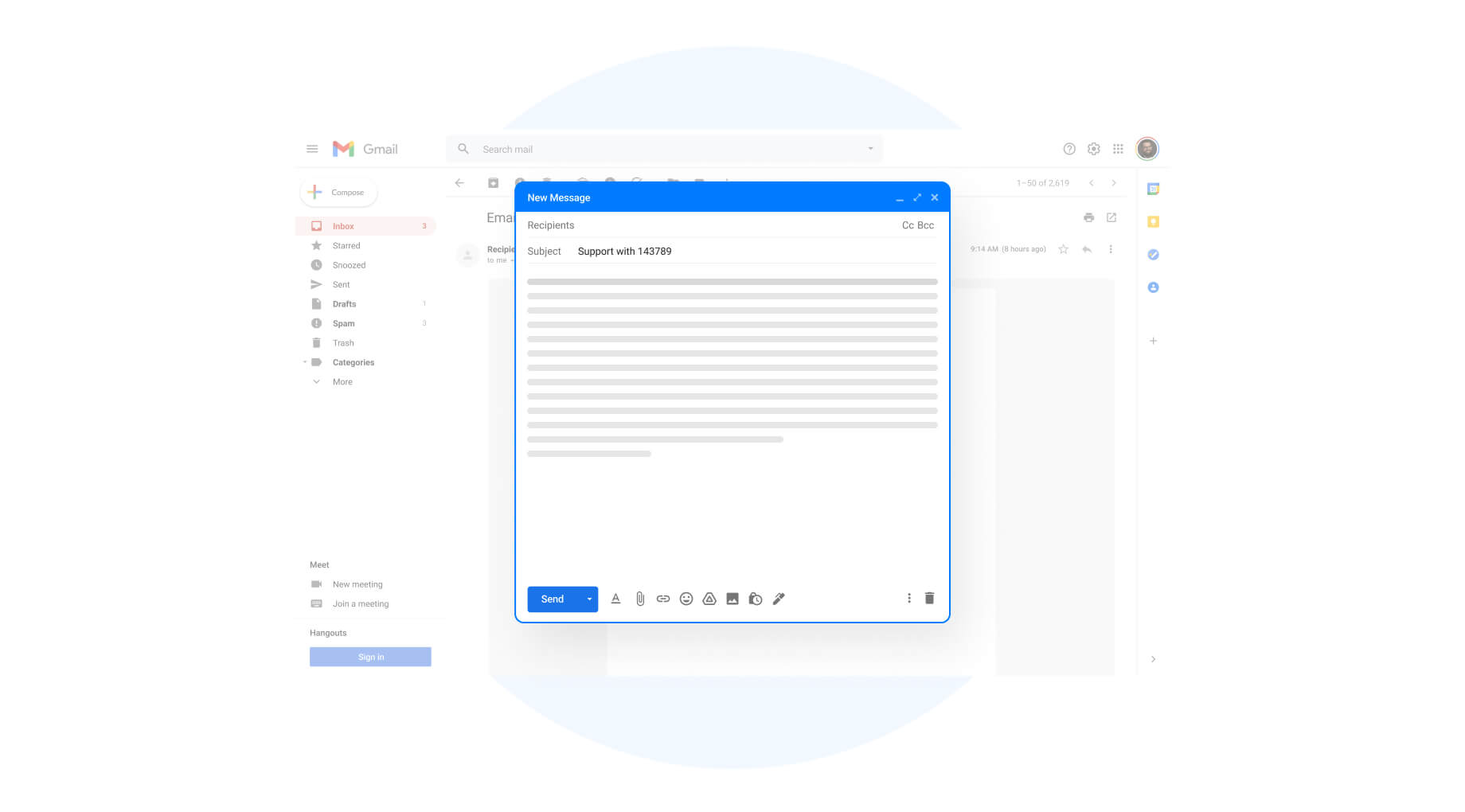 When a support team member reaches out to you, be prepared with an explanation as to why the review should be removed. Be ready to justify why you feel the review is inaccurate or violates policy and be adamant in your request for its removal.
The support team member may tell you that they will escalate the review to a specialist, who will decide on the outcome. You will again have to wait for an email confirmation or phone call from the support team member who helped you. With any luck, they will contact you with good news.
Unfortunately, if they determine that the review does not violate their terms and conditions, the review will remain active.
How to Delete a Google Review on iPhone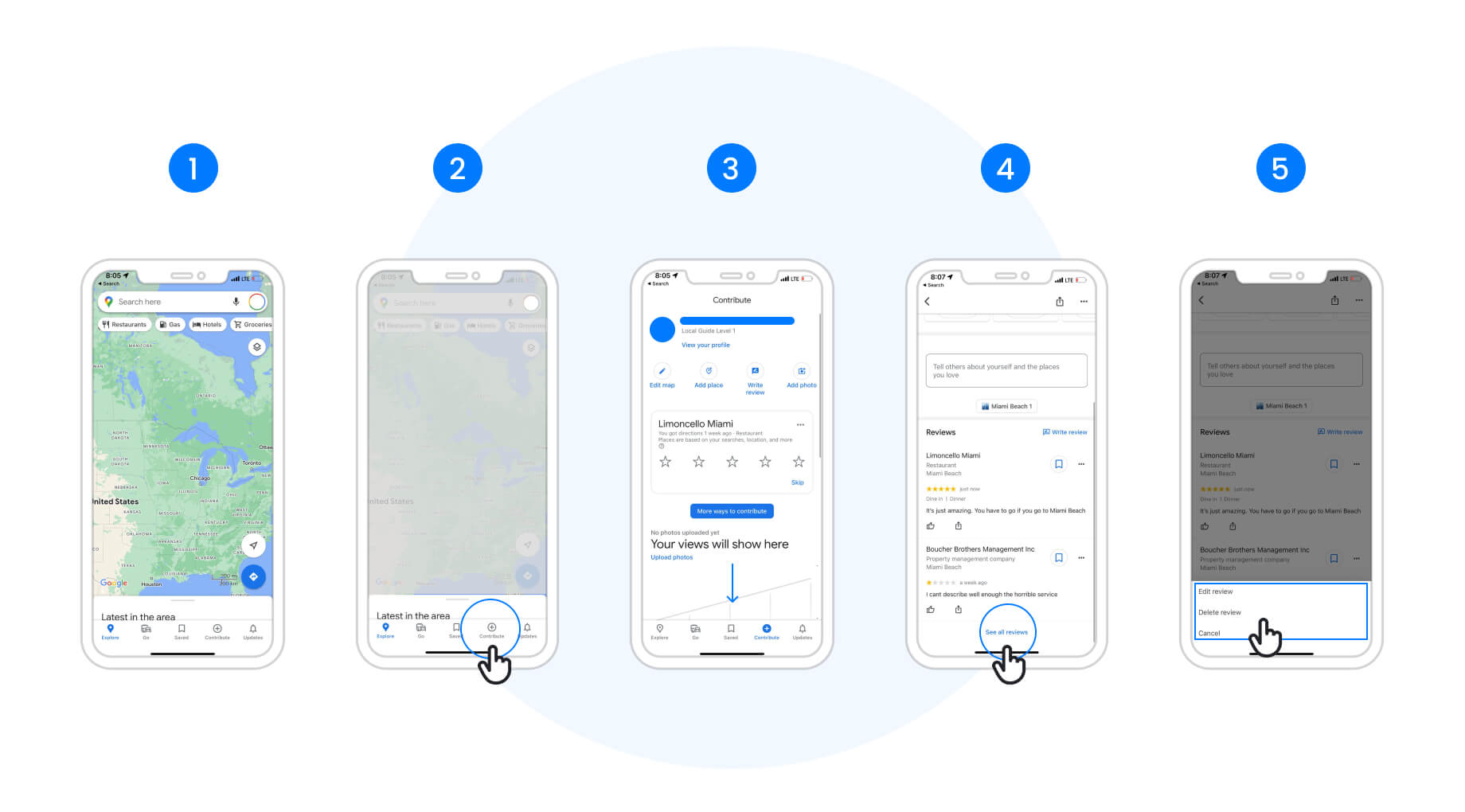 While you can't edit or remove the reviews posted by other users on your own, you can edit or delete comments you make on those reviews. However, there are unique steps to accomplish this task – depending on your device. Here are the steps for deleting or editing reviews from an iOS mobile device.
Make sure you are logged into your Google account.
On your iPhone or iPad, open the Google Maps app.
Tap the Contribute button.
Scroll and tap "See Your Reviews."
Next to the review, you want to edit or delete, tap More.
Select Delete Review or Edit Review and follow the steps noted on your screen.
How to Delete a Google Review on Android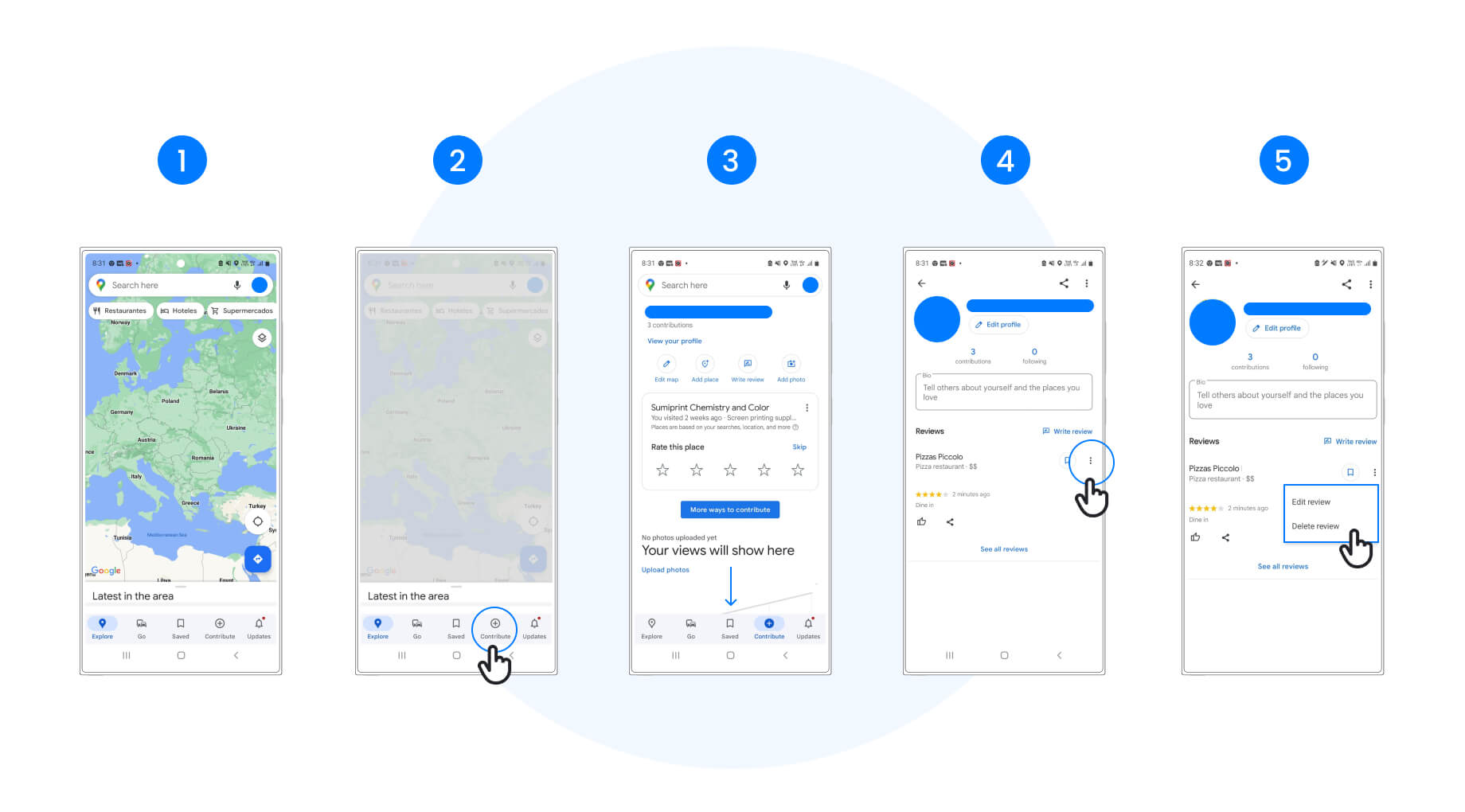 For those with android devices, here are the steps you need to follow to edit or remove your own review feedback.
Edit or delete your review
On your Android phone or tablet, open the Google Maps app.
Tap the Contribute tab.
Scroll and tap "See Your Reviews."
Next to the review, you want to edit or delete, tap the MORE button.
Select Edit review or Delete review and follow the on-screen steps.
What to Do if Reporting a Review Doesn't Work
Sometimes, try as you might, your efforts to have a Google review removed are met with resistance. Although Google makes it very clear about what constitutes an inappropriate posting, there are times when you might disagree.
If this situation applies to you, there are three additional ways that you might succeed in having the post in question removed from your Google My Business page.
Option #1 - Ask the Reviewer to Edit or Delete the Comment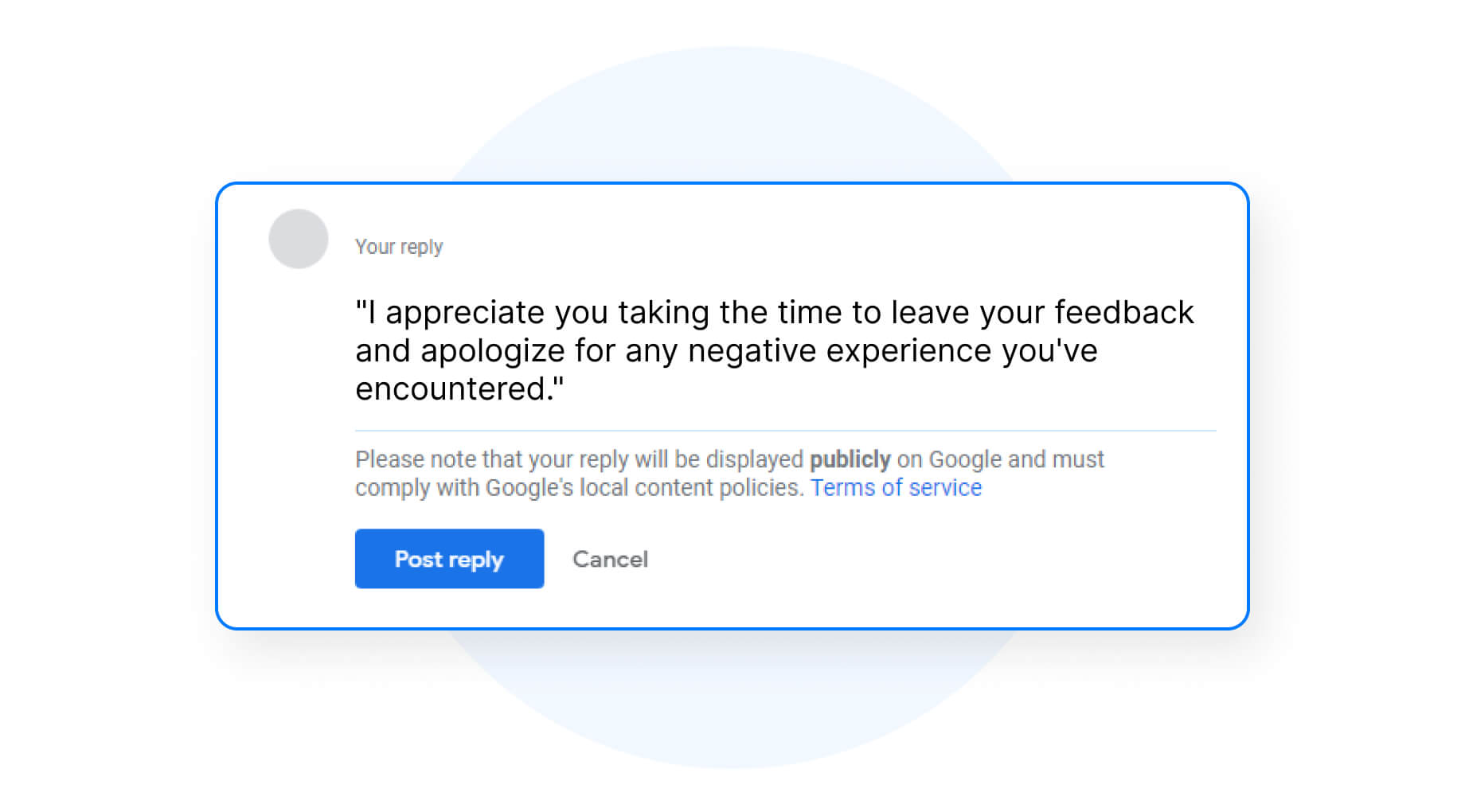 The first option is the most logical – but also can be the most difficult for many proud business owners. Several perceived negative reviews are legitimate concerns from customers. If this is the case, how you reply to the initial posting and follow up after the fact can lead to the customer being convinced to remove the negative feedback.
If you struggle with handling negative online reviews, here are a few simple tips for asking reviewers to delete or edit their comments.
Step 1: Always Recognize the Customer's Comments. Acknowledging their concerns is the first step toward convincing someone to revise or remove a nasty comment. Consider starting your reply by stating, "I appreciate you taking the time to leave your feedback and apologize for any negative experience you've encountered." By taking this initial proactive step, you'll be on the right path to diffuse any perceived negativity.
Step 2: As them to contact you directly (off the public posting) to see if you can resolve the situation.
Step 3: If you can resolve their complaint, follow up on the review by stating, "thank you for contacting me directly. I'm glad we were able to resolve this issue. We have resolved the root issues that lead to this situation. We will take proactive measures to ensure it never happens again."
At this point, you can contact the reviewer privately and ask them if they'd be kind enough to remove their Google review. If they refuse, you've already turned the negative review into a positive experience.
Option #2 – Tweet @GoogleSmallBiz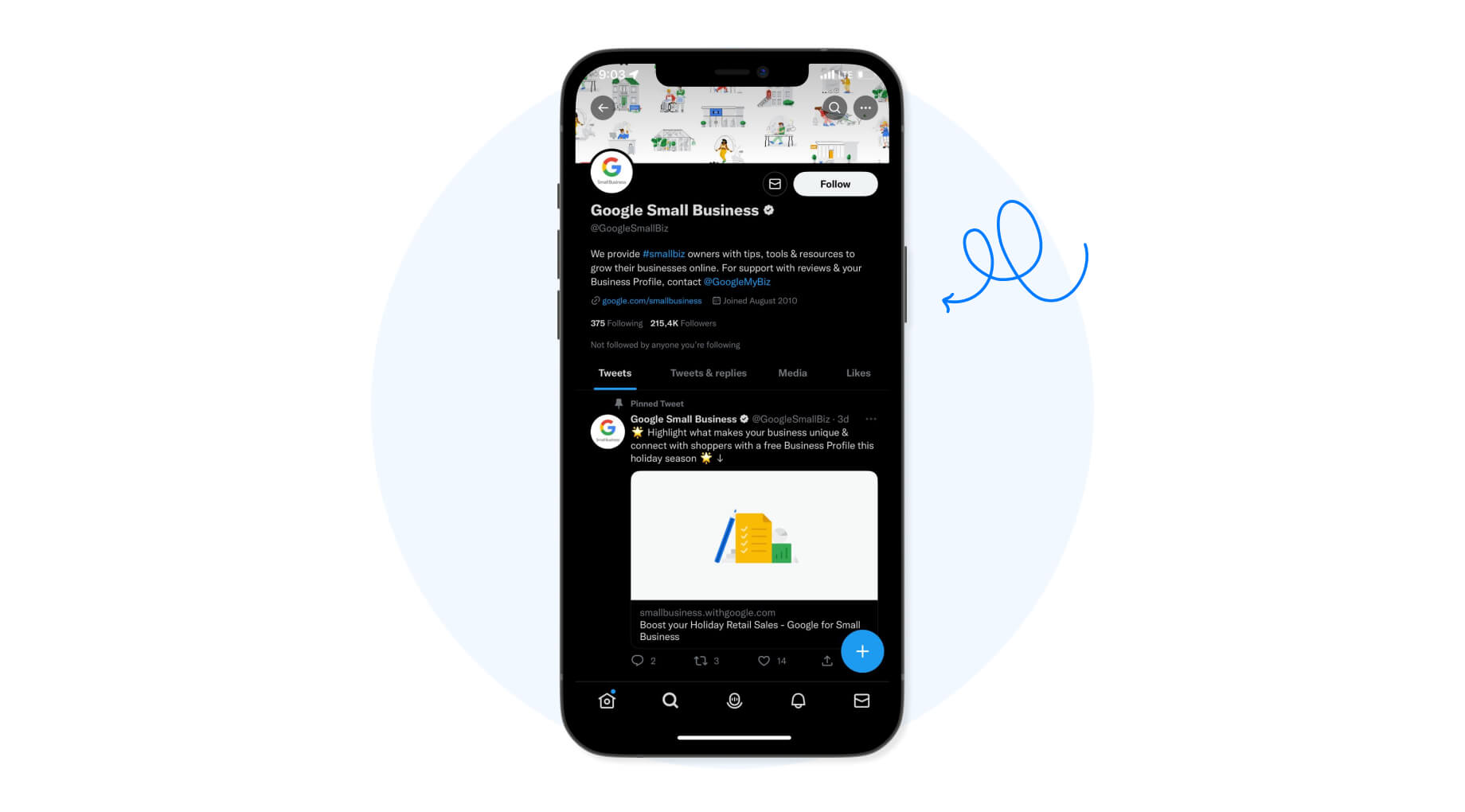 Google is not a fan of negative public feedback from its users. Therefore, it might be a good idea to tweet their Google Small Business account by expressing concern over their lack of action. Now, this is a two-edged sword, if you're not discreet in your tweet – you'll likely be perceived negatively by others on Twitter.
This strategy is best when you've flagged the review for removal and received no response. Here are a few simple tips for connecting with them via Twitter.
Step 1: Follow them on Twitter First. You can't engage in private messages to resolve the issue if you don't first follow them. Plus, this will lend credibility to your post.
Step 2: Be kind in your Tweet. Instead of going on the attack, be kind and simply address your situation with facts. If you have a screenshot of your communication with their customer support department – with a date of contact, attach that to the tweet. It's always best to engage this strategy after 5-business days of no contact from the customer support division.
Step 3: Follow Up with Direct Message. If your tweet is ignored over a few days, send a direct message to their account. Again – be specific and factual. There is no need to throw them under the bus, just inform them about the issue.
Option #3 – File Legal Removal Request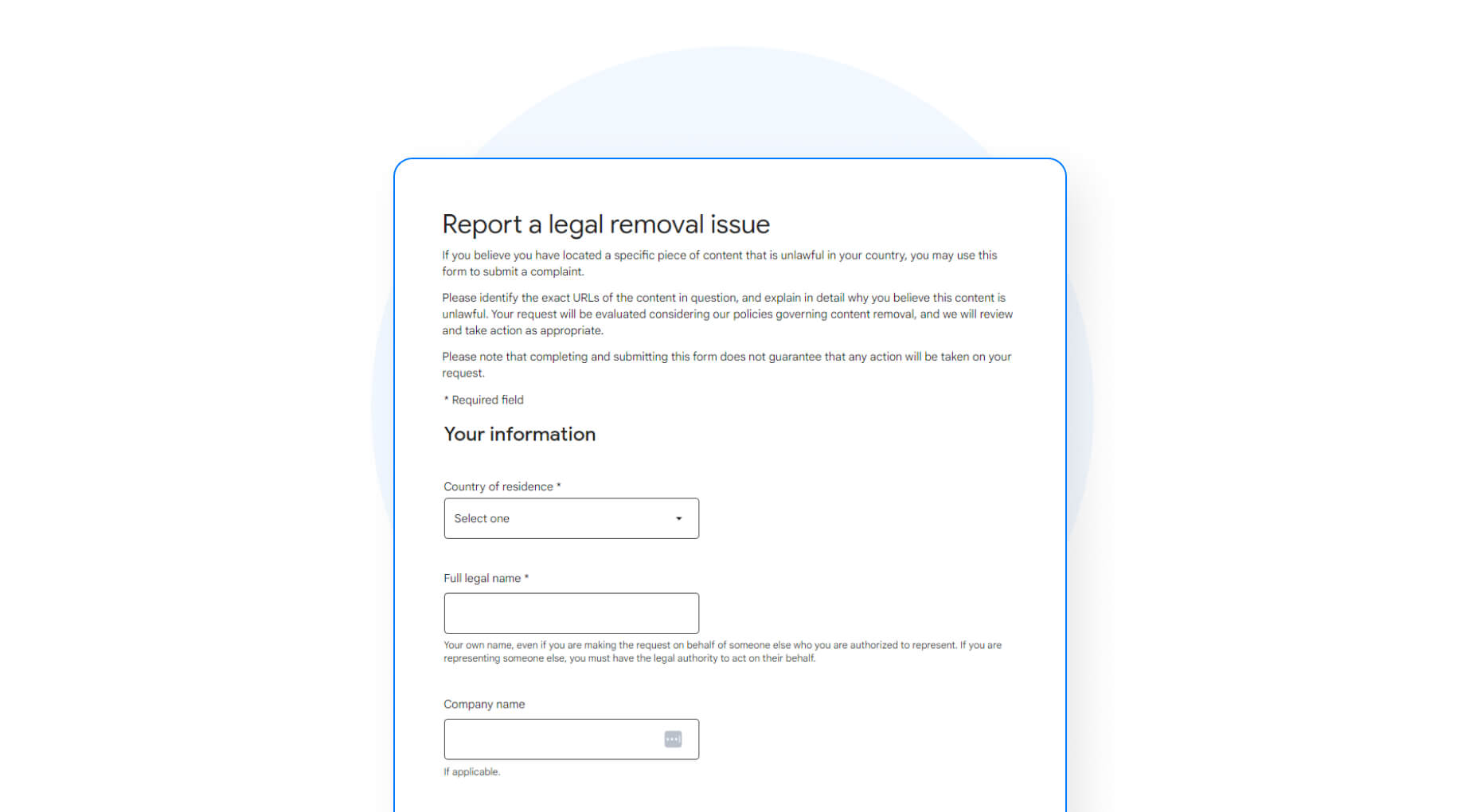 The final option is a legitimate worst-case scenario – and typically does not work unless the negative review is considered slander. Google permits a business to submit a formal request for the removal of content if it is deemed illegal.
Again – this opens a whole new world of interpretations, as what you might perceive as being slanderous may, in fact, not be the case.
You'll have to access the Content Removal Tool found on your Google My Business account to report an illegal review. They will ask you several questions about the post so make sure to address them with facts.
How to Delete a Google Review You Wrote: 7 Steps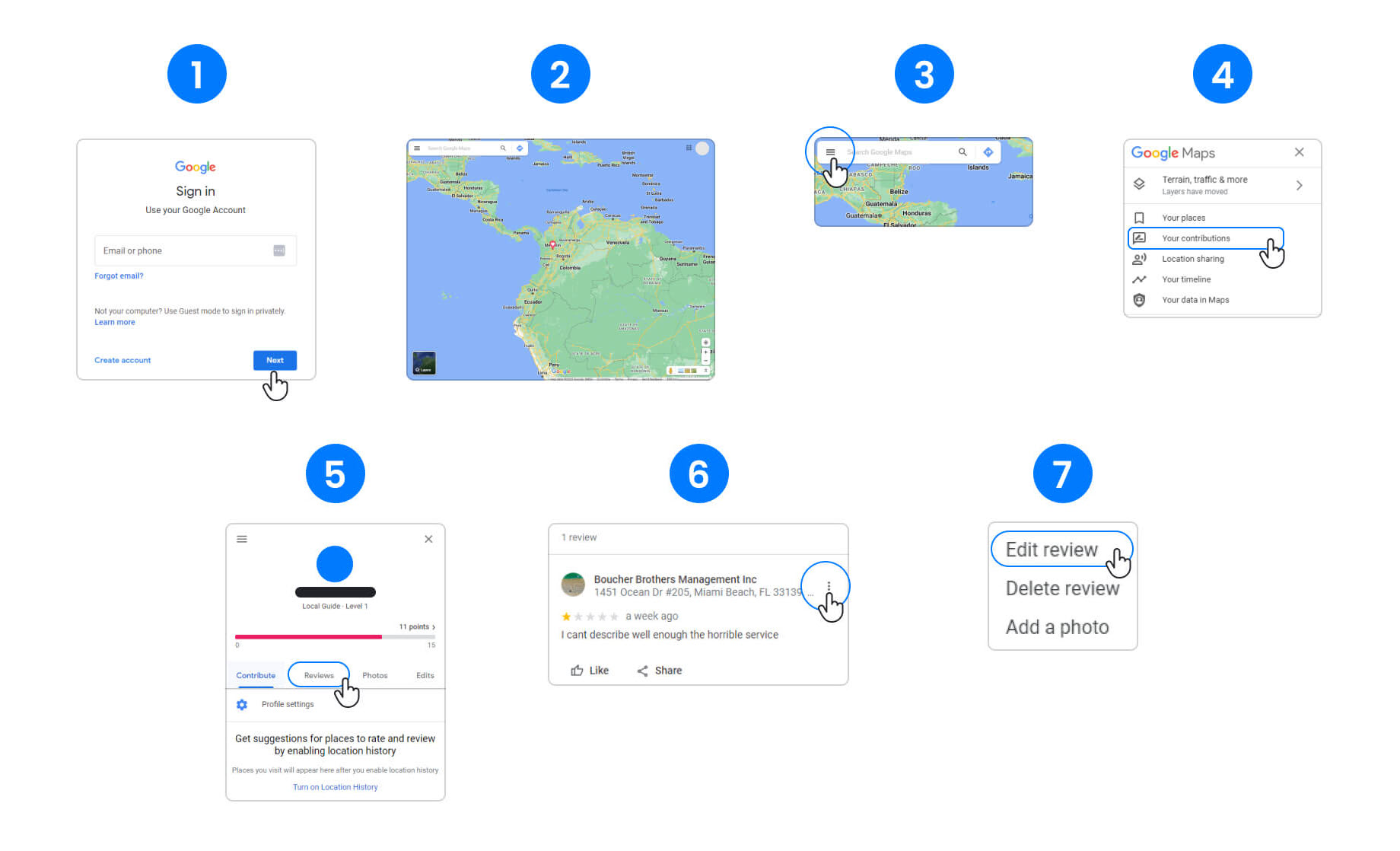 We've discussed how to handle reviews written by others in the meat of this article. However, what about replies and posts coming from your keyboard? Sometimes, especially when we see a negative review, our inner defender of business will lead us to type something we regret. Other times, we'll write a reply, hit publish, and find out that we misspelled a few words.
Regardless of the reasons, if you want to edit or delete comments you've entered on your My Business Profile, here are seven easy steps.
Step 1: Sign into your Gmail account.
Step 2: Visit the Maps.google.com website.
Step 3: Click on the three dashes to the left of the search bar.
Step 4: Navigate to the "Your Contributions" tab.
Step 5: Click on the "Reviews" tab.
Step 6: Find the post you want to edit or delete and click the three dots next to that post.
Step 7: Make your changes by clicking "Edit Review" or delete the post "Delete Review" – and click the POST button once you're done.
Key Takeaways on How to Get Google Reviews Removed
While it's impossible to control all customer reviews on Google, proactive business owners and managers can optimize the number of positive reviews posted through the My Business portal on Google. Modern technology in the form of Software as a Solution has introduced business-friendly tools, like ReviewsOnMyWebsite.com, that allow time-strapped managers to speed up seeking positive reviews on Google and other platforms.
Using the automated tools from ReviewsOnMyWebsite.com, you can streamline the process of sending emails and SMS text messages to satisfied customers to request Google reviews. This SaaS also allows you to publish previous reviews by satisfied customers directly on your website.
If you've determined that learning how to delete a Google review is a near impossible task but want to increase your positive reviews, contact us today if you'd like to learn more about ReviewMyWebsite.com automated review solutions.
FAQs
How long does it take for a Google review to be removed?
Google reviews posted by customers or other individuals can only be removed by the Google customer service team. The review must be flagged by the My Business page owner. It is reviewed by the Google team to determine if it violates any of their terms and conditions. This process can take a few days to a few weeks.
What should I do while I wait for Google to remove a review?
Suppose you notice a negative review published on your My Business page. In that case, it's best to reply to the review quickly, positively, and politely. Address the user's feedback by acknowledging their concerns and inviting them to contact you privately – through direct message or contacting you via work phone or email. At that point, try to discover why they posted the review and if there are issues at your business that need to be resolved.
How many reports does it take to delete a Google review?
The number of times a post is flagged has no bearing on whether a Google review is removed or deleted. Google's review policies have a detailed list of examples that violate its terms and conditions. Their team will likely delete the potential customer's review if a post violates its terms or is deemed illegal. They will also determine if their review is an honest customer experience.
Can you remove a bad Google review?
In short – no, owners of a Google My Business page do not have the authority to delete reviews made by others on their profile. There are a series of procedures that you must follow to request the removal of a review that you deem as being illegal or a violation of Google's terms and conditions. Suppose the review is not removed after the process has been followed. In that case, you can take no other steps beyond asking the initial poster to remove it.
How to delete a Google review on an iPhone?
The only type of review you can delete from your iPhone is one made by your My Business account. It's not possible to remove other user reviews. Ensure you are logged into your Google account to edit or remove your Google review reply. Second, open the Google Maps app. Third, tap the Contribute button, then scroll and tap "See Your Reviews." Next to the review, you want to edit or delete, tap More. Finally, select Delete Review or Edit Review and follow the steps noted on your screen.
How to delete a Google review on a tablet?
Deleting a review on Google from a tablet follows the same criteria and steps as it would from a desktop or laptop device. However, if it's an iOS or Android device, it will follow the same steps listed on those devices. Generally, you'll need to sign into your Google account first. Second, you'll open Google Maps, click Menu in the top left corner, and access Your Contributions. From this point, you'll choose the Reviews section and find the review you posted or left that you want to delete. Finally, you'll choose the Delete button and follow the directions listed on the screen.
How to edit Google reviews?
Google only permits users who leave comments or reviews to edit their own content. It's not permitted for owners of Google My Business to delete reviews posted by others. However, if you want to edit reviews or comments you've posted, you need to make sure you're logged into your Google account. You'll then visit the maps.google.com website, click on the three dashes to the left of the search bar, and navigate to the "Your Contributions" tab. You'll then click on the "Reviews" tab, find the post you want to edit, make the changes, and then hit the post button.
Why can't I delete my Google review?
Google – like all other public forums, respects the privacy and rights to express opinions of all users. To provide the power of deleting negative reviews perceived by the Google My Business owner would not inspire users to feel comfortable about posting their true thoughts. As such, Google does not permit users to delete reviews of others.
How can you tell if your Google reviews are fake?
It's challenging to determine if a Google review is fake. However, there are a few common threads of fake reviews. First, in the context of the review itself. Suppose it mentions issues that simply do not apply to the business (such as mentioning poor food quality on a business page owned by a furniture store). In that case, that's an easy way of determining that it's fake. Second, if the reviewer has a proven history of posting nothing but negative reviews, this could also be a sign.
Can I edit my Google review?
You are permitted to edit your own Google reviews. Users can access the published reviews by accessing the Maps Google Business page, ensuring they are logged in, and accessing the Your Contributions tab. From that point, you can edit or delete your comments outright.
How long do reviews stay on Google?
Google reviews left by private users do not have a shelf life. Once approved, they will remain on the platform for the foreseeable future. The best way to ensure your My Business page maintains a strong reputation is to seek out positive reviews from previous customers who were satisfied with your business's service.