As the world deals with supply chain challenges, increasing costs of goods, and rising tensions, every business owner is continually tasked to discover new ways of attracting new customers. One proven technique used by multiple industries to develop successful sales and marketing strategies is to review metrics. And for several years, social proof statistics have been used to establish business practices that lead to increased sales.
Social proof is a marketing tool used in the corporate world, where organizations utilize programs to tap into the power of word-of-mouth advertising. Customers are more likely to participate in social proof campaigns because they save businesses time by doing their own legwork.
Like all business decisions, reviewing statistics of successful initiatives helps guide the decision-making process. This is what we'll undercover today. The information below will highlight the top three social proof metrics, including how they help develop brand affection, how they are activated, and the ROI they can deliver.
With each category, we'll provide multiple independently verifiable social proof stats that support the conclusion. Finally, we'll introduce an effective software solution that allows businesses of different scales and scopes to activate social proof strategies through automation.
How Do Social Proof Statistics Help with Business Decisions?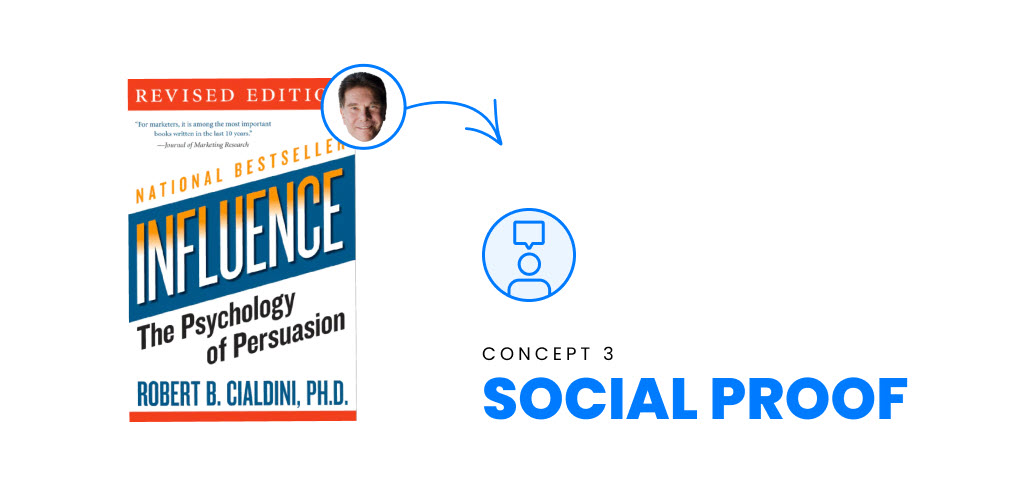 Gathering data, completing research, and collaborating with stakeholders are all elements that go into making business decisions. These metrics provide substantial facts that help create policies, define goals, and establish budgets. However, social proof statistics are arguably the most impactful metric that can provide a substantial return on investment when it comes to marketing your brand.
Psychologist Robert Cialdini first stated the idea of social proof in 1984. He wrote a book entitled Influence: The Power of Persuasion, which outlined six behavior patterns people follow when seeking advice to do the right thing during challenging circumstances.
The third concept, social proof, basically states that individuals tend to follow the behaviors of others to receive a psychological "vote of confidence." In earlier days, social proof took the form of celebrity endorsements, such as Frank Sinatra always appearing on stage or in films with a cold, elegant-looking glass of Jack Daniels in his hand.
Consumers have gained greater power over the years, as technology and digital media have given them an influential voice. Intelligent and proactive merchants, whether physical retailers or eCommerce enterprises, use Social Proof's ideas in their marketing and activation efforts.
Four primary examples of social proof are used by most growing enterprises in 2023 as part of their sales and marketing strategies.
Online Consumer Reviews
Online testimonials from satisfied clients are proven to be utilized by more than 80% of purchasers seeking a specific product to assist them in their purchasing decisions. Customer evaluations on consumer shopping platforms like Amazon.com may be seen immediately, with links directly to items sold by specific merchants.
Finding cost-effective and time-sensitive strategies for increasing internet reviews, ratings, and comments and ultimately improving conversion rate is the major challenge with utilizing this social proof approach.
Fortunately, new technical solutions have simplified connecting with direct consumers to request platform-specific feedback.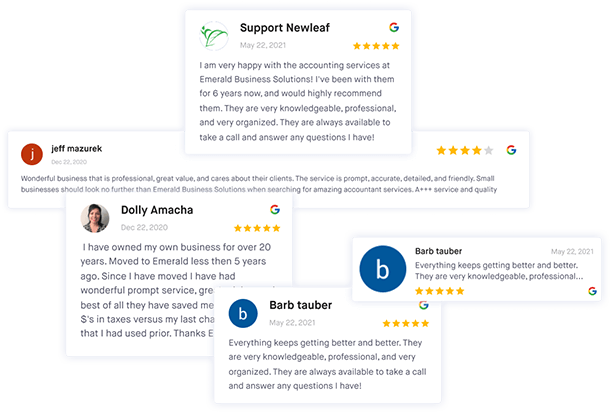 Leverage feedback and reviews to improve your online reputation
Get more online reviews and turn your customers into raving fans with ReviewsOnMyWebsite review generation software.
ReviewsOnMyWebsite allows you to request reviews on popular websites like Facebook, Amazon, Google, and Yelp. You can contact delighted clients via email or SMS - whichever your clients prefer - as you expand your client base of individuals who buy goods. Additionally, you can showcase your existing online reviews with the help of the social proof widget.
Direct Website Notifications
When potential customers see a good review about a firm on their Google My Business or Facebook profile, they are more likely to go to its website to learn more. Many proactive internet retailers, especially those in the eCommerce sector, will employ social proof methods that highlight prior customers' recent visits to the site.
ReviewsOnMyWebsite also includes an online notification solution that allows you to showcase your finest internet reviews on high-volume and influential sites. This tool is simple to personalize and use.
Case Studies
The form of social proof applies to a consumer's purchasing decision when expert testimonials are involved. Case studies provide accurate data about a company's services or solutions. Typically, a case study comprises several data points, such as statistics on outcomes (before and after), how they accomplish those goals and the associated benefits of using that solution.
Influencer Marketing
According to Cialdini, the likability factor is the fifth influence element. Peers, mentors, and celebrities are widely trusted. Many organizations — from tiny to enterprise levels – spend significant money on paying influencers to promote their goods via digital marketing platforms.
Social proof statistics in these primary categories can help a business define their customers, how they make buying decisions, which sales platforms they prefer, which companies they trust among competitors, and multiple touchpoints that directly influence your bottom line.
8 Recent Social Proof Stats to Help You Understand How Powerful Social Proof is in 2023
Suppose you're going to activate a social proof marketing strategy. In that case, it's essential to follow a process that permits your business to make a solid first impression on new customers. To accomplish this, it's best to follow a three-part plan that will allow you to:
Build trust with those who discover your business or product online.
Drive traffic to your website or sales platforms.
Increase conversion rates from first-time shoppers.
With that said, let's break down the social proof statistics focusing on these three important categories.
Category #1 – Building Trust
Consumers turn to the experiences and opinions of others when making a new purchase. The most frequent and trusted type of social proof is reviews and testimonials. It's where potential consumers may learn from actual people who've used the goods or services before. While this practice is common in all walks of life, several statistics prove how impactful social proof strategies can help enhance consumer confidence.
Statistic #1 – Customer Testimonials Are More Impactful than Company Actions
According to WyzOwl.com – more than 90% of respondents trust the opinions of fellow customers more than the words or actions of the company or brand itself. This is the fundamental principle of the Social Proof Initiative, as argued by Cialdini. When people are uncomfortable or unfamiliar, they often gravitate to others with whom they connect.
The same human behavior helps to increase sales. Further research confirms that product reviews published by average consumers are trusted 12-times more than the product descriptions or sales and marketing copy written by the company.
Statistic #2 – The Power of Positive Reviews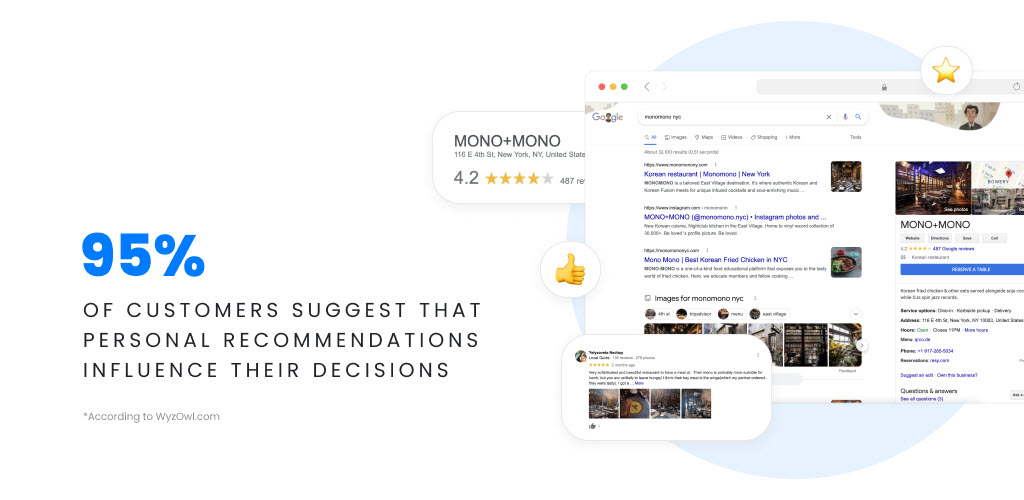 Every customer's primary objective is to satisfy their customers' needs. All consumers expect good service, which is mainly why less than 10% of customers take the initiative to post reviews on Facebook, Google My Business, Yelp, Amazon, and other public review websites. However, when they do, the results benefit the company.
95% of customers suggest that personal recommendations – positive or negative reviews - influence their decisions when unfamiliar with a brand. When the review is positive, 9 of 10 customers feel comfortable trying that new company. However, if the review is negative, 79% of those asked suggest that they would think twice – or conduct additional research before visiting the company website.
Statistic #3 – The Dwindling Power of Paid Advertising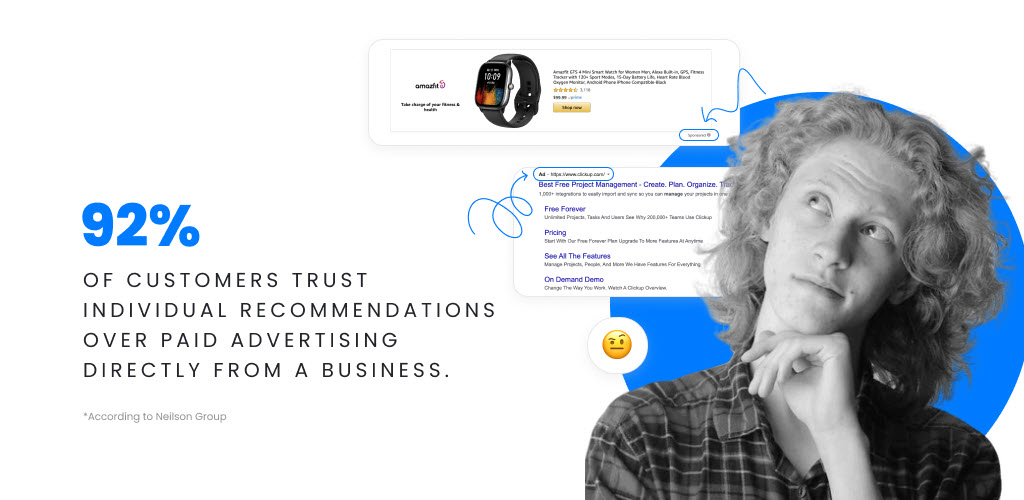 The Neilson Group is arguably the most trusted source of consumer-driven data regarding marketing campaigns. And what they've recently discovered about paid advertising has many proactive business owners reconsidering the allocation of their marketing dollars. According to Neilson, 92% of customers trust individual recommendations over paid advertising directly from a business.
Category #2 – Increasing Traffic
You only get one chance at making a positive first impression. Every business understands the value of earning a customer's loyalty. But before you capture the sale, you need to drive new visitors to your place of business. Whether you own a restaurant or an eCommerce entity with multiple sales platforms, increased traffic will generally result in more sales.
You might ask, "how does social proof lead to increased traffic?" Well, here are the statistics that will provide added confidence.
Statistic #4 – Customers Are Searching for Reliable Brands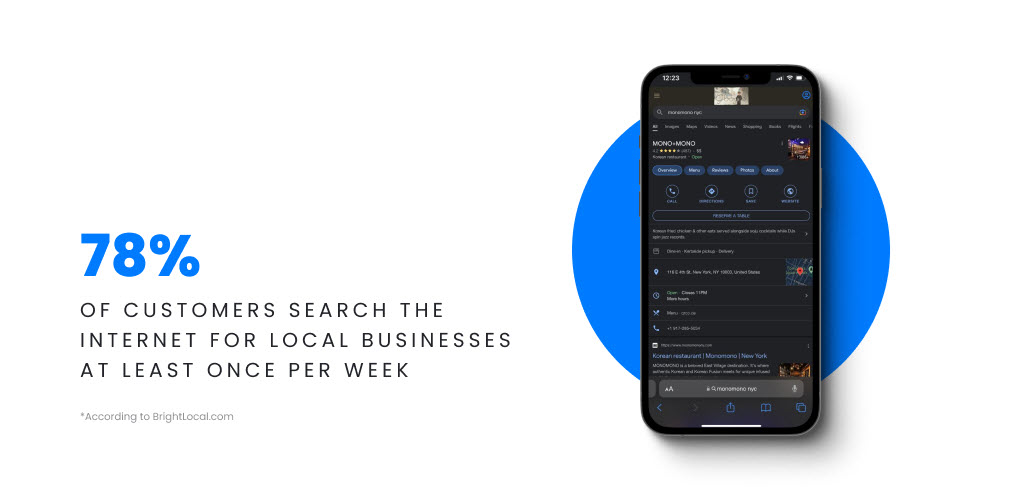 When someone is searching for a niche service, product, or business entity, they typically have multiple choices at their disposal. The question that many ask is how do most of today's customers find these new entities? According to BrightLocal.com, 78% of customers search the internet for local businesses at least once per week. Their primary search tool is Google.
A growing trend among all businesses is creating a Google My Business profile, which displays the company location, websites, and product or service information. However, this is also a critical platform for customers to leave product or company reviews.
When a customer leaves a review, it is published for everybody to see. And since we've identified that more than 90% of customers are inspired to visit a company website or their business via positive reviews, you can clearly see the impact of this metric on increasing volume.
Statistic #5 – The Power of Review Engagement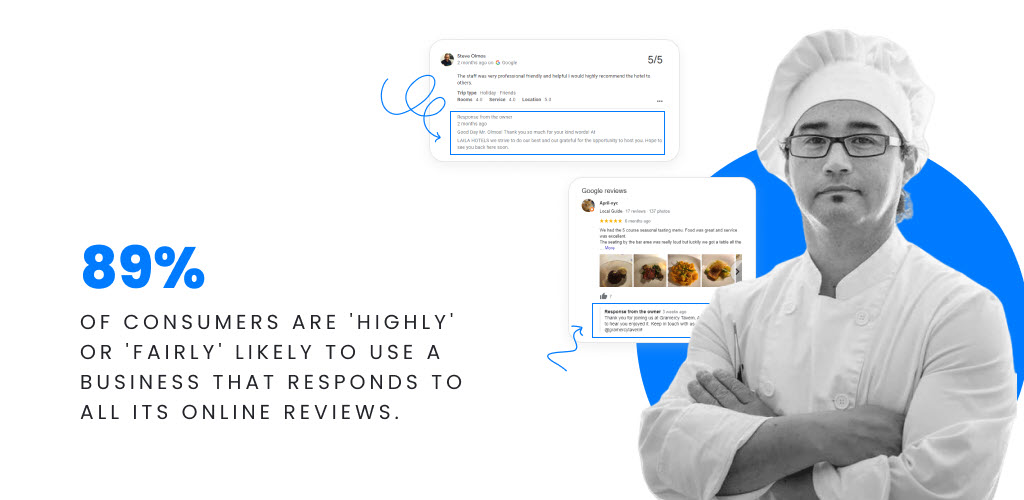 People love the interaction with a business leader. Case in point. Every fine dining experience you've visited likely has included a visit from the manager, chef, or the owner to check on the quality of your meal and service. This type of direct customer engagement establishes trust, as they generally are interested in verifying that you are satisfied with your visit.
Taking time to reply to online reviews has a tremendous impact on a customer's intention of visiting your business, as 89% of consumers are 'highly' or 'fairly' likely to use a business that responds to all its online reviews. However, when a business does not take the time to engage with online reviewers, 57% of customers are less likely to trust them or visit their place of business.
Statistic #6 – Reading Reviews Leads to Website Visits
As your social proof strategies are activated and more consumers are convinced to leave positive reviews, new consumers will begin to visit your website. This is supported by the statistic that 50% of all consumers will instantly visit a company website directly after reading a positive review. Further, customers who navigate review websites from their mobile devices are 90% more likely to visit your social media pages or website quickly to learn more.
Category #3 – Driving Conversions with Website Social Proof Strategies
We mentioned above that there are four types of social proof strategies. While the first two categories focus mainly on third-party reviews, the final will introduce the power of publicizing those consumer reviews and their actions directly on your websites.
Statistic #7 – Displaying Customer Testimonials on Product Pages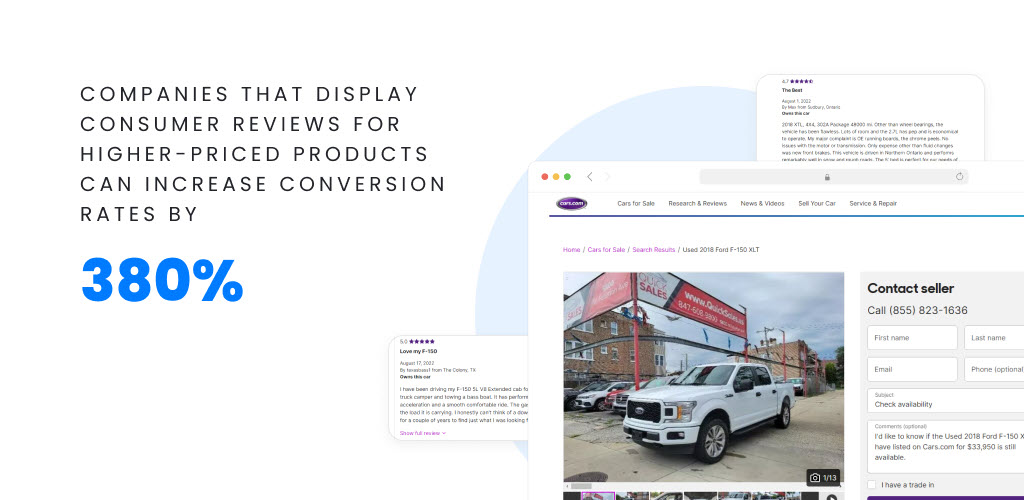 When most people buy a new car, they typically have a general type of vehicle in mind, such as an SUV, sedan, or pickup truck. They'll complete online research, then visit the dealership to test drive a few of their favorites. The one they choose is not always the least expensive. Sometimes they are influenced by the selection that has more positive customer reviews – published directly on the dealership's website.
This is supported by the statistic that companies that display consumer reviews for higher-priced products can increase conversion rates by 380%. High ticket items are extremely difficult to close customers through traditional sales tactics. However, when a company has the power of direct customer testimonials published on a correlating product page, this can guide the new website visitor to a conversion.
Statistic #8 – The Fear of Missing Out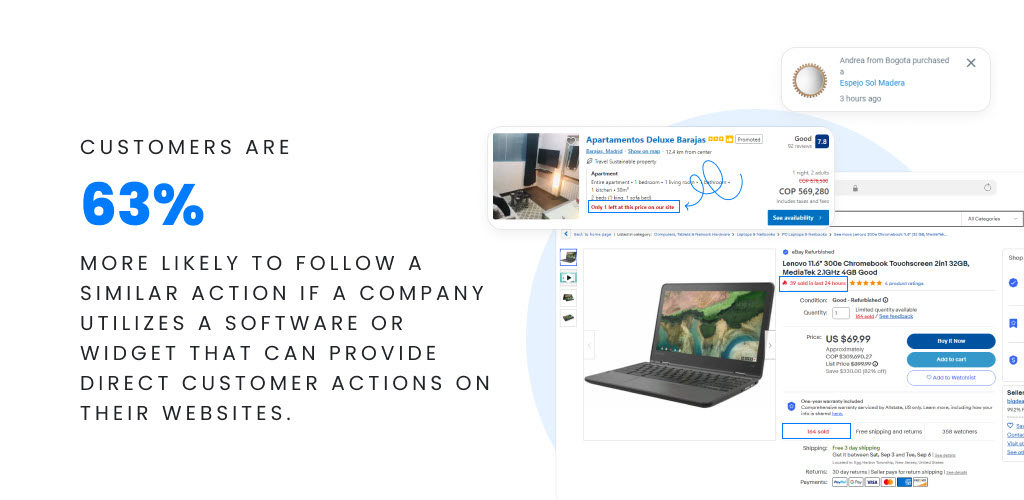 Another powerful social proof tactic is publishing the direct actions of current website visitors – specifically, those that result in a conversion. Whether this is notifying website visitors of a customer who has signed up for a newsletter or one who has made a purchase, seeing the actions of others creates a fear of missing out for many new website visitors.
For example, when a company utilizes a software or widget that can provide direct customer actions on their websites, customers are 63% more likely to follow a similar action. This statistic holds true when the website displays currently published reviews or star ratings from reliable third-party websites – like Google, Facebook, and the like.
Read More About Social Proof
Social proof is used in everyday life. Whether it's a television show with a live studio audience laughing, inspiring you to laugh, or an influencer convincing you to buy a product, as consumers, we're inspired through the acts of others. However, there has been a tremendous amount of research, case studies, and valuable testimonials that help business managers and marketers understand the value of utilizing social proof tools.
These articles we've published on our website will help you learn more about social proof and the effective tools that help you increase product reviews and testimonials through automation.
Key Takeaways
The concept of social proof has been scientifically validated. It is used to influence people's choices in social situations, entertainment, politics, and consumer purchases. It's especially helpful in marketing, specifically when you're looking to increase traffic, conversions, and sales - without spending tremendous money.
Consider utilizing SaaS solutions like those provided by ReviewsOnMyWebsite to utilize multiple types of social proof ideas in an automated manner if businesses are searching for ways to boost their internet presence.