Consumers today actively look for past customer reviews to help make purchasing decisions. When you add reviews to Wix, you instantly give your site social proof which forms an integral part of the customer journey. Wondering how to add Google reviews to your Wix website? This guide walks you through how to show Google reviews on a Wix powered website.
Add powerful social proof
When you add Google reviews to Wix site, you add social proof. This automatically builds trust and credibility for your brand among new prospects and existing customers.
Boost SEO and search engine rankings
Google favors websites with reviews. The more customer reviews you have, the higher the search engines will place your site – top-rated sites get instantly bumped to the top of the SERPs and get more conversions.
Increase website traffic
Sites that embed Google reviews on Wix get more traffic because Google search users are more likely to click through to a website that has added social proof. Plus, results with star ratings stand out among other search results.
Get customer feedback
Reviews give you a deeper insight into what your customers are thinking and feeling when they buy from your brand. You can use this information to improve the customer experience going forward.
How to add Google reviews to Wix website: 4-step guide
Wondering how to add reviews to Wix website? Here's an easy-to-follow tutorial to show you how to add reviews on Wix.
Step 1: Connect your reviews widget
Click here to sign up and connect your Google reviews.
Pro-tips for connecting your reviews widget
To connect your Wix review widget, you'll also need to connect the widget to your Google Business Profile on Google My Business. If you don't already have one, now's the time to get one. It's a very simple process you can do here.)
Step 2: Go to the page you want to add reviews to
Next, open your Wix website editor and navigate to the page where you want to add the embed code.
Pro-tips for choosing the right pages
We recommend embedding reviews on:
Your homepage
Your product or services pages
At the point of checkout
Your About page
Your contact page
Step 3: Add the HTML code to your website
When you've decided which pages to add reviews on, you'll then need to copy and paste the HTML code of the widget onto your website.
Pro-tips for applying the HTML code to your Wix website
Click on the "Add" button on the left followed by "HTML Code" like below: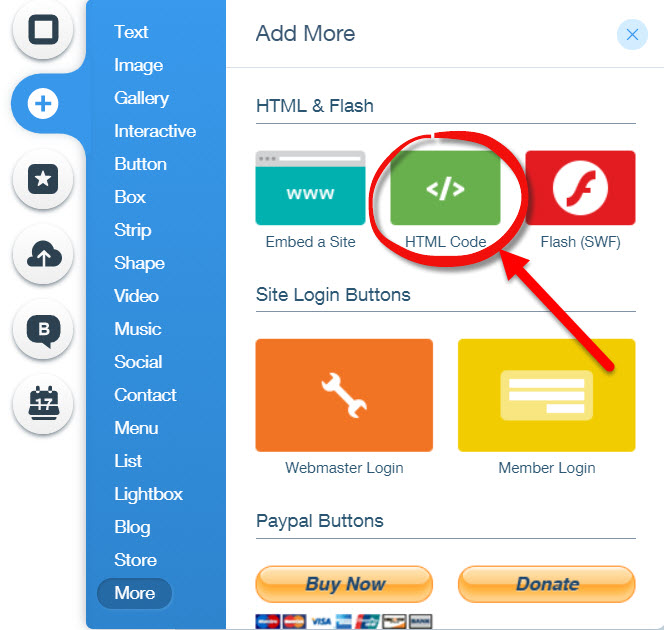 Click on "Enter Code" and copy and paste the widget code into the box.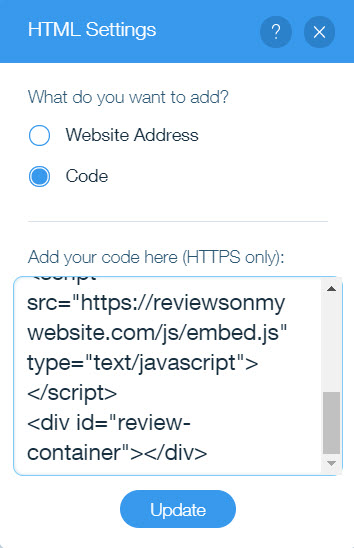 As soon as you hit "Update" you should see your reviews appear on your chosen page.
Step 4: Customize your widget
You can display the review widget wherever you like on your website. It's worth experimenting with its position on different pages to see what works best. To move it around, drag the widget box to the desired spot on the page, save the changes, and click Publish.
Pro-tips for customizing your widget
Keep your site on-brand by customizing your website to showcase your unique colors and fonts. Choose from a series of pre-made templates that you can alter to fit your branding needs for a cohesive site design.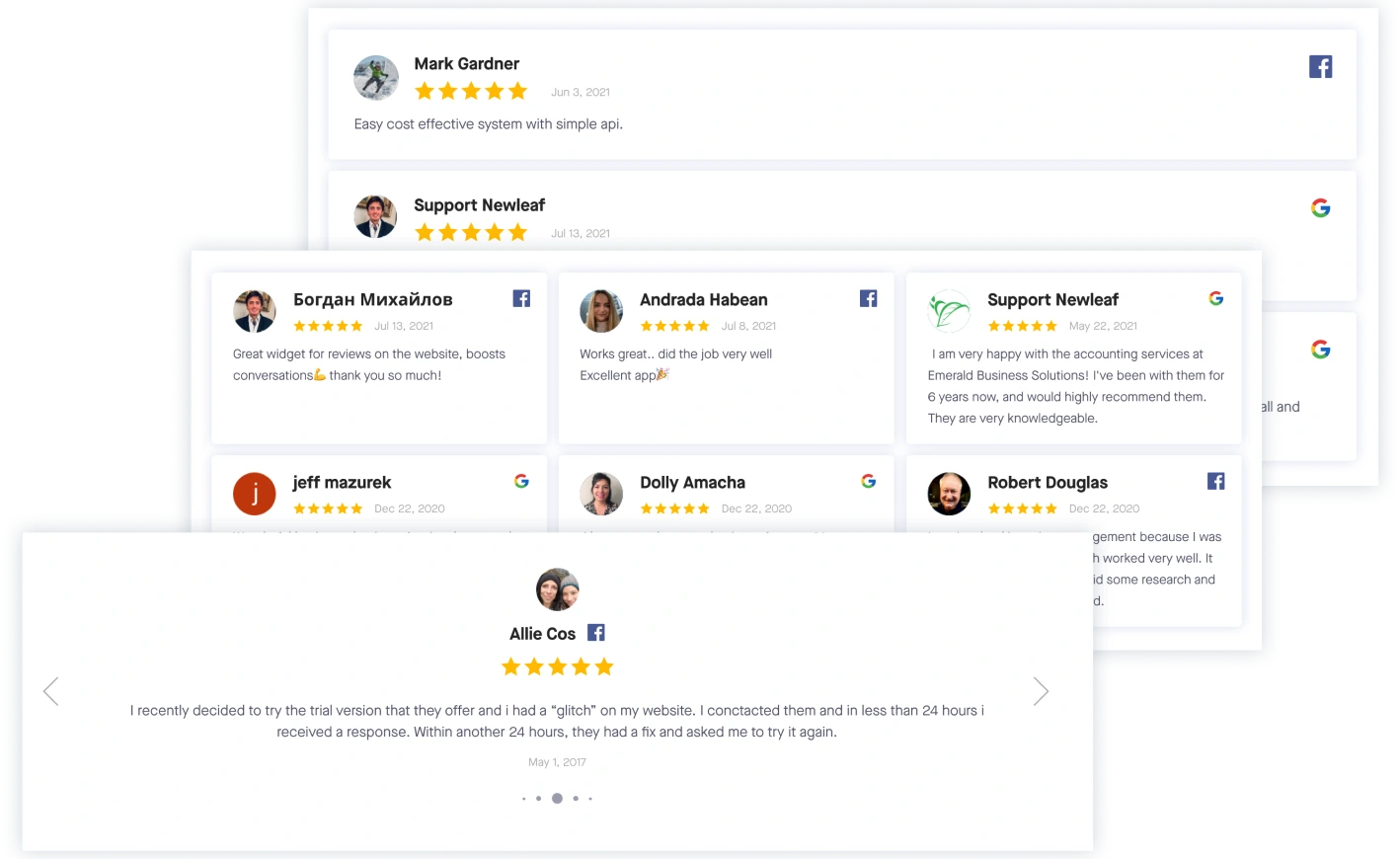 You are done!
It's easy to populate your Wix site with reviews. Even better, the widget pulls them in automatically, so you don't have to keep updating them.
Need help adding reviews to Wix? Contact us
If you've gone through these simple steps and are struggling to add reviews to your Wix website, or you simply want a hand getting started, talk to our expert team today. We're on hand to help you get set up in a matter of minutes and ensure you're making the most of the reviews you've collected.
Get in touch if you'd like us to help you embed reviews on your Wix site.