Customer reviews are the highest form of social proof.
They let future customers learn about the experience of like-minded people and get a glimpse at the results they can achieve. Plus, they instill trust and confidence. Paired with the power of email marketing, they're an unstoppable force in your campaigns.
Why Use Reviews in Your Email Marketing Campaigns?
To put it simply, reviews sell.
People are 270% more likely to invest in a product or service with five reviews than one with no reviews. If you're choosing between two options and one has a smattering of positive reviews from past customers while the other one doesn't, the decision is a no-brainer.
Reviews are also used to examine the quality of a business - something that's become increasingly important during the shift to digital.
In fact, 93% of people will read reviews for a local business to determine its quality. Even better, more reviews lead to more sales. Customers spend 31% more when a business has positive reviews.
Sprinkling reviews into your email campaigns makes an already-powerful marketing method even more robust, pushing on-the-fence buyers towards a sale and increasing their average order spend.
How to Use Reviews in Your Email Marketing Campaigns
Now you know why reviews are important, here's how you can incorporate them into your email marketing campaigns without a hitch.
1. Add Proof to Your New Service Launch
You might have the most popular exterior car wash service in your area, but if you bring in a new valet service that no one has used before, people are still going to be hesitant. This is because new products and services need to be validated.
Your existing loyal customers will probably give your new service a try, but it'll take more convincing getting new customers to take the plunge.
To help them along, you can add reviews to your launch emails to provide an extra layer of trust. According to research, customers are 71% more comfortable making a purchase if there are reviews - use this to your advantage.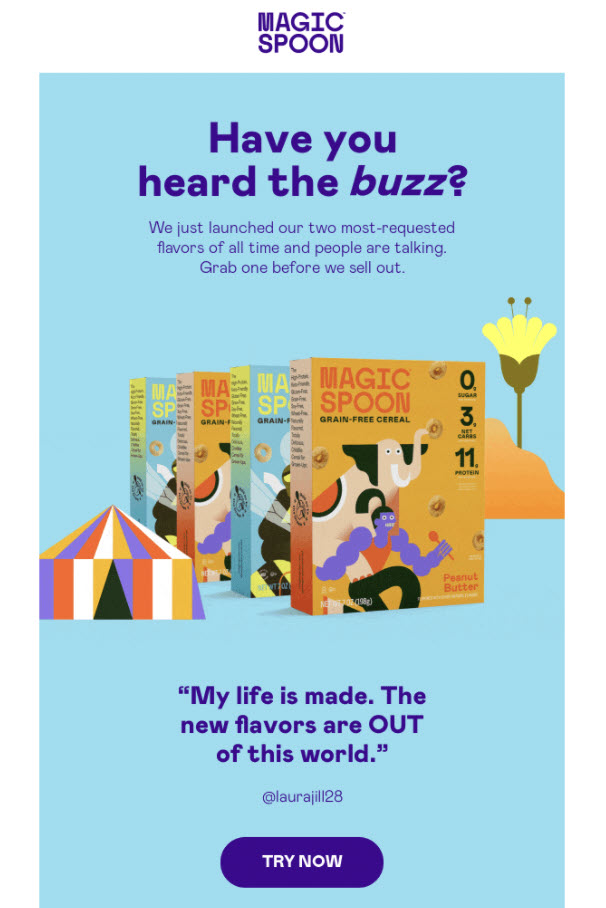 This email from Magic Spoon introduces the brand's new flavors followed by a positive review and a call-to-action.
It can be a vicious circle, though - how do you get reviews for a new product or service if nobody has invested in it yet? Try reaching out to loyal customers first. Let them try for free, give them a trial run before your official launch, or incentivize them to leave an honest review right away.
2. Turn Reviews Into Videos
You may have noticed the surge in online video in recent years, as more and more businesses are using it to market their products and services.
More people than ever are choosing to watch videos, and 68% of consumers say they would prefer to learn about a new product or service by watching a short video.
Parcel up video testimonials and share them in your emails, or create a landing page full of video reviews that you can link to in every email you send out. You'll see a dramatic improvement to your email metrics, since including video can increase your click through rate by a huge 300%.
3. Share Case Studies and Customer Success Stories
When used correctly, reviews can become full-on customer success stories. These go deeper than simply stating whether a customer had a good experience or not and dive into the problem they needed solving and how your business was able to solve that problem.
Usually, case studies include past customer results to inspire future customers and show them what's possible.
You can create case study specific emails or you can sprinkle success stories throughout your other campaigns, like booking or order confirmations, and service update emails.

Melika Hair Salon features lots of customer success stories on their website that can be repurposed for email.
4. Personalize Reviews Based on Customer Segmentation
Segmenting your audience based on their interests and past purchases can help you personalize the content you send them.
This provides a unique journey for each and every customer with less friction and fewer objections. In fact, 80% of customers are more likely to buy from a brand that provides personalized experiences - and why wouldn't they? If you're served content and product suggestions based on previous purchases and your past browsing behavior, you're more likely to buy.
For example, a unisex hair salon can segment women and men (or go even further and segment women who have their hair colored and those that just go for a cut) and send reviews that are relevant to their interests.
5. Combine Reviews With Other Forms of Social Proof
Reviews aren't the only form of sales-boosting social proof.
Customer generated content (UGC), like videos and photos, are also powerful ways to instill trust and buyer confidence.
Collect customer images with your reviews or encourage customers to share their photos while they're enjoying your service or product. You can use a hashtag to gather the reviews in one place and cherry pick the best to share in your emails.
UGC is a great way to get lots of free, influential content that you can populate not only your emails with, but also your website, product and service pages, and other marketing material.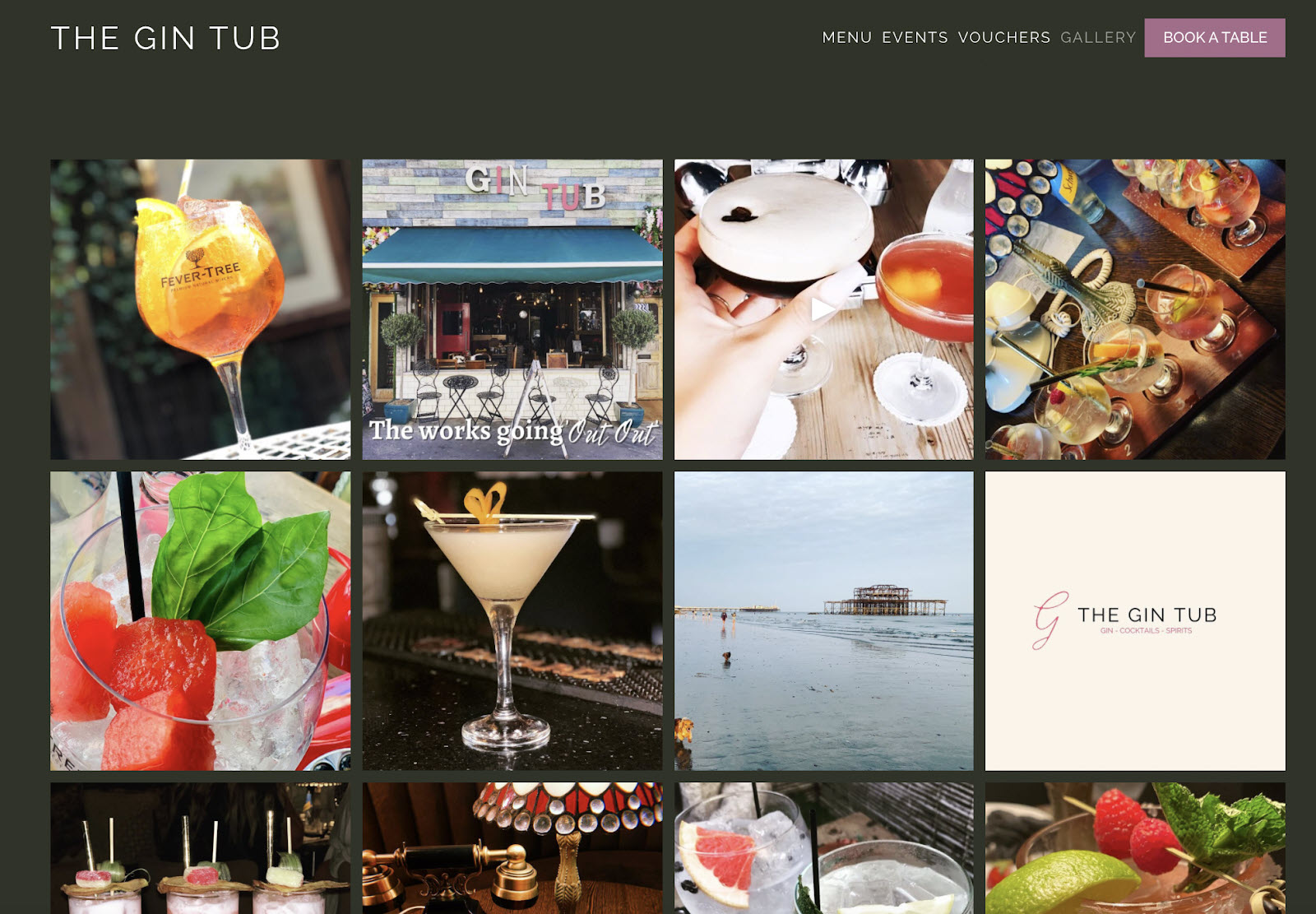 Cocktail bar The Gin Tub shares customer photos on Instagram and a designated page on its website. They now have a collection of customer-focused content to add to their email marketing campaigns as and when they need to.
As well as sharing images and videos from customers, you can also highlight how many customers you've helped, how many years you've been in business, and any influencer mentions you've had - this all counts as social proof, too.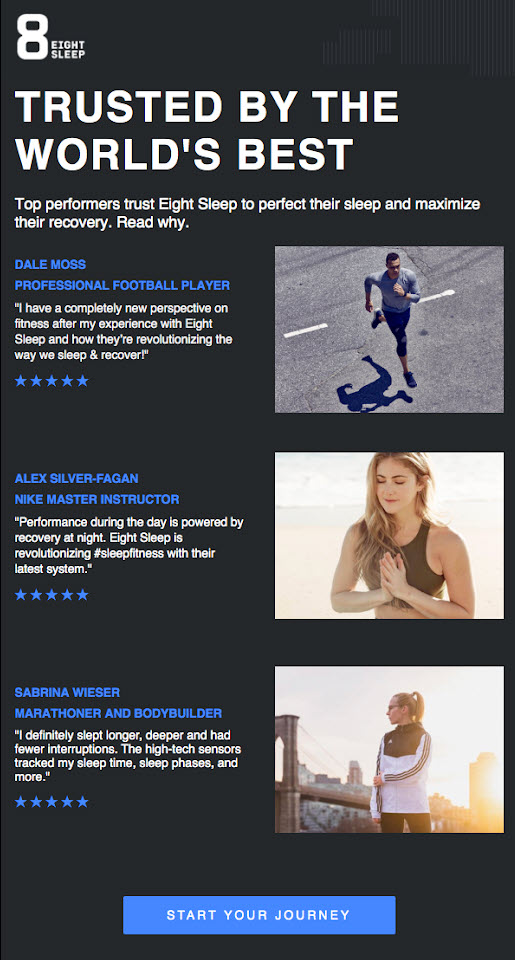 Eight Sleep shares the experiences of industry influencers to add more clout to their emails.
6. Create Engagement By Asking For Reviews
Establish a two-way relationship with customers by asking them to share their experience. Shooting recent buyers an email encouraging a review helps cement a connection and shows them you care about their opinion.
You can take it one step further and engage with customer responses to encourage more feedback that you can use to improve your products and services in the future.
Emails are the perfect place to request a review, since they are one of the most personal spaces you can reach customers.
Reviews On My Website lets you send automated review requests to happy customers.
Customers who have had a not-so-desirable experience are encouraged to send private feedback before they submit a review so you have a chance to respond to their concerns, while customers that give a four-star review or above are directed to your chosen review networks.

It's important to respond to or acknowledge both negative and positive reviews to let customers know you care. This pub responds to reviews to create a deeper connection with customers. After sending a review request email, remember to follow up with a thank you or an additional comment.
7. Use Reviews to Answer Questions and Objections
You might notice there's a common concern or question that keeps cropping up in your reviews.
Chances are, if one or two people have the same concern, more will too. Bring it up in your email campaigns to ease the worry and tackle any objections future customers might have. For example, if lots of people mention your pub's lovely beer garden as their favorite spot, mention it in your emails.
This works for both positive and negative reviews. Sharing positive reviews helps solidify confidence, but you can also dig into reviews to find objections and things you can learn from.

This bakery can pick out common trends that show up in the reviews and insert them into their emails. For example, they might mention that the queue goes down quickly, or the changing flavors of their macarons to tackle any potential objections customers might have.
Top Tips for Using Customer Reviews in Your Email Marketing Campaigns
As you can see, reviews are multi-functional with a side dose of power. They can serve many purposes, from instilling buyer confidence, answering common questions, and providing a personalized experience for each individual customer.
Here's how to make sure you're getting them right when you use them in your emails:
Keep reviews short and sweet (nobody has time to read extra-long emails!)
Pick the right reviews to match your goal (if you're promoting your quiz night, use any reviews you have about it)
Use reviews to bolster other copy, like launch information or service updates
Tap into your reviews to get email content inspiration
Personalize reviews based on customer interests
Reviews are readymade snippets of content you can incorporate into your emails right away. If you're not already doing it, now's the time to start.