Today's consumers are more than happy to express their opinions about visiting local businesses. However, it's beneficial for those entities to make it easy for their customers to leave these valuable reviews. This is why using a Review Us on Google sticker has become standard in 2023.
To make wise decisions in this era of digitalization, customers turn to online reviews. As such, businesses must take care of their reputation on the web if they want to stay competitive and keep up with customer demands.
One effective way to do so is by encouraging customers to leave reviews on your Google My Business profile. Using the Review Us on Google Stickers effectively will improve the quantity and quality of GMB feedback.
In this article, we will provide a full guide on how to obtain and effectively use a Review Us on Google logo sticker in 2023, so that you can increase your business's online presence and attract new customers.
Whether you're a small business owner or a marketing professional, this guide will provide you with all the information you need to get started and harness the power of Google reviews for your business.
What is the "Review Us on Google" Sticker?
The Review Us on Google sticker is a marketing tool that permits a business to promote user reviews via their Google Business Profile. This tool enables companies to target potential customers and stand out amongst others in terms of visibility and reputation.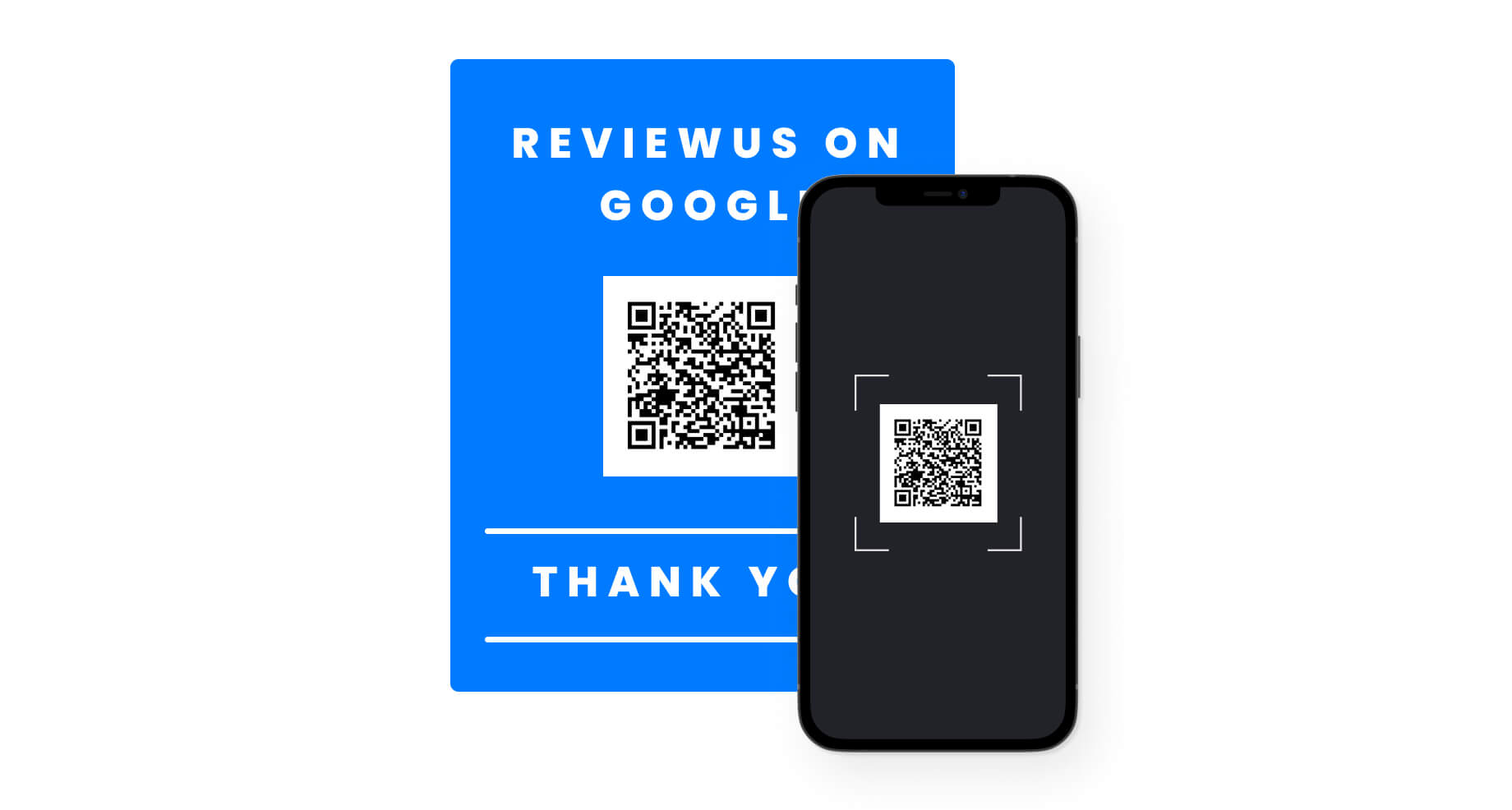 By placing a Google review poster, businesses can leverage customer reviews to showcase their products or services on the world's largest search engine, Google.
You'll normally find a QR code alongside the Google Business Profile logo, prompting customers to review your business on their mobile device. By scanning this code with their smartphones, it's effortless for them to access and leave feedback on your company page!
Businesses display the sticker strategically, often near a cash register or storefront door, to maximize positive reviews on Google.
Eligibility Criteria for the Google Review Stickers
To be eligible to use the leave us a Google review sign or sticker, your physical business or service area business must have an active profile with Google My Business. There are no other conditions or requirements that need to be fulfilled for you to obtain the sticker.
It is essential to remember that this sticker should only be used for promotional purposes and must not be employed in any way that misleads or tricks customers about your business.
As noted below, here are the eligibility criteria for using a Review Us on Google sticker at your local business.
Must be a business based in a region where Google Business Marketing Kit is available
Must have an active profile with Google My Business
Review Us on Google Sticker should not be used to mislead customers in any way
The sticker can only be used for promotional purposes
Must not be in the restricted category
How to Get the "Please Review Us on Google" Sticker
Getting the "Review Us on Google" sticker is easy and straightforward. All you need to do is fill out a simple form found on the Google My Business website.
To initiate your journey in earning a "Please Review Us on Google" sticker, begin by creating an active Google My Business profile with information regarding your business. Once you have accomplished that step, see below for the simple steps to order one.
Step 1
Visit the Google Business Profile Marketing Kit webpage.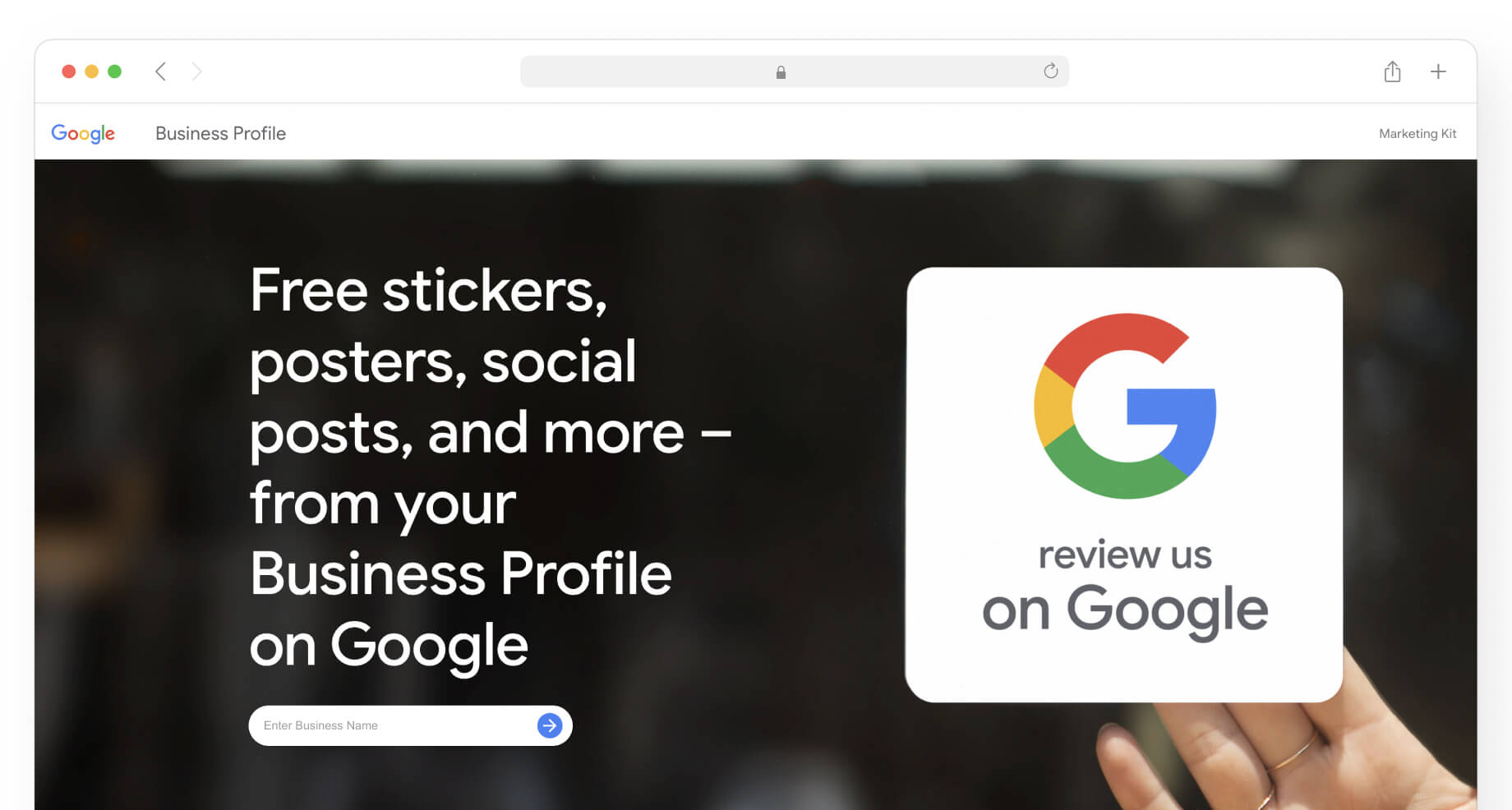 Step 2
In the search box on the Google Business Profile Marketing Kit page, enter the name of your business.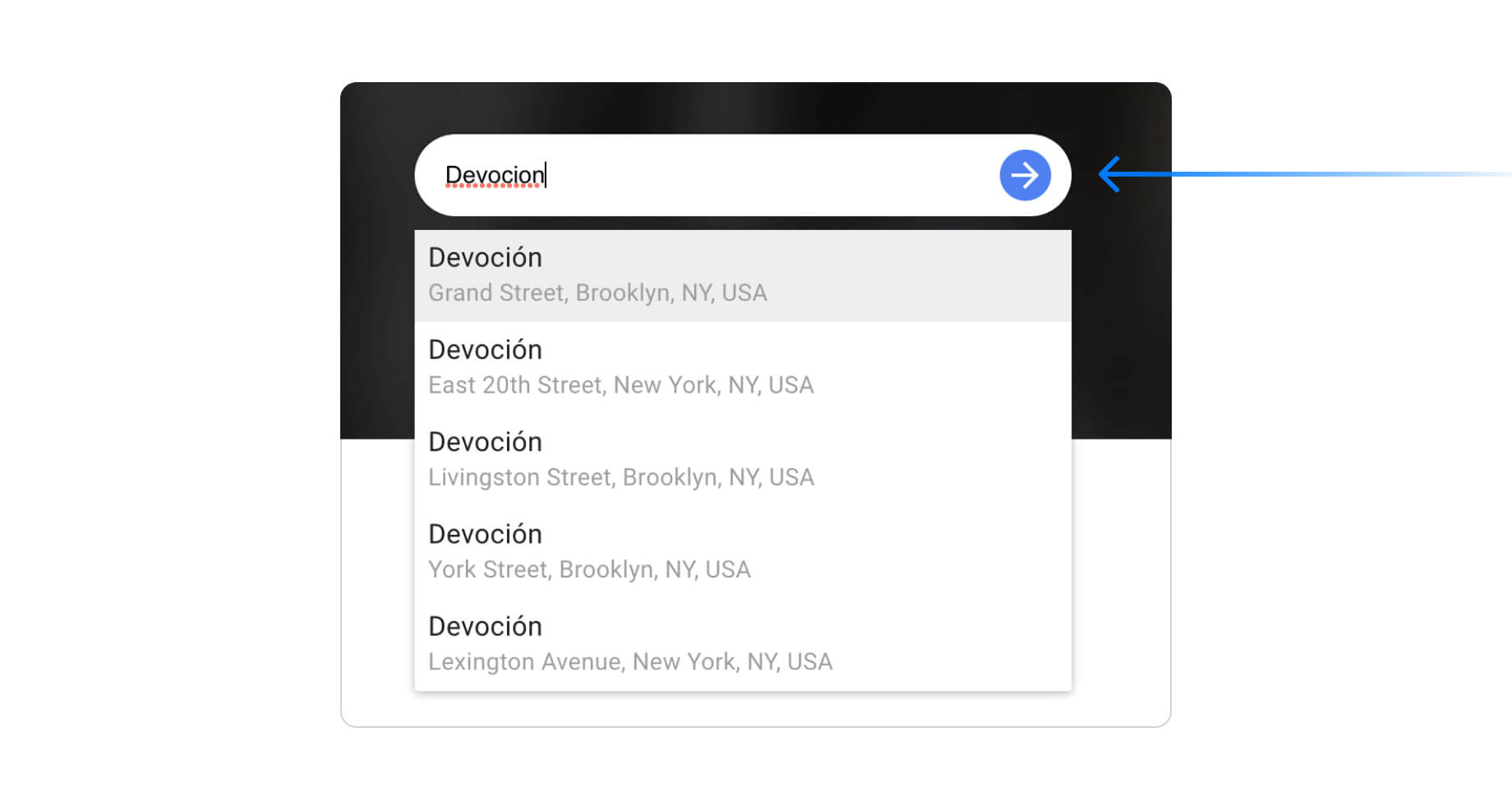 Step 3
Once you've entered your business name, you should be able to find and download the "Review Us on Google" sticker or sign. This sticker/sign can be printed and displayed at your business location to encourage customers to leave reviews on Google.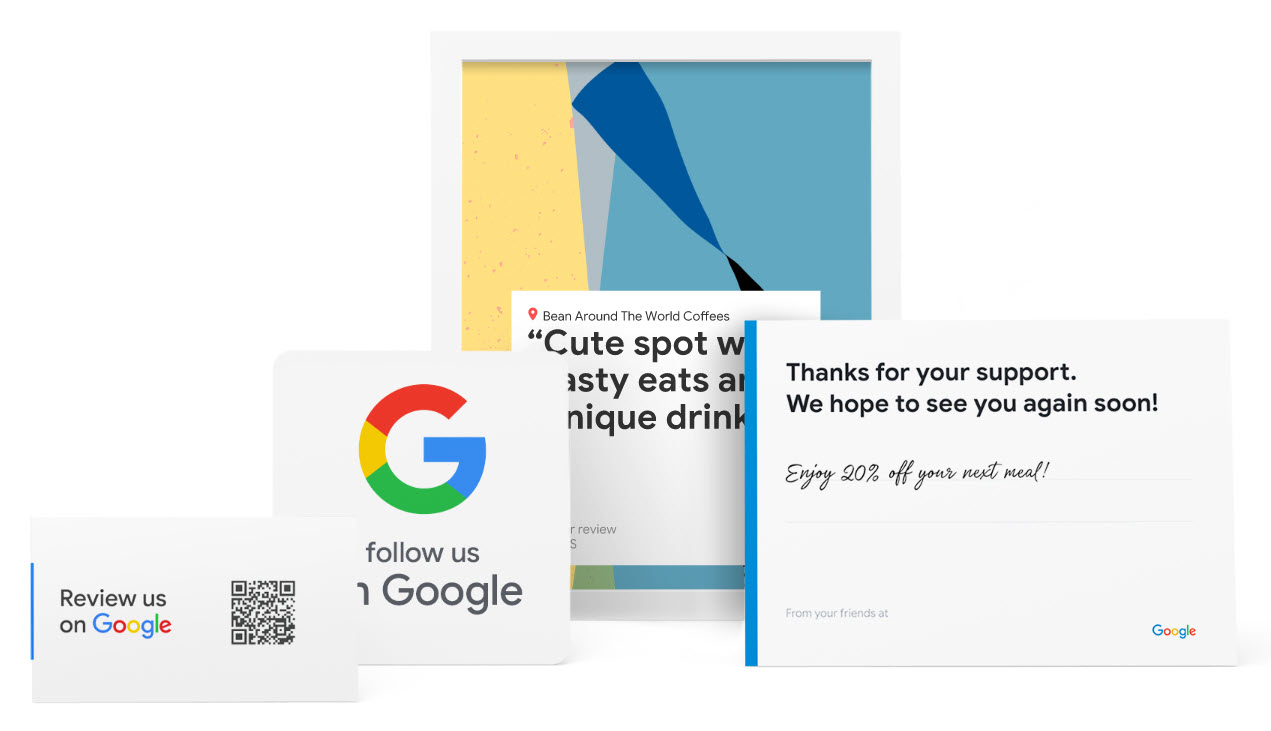 For a more personalized touch, you can craft your own "Please Review Us on Google" stickers using an approved template and any reputable printing service. To remain in compliance with Google's brand guidelines, be sure to adhere strictly to all specifications during the creation process for these badges of appreciation.
Once you've received your stickers, showcase them around your business and ask customers to leave a Google review.
To gain more positive reviews, it's essential to provide excellent client service and deliver an exceptional product or service. Failure to put your customers first after displaying more review stickers at your business can backfire - by increasing the number of negative reviews.
How to Get a QR code For Your "Review us on Google" Sign
Quick Response (QR) codes are a type of two-dimensional barcode that can be scanned with any modern smartphone or QR code scanner application.
These unique codes have the potential to store numerous kinds of data, including website links, contact information, product specifications, and more, allowing you to easily share all sorts of media in one easy step.
By scanning a QR code, your smartphone camera can quickly read and decipher the data embedded within it. This encoded information is then readily available to open websites, add contacts, or simply be displayed onscreen for easy reference.
By using QR codes, businesses can effortlessly provide clients with pertinent information or discounts.
In the case of a "Review Us on Google" sign or sticker, a QR code can be used to take customers directly to the business's Google My Business review page to leave a review.
To get a QR code for your "Review Us on Google" sign, follow these steps:
Generate your Google review link using our free Google review link generator or Chrome extension.
Generate a customized QR code with ease by visiting platforms such as QR Code Generator or QR Code Monkey.
Paste the link to your business's review page into the QR code generator.
Customize the design of your QR code, if desired.
Download and print your QR code.
With your own QR code, you can conveniently place it anywhere - like on a sign or sticker. If clients scan the QR code with their mobile phones, they will be directed directly to your business review page on Google - making leaving feedback an effortless task!
Is it a Digital or a Physical Sticker?
Refined to serve your needs, the Google Review Sticker is available in two forms: digital and physical. You can choose to integrate it directly into your accounts through an app or apply it onto any material of choice; be it a storefront, merchandise or otherwise.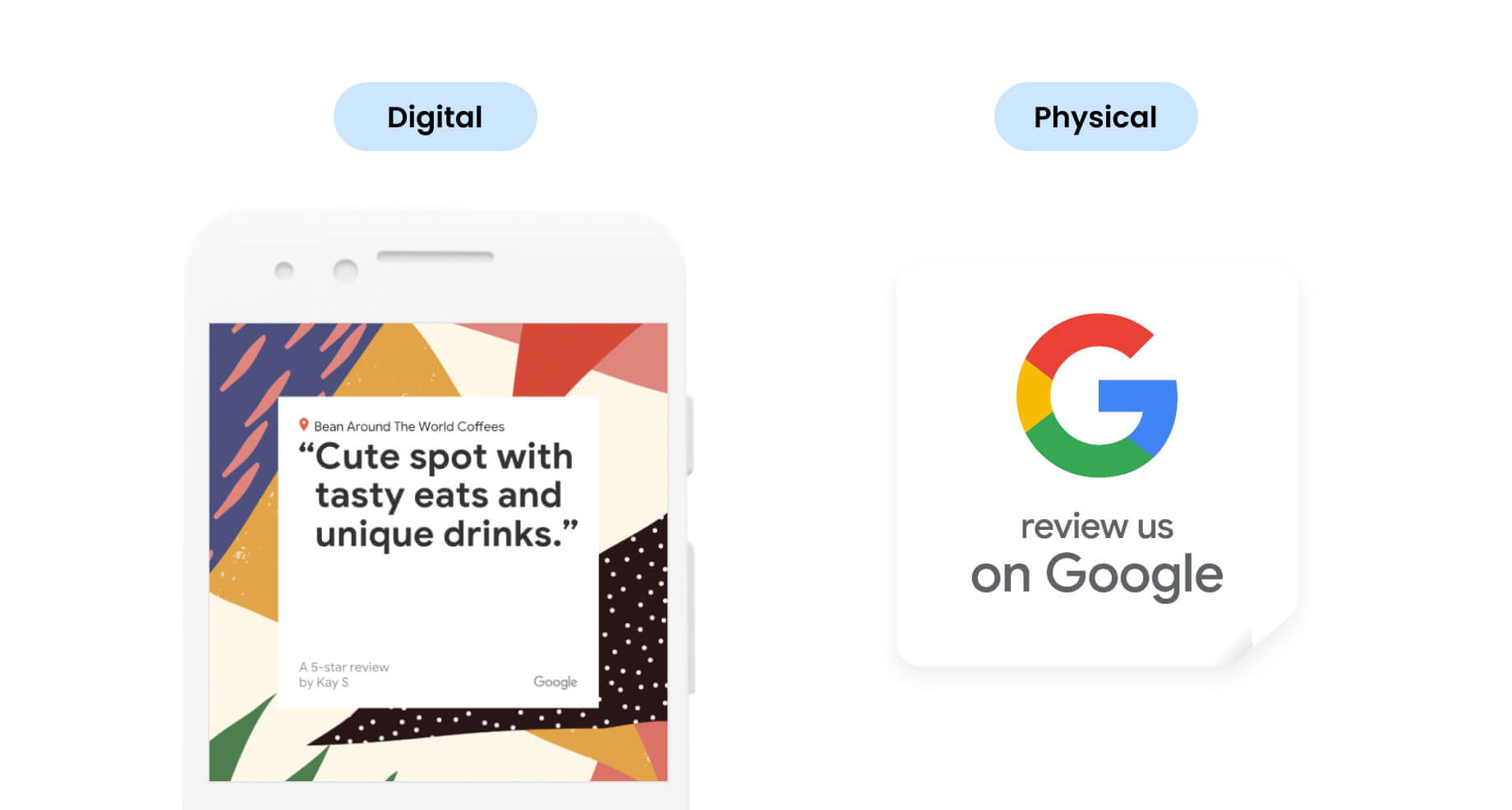 Rest assured that regardless of format selected, the sticker will remain identical from print to digital mediums.
If you want to bolster your business's presence online, take advantage of Google's digital marketing kit, which offers an abundance of information about your company - suitable for printing or downloading.
Where to Place Your "Rate Us on Google" Sticker
Location plays a huge role in your ability to collect high-quality, positive GBP reviews. If you're confused about where to place your stickers, here's a list of ideas, including both physical and digital locations, for you to consider: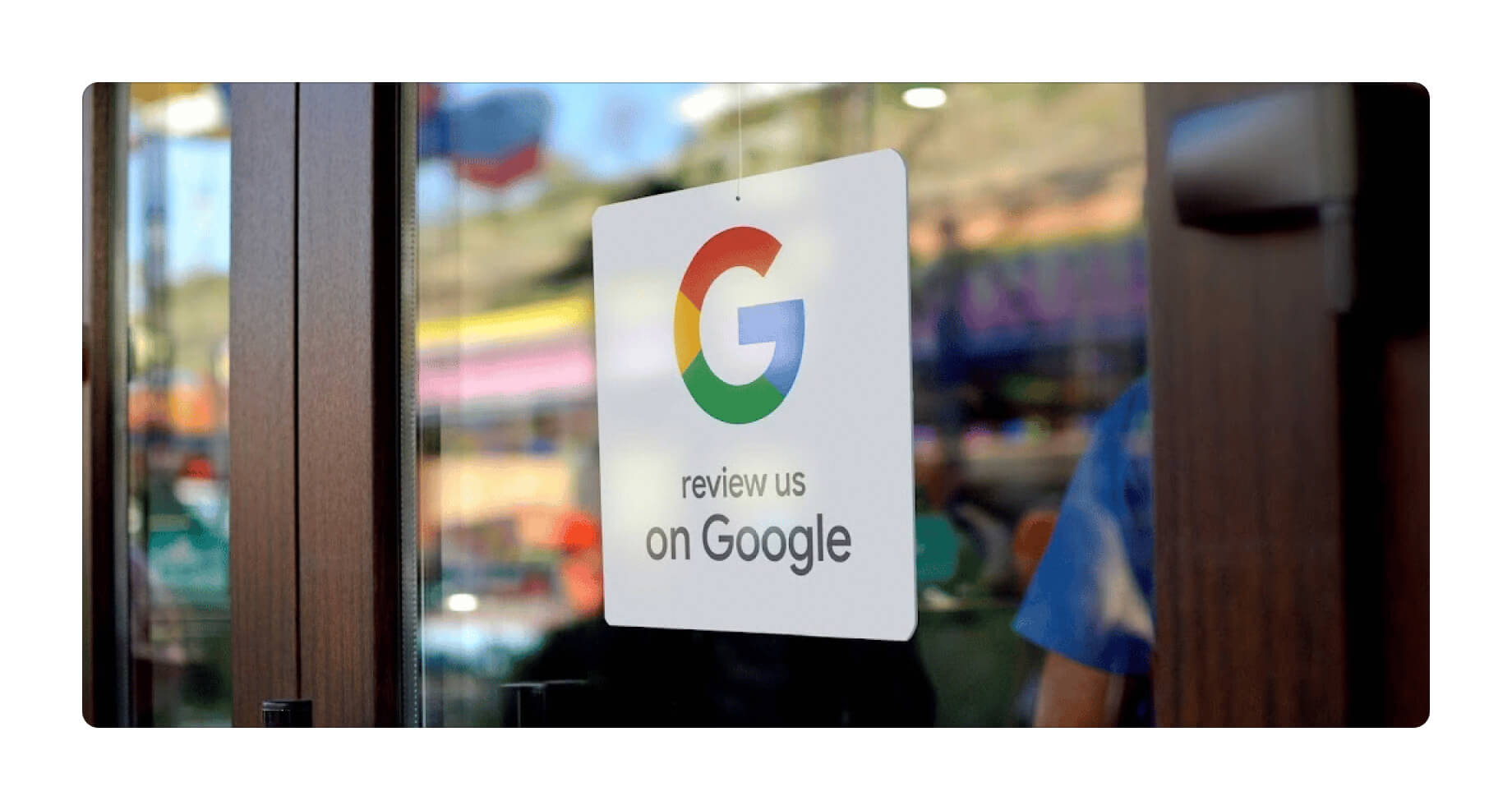 Idea #1 – Place the Sticker in Windows of Your Storefront
One of the best locations to place a review sticker is the front window or door of your business. This permits your current and future customers to review your profile, reviews, and post a rating themselves.
It's a great way of marketing the quality of your business and building your online reputation with very little effort.
Consider placing the sticker next to your business hours for high visibility.
Idea #2 – Payment Gateways
If you operate a local business and complete transactions onsite, why not take advantage of a QR code and rating sticker by placing them in locations where customers checkout?
This can include portable credit card processing machines, cash registers, or self-payment POS terminals.
Idea #3 – Tables or Product Displays
For those who own restaurants or have items that customers can purchase directly at their location, it's common for proactive business owners to place review stickers where consumers actively engage with the business.
For example, let's assume that you have a restaurant and serve customers at their tables. Placing a Google business page review sticker with a QR code makes it easy for them to provide a rating in real time.
Idea #4 – Receipts and Invoices
If you're able to create a digital image file of your Google review image, consider embedding them onto your sales receipts or invoices. This is especially helpful for service-based businesses, like plumbers, HVAC, mechanics, and others.
You can also add the logo to printable posters or a business card for additional exposure.
Idea #5 – Social Media Posts
Unlock new opportunities for your reputation management with Instagram stickers! Incorporate them into your next campaign and expand the reach of your social media posts to a whole new audience. Digital stickers are an innovative way to take customer engagement up a notch, so don't miss out on this great opportunity.
It's also easy to create a banner image with your embedded QR code that links directly to your Google My Business profile. The header image can be posted to any of your social media accounts, ranging from Twitter, Facebook, and Instagram.
Are the Google Review Signs Customizable?
Unfortunately, the Google review signs and badges cannot be changed or customized in any way. The design of these illustrations is automatically generated by Google based on how many reviews a business has received as well as their overall rating.
The badges are intended to showcase the business's reputation and help potential customers make informed decisions based on the experiences of others.
While the appearance of the badges may vary slightly depending on the device or platform they are viewed on, there is no way for businesses to customize their design or content.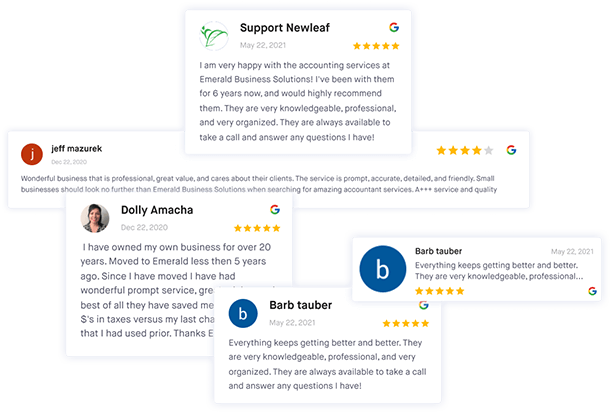 Leverage feedback and reviews to improve your online reputation
Get more online reviews and turn your customers into raving fans with ReviewsOnMyWebsite review generation software.
Key Takeaways
Getting a "Rate Us on Google" sticker is an effective way to boost your online reputation and gain more positive reviews. All you need is a few easy steps and access to the free resources from Google.
The stickers should be placed in strategic locations like storefront windows, payment gateways, tables or product displays, receipts/invoices, and social media posts.
Although the badges are not customizable, they do showcase your business's reputation and provide potential customers with valuable information about other people's experiences.
Using these stickers is a great way of improving your online reputation and generating more Google reviews.
Once you collect multiple reviews on Google, you can install the Google reviews widget on your website to display your top rated GMB ratings.