When considering a business or product, people will search Google reviews to gain feedback from other users who have engaged with a local business. However, with so many reviews available, it can be challenging to sort through them all to find the information you need.
Like any other search tool, using strategic keywords that are associated with a business, product, or service, can streamline the process. In fact, by using the right keywords and following a few simple tips, users can quickly search Google reviews and find positive and negative reviews published to Google business listings.
In this guide, we will walk you through the steps to effectively search Google My Business reviews by keywords, so you can make more informed purchasing decisions and evaluate the reputation of a business.
We will also provide a few tips that can help a local business gather valuable insights into their competitors, improve search rankings, improve the customer experience, and their industry.
What Exactly is the Google Reviews Search Option?
The Google reviews search option allows users to search for online reviews of businesses, products, or services on Google. When happy customers write a review of a business or product on Google, it becomes publicly available for others to see. However, fake reviews are just as visible.
While modern search engine optimization programs depend on strategic keywords and phrases, quality written reviews with engagement have a bigger impact on modern search engine rankings.
By using the Google reviews search option, users can easily find and read these reviews, and make more informed decisions about whether to use a particular product or service. Like we stated above, this applies to positive and negative feedback.
As such, it's important for business owners to learn how to use Google reviews for business for improved outreach that can influence their future customers' purchase decision.
The search option allows users to filter customer reviews by rating, date, and keywords, making it easier to find the information they need. Overall, the Google reviews search option is a useful tool for anyone looking to make informed purchasing decisions from customer feedback or evaluate the reputation of a business.
Why Would You Search Google Reviews?
When you break it down simply, searching Google reviews is all about gathering information. Sometimes a user will search for reviews to find a business locally that provides the goods and services they want.
In other situations, it's to complete some due diligence based on a personal recommendation they received.
Here are some specific reasons why a potential customer might use the search function on Google reviews.
To Evaluate Business Reputation: By searching for reviews of a business on Google, you can get a sense of what other customers think about the quality of its products or services. Assuming all content complies within the content policy, and is not deemed an inappropriate review, all listings with relevant keywords will be listed.
To Improve Knowledge About Services or Products: Reading quality reviews can help you decide whether a product or service is worth the money and can meet your needs. However, since users personal information is not listed, these are essentially anonymous reviews. Nevertheless, they are still valuable for business owners and potential customers alike.
To Leave Reviews: If you have had an experience with a business or product, you can leave your own review on Google to help others make informed decisions. This is extremely common with a local restaurant review. Users will use review platforms like GMB to leave their feedback for others.
To Determine Customer Service History: Review sites like Google can give you an idea of how responsive and helpful a business is when it comes to customer service. When the review count and review volumes are filled with comments that indicate a positive experience, it's assumed that this business is one that should be visited.
How to Search Google Reviews by Keywords and Topics
The Google search box is user-friendly, and allows a future customer to find reviews, businesses, or services that are located near them, or in specific cities, states, or countries.
If real customers have a negative experience, they are more likely to post about it online or engage the word-of-mouth advertising strategy. While every business owner does not like bad reviews, their essential feedback is crucial for them to fix those issues.
As Google is first and foremost a search engine, you can trust that the results will be robust, detailed, and genuine. Using this tool on Google reviews is simple – and is universal regardless of the type of device used.
Noted below are the easy three steps you need to complete to find reviews.
Step 1: Search Businesses in Google Maps
You can search businesses by entering full business name, business type, or keywords that are related to the search.
For example, if you are searching for a good Italian restaurant in La Jolla, California, you can type in the phrase "Italian restaurant La Jolla", and the search engine will handle the rest.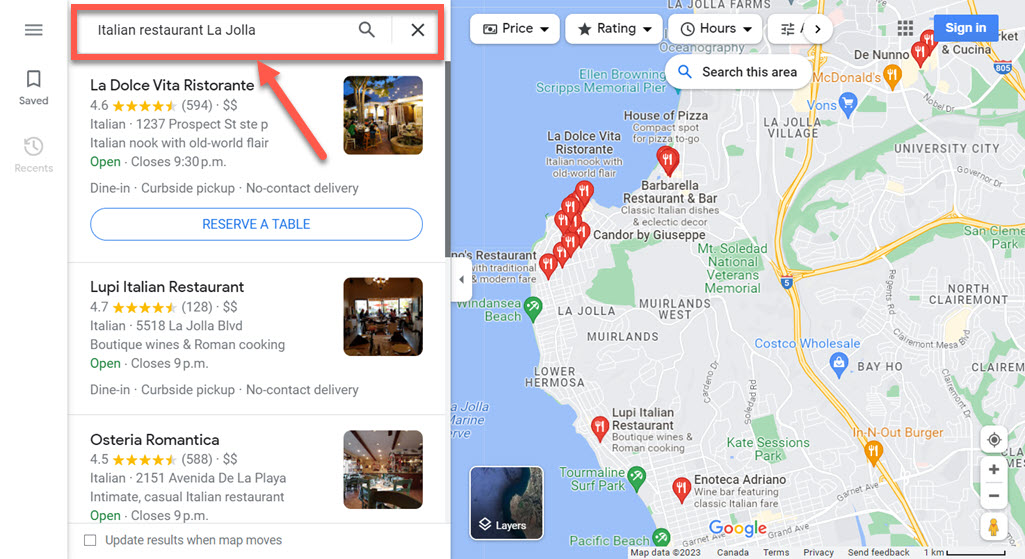 On the results page, you'll be able to refine your search by selecting businesses with a specific rating. If you only want 4-star reviews and higher, you can select that option – which will produce the highest reviewed Italian restaurants.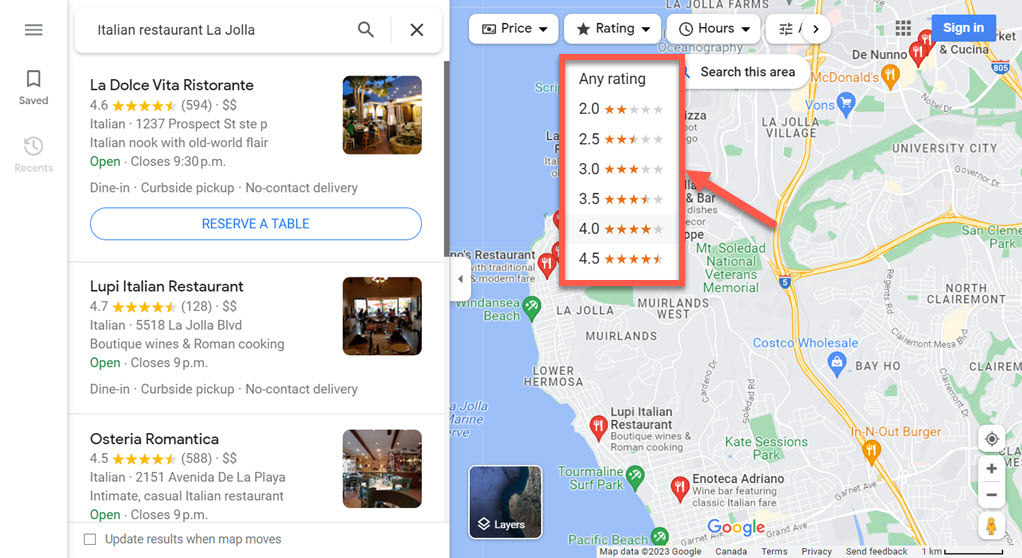 Step 2: Select Business
Select the business that matches your search criteria and click on the Reviews tab. Here you'll be able to read reviews from other customers, filter the reviews by popular keywords and sort the reviews by newest, most relevant, and highest or lowest rating.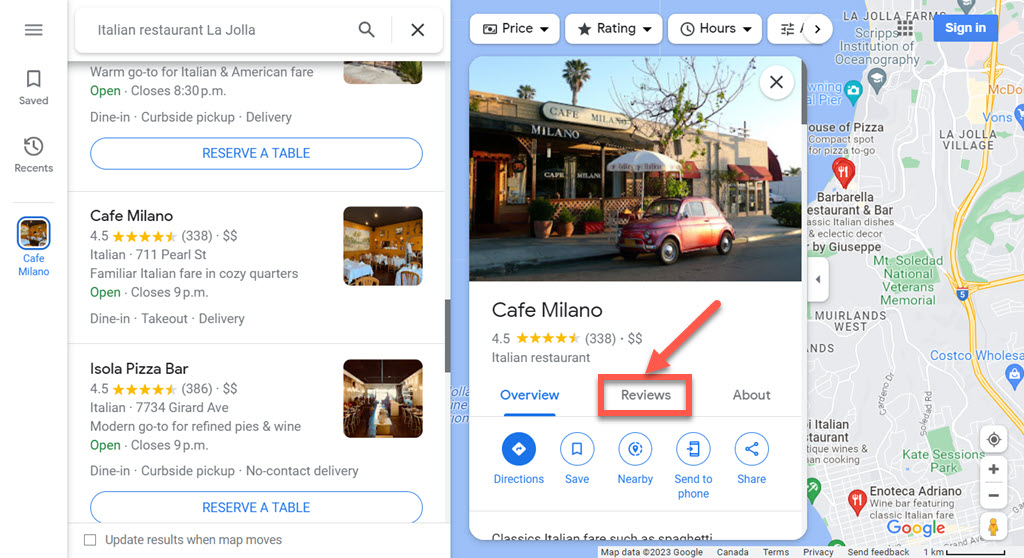 Step 3: Search Reviews by Keywords
In order to search reviews by a specific keyword, click on the magnifying glass, type in the keyword in the search box that appears, and press "Enter."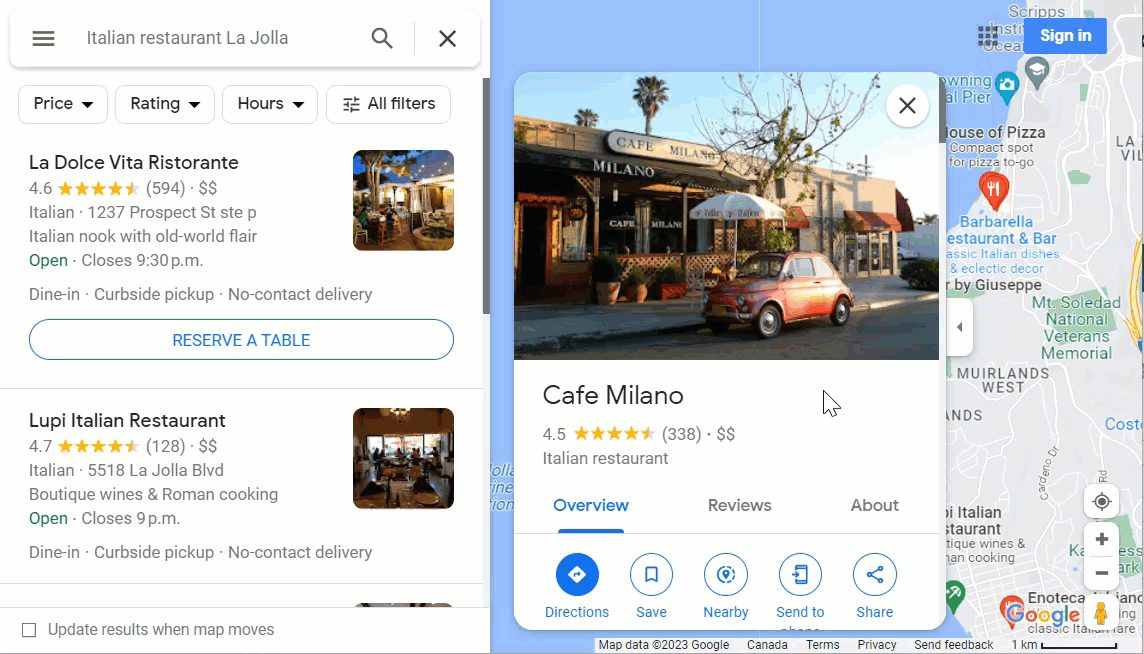 The review search option is a great way for users to get an idea of what kind of experience other customers have had with this business.
Keep in mind that Google reviews are written by other users, and not all reviews may be reliable or accurate. It's important to read a variety of reviews and consider the overall sentiment before deciding based on them.
For a business, using the search function is likewise an effective way of finding out how your competition stacks up. But like general users, it's always a smart idea to complete multiple searches, by changing up some of your keywords or phrases.
Can You Search Google Reviews by User? How to Find Someone's Google Reviews in 3 Steps
Unfortunately, there is currently no direct way to search Google reviews by user. Google reviews are designed to be anonymous, and the usernames of the reviewers are not publicly displayed.
However, you can try to find a specific user's review by searching for a keyword or phrase that they might have used in their review. And if you're a business page owner, you can see the reviews left by users – including those left on your page.
Here are three simple steps you can complete to try to find specific users.
Step 1: Determine if Users Left Multiple Reviews
If the user has left multiple reviews, you can try to narrow down the search results by adding additional keywords or selecting a specific date range. You can also click on the user profile and see several of their previous reviews.
Step 2 – Look into the Review Content
Many users tend to be consistent with the way they write reviews. Some have a habit of misspelling words, using specific descriptive terminology, or other consistent phrasing.
If you notice a pattern of frequent reviews that tell the same story, and appear to be written by the same user, this could be valuable towards identifying the user.
Step 3 – Learn More About the User
If you've clicked on their Google profile and determined that they've left multiple reviews on your business page, you can contact them via a private message to gather additional information.
For privacy reasons, Google does not publicly list the users personal contact information. However, some users will display their emails, websites, and other details that may provide some insights into their identity.
You can do this by clicking on their username in the review and seeing if they have provided any contact information, such as a website or social media account.
Overall, searching Google reviews by user can be difficult, but it's not impossible. By using keywords and being persistent, you may be able to find the review you're looking for.
Key Takeaways
When you operate a business in today's digital age, gathering vital information about your customers, competition, and industry helps you improve your operations. Using Google review search as a tool to read comments and ratings from your customers is a very good marketing and growth strategy.
However, if you're looking to control the growth and quality of your Google Business Profile reviews, you might consider using a reputation management software like ReviewsOnMyWebsite.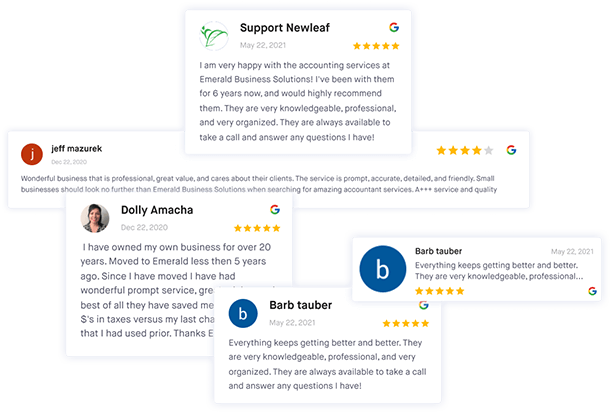 Leverage feedback and reviews to improve your online reputation
Get more online reviews and turn your customers into raving fans with ReviewsOnMyWebsite review generation software.
ReviewsOnMyWebsite provides a business with multiple resources that help them request feedback and ratings from their past and current customers. You can customize the emails and SMS messages to include a direct Google review link.
When the user gets the message, they simply need to click that link, log-in, and post their rating. Plus, you can use the Google reviews widget to automatically display some of your best Google reviews directly on your website.