There are a lot of reasons why you might remove Facebook reviews from your business page. However, going about this task is not as simple as you'd think—especially in 2023, as Facebook community standards continue to evolve.
Maybe your business has gotten a few customers who are bad for business and always leave bad feedback. You may be getting negative reviews unrelated to your business, from non-genuine customers, or violating community standards.
No matter the reason, you need to know how to get rid of Facebook reviews to ensure your potential customers are not influenced by a non-legitimate customer's negative experience or fake reviews.
In this article, we'll provide step-by-step instructions on how to remove Facebook online reviews in 2023. We'll also explain what Facebook's community standards say is inappropriate content and how to turn off reviews on your profile.
We'll also look at alternative solutions when removing reviews from Facebook is not an option. So, if you're looking for the best ways to manage your online reputation, let's get started.
Can you delete a review on Facebook?
Yes, you can delete a Facebook review from your business page in 2023. However, the process of doing so is more complex than it used to be.
Facebook wants to ensure each user has the right to publish factual feedback of businesses who use their platform. Whether it's a positive recommendation, or a perceived unfair review based on poor service by the business.
One misconception about this social media platform is that business owners can remove any false reviews for whatever reason. That's not entirely accurate.
It's good to remember that any user who has left a review can choose to report it if they feel that their review has been unfairly removed.
So, always look at Facebook's community standards before deleting any customer complaint.
If you decide that the content in the review is inappropriate or violates any of Facebook's policies, go ahead and delete it. Once you have removed the review, you can use the "Report" feature to report it to Facebook for further investigation.
4 Reasons you might want to remove Facebook reviews from your business profile
As we said above, you should think carefully about whether or not to remove a review from your Facebook business page. Many times, the feedback you think is bad is legitimate based on some deficiencies in your operation.
If you remove a former customer's inappropriate reviews without due cause, it could go against you if the user thinks their review was justified.
Users have rights as well, one of which is to file a complaint with Facebook based on the business reviews action.
However, there are some valid reasons why you should remove individual reviews from your Facebook business profile.
Reason #1 – The review is not relevant to your business
One of the most common reasons you should remove a review from your Facebook business page is if it has nothing to do with your business. These are called irrelevant reviews. This happens quite often, especially if your Facebook business page is public.
There are some Facebook users who are toxic and will go out of their way to provide negative feedback just because they can. This type of objectionable content or a one-star review, can negatively impact your business's social proof, which is a key element to proactive online reputation management.
As such, if a user posts something that is not related to what you offer, and thus, not a legitimate review, then it's time for it to go.
Reason #2 – The review was not published by a genuine customer
Another reason to remove a review is if it was not published by an actual customer. This often happens when a business owner or their friends post reviews to boost the ratings on their page.
Facebook and other review sites have strict rules that say business employees and family members can't boost ratings. If you are caught permitting this action, it can lead to significant penalties.
To be protective of your business's online credibility, any reviews that don't come from genuine customers should be removed from your page.
Reason #3 – The reviewer has a long history of negative only feedback
We all know that one person always has something negative to say and never posts anything positive. Unfortunately, these types of customers can do a great deal of harm to your business's reputation.
If you find that a user's reviews and feedback are mostly negative, the best thing to do is to remove all of them from your page. Genuine customer feedback that is not perfect is acceptable. And it's important to respond to these reviews in a positive and professional manner.
But, if you find that users are only there to talk bad about your business, you are within your rights to delete and ban them from your page.
Reason #4 – The content in the review is hostile or against community standards
Finally, if you find that the content in a review is hostile or goes against Facebook's community standards, you should delete it immediately. Graphic content has no place on Facebook or any other public review forum.
Hate speech and other inappropriate content can do a lot of damage to the image of your brand. This type of feedback can also impact a new visitor's purchase decision. Getting rid of these kinds of reviews before they are reported is key to keeping a good online reputation and getting customers to like your brand.
What Facebook's community standards consider as inappropriate content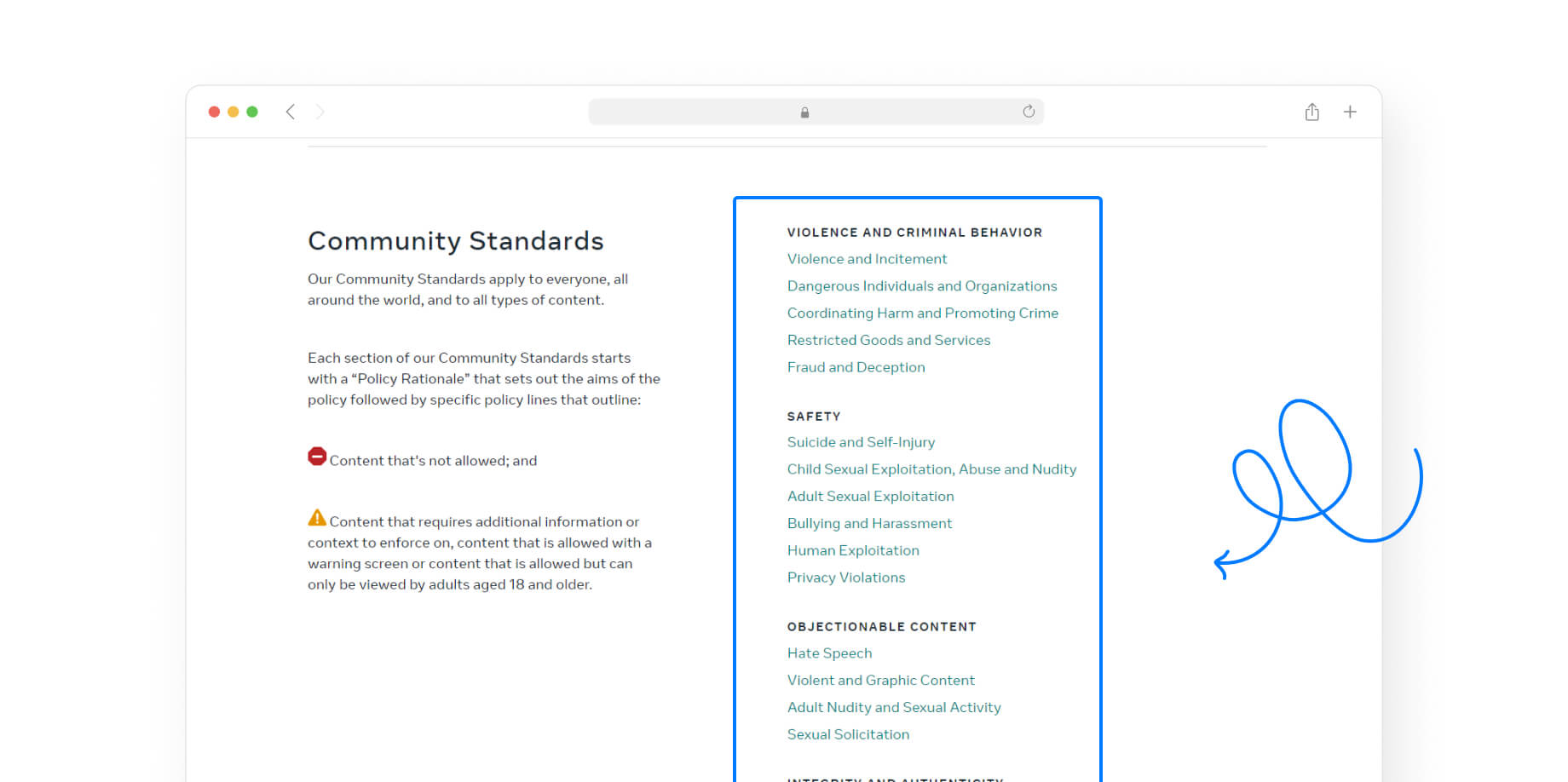 When it comes to real reviews being removed from your Facebook business page, you should always make sure that it is in accordance with the social networking site's community standards. These rules are meant to protect users and make sure they can use their platform in a safe way online.
These four rules are some of the most common community standards that you should think about when deciding if something is wrong - so your page visitors can make an informed purchase decision.
Rule #1 – Threats of violence
Threats of violence against a person or a group of people are not allowed in any content. All these kinds of posts should be reported to Facebook and taken down from your page right away.
Rule #2 – Hate speech
Hate speech about any race, ethnicity, national origin, religion, sexual orientation, or gender identity will be flagged and taken down. Additionally, any posts that belittle or demean a group of people should also be deleted from your page.
Rule #3 – Bullying and harassment
Bullying or harassing people is not allowed on Facebook, and any content that is thought to be bullying or harassing will be flagged and taken down. If you find that any reviewer is posting content that is designed to offend or hurt another person, then you should delete it as soon as possible.
Rule #4 – Spam
Finally, any posts or reviews that contain spam will be flagged by Facebook and taken off your page. This also includes content with false information, misleading language, fake ads, and links to websites that are harmful.
These are just some of the more common community standards that should be considered when it comes to removing reviews from your Facebook page. Always make sure to double-check any content posted on your page before deciding whether it should stay up.
How to request a Facebook review removal?
If you find that a review on your page violates any of the above rules, you can report it to Facebook. This will flag the content and alert Facebook's moderators that there might be something wrong with this post.
1) To begin the reporting process, visit your business page and locate the review in question.
2) Then click the three dots in the top right corner of the review and select "Report."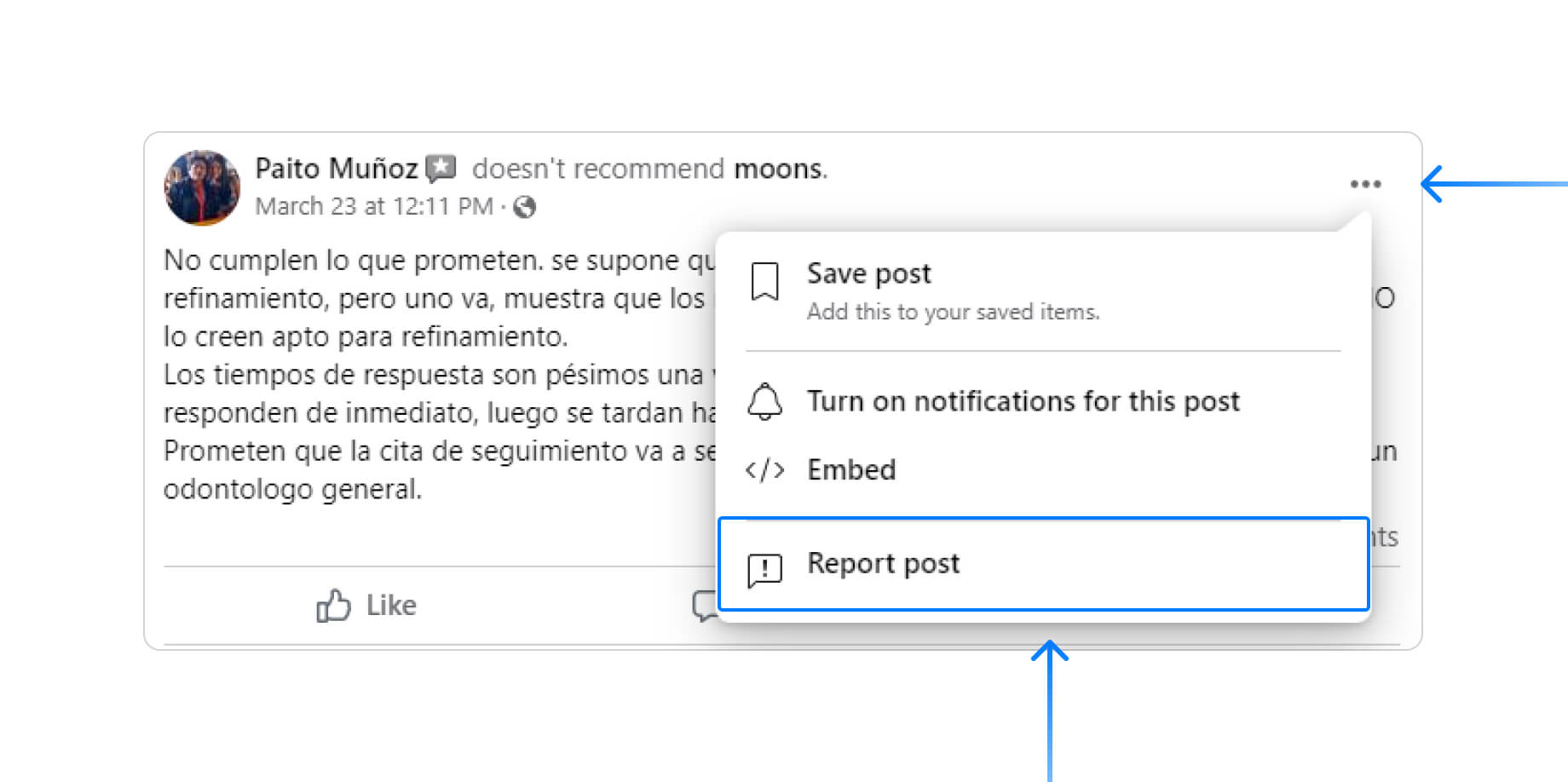 3) Once you've told Facebook about a review, their team will look into it and take action as needed.
If they decide that the content doesn't break any community rules or give out false information, it will stay on your page.
How to turn off reviews on Facebook in 2 easy steps
Removing reviews from your Facebook page can be a time-consuming process, but there are some steps you can take to make it easier. Here are the steps you should take to turn off reviews on Facebook in 2023:
Step 1: Start by going to your business page and clicking "Settings."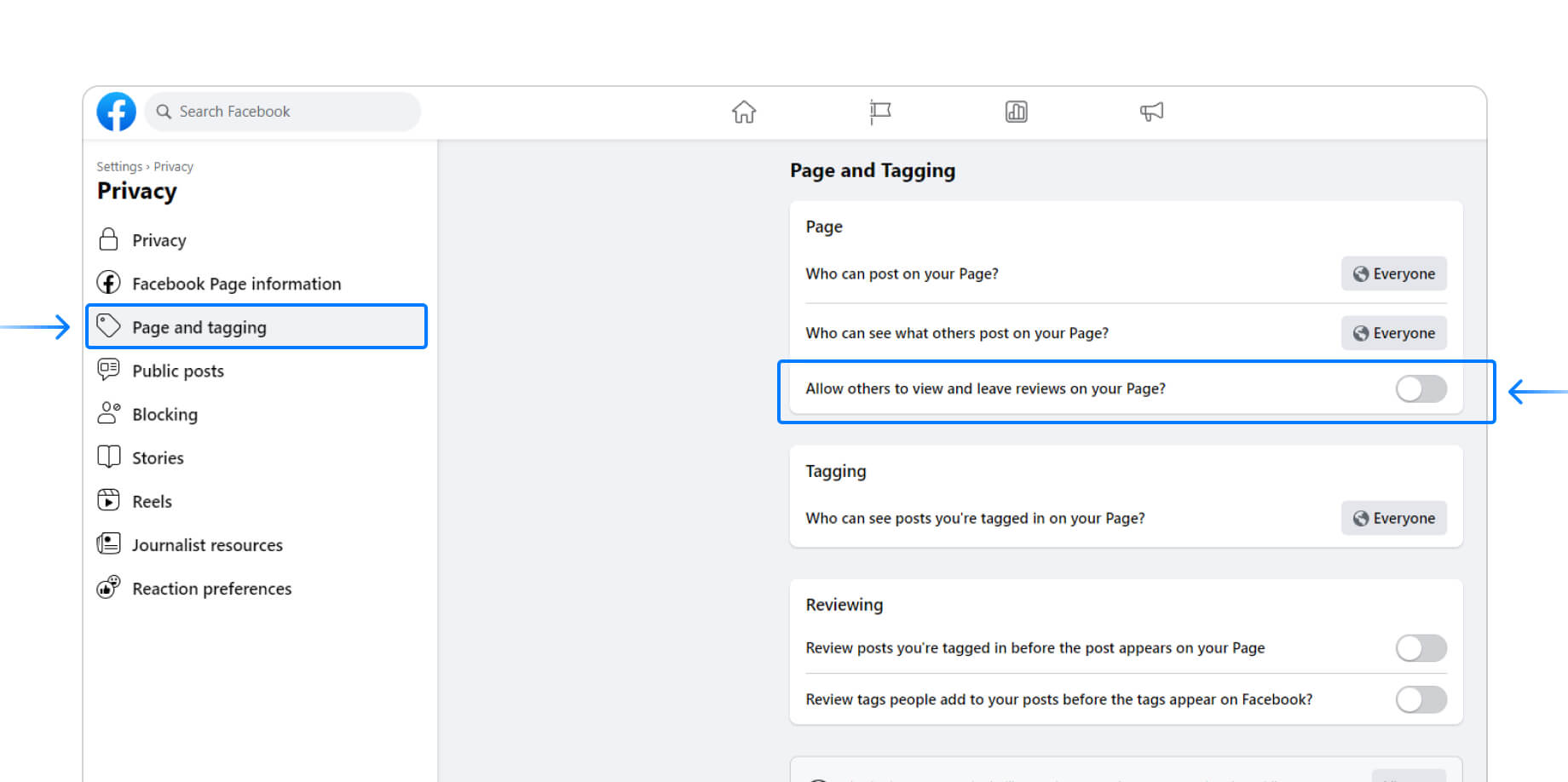 Step 2: Next, click on "Edit Page" and then select "Manage Reviews." On this page, you will find the option to turn off reviews. Click that button, and you're done!
Turning off reviews on Facebook is a great way to protect your page from inappropriate content or spam. With this feature, you can make sure that everything you post on your page follows the rules and won't get taken down by Facebook.
What if removing reviews from Facebook is not an option?
Unfortunately, there are times when removing reviews from Facebook is simply not an option. Even the best social media marketing agencies or digital marketing experts can struggle with knowing when or if to remove a review.
The goal of any online review platform is to generate factual reviews from active users of your services or products. These reviews can influence potential clients, so you want to ensure to resolve reviews that showcase your business in a negative light in a professional way.
In these situations, the best thing to do is to be proactive and respond to the bad review to stop any more damage. Here are a few ways you can mitigate questionable reviews with excellent customer service on display.
Option #1: Respond to negative feedback
The first choice is to respond to the bad review and answer any questions or concerns that the angry customers brought up. This method gives you a chance to show how much you care about quality service and how seriously you take their feedback.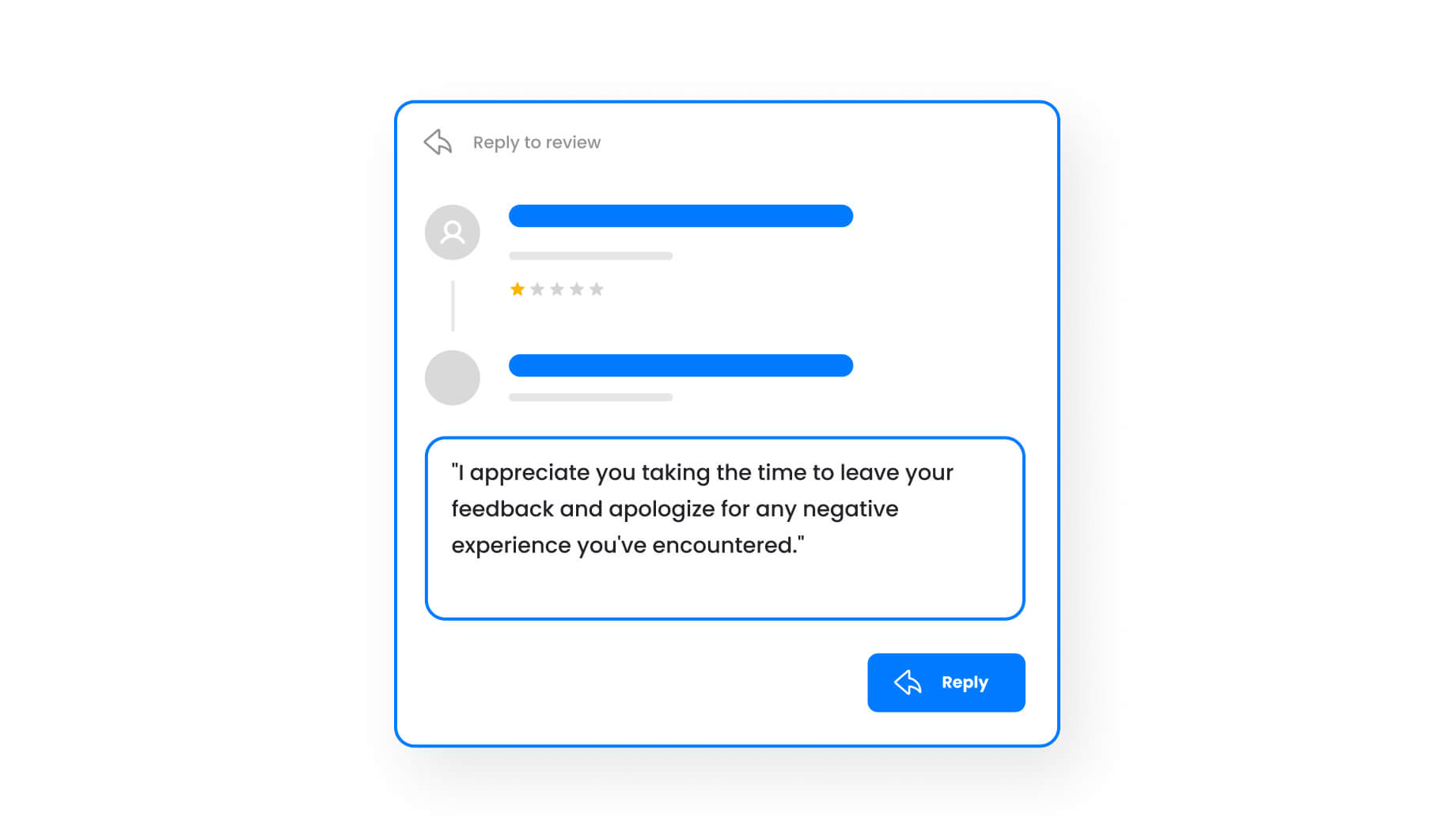 Option #2 – Try to resolve the negative reviewer's issue
Another option is to try and resolve the issue that caused the negative review by disgruntled customers in the first place. If you can address the dissatisfied customer's grievances, then it might be possible for them to change their opinion about your business.
Option #3 - Ask a customer to edit or delete their review
If you're able to resolve the issue that the negative reviewer had with your business, you could ask the customer to edit or remove their bad review. While this might not be ideal, it can help to prevent other customers from seeing the negative opinion and forming an unfavorable impression of your business.
Option #4 – Use reputation management software to increase positive reviews
Lastly, learn how to get Facebook reviews using software solutions like ReviewsOnMyWebsite to manage your reputation and help get more good reviews on your page. This will increase the number of positive reviews, which can make up for any negative ones and keep your overall rating high.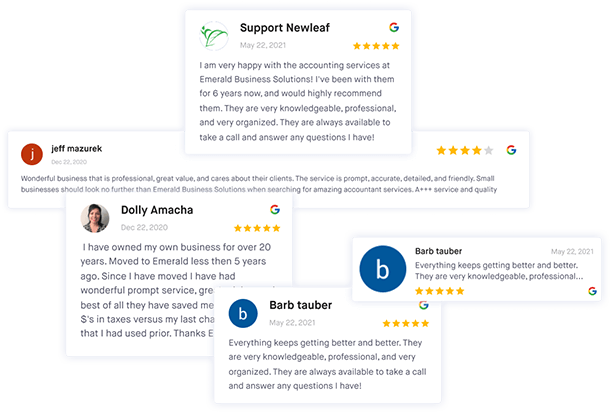 Leverage feedback and reviews to improve your online reputation
Get more online reviews and turn your customers into raving fans with ReviewsOnMyWebsite review generation software.
How long does it take Facebook to remove a reported review?
It depends on the nature of the review and how quickly Facebook's moderators can respond to your request. Generally, it could take anywhere from a few days to several weeks for a reported review to be taken down. The important thing is to report the review on time so that the moderators can respond quickly.
How long does it take to disable Facebook reviews?
Disabling reviews on Facebook is a relatively easy process that should only take a few minutes. Once you have turned off the feature, any reviews that have already been posted will no longer be visible on your page.
What should I do while I wait for Facebook to remove a review?
You can start a positive review program while you wait for Facebook to remove a review. With an automated software like ReviewsOnMyWebsite, you can ask current customers to leave a review. This will help to balance out any negative feedback and make sure your overall rating stays high.
How long do reviews stay on Facebook?
Once a review is posted on your page, it will remain visible unless you remove it or choose to disable the reviews feature. With that said, Facebook's algorithms could decide to hide some reviews if they are inappropriate or seem like spam.
If you block someone on Facebook, will it remove their review?
Blocking someone on Facebook will not automatically remove their review. But you can tell Facebook's moderation team that the review is wrong, and depending on what it says, it may be taken down.
Key takeaways
Facebook is a powerful tool used by many businesses to connect with their current and future customers. However, most consumers these days judge the quality of a local business or service provider based on the quality of their overall ratings and direct customer reviews.
Using a flexible and automated solution like ReviewsOnMyWebsite permits a business with a Facebook page to send SMS and email review invites to their past and current customers. The business can insert a direct link to their review page, which permits the customer to quickly leave a rating or review with a single click.