In today's digital world, the content you share helps shape the way people see your brand. This includes everything from how you Tweet, the blog posts you publish, and the visuals you share.
As consumers crave more authentic experiences with brands, user-generated content (UGC) becomes increasingly important for creating a relevant and credible online presence. UGC is content about your brand produced and shared by your audience, including reviews, ratings, testimonials, and customer photos/videos.
So how do you use UGC to shape your online presence?
Ways UGC can shape your online presence
When used effectively, UGC amplifies your brand's best qualities. UGC helps establish an online presence that reflects your brand and your customer's ideal experience.
Here are a few ways you can use UGC to shape your online presence
Promote authenticity by sharing everyday content from real customers and standing out from staged brand content.

Increase visibility with campaigns that encourage customers to create content and promote your business.

Build trust and create confidence around your product or services by showcasing reviews and ratings from past customers.

Generate brand desire and inspire brand loyalty by sharing the excitement and experiences of your best customers.

Increase engagement by adding customer-generated photos and reviews to your marketing campaigns.
3 Steps to Building an Online Presence With UGC
1. What experience do you want customers to have?
For your content to resonate with your customers, you have to get to know them first! Understanding what your customers want in a brand helps you craft a successful customer experience.
If you're a law firm, you might want customers to have a professional experience they can trust. On the other hand, if you're a cocktail bar, you might want customers to have a fun, stress-free experience they'll share with friends.
Think about how UGC fits into the image you want to present and what type of content best resonates with your target audience. As a law firm, testimonials from past customers will bolster your credibility, while customer-generated photos for a cocktail bar show off to potential customers how much fun that bar's nightlife is.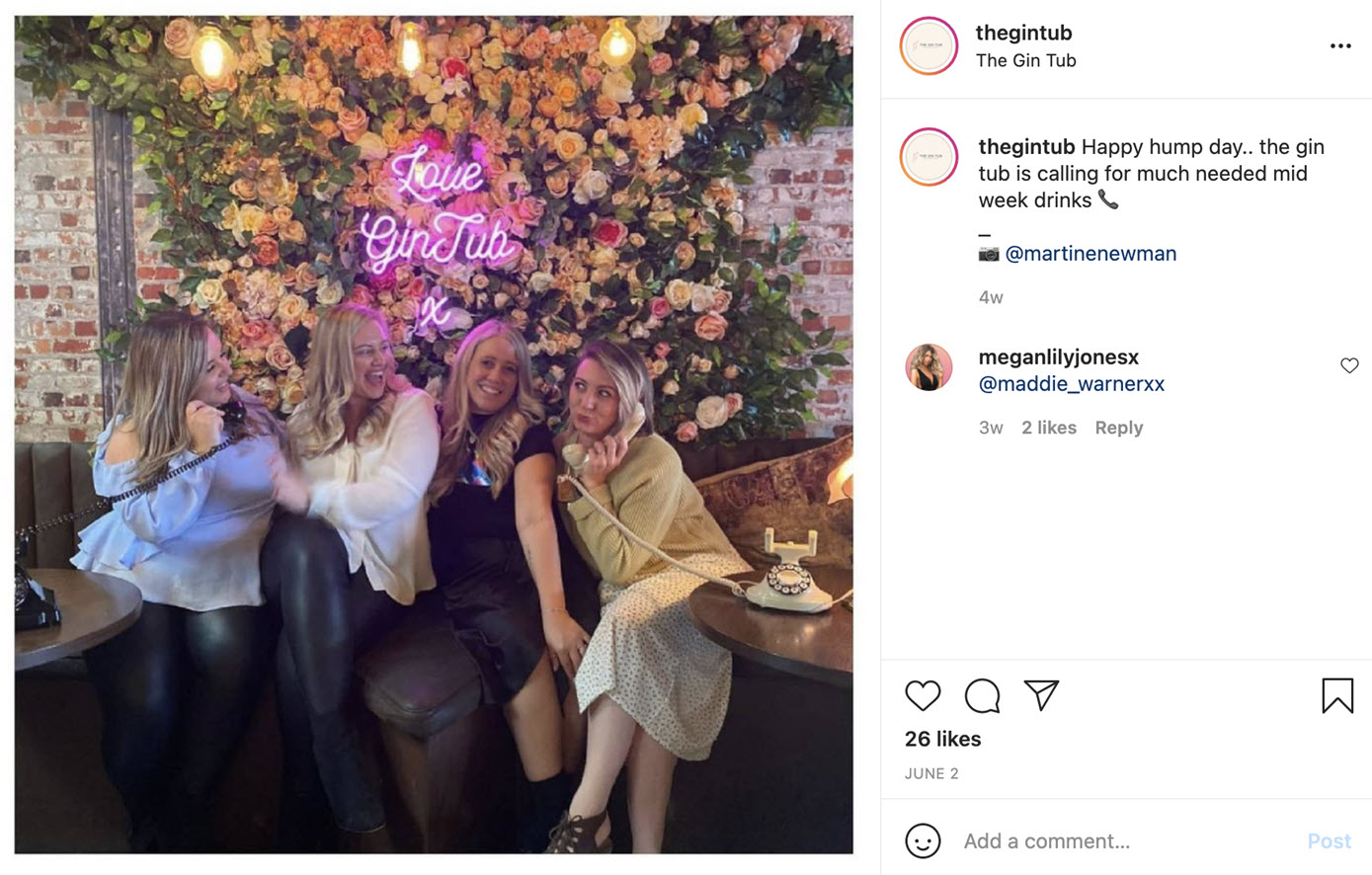 The Gin Tub shares customer-generated photos on its Instagram feed, which gives customers a glimpse of its energetic atmosphere before even stepping in the door.
2. Collect user generated content/build a content library
A collection of quality UGC can be leveraged in strategic ways throughout your marketing channels. Start building your content library by including UGC collection methods with your existing efforts.
Have an active email list? Send review request emails to collect first-hand experiences from past customers.
On social media, you can create your own hashtag to encourage customers to share their experiences using that hashtag and show off your brand in the process.
Brainstorm creative ways to collect UGC and encourage your community to participate. Run competitions to reward content creators or incentivize users with discounts and free samples.
Once you determine how to collect your content, make sure to store it in an easy-to-access place. Analyze your content library to identify trends in customer experiences and new ways to showcase your business.
3. Be consistent with your UGC promotion
Share UGC on social media
Once you create your content library, use the UGC you've collected to supplement polished brand content. Share positive reviews and ratings on social media to reach could-be customers and set expectations for your products or services.
Take it further, and use customer photos in your social ad campaigns to drive conversions and click-through rates. According to research, ads with UGC get 5x higher click-through rates than those without UGC.
There are many ways to get UGC to work for you on your social media platforms. A custom hashtag gives users a reason to create content and gives you a lot of free content to work with. Just choose your favorites, re-share them on your social media channels, and show off why customers love you. UGC posts shared to social channels see a 28% higher engagement rate than standard brand posts.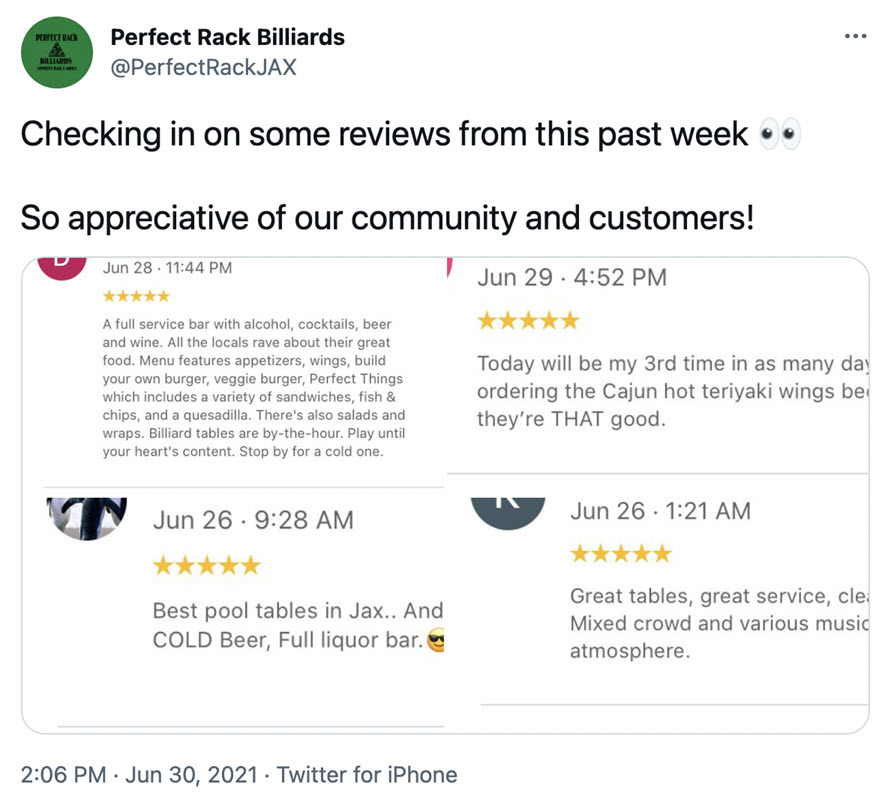 Perfect Rack bar shares a selection of recent customer reviews. Doing so acknowledges the reviewers and shows new customers that the bar regularly earns 5-star ratings.
Use UGC in your emails
Are you looking to improve more than just your social media engagement? UGC also increases email conversions and click-through rates!
Incorporate it into your email marketing campaigns to increase engagement and create an authentic online presence that transcends platforms.
Try sharing reviews and customer photos in your newsletters to make them more personal. Add UGC to specific email sequences such as product or service recommendations, welcome sequences, or cart abandonment emails to help drive conversions.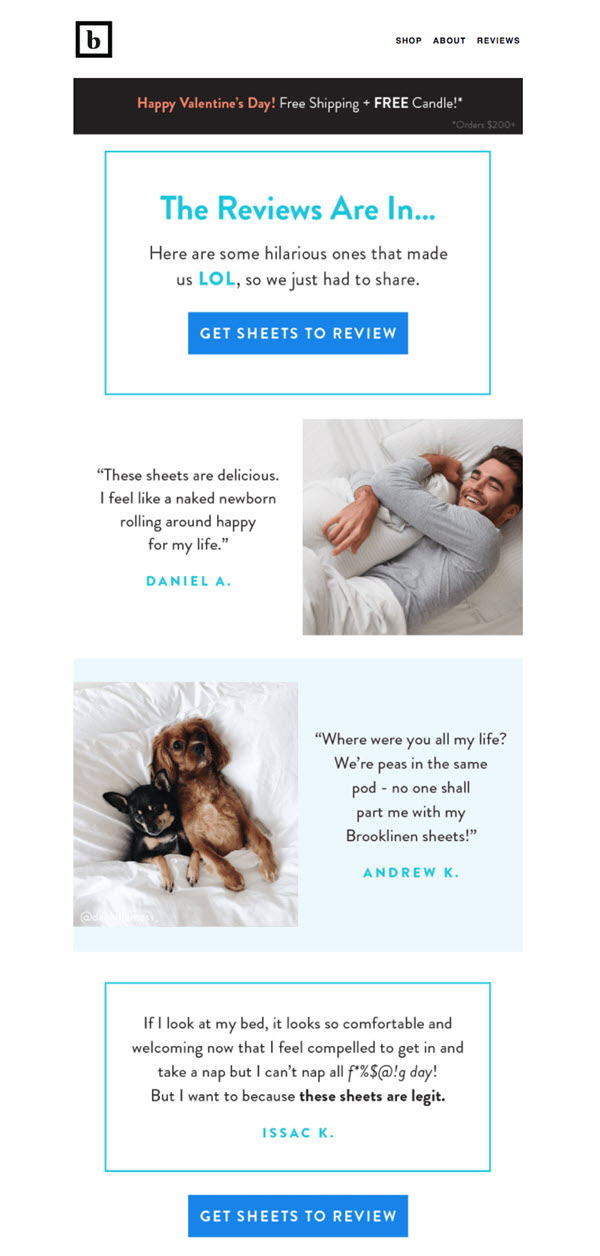 This bed sheet brand shares funny reviews in its emails to connect with prospects and show off positive customer experiences.
Display UGC on your website
Sometimes minor changes to your site make a significant difference to your customers. Adding UGC is an easy change proven to make a big difference. Research shows that websites with UGC see a 20% increase in return visitors and a 90% increase in time spent on site.
Not only does UGC boost traffic, but it also drives revenue!
UGC increases conversions by 29% when displayed alongside a product or service. Display reviews, ratings, and customer photos alongside your products and services to increase conversions and create a consistent narrative for prospects who land on your site from social media.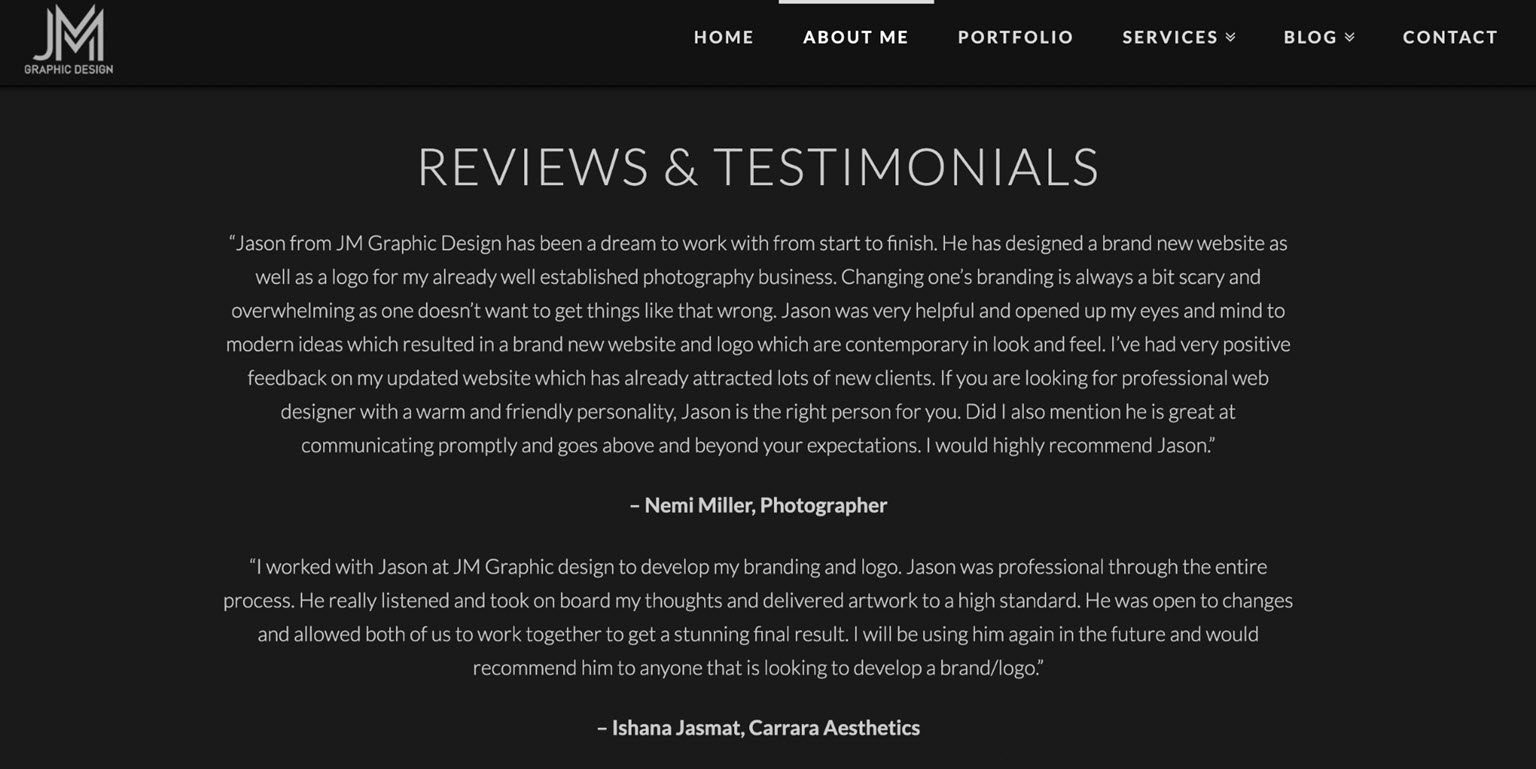 JM Graphic Design includes testimonials on their website to establish credibility and trust with potential customers.
As you establish your online presence, remember that UGC can work for and against you. Keep up with your content library to ensure you use the best content and reflect the ideal image of your brand…. no matter how customers find you.