Reviews can help you stand out against the competition, drive sales, and build customer trust. They provide social proof and that much-needed nudge that a lot of shoppers need to convert. Luckily, it's easy to add Google reviews to a WordPress website.
In this tutorial, you'll learn how to embed Google reviews on a WordPress website, why it's beneficial, and how to add Google reviews to WordPress without using a plugin.
Whether you're using a pre-made template or have designed your site from scratch, there's a simple way you can display your reviews in just a few clicks.
Step 1: Collect reviews
You can't display Google reviews without reviews! The first step is encouraging customers to leave their valued opinion so you have a healthy collection of reviews to pull from.
You can direct customers to Google to leave their reviews so you can automatically embed them on your site. There are several different ways you can do this, which we'll cover below, along with some tips for best results.
How to collect Google reviews
Here's a quick guide to asking customers to share their feedback:
Send an email post-purchase - send a review request email to customers after they've made a purchase from you. Add a link to your Google reviews page to make it easy for them to share their experience.
Add a pop-up to your site - implement a review pop-up on your site that's activated when a customer takes a specific action – like making a purchase or leaving the site.
Post a social media call-out - share a link to your Google reviews page on your social media channels and encourage your followers to leave a review.
You can easily create a direct link to write a review using our Google review link generator.
3 Tips for collecting Google reviews
Not all customers will be inclined to leave a review. If you want the best chance of success, try following these tips:
Get your timings right - timing is everything when it comes to requesting reviews via email. Send it too soon, and customers may not have had the chance to experience your product or service yet, but send it too late and they may have forgotten about you.
Make it easy - don't make customers jump through hoops to leave a review. Simply direct them to your Google review page to make it as easy as possible for them.
Respond to reviews - always thank the customer for taking the time to leave a review. Apologize for any negative experiences they mentioned in their review and ask them to contact you via email to see if you can resolve any problems.
Step 2: Connect your Google reviews
To add your Google reviews to WordPress, you have to connect your Google Business Profile with ReviewsOnMyWebsite so that any new reviews that are posted on Google are automatically added to your widget and displayed on your website.
We offer two methods of connecting Google reviews. The first method requires you to authorize our app with Google in order to be able to retrieve the reviews.

Once authorized, it will display the list of businesses available to you. Click on the business that you want to connect and our system will do the rest.
To connect Google reviews using the second method, simply start typing in your business name in the search box and click on your business when it appears in the auto-suggest box. Make sure you type in your business name exactly as it appears in Google.

Step 3: Embed widget on your WordPress website
Now that you have synced your Google reviews, it's time to embed the reviews widget code on your website.
Click on the "Embed code" link next to the widget your wish to add and copy the code snippet provided.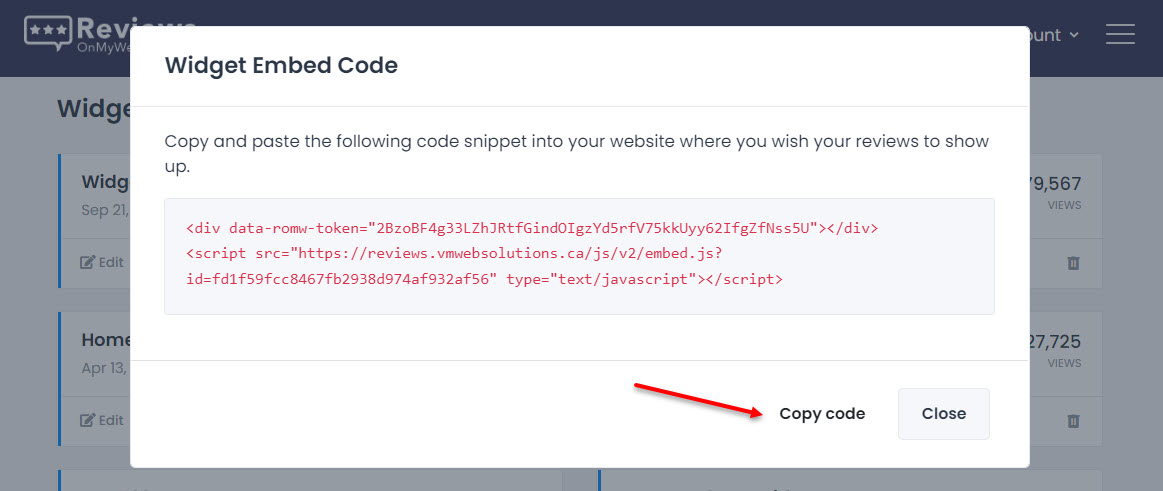 Next, head over to your WordPress dashboard, create or edit the page or post where you wish to display the reviews and add a new Custom HTML block.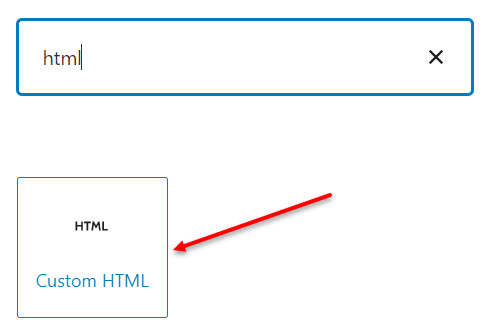 Then, paste the widget embed code that you copied earlier into the html editor.

Finally, click the Preview button to verify that the reviews are displaying correctly.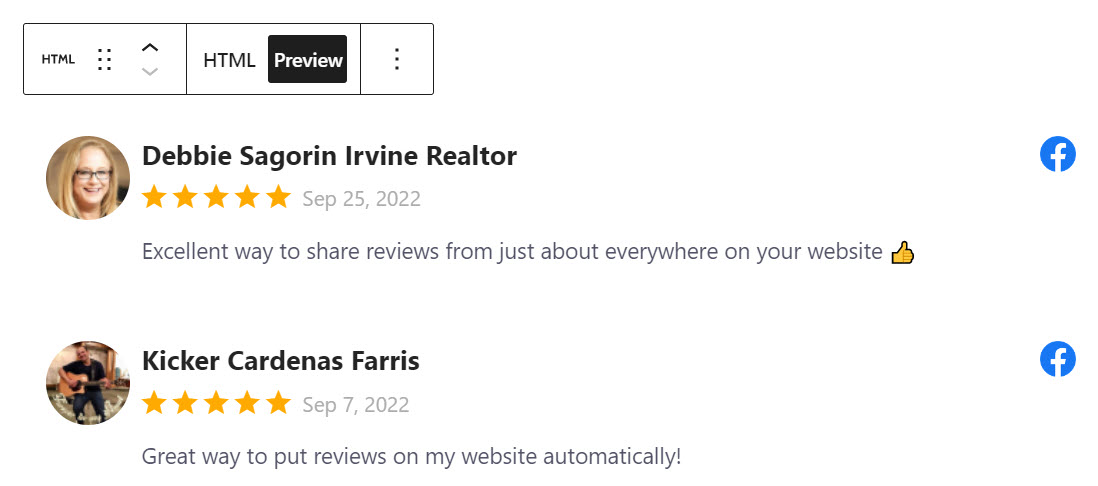 Once you are happy with the placement of the widget and have verified that the reviews are rendering correctly, save the changes and you are done!
The Google reviews widget will automatically pull new testimonials onto your chosen pages so there's no need to keep updating the code.
The Google Reviews WordPress Plugin Alternative
There's no shortage of Google reviews WordPress plugins to use to display Google reviews on your website. And, while they can provide a quick and easy way to display Google reviews, they're not always the best option, because:
Plugins can become outdated: When a free plugin becomes outdated, it can cause problems with the rest of your site.
Plugins can be hacked: Plugins are prone to hacking opportunities, which can compromise the safety and security of your site and its users.
Plugins can slow down your site: Having too many plugins working in tandem can dramatically slow down your site load speed, which can have ramifications on your Google rankings and overall customer experience.
So what's the solution?
ReviewsOnMyWebsite offers a Google reviews widget that can be easily embedded directly into your WordPress site without the need to install any plugins, which keeps the backend of your site and page load speed intact.
While WordPress plugins can quickly become outdated, our widget continues to pull fresh Google reviews to your site without the need for constant updates. On top of that, there's no way for a widget to get hacked and they don't slow down your website anywhere near as much as some plugins do.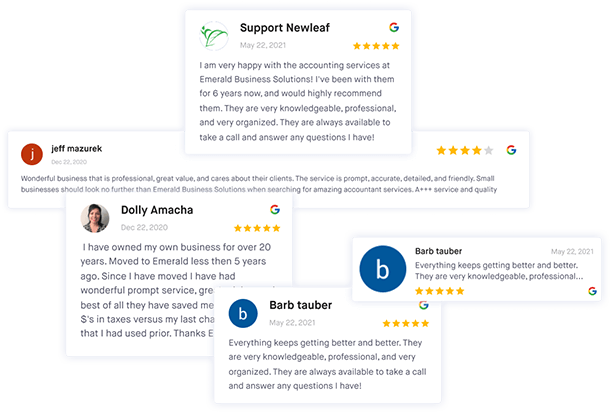 Leverage feedback and reviews to improve your online reputation
Get more online reviews and turn your customers into raving fans with ReviewsOnMyWebsite review generation software.
Benefits of adding Google reviews to your WordPress website
Now you know how to add Google reviews in WordPress, let's take a look at why embedding Google reviews on your site is a good idea. When you embed Google reviews on WordPress, you instantly add social proof into your site and build trust with new and existing customers. But that's not all.
1. Added social proof
The vast majority of consumers will actively seek out reviews before they commit to a purchase. They want to know what previous customers thought and whether they're making a good investment. When you add reviews to your website, you're increasing your business's social proof which will help potential customers make up their minds.
2. More reviews
People are more likely to leave a review if they can see that others have already left a review. It creates a knock-on effect that encourages new customers to share their experiences just like your past customers have.
3. Valuable feedback
The feedback customers share in their reviews is incredibly valuable to your business. You can use it to improve your efforts moving forward and to identify what customers love about buying from you. The overall star rating will help you position yourself among competitors too, so you can see where you stand in your industry.
4. Increase conversions and sales
Reviews help customers make purchasing decisions. The more reviews and the higher star rating you have, the easier it is for consumers to decide whether they want to buy from you or not. Plus, the added social proof will help convert on-the-fence customers at a higher rate.
Need help adding reviews to WordPress?
Adding buyer reviews to your website adds social proof, builds trust, and ultimately increases conversions. The more genuine reviews you have, the more likely customers are to trust your brand and make a purchase.
Are you ready to add reviews to your WordPress site but need a helping hand? Our expert team can help you set up your embed code and start populating your site with reviews.
Get in touch today via our contact form.
FAQ
How do I add Google reviews to WordPress without plugins?
You can add Google reviews to WordPress with the ReviewsOnMyWebsite widget. Simply copy the widget code and add it to the pages you want reviews to show up on. You don't need to download anything, plus a widget is less likely to slow down your page load speed.
How do I add a Google review slider to WordPress?
You can select any of the available templates to display your reviews including a review slider, grid, carousel, list and more. Customize your slider with one of the pre-made layouts to include your brand colors and fonts.