Having a well-optimized Google Business Profile (formerly Google My Business) is crucial for businesses to improve their local search engine optimization (SEO) strategy and digital marketing reach and attract customers.
If you're wondering how to unlock the power of your Google Business Profile for maximum visibility and engagement - you're in the right place.
This Google Business Profile checklist will be your ultimate guide to providing step-by-step instructions on optimizing various aspects of a Google Business Profile, illustrating the importance of each element in enhancing online visibility.
But before we dive in, let's take a moment to understand what a Google Business Profile is and why it plays a pivotal role in shaping your online presence.
What is a Google Business Profile?
A Google Business Profile is a pivotal tool within the digital marketing arsenal, offering businesses a dynamic way to curate their online identity on both Google Search and Google Maps platforms.
This platform empowers business owners to present their brands in an easy-to-view manner, influencing how they appear in search results and geographical searches. It's your virtual business front, a portal through which potential customers access key information about your offerings.
If you're yet to establish your profile, you can set up your business's digital storefront here.
Why Should You Optimize Your Google Business Profile?
Optimizing your Google Business Profile catapults your local ranking on Google, elevating your visibility to prospective customers actively seeking products or services like yours.
This optimization endeavor isn't just about algorithms; it's about providing a meaningful experience to users. Google utilizes your profile as a gauge to measure the proximity and relevance of your business to users' search inquiries. But it's more than that – an optimized profile resonates with authenticity.
By curating your profile to its best potential, you signal to Google that you're committed to offering valuable and accurate information to your potential customers.
Moreover, a well-optimized profile extends beyond search engine mechanics. It resonates with your audience, fostering trust and loyalty. Accurate information and positive customer reviews converge to create a virtual showroom that invites conversions. It's a testament to your dedication to customer satisfaction and the quality of your offerings.
Section 1: Setting the Foundation
Eligibility and Qualification
Before diving into the world of Google Business Profile optimization, it's essential to confirm if your business qualifies.
Here's a quick rundown:
Physical Presence: Google Business Profiles are designed for businesses with a physical location customers can visit. This includes storefront and service-area businesses.
In-Person Interaction: If your business engages in face-to-face interactions with customers—either at your place or theirs—it's a good fit.
Timeframe: Your business should be open or planning to open within 90 days to be eligible.
Online-only businesses, rental/for-sale properties, and those without direct customer interactions do not qualify for a Google Business Profile.
It's essential to note that eligibility criteria may change over time, so it's a good practice to check Google's guidelines or consult their support for the most up-to-date information. Additionally, some businesses may have specific eligibility exceptions, like ATMs, kiosks, or companies operating within another establishment (e.g., a cafe within a bookstore).
By confirming that your business meets these criteria, you're now prepared to optimize your Google Business Profile for increased local visibility and engagement.
Claiming and Verifying
As you continue your journey to optimize your Google Business Profile, the next vital step is to claim and verify your profile's ownership. This process ensures that you have control over your business information, and it officially recognizes your identity by Google. You can claim your business listing through various avenues:
During the Initial Setup: When you create your Google Business Profile Profile for the first time.
Through Google Maps: You can add your business directly through Google Maps.
Via Google Search Knowledge Panel: Look for the "Own this business?" link on Google Search if your business is indexed.
The most common method to verify your Google Business Profile is through mail. Google will send a verification postcard to your physical location containing a unique code.
Typically, these verification postcards arrive within 7-14 business days. Once you verify your profile using this method, you'll receive a notification confirming your profile's status. If you encounter challenges during the first verification attempt, don't worry—the "Get verified" button will reappear, offering alternative verification options.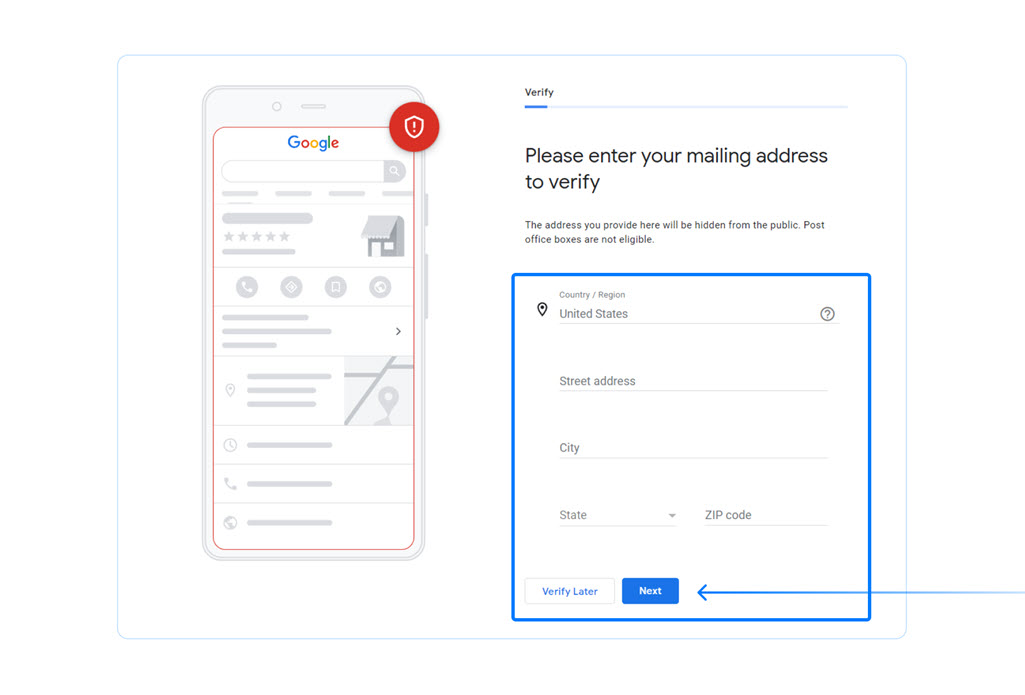 Other verification methods, such as SMS, phone calls, live video, email, and video recording verification, are available depending on your business's eligibility. Verifying your profile is crucial to ensure a seamless setup and protect your business information from unauthorized changes.
More than just a procedural requirement, profile verification is essential for safeguarding your online reputation. An unverified profile could be removed from Google Search and Maps, potentially harming your online presence and eroding customer trust.
Now that you've established ownership, you're ready to dive deeper into optimizing your Google Business Profile for maximum engagement and visibility.
Accurate Business Information
Your Google Business Profile's accuracy lays the groundwork for a successful online presence. Ensuring your business information is precise and up-to-date creates a trustworthy and engaging experience for potential customers.
Here's how to optimize each key area:
1. Add Your Business Name
Adding your business name is the first crucial step in setting up your Google Business Profile. It allows customers to search, identify, and engage with your business on Google Search and Maps.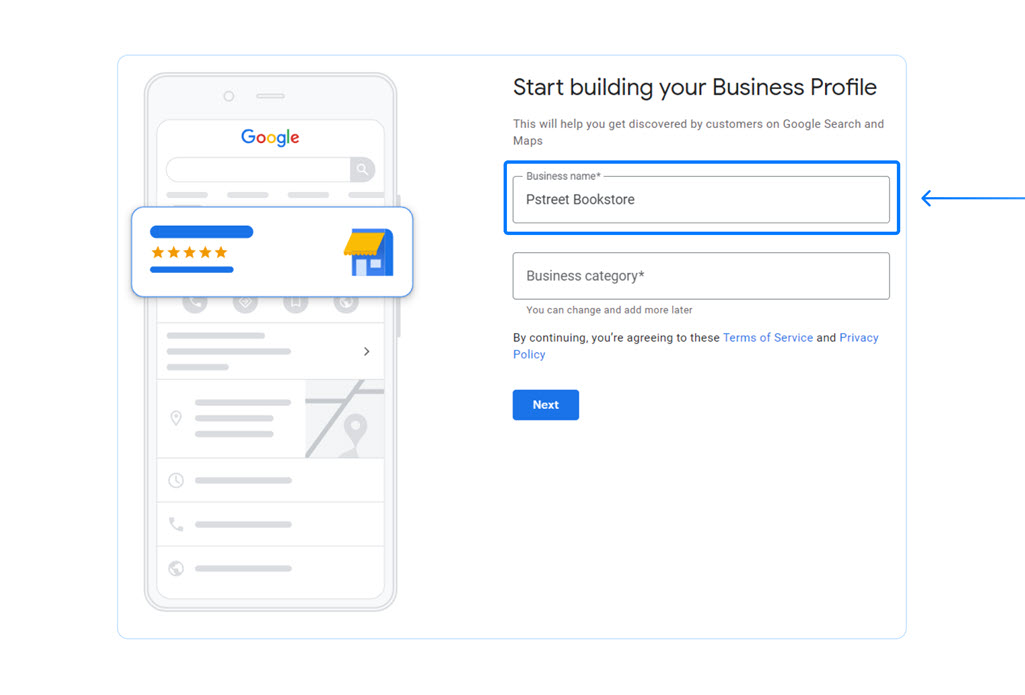 To create an effective Business Profile, follow these steps for business name optimization:
Choose a clear and concise name: Your business name should be easy to read, spell, and remember. It is important to add your company's name as it appears in real life. This will make it simple for customers to find your business online. Avoid overly complicated names, extensive abbreviations, or names with special characters and symbols.
Use consistent branding: Ensure that your business name in your Google Business Profile matches how it appears on other online platforms, such as your website, social media profiles, and business listings. Consistency helps build trust and recognition among customers.
Avoid keyword stuffing: While it's essential to incorporate relevant search terms associated with your industry or services, containing an excessive amount of keywords in your business name may be perceived as spammy and have a negative impact on your profile. Stick to a clean, professional business name to maintain your credibility.
Comply with Google's guidelines: Ensure your business name adheres to Google's guidelines to enhance your chances of getting approved and avoid any potential issues.
For example, if you have a bakery named "Sweet Delights," make sure to include that exact name in your Google Business Profile. Avoid any keyword stuffing (e.g., "Sweet Delights Bakery Cakes Pastries"), which may be perceived as spammy and result in your profile being penalized.
2. Use A Precise and Accurate Location
When optimizing your Google Business Profile, providing a precise and accurate business location is crucial. This will help customers find your business quickly and improve your visibility in local search results.
It is important to ensure your business address is correct and up-to-date. Double-check the street name, building number, city, state, and zip code. Accurate address information allows potential customers to contact you through various channels and enhances trust and credibility. When possible, use the official postal format to avoid any confusion.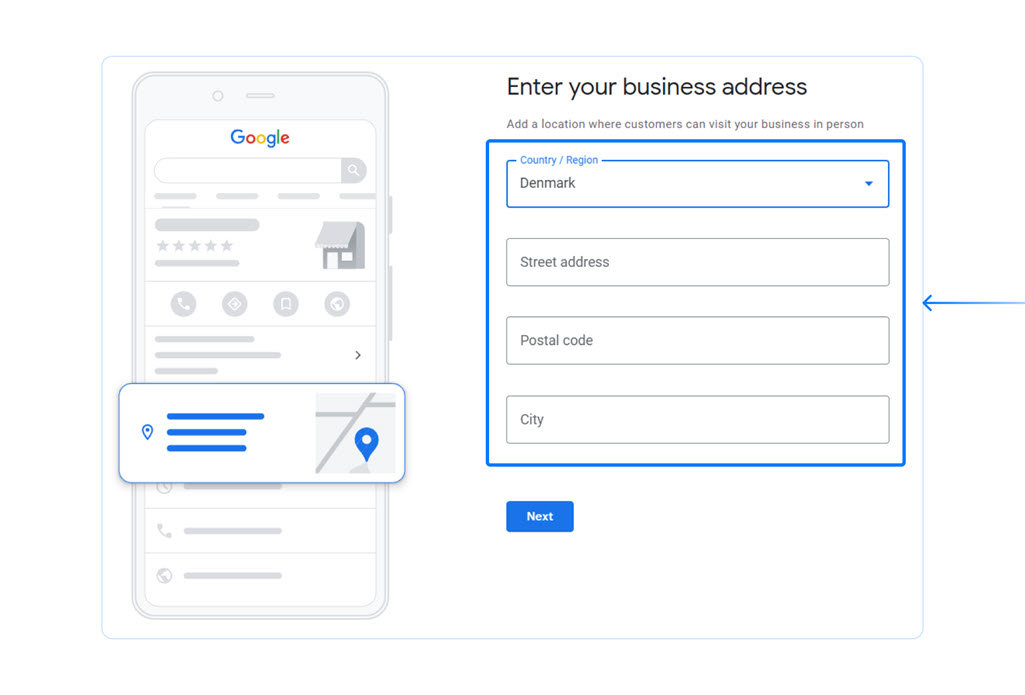 For businesses operating within a specific service area, it's essential to accurately define the regions where you provide services. This can include a radius around your business premises or particular neighborhoods, cities, or regions.
Accurately defining your service area helps Google show your business to homeowners and customers who are looking for similar services in their area. For instance, a plumbing company may wish to specify that they serve customers within a 20-mile radius of their office location—more on this in step six.
Additionally, make sure to choose the correct map marker within Google Business Profile, as this impacts the accuracy of your business location on Google Maps. A misplaced map marker can lead potential customers to the wrong location, negatively affecting your business reputation.
3. Provide A Phone Number
Including a phone number on your Google Business Profile serves two critical purposes: it boosts your credibility and streamlines customer contact. It's imperative to ensure that the number you provide is not only accurate but also up to date. This accuracy instills confidence in potential customers, knowing they can easily reach out to your business when they require your services.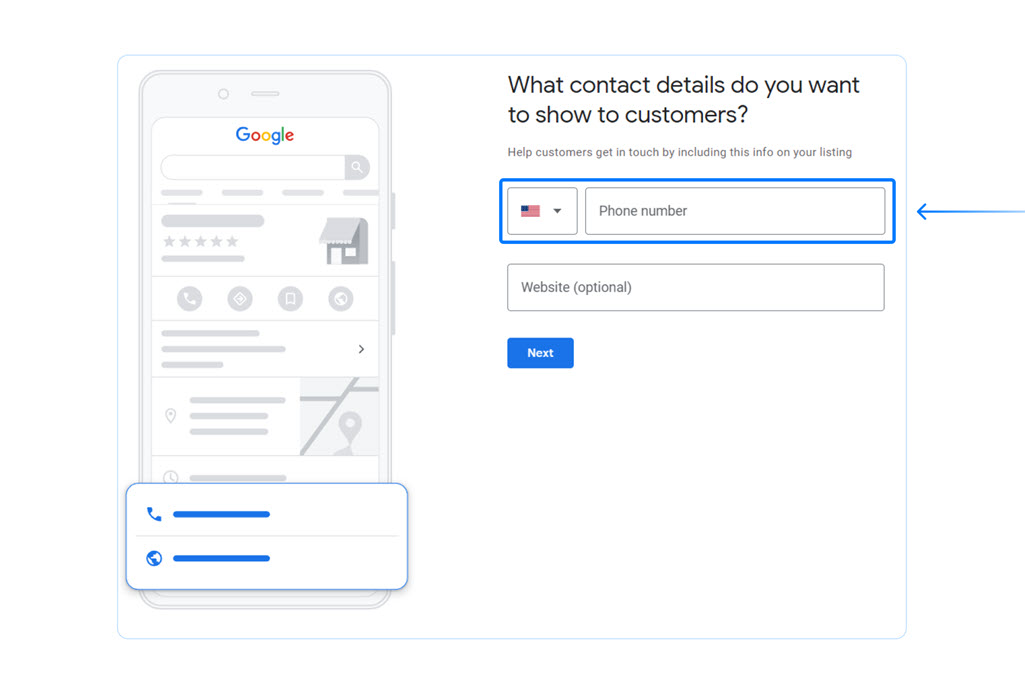 Furthermore, this phone number might be used for verification purposes, underscoring the importance of precision. Beyond verification, having a direct line of contact prominently displayed on your profile enhances customer communication and increases trust and customer satisfaction.
When inputting your phone number, prioritize a local one over a toll-free number. A local number sends a powerful signal to potential customers that your business is deeply rooted in their community. This local touch increases the likelihood of customers choosing your services thanks to the sense of closeness and accessibility it conveys.
4. State Your Opening Hours
Maintaining accurate and up-to-date operating hours holds immense value for potential customers, enabling them to efficiently plan their interactions with your business. For instance, a restaurant that explicitly states its hours as 9:00 AM to 2:00 PM and 5:00 PM to 10:00 PM allows diners to coordinate their visits effectively, eliminating the risk of arriving during closed hours.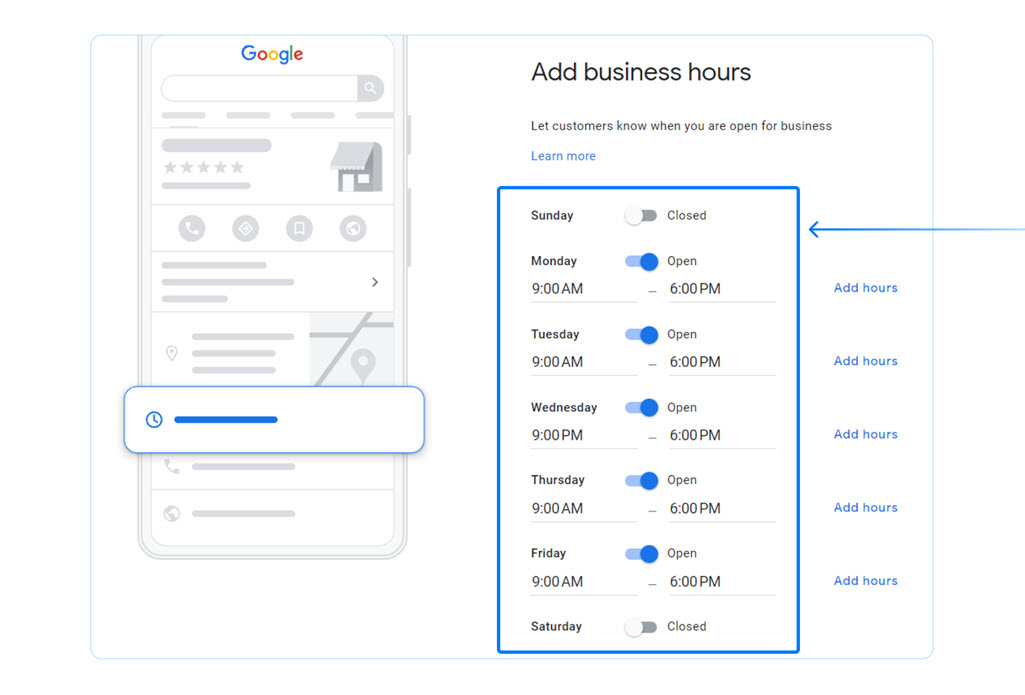 This commitment to precision in your operating hours goes a long way in bolstering your business's credibility and preventing negative customer experiences. Accurate hours instill and preserve trust in your enterprise. Therefore, a diligently managed Google Business Profile, regularly updated with your operating hours, not only fosters customer satisfaction but also contributes to developing a solid and reputable business image.
While maintaining consistency in your hours is crucial, it's equally essential to account for holidays, special occasions, or events that may necessitate temporary changes in your business's operational hours. Additionally, communicating special hours for closures or non-operational periods ensures that customers stay well-informed and experience minimal disruption.
If your business exhibits seasonal operations or involves diverse sets of hours (e.g., ATMs, self-serve gas stations, or storage facilities), Google's FAQ on business hours offers valuable guidance.
5. Provide A Business Website
A key aspect of optimizing your Google Business Profile is to provide your business website. A website helps potential customers find relevant information quickly and adds credibility to your online presence. Having a website is one of the biggest ranking factors in local search.
Firstly, creating a well-designed and informative website for your business is crucial. Your website should showcase your products or services, contact details, location, and other essential information that customers need for decision-making. If you haven't created a website, you can start with Google's website creation tool and enhance it over time.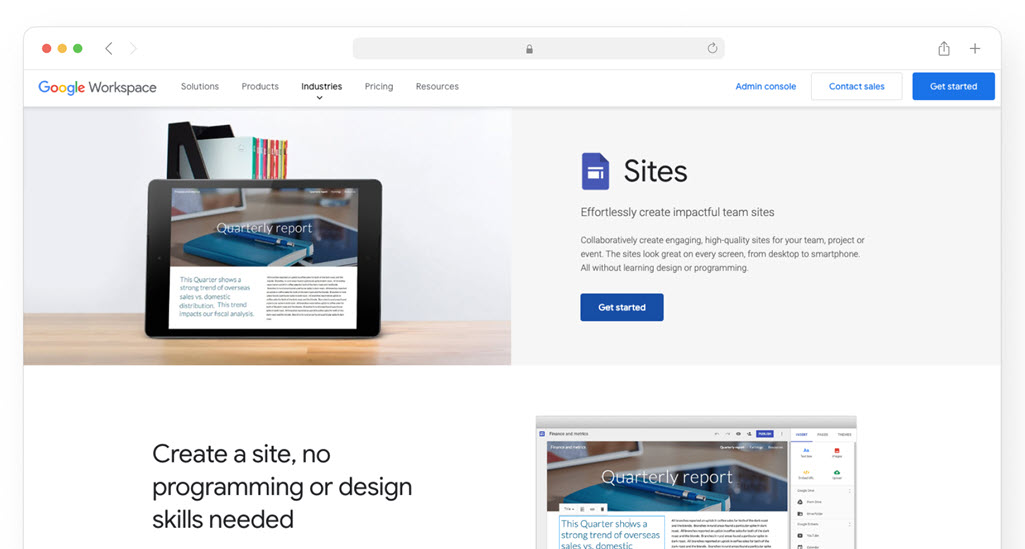 It's important to ensure that the provided URL is accurate and up-to-date, as this will lead potential customers to your official website. Inaccurate URLs can lead to loss of potential business and customer trust. Optimizing your website URL in your Google Business Profile can offer several benefits:
Improve search engine rankings: A well-optimized website linked to your profile can boost your rankings on Google Search, increasing your online visibility.
Increase credibility and trust: A professional website demonstrates that your business is legitimate, trustworthy, and committed to providing the best experience for customers.
Enhanced customer experience: A website with relevant and up-to-date information helps customers make informed decisions and easily learn about your offerings, increasing the likelihood of conversions.
Remember to maintain your website's quality and ensure it provides value to potential customers. Regularly updating your website with new information and refining its content will contribute to a positive user experience and increase the chances of successfully converting visitors into customers.
6. Add Service Areas (if applicable)
Adding service areas to a Google Business Profile is crucial for service-area businesses, as it helps customers find businesses that serve their specific location.
If your business specializes in delivering goods and services directly to customers' locations, such as food delivery, moving companies, or home repair services, it's recommended to classify your business as a 'service area business.' This classification allows you to outline your specific service areas using zip codes or city designations.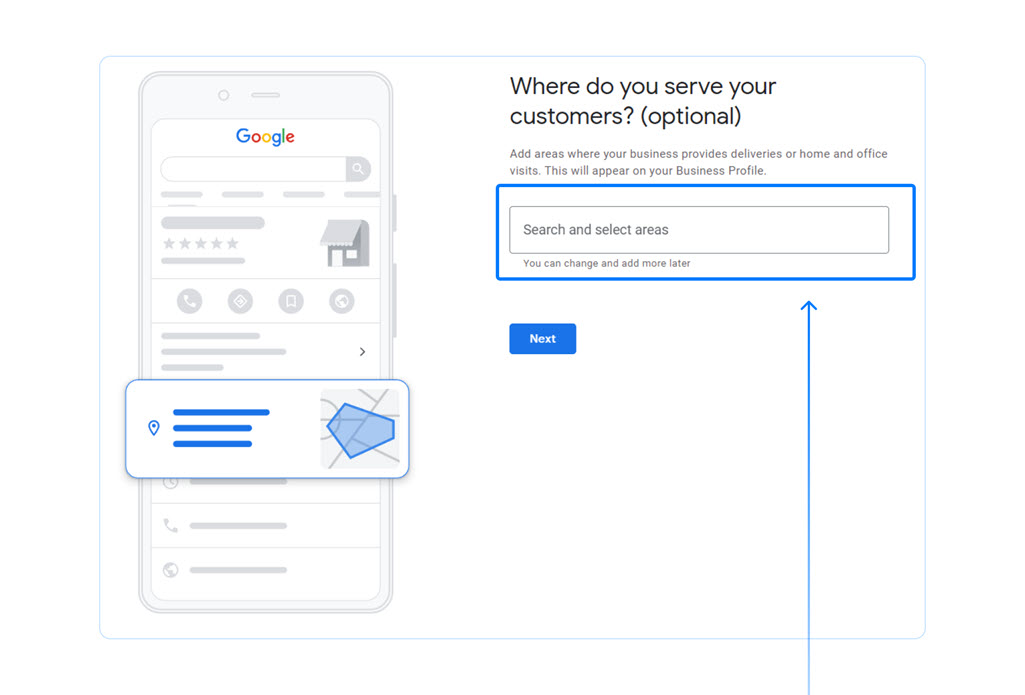 If your business operates in multiple locations, it's essential to specify each area to ensure accurate search results for potential customers. Make sure to add each area separately, allowing the system to generate suggestions and confirm the locations. Your business will become more visible to customers within those regions with each confirmed service area.
In addition to specifying cities and regions, Google Business Profile also allows service-area businesses to add the specific services they provide. This feature can improve your profile's relevance in search results, making it easier for customers to find the exact services they need.
If your business offers various services, consider organizing them into categories for more straightforward navigation. Using relevant keywords and terms that customers might use in their search is also a good idea.
Section 2: Optimization Essentials
Improving Visibility
Now, let's dive deeper into the crucial elements that can significantly enhance your online visibility and customer engagement.
Here's a comprehensive breakdown of each vital element:
1. Select Your Business Categories
When it comes to optimizing your Google Business Profile, selecting the right categories is a pivotal step that can significantly impact your visibility and rankings in local searches. These categories succinctly communicate your business's industry and offerings.
Here's how to make the most of this crucial aspect:
Primary Category: Start by choosing a primary category that accurately represents your business's core offering. This primary category will have the most significant impact on your Google Business Profile. For example, if you run a bakery, choose "Bakery" as your primary category.
Secondary Category: After selecting a primary category, you can add secondary categories to provide additional context and ensure your business appears in relevant search results. Secondary categories can include specializations, related services, or complementary products. For example, a bakery might have secondary categories like "Wedding Cake Designer," "Caterer," or "Café."
Choosing the best categories for your business ensures Google will show your Google Business Profile in relevant search results. Accurate categories help potential customers find your business when searching for specific products or services, boosting your visibility and, ultimately, driving more traffic to your business.
2. Write Your Google Business Description
Crafting an effective Google Business Profile description is a cornerstone of attracting customers and presenting your business in its best light. This description acts as a quick snapshot that helps potential customers grasp your offerings swiftly, aiding them in deciding if your business aligns with their needs.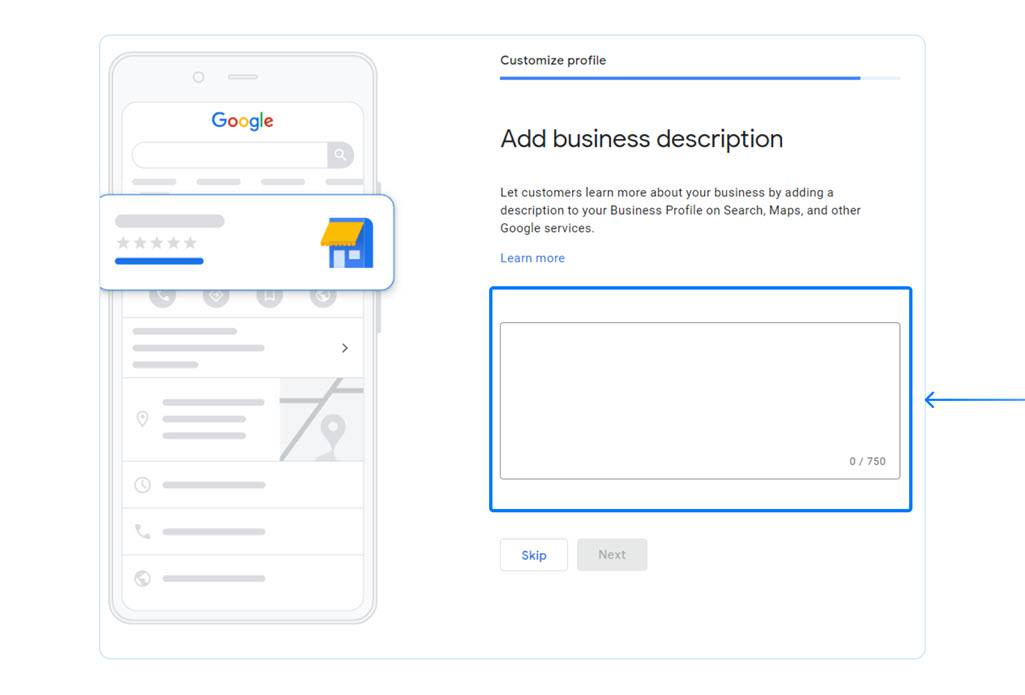 Follow these guidelines to optimize your Google Business Profile Description for maximum impact:
Keep it Concise and Informative: Begin by offering a brief, engaging business overview. This should encompass your history, the nature of your services or products, and any unique selling points that set you apart. Keep jargon to a minimum, ensuring your description is accessible to a broad audience. Avoid including URLs or HTML code, and maintain the description within the 750-character limit.
Incorporate Relevant Keywords: Enhance the visibility of your search results by weaving in relevant keywords that your target audience might use when searching for businesses like yours. This strategic approach aids potential customers in discovering your business more easily. For example, a bakery might incorporate keywords such as "freshly baked," "organic ingredients," and "custom cakes."
Showcase Essential Details: Elevate your credibility by highlighting vital information such as your business's longevity, industry-specific certifications, or accolades. This creates a sense of expertise and establishes trust with prospective customers. For instance, a car repair shop could emphasize its distinction as an "ASE-certified facility with over 20 years of experience."
Maintain Accuracy and Freshness: Ensure your description remains accurate and current to avoid confusion or misrepresentation. This is especially crucial if there have been updates in your services, location, or acquired certifications. By keeping your description up-to-date, you present your business with integrity and authenticity.
Your Google Business Profile description serves as an initial interaction with potential customers. By adhering to these steps and crafting an impactful description, you enhance your profile's attractiveness and increase the likelihood of engaging potential customers with clarity and precision.
3. Add Your Business Attributes and Highlights
Optimizing your Google Business Profile listing involves understanding the significance of business attributes and highlights, which influence search engine rankings considerably.
These attributes and highlights encapsulate the distinct qualities that define your business, ranging from special amenities to unique features that set you apart from the competition. For instance, consider a coffee shop that proudly offers free Wi-Fi or a hotel with a pool and gym. Restaurants, for example, can significantly enhance their appeal by highlighting features like outdoor seating, pet-friendly spaces, or live entertainment. Beyond enhancing customer engagement, these distinctive features can elevate your establishment's search ranking.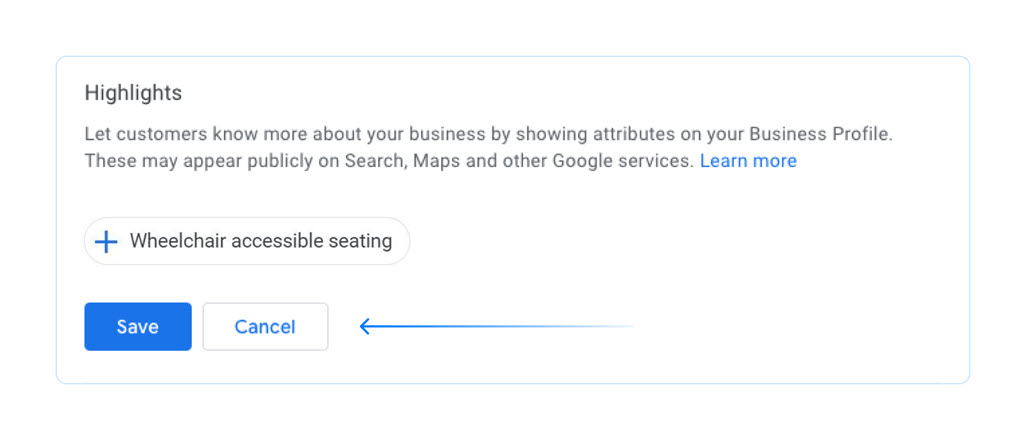 To optimize these attributes effectively, follow these steps:
Identify Relevant Attributes: Start by carefully selecting attributes that best capture your business's essence. Take the time to scrutinize and choose attributes that are pertinent and capable of enhancing your SEO ranking.
Ensure Timely Updates: Keeping your business attributes current is essential to remain relevant in local searches. Regularly revisit your Google Business Profile to refresh details and look for newly available attributes to bolster your profile.
Leverage Customer Feedback: Customer reviews and feedback are valuable resources for gaining insights into the attributes that resonate with your audience. Harness this information to refine and tailor your Google Business Profile, ensuring it mirrors what customers truly appreciate about your business.
Effectively harnessing these attributes within your Google Business Profile isn't just a strategy; it's necessary to capture potential customers' attention and boost your online visibility.
4. Add Your Products and Services
When optimizing your Google Business Profile, a paramount step involves offering a concise and transparent portrayal of your business's products and services. This approach allows potential customers to comprehend the scope of your offerings quickly, ultimately positioning your business as a preferred choice among competitors.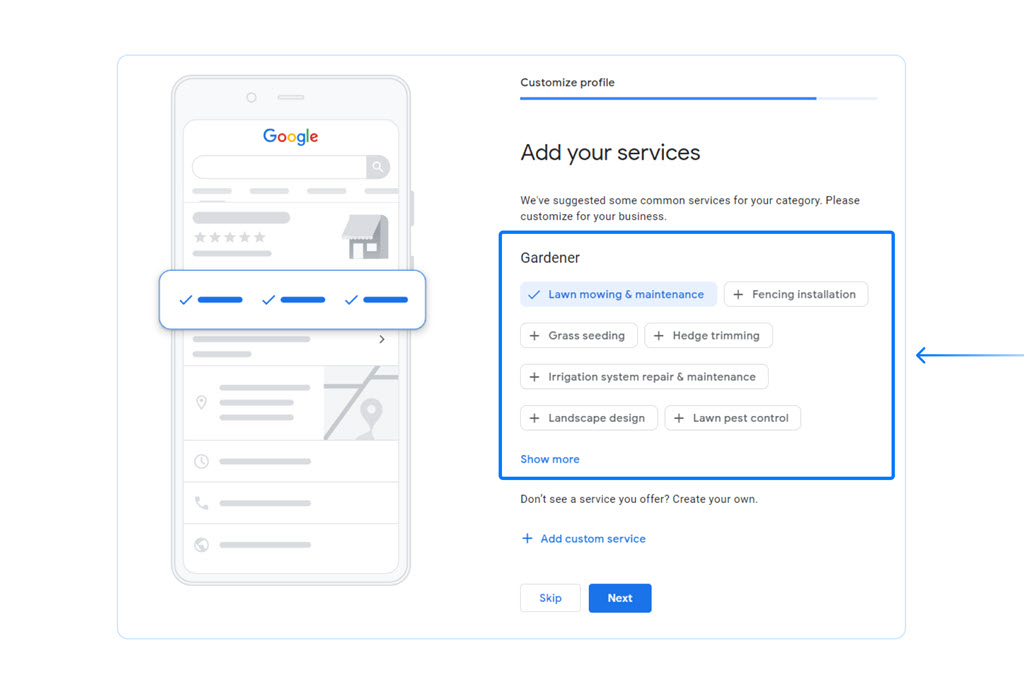 Take, for instance, a shoe store seeking to stand out. Incorporating high-quality images showcasing available shoes, complemented by comprehensive descriptions covering materials, sizing details, and distinctive attributes, empowers customers to make well-informed choices during their online shopping journey.
In a similar vein, focusing on the addition and optimization of your services is equally vital. Imagine you run a legal firm – articulating your services as "Business Contract Review," "Intellectual Property Consultation," or "Family Law Services" helps potential clients grasp the extent of your expertise. Detailed descriptions that emphasize the unique benefits of each service contribute to clarifying your value proposition and set your firm apart from the competition.
5. Add Menu Items (if applicable)
If your business operates as a restaurant or bar, there's an additional avenue for optimizing your Google Business Profile. Incorporating menu items into your listing enhances the user experience for potential patrons seeking to explore your culinary offerings.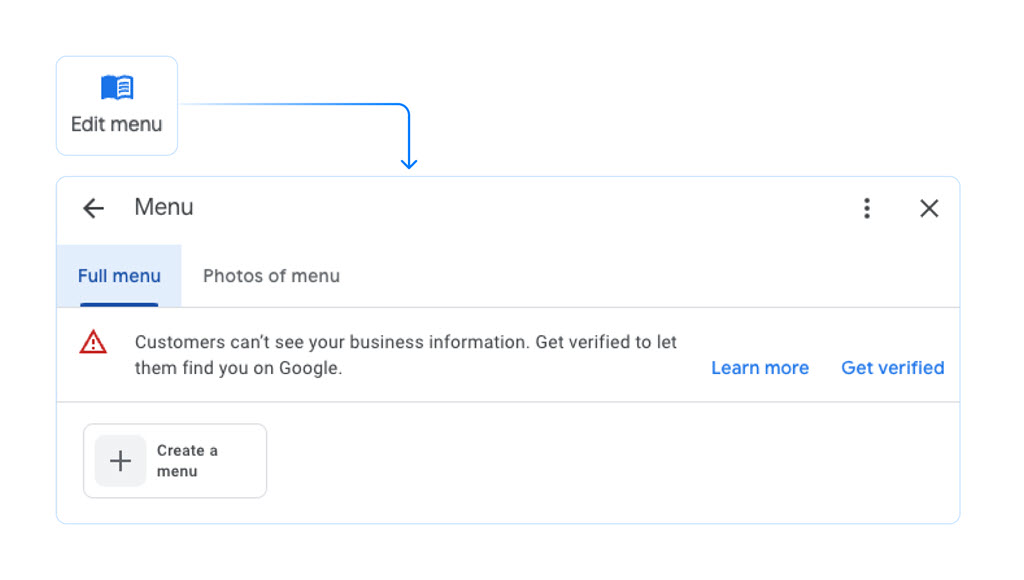 For eateries, this entails establishing distinct sections for different menu categories and populating them with an extensive array of menu items. Each entry should feature the accurate name and corresponding price for the offered dish or beverage.
Moreover, maintaining consistency in the descriptions by mirroring the language found in your actual menu—within the confines of up to 1,000 characters—fosters clarity and familiarity, amplifying the appeal of your establishment to prospective diners and patrons.
6. Point Customers to Your Booking/Appointment URL
Simplifying the process for customers to book appointments or make reservations online is a pivotal aspect of optimizing your Google Business Profile.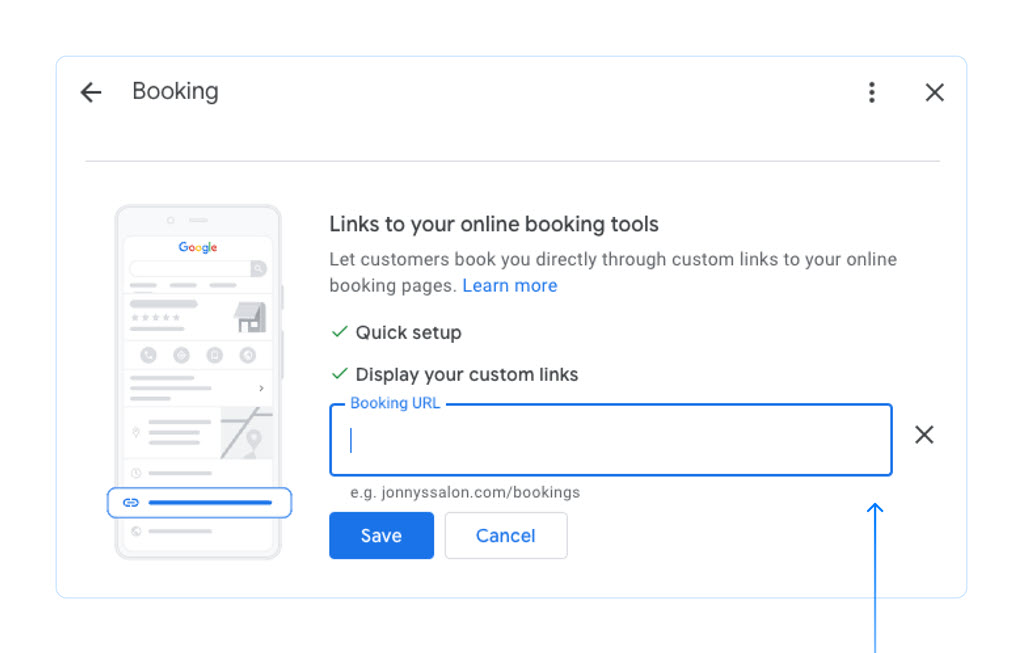 The primary consideration is ensuring that your appointment URL is tailored to connect users directly to your booking or reservation platform. This focused approach enhances the user experience, enabling seamless interactions within your Google Business Profile. Avoid employing generic homepage links, potentially diminishing user satisfaction and hindering SEO performance.
When selecting an appointment URL, prioritize clarity and user-friendliness. A straightforward, transparent URL communicates its purpose effectively and encourages potential customers to initiate bookings or reservations. Furthermore, a well-structured URL might positively impact your search engine rankings.
For instance, if your business is a hair salon, the appointment URL should lead directly to your salon's dedicated booking page. This expedites customers' access to the booking platform, circumventing unnecessary navigation through your website and elevating their overall engagement.
7. Take High-Resolution Photos and Videos
Capturing high-resolution photos and videos to enhance your Google Business Profile is a vital step in presenting your business and products in the best possible light. These superior visuals not only convey crucial information and context but also contribute to an optimal user experience, especially on mobile devices.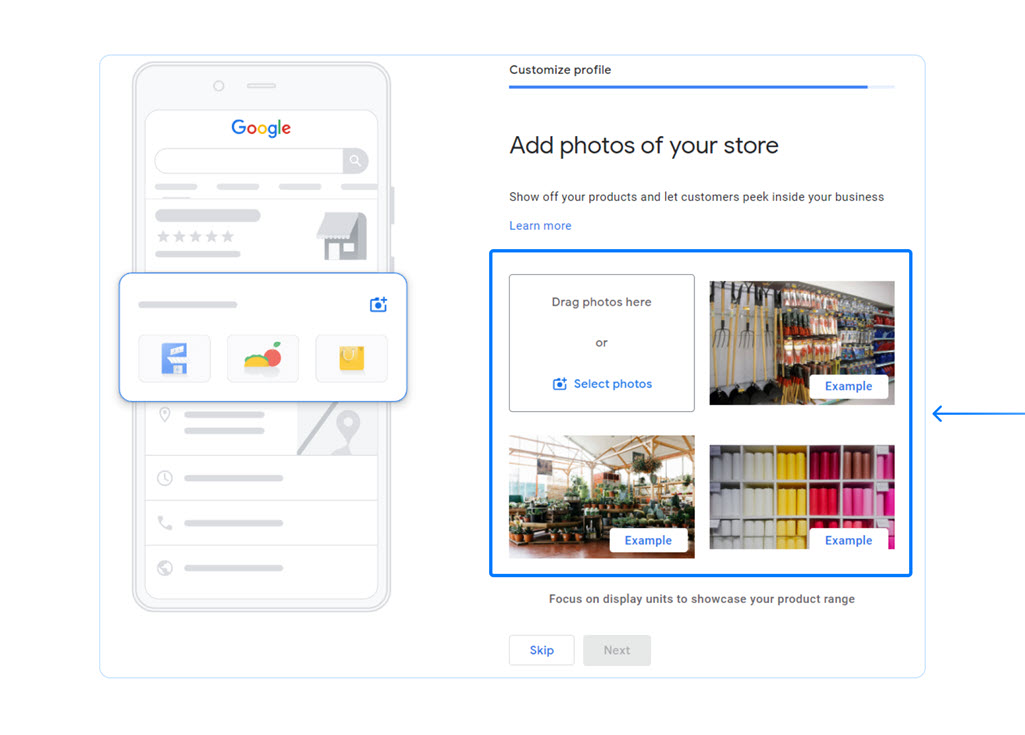 To optimize your Google Business Profile's photos, adhere to these guidelines. Begin by ensuring your images are saved in JPG or PNG format, with a file size ranging from 10 KB to 5 MB. The recommended minimum resolution for photos is 720 px wide and 720 px tall. Furthermore, prioritize well-lit, sharp images that haven't undergone significant alterations or excessive filter usage.
For cover photos, an ideal resolution is 1080 x 608 pixels, with a minimum of 480 x 270 pixels and a maximum of 2120 x 1192 pixels. When aiming for an aesthetically pleasing Google Business Profile, opt for rectangular-shaped photos for cover images, while square-shaped ones are more suitable for logos.
When delving into videos, focus on relevance, informativeness, and engagement. Videos are an excellent addition to your Google Business Profile, offering a dynamic means to showcase your business, its offerings, and its unique character beyond static images. Always adhere to Google's photo & video policies when incorporating videos to ensure a positive customer experience.
In addition to photos and videos, consider the impact of virtual tours. These tours provide an immersive experience, allowing potential customers to explore your establishment virtually. By offering a virtual tour, you give an enticing glimpse into your business, enhancing engagement and attracting customers through an immersive and interactive experience.
Section 3: Enhancing Engagement
Elevating Customer Interaction
This final section will explore key strategies to strengthen customer interactions and boost engagement through your Google Business Profile. By following these advanced tactics, you can optimize your profile and create lasting connections with your audience.
Here's a detailed guide to each enhancement:
1. Pre-Populate Your Google Q&A
You can proactively pre-populate your Google Business Profile's Q&A section with frequently asked questions and answers. This proactive step ensures that potential customers have access to valuable information about your business.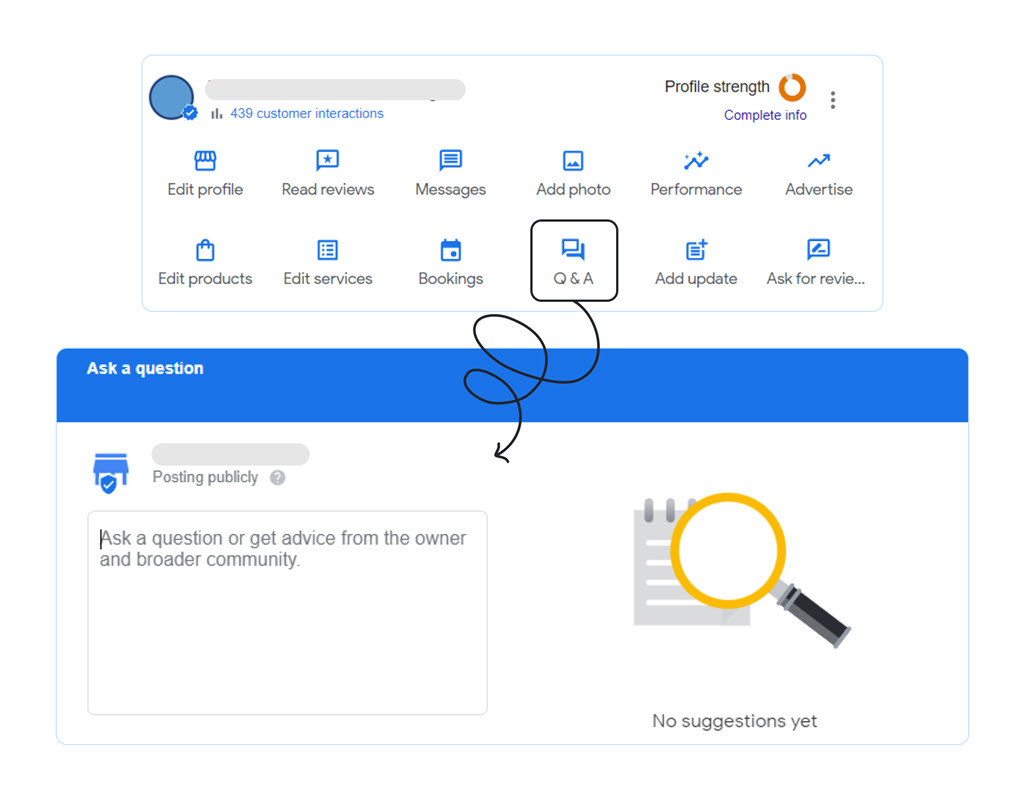 To pre-populate your Google Business Profile with frequently asked questions and answers, locate your business listing on either Google Maps or Google Search. Once you've found it, you'll notice options like 'Ask a Question' or 'Ask the Community,' depending on the Google service you're using. Click on this feature. Now, pose a common question about your business that potential customers might ask. Take your time to craft a well-thought-out answer that provides valuable information.
Don't forget the importance of keywords. Make sure to incorporate relevant keywords into both the questions and answers. This keyword optimization helps enhance your Google Business Profile's visibility and engagement potential.
2. Set Up Your Messaging
Setting up messaging is crucial for providing convenient ways for customers to reach out to your business. This feature adds another layer of accessibility, similar to including your phone number. You'll need to use the mobile Google Business Profile app to activate this function.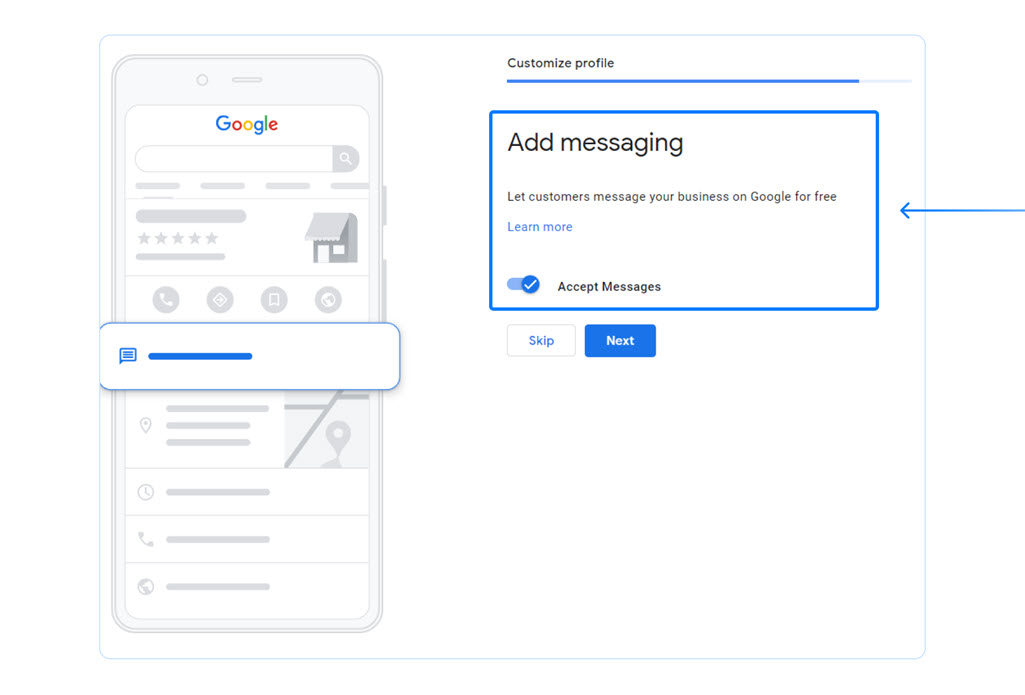 Once enabled, customers visiting your Google Business Profile Profile will see a "Chat" button beneath your business name and profile listing. This feature allows you to engage with your customers in real-time directly through your Google Business Profile Profile.
It's essential to avoid turning off the messaging option in your Google Business Profile due to concerns about handling the "extra" effort. Embracing this communication channel can improve customer interactions and enhance your business's accessibility and responsiveness.
3. Encourage Customer Reviews and Ratings
Customer reviews and ratings hold significant weight in local search engine optimization. While other factors like proximity and relevance also play vital roles, reviews are closely tied to click-through rates, making them a crucial element in modern SEO.
The quality and quantity of reviews both matter. Great reviews enhance your business's reputation and boost click-through rates, leading to more customers and revenue. Consistently collecting positive reviews can mitigate the impact of occasional negative feedback.
Responding promptly to reviews, especially negative ones, is essential. When you receive a review, address it as soon as possible. Even if the customer isn't entirely correct, offer a sincere apology and attempt to resolve the issue. Avoid requesting the removal of the review.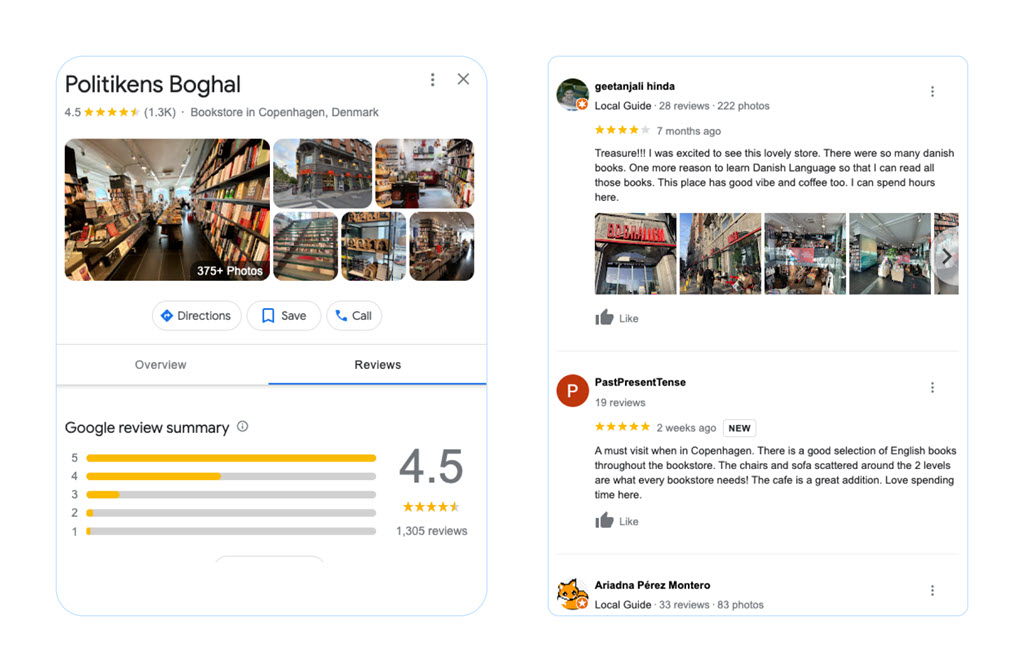 A clever strategy is to turn questionable reviews into positive ones. Invite the reviewer to revisit your business and encourage them to leave another review after their improved experience.
Google Business Profile simplifies requesting reviews through a short link, streamlining the customer review-writing experience. However, incentivizing reviews with discounts, gifts, or cash is not allowed.
Remember that reviews significantly impact your ranking on Google Search and Maps. They not only boost your visibility but also instill confidence in potential customers. Consider implementing strategies to encourage customers to leave reviews on Google for your business. Inform them that their reviews help both your business and others in the local community seeking the solutions you provide.
You can tactfully remind customers that your business relies on Google reviews and express gratitude for their feedback. Make it clear that you value comments and always respond to them. Additionally, consider using an automated review generation software like ReviewsOnMyWebsite to help guide visitors to your Google Business Profile review page and collect more positive reviews.
4. Share Posts and Updates
Crafting regular posts and updates on your Google Business Profile is an integral aspect of optimization. This practice keeps your audience well-informed, engaged, and aware of your business's latest offerings.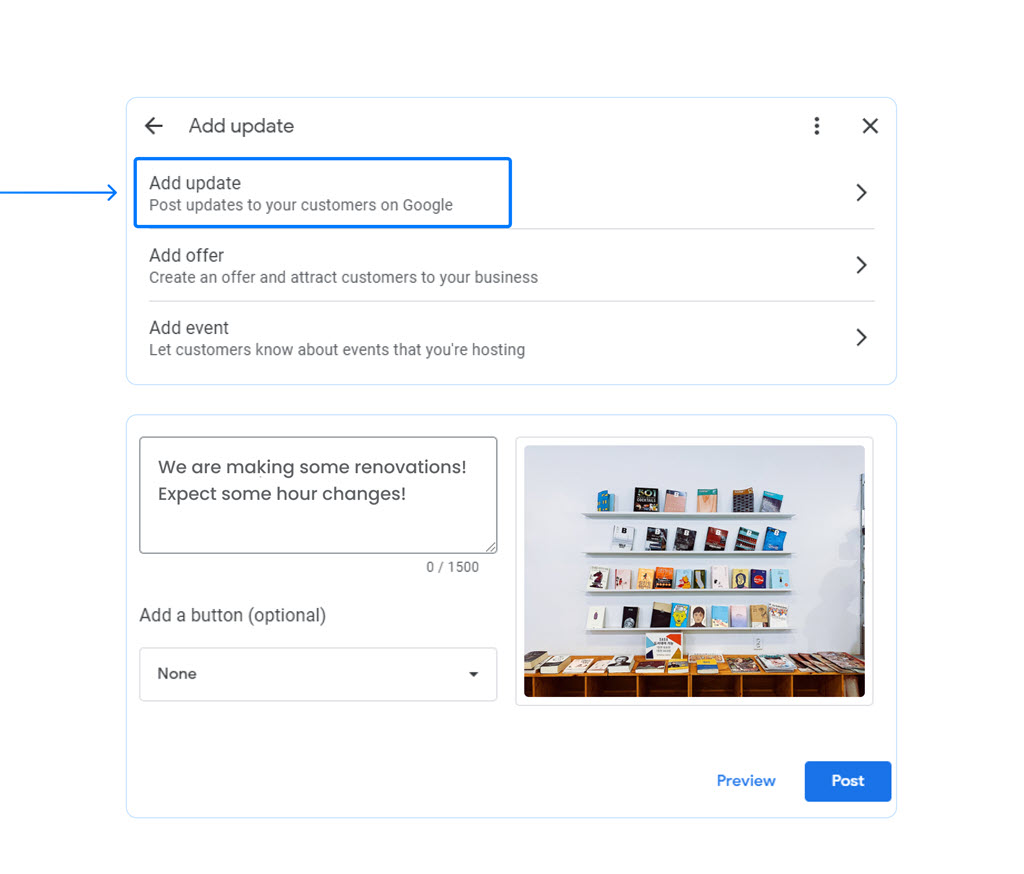 To make the most of this feature, consider the following steps:
Relevant Content: Share interesting and valuable information for your target audience, like product launches, offers, or industry news related to your business.
Visual Appeal: Use high-quality images or videos when appropriate to make your posts more engaging.
Concise Messaging: Keep your messages within Google's 1,500-character limit. Be concise, use summaries, and highlight key points for better resonance.
Consistent Scheduling: Regularly publish updates to maintain a fresh and engaging profile. Consider a content calendar to help with scheduling.
Keyword Optimization: Include relevant keywords naturally in your posts to improve search visibility. Avoid overusing keywords.
Google Business Profile now supports updates, allowing you to share information about events, offers, or new products. Use attention-grabbing visuals to ensure your posts are error-free, clear, and engaging. Approach this as your go-to social media platform to build customer relationships and keep your profile active and up-to-date.
5. Showcase Your Business's Opening Date
Incorporate your business's opening date into your Google Business Profile to build credibility and trust. It's essential to note when you began operations, not when you moved to a new location. This detail appears in the Google Business Profile local pack, providing valuable information to potential customers.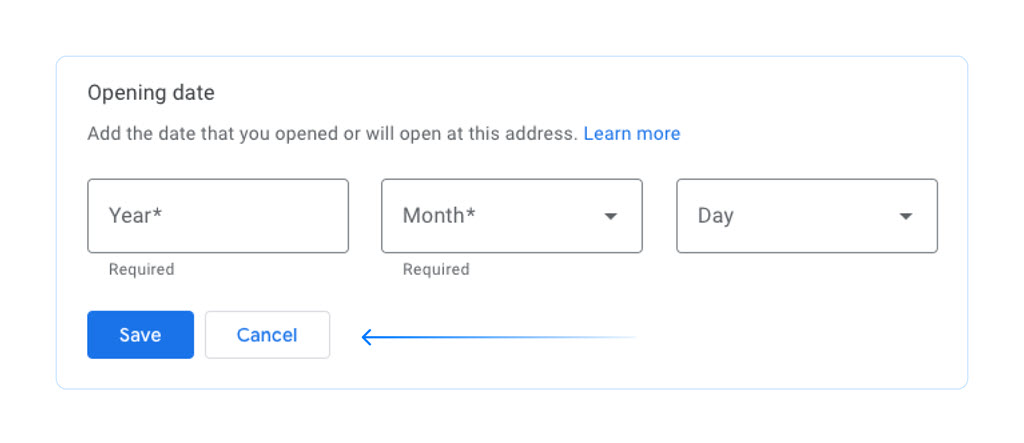 Highlighting your opening date is essential for both new and established businesses. For newcomers, it earns you a coveted "recently opened" badge for 90 days, allowing pre-launch community engagement. For existing establishments, your opening date showcases your experience and reliability, building trust with potential clients.
Unlocking Your Google Business Profile's Full Potential
In conclusion, adhering to this checklist is pivotal for maximizing the benefits of your Google Business Profile. By meticulously optimizing each aspect, you enhance your online visibility, engage with your audience, and drive more business to your doorstep.
But don't stop here. Consider advanced strategies and future-proofing to stay ahead in the ever-evolving digital landscape. Explore Google's Business Site for additional exposure, and ensure you stay updated with new feature releases. Be prepared for upcoming trends in Google Business Profile optimization and keep a watchful eye on your competitors to remain one step ahead.
Now, it's your turn to take action. Start optimizing your Google Business Profile today and unlock its full potential to grow your business. Don't wait—your online success awaits.
Frequently Asked Questions
What are the essential elements for a fully optimized Google Business Profile?
A fully optimized Google Business Profile includes:
Accurate business name, address, and phone number.
Updated operating hours.
Correct business categories.
Informative business description.
High-quality photos and videos.
Customer reviews and responses.
Regular updates through Google Posts.
Each of these elements ensures that your business appears professional, trustworthy, and relevant to users looking for your products or services.
How can I improve my Google Business Profile ranking?
To improve your ranking, follow these steps:
Complete your profile with accurate, updated information.
Select the most relevant categories for your business.
Encourage customers to leave reviews and respond to them promptly.
Share engaging content through Google Posts.
Use Google Business Profile insights to understand user behavior and adjust your strategies.
By focusing on these aspects, you can enhance your visibility on Google Search and Maps, attracting more customers to your business.
What categories should I choose for my Google Business Profile?
When choosing categories, consider the following:
Be specific: Choose categories that accurately describe your products or services.
Avoid keyword stuffing: Selecting too many categories can hurt your rankings.
Research competition: Look at your top competitors' categories for ideas.
Selecting the right categories helps users find your business more easily and improves your chances of appearing in relevant search results.
How can marketing strategies enhance the performance of my Google Business Profile?
Implementing marketing strategies, such as:
Promotions and special offers: Share deals and incentives through Google Posts.
Online reputation management: Encourage customers to leave reviews and address their concerns.
SEO and local search optimization: Utilize keywords relevant to your location and industry.
Social media integration: Share Google Business Profile content across social media platforms.
By adopting these marketing tactics, you can increase the visibility and performance of your Google Business Profile, driving more traffic and potential customers.
What steps can be taken to fully complete your Business Profile?
To fully complete your Business Profile, follow these steps:
Verify your business.
Add essential business information, including name, address, phone number, hours, website, and attributes.
Choose the appropriate categories for your services.
Upload high-quality photos and videos showcasing your products and services.
Respond to customer reviews and questions.
Create engaging content with Google Posts.
Completing these steps ensures your Business Profile stands out from the competition and provides valuable information to potential customers.
What are some examples of effective Google Business labels?
Effective labels for your Google Business Profile include:
Popular dishes: For restaurants, highlight top menu items.
Key services: For professional services, describe your specialties.
Unique features: For retail locations, mention exclusive products or services you offer.
Accessibility: Indicate if your establishment is wheelchair accessible or offers specific accommodations.
Using these labels helps potential customers quickly understand your business offerings and differentiate you from competitors, increasing the chances of attracting new customers.