Reputation management is crucial these days for any brand that wants to stand out online. Currently, 97% of business owners say that reputation management is essential. When managed effectively, your online reputation can help your business attract new customers and retain loyal ones.
A lot goes into managing your reputation, such as monitoring and responding to reviews or other user-generated content that customers create about your products or services.
Why reviews are so important for reputation management
These days, consumers rely on online shopping, which means the content and opinions they see online can shape their perception of your brand. When shopping online, consumers regularly use reviews to help evaluate brands and make buying decisions. 93% of customers say that reviews influence their purchasing decisions.
A collection of quality reviews on your website or third-party review sites can help show new customers that you're a trustworthy brand that people already buy from.
If your customers can't evaluate your products/services in person, reviews are often the next best thing. They let new customers know if people buy from your brand and if they're happy with their purchase and overall experience.
The more reviews you have, the easier it is for new customers to determine if your products or services are what they are looking for. This often means fewer returns and more happy customers because reviews help set expectations before they purchase. Reviews are crucial to the buying process that customers are even willing to spend 31% more on a business with excellent reviews.
While positive reviews are great for attracting new customers, too many negative reviews can just as easily scare them away. Managing reviews is crucial for managing your reputation online since 94% of consumers say an online review has convinced them to avoid a business.
Additionally, your search results and online mentions can shape how customers perceive your brand. Negative reviews, news articles, or other search results could make a poor first impression on new customers or drive away loyal ones. For reference, if three negative articles show up for a brand, the potential for lost customers is 59.2%.
When managing your reputation online, you should strive to generate positive and impactful reviews that leave the best first impression of your business. Reviews can make or break a purchase, but they can also influence the way people see your brand. A genuine compliment or positive anecdote from a customer is more personal than the ads and emails people are bombarded with each day.
How to monitor your reviews for reputation management
Reviews can be intimidating, but you can take steps to ensure they only help your business, not hurt it. While everyone loves a positive review, even negative reviews have a way of benefiting your business. Here's how you should use both positive and negative reviews to help manage your reputation online:
Respond to all reviews
Show customers that you care with a thoughtful and personal response that addresses any concerns they may have. This is especially important if they leave a negative review. You want to resolve their issue and show others that you take customer complaints seriously.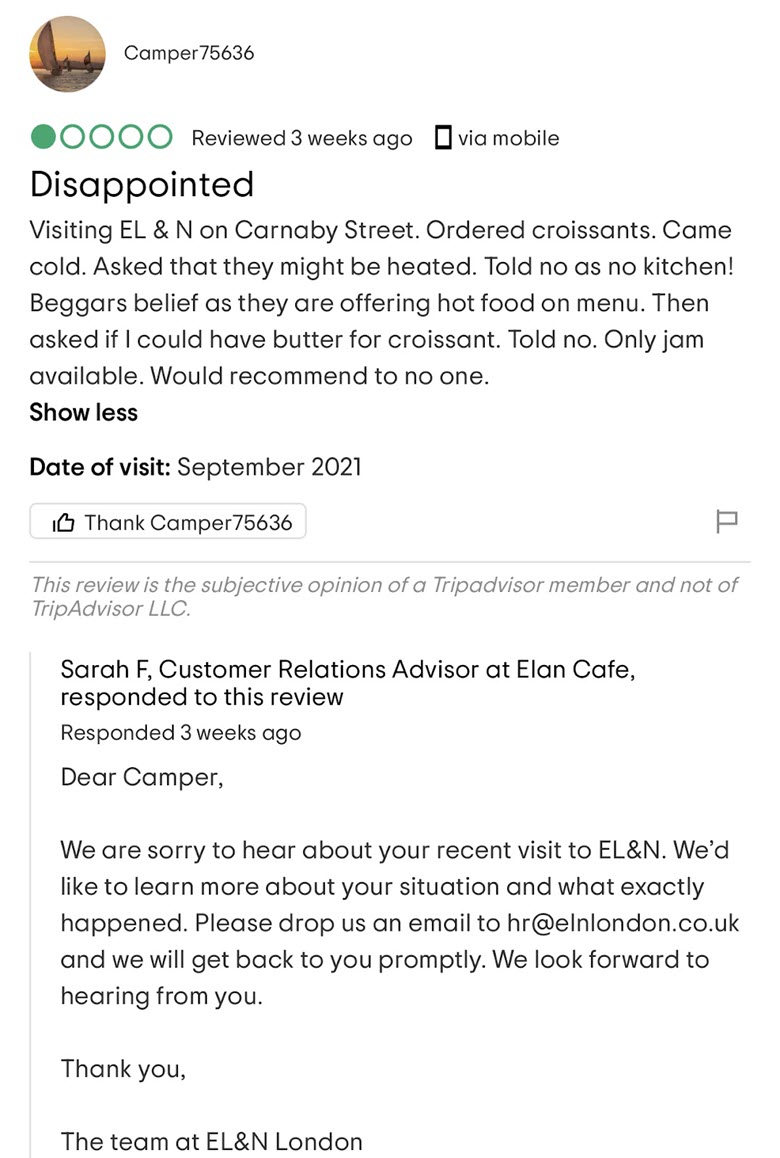 Here, the EL&N team responds to a negative comment from a customer. The customer seemed to have various issues with their experience so the team reached out to ask for more information and continue the conversation in a more private setting.
Identify areas for improvement
Comb through reviews to determine what you can improve and where your customers expect more from you. You can't please everyone, but you can note which concerns or comments come up often and consider how to deal with them. The more you cater to customer needs, the more positive reviews you will receive and the better your reputation will be.
Showcase reviews on your website
The more positive reviews you can showcase on your website, the better. It builds trust and credibility and encourages new customers to purchase. You can display reviews on your homepage, service pages, about page, and contact page to help stand out against competitors and show website visitors what they can expect from your business.
For example, Clarasys, a small business consulting agency, displays a carousel of customer reviews at the bottom of their home page and each services page. This shows new customers that Clarasys provides a customer experience that has been successful for past clients.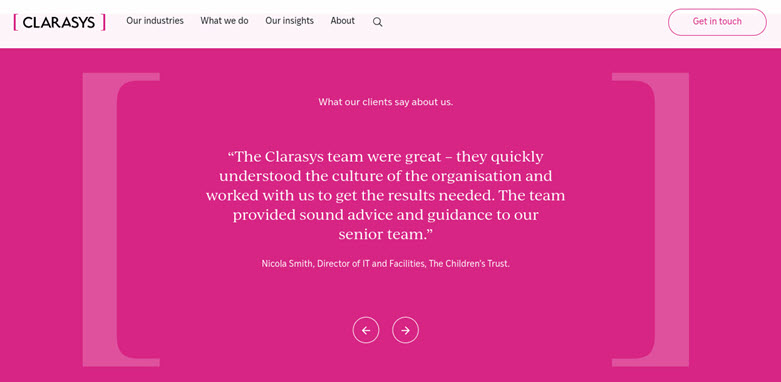 Check reviews on other channels
Don't forget to monitor your reviews on third-party sites and social media. These are just as important as the reviews on your site because they can significantly impact your search ranking and results page.
Your reputation online can be hard to manage if you don't have the right systems and processes in place. Monitoring reviews and other types of user-generated content is a great place to start for online reputation management because it allows you to tap into the conversations your customers are already having about your brand. What's better for understanding your reputation than hearing unbiased opinions straight from your customers?
Reviews let you and potential customers know what people are thinking about your brand and the kind of experience they've had with your products or services. Use this information to your advantage by looking for trends, areas for improvement, or any other information you can use to optimize your business's online presence and maintain a positive reputation.