All website visitors have the potential to become customers - if you guide them down the right path. After all, they've landed on your website for a reason, whether it's to learn a bit more about you or browse your products and services.
Here's the thing: the buying journey starts long before a visitor lands on your site. It begins when a customer sees your ad or searches for a product or service you offer, but where do reviews come into play? They help reduce friction and tackle objections when a customer does eventually land on your site.
Reviews increase conversions, too. 93% of consumers say that online reviews influence their purchase decisions, but they also encourage shoppers to spend more. One study shows that customers are willing to spend 31% more on a business with excellent reviews.
Adding reviews in relevant, pivotal places around your website can generate more sales and speed up a purchasing decision.
Here are some key places you can display customer reviews.
1. Highlight Reviews in Your Website Header
Your website header (or hero image) is the first thing visitors will see when they land on your site. According to research, the most viewed area of a page is just above the fold (the top half of your site before the first scroll), with an 80% viewership. This is prime real estate for building trust and injecting social proof right at the start of the customer journey.
Take The BBQ Place, for example. They showcase a positive review front and center on their homepage.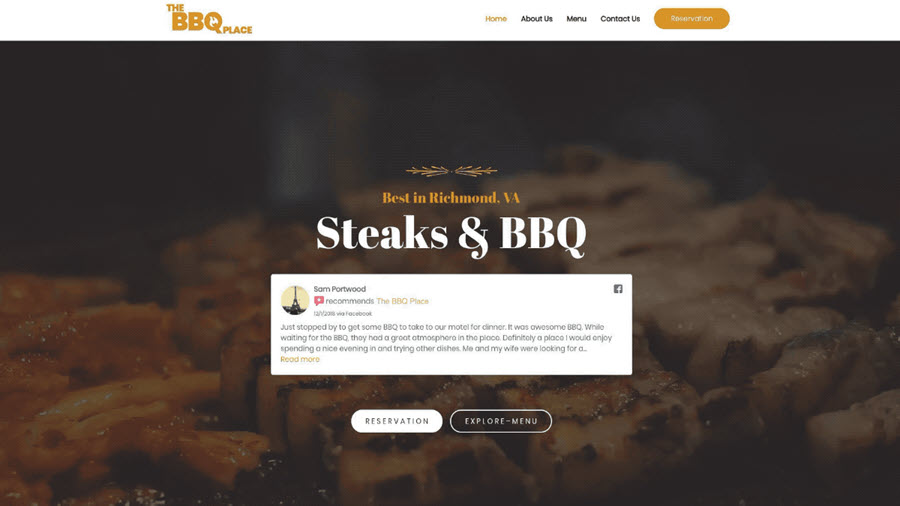 You can do the same by hand picking some of your best customer reviews and placing them in your header or as close to your header as possible. You can take it one step further and incorporate a carousel of reviews for extra clout.
2. Below the Fold on Your Homepage
If a visitor scrolls to the bottom of your homepage, there's a good chance they're interested in learning more about what you're offering.
Hit them with another dose of social proof to immediately counteract any potential objections they might have and push them to the next sales cycle stage. More people than ever are scrolling further down web pages thanks to the increase in mobile browsing - so much so that 65% of engagement happens below the fold.
Bishop's Plumbers leverages this new-found love of scrolling with a selection of reviews on rotation at the bottom of their homepage.

3. On Your About Page
Customers that want to find out more about you will hotfoot it to your About Page. Here, they're looking to learn more about the origins of your brand, who your team is, and what you can offer them.
This is the perfect place to display reviews and let your customers do the talking for you (especially if, like a lot of people, you struggle to talk yourself up!).
The Happy Dog Company does this well. Their About Page is peppered with reviews from happy customers to add an extra layer of trust and credibility to their services.

4. Underneath Blog Posts
People who land on your blog posts are often looking for information about something you can offer. Most of the time, they'll have arrived there via a search engine after typing in a question or topic they want to know more about.
You can quickly guide them through the sales cycle by adding customer reviews to the bottom of your blog posts and linking out to your services page. This creates an obvious journey for prospects to go down, while the reviews instill trust for visitors who have only just come across your brand.
5. Decorate Your Sales Pages and Landing Pages
Your sales pages, landing pages, and services pages are some of the hardest working pages on your site. They inform visitors about your products and services, position your brand amongst your competitors, and answer any potential objections prospects might have.
Give these pages a boost by adding customer reviews. Hearing how your product or service has helped people in the past gives on-the-fence buyers confidence and increases conversions.
Rood Dog has a carousel filled with many positive reviews to complement the information shared on their services page.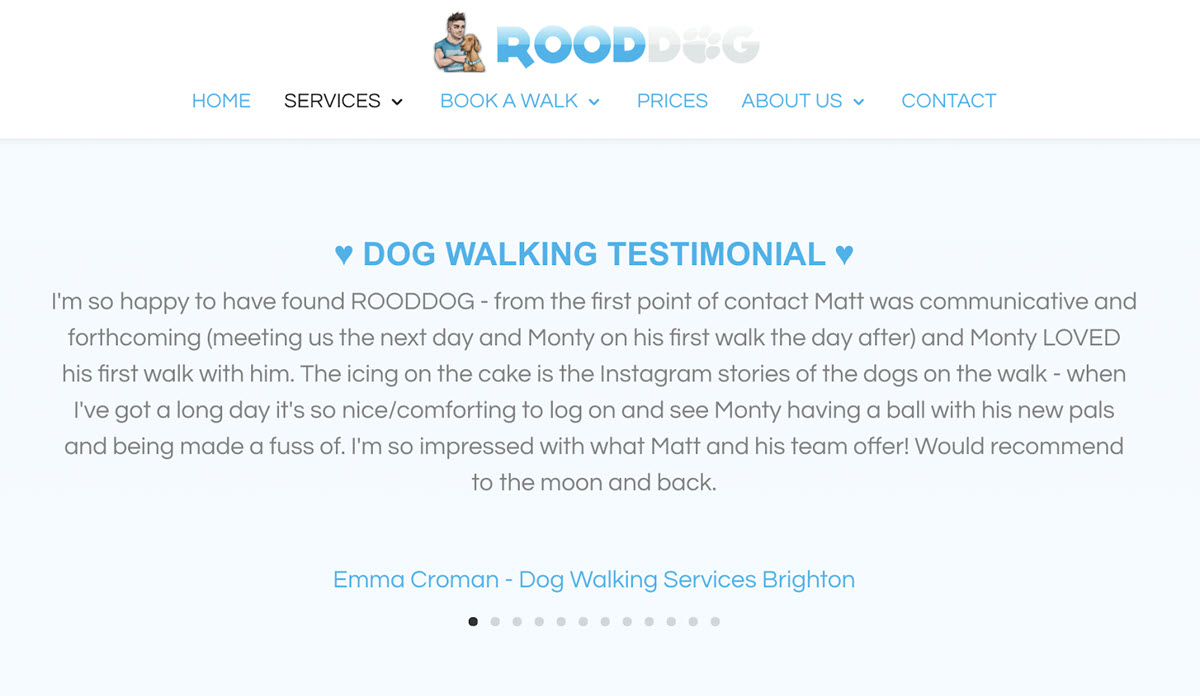 6. Dedicated Reviews Page
Sometimes, website visitors just want to hear about other people's experiences. Bringing your reviews together in one dedicated place provides a launch pad for prospects to learn more about you and what you can do for them.
When you have multiple reviews from various customers, potential buyers are more likely to find a customer success story that resonates with them. Research shows that consumers require companies to have over 40 reviews before they trust a star rating, so the more reviews you have on your dedicated page, the better.
Graphic design company Lara J Designs has a page all about what their clients say.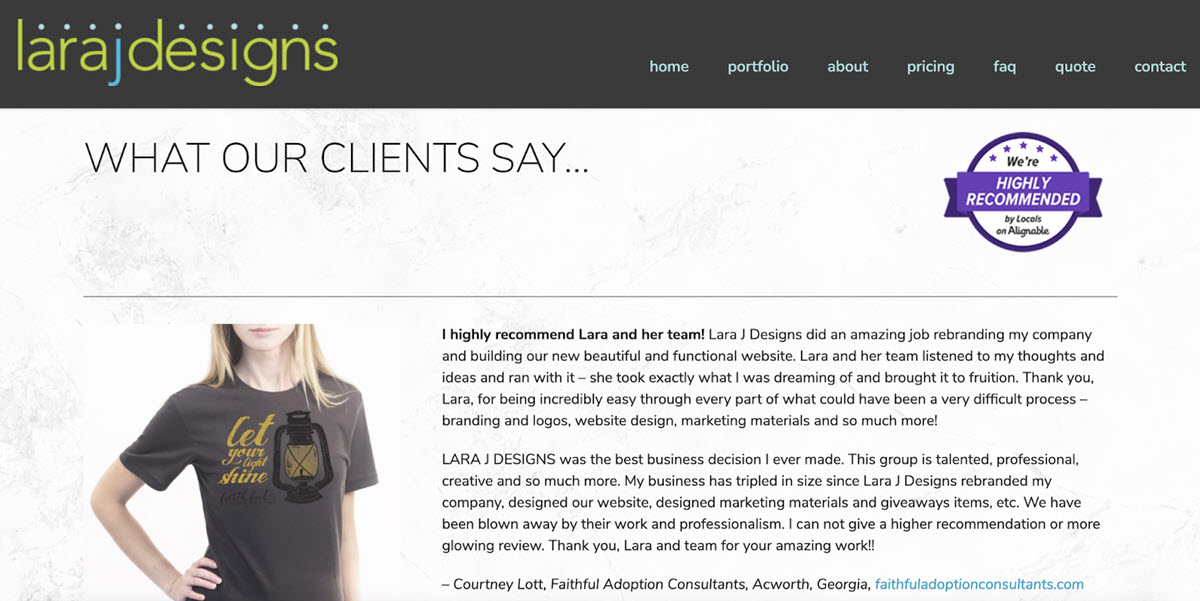 7. Your Contact Page
When a visitor navigates to your contact page, chances are they're looking to reach out to you directly or find out more information. Your contact page provides the perfect opportunity to continue to build credibility. At this point, prospects have figured out they want to get in touch with you and trust you'll respond to their inquiry.
Give them an extra boost of confidence by sprinkling a couple of customer reviews around the page.
Reviews Do All the Hard Work For You
Adding reviews to your website can prove to be extremely persuasive in marketing. Not only do they increase buyer confidence and build trust for new website visitors, but they help nudge potential customers through the sales cycle by offering powerful social proof.
Put reviews in all the right places, like your homepage, About Page, product pages, and underneath blog posts, and they'll do all the hard work for you.